Last Updated On 5th October 2022 By Lauren | Wild Lovely World
Lauren, creator of Wild Lovely World, shares her travel story from the last 30 years, from childhood to the present day...
How It All Began…
I was born in north-west U.K., from a traveler ancestor background on my maternal side and a global, far-reaching family on my paternal side. Travelling was just part of growing up.
My sister and I traveled solo on planes as unaccompanied minors from a young age to when we were teenagers and no longer needed an air hostess escort. We spent hours and hours in the back of our dad's black Jeep, sweaty legs sticking to the leather seats, as I spent many of my childhood summers on the move around western and eastern Europe – visiting family in Hungary, Austria and the Netherlands, and on holidays in Spain, Italy and France.
Alberta, Canada, was the furthest distance I traveled as a child. For two weeks we traveled in a motor-home on a road trip one summer when I was about 10 years old. I anxiously peered out the window as a bear approached at a campsite. I enjoyed spotting moose and the goofiness of the prairie dogs. I traveled on a glacier for the first time and was so excited to collect the ice-melt in an used Coca-Cola can.
In my teenage years, I starting travelling with college, friends or my boyfriend at the time, to places like Turkey, Germany and the Netherlands. Of course I enjoyed such pleasures as "coffee shops", crazy, open-air nightclubs with obnoxiously bright laser beams and decibels my ears would later regret hearing, and nursing my hangovers with a full English.
Moving To The Other Side Of The Planet
In 2010, when I was 19, I moved to Australia solo to study, work and travel. It was the furthest and the longest I had ever been from home.
I spent most of my time in Melbourne, Victoria, enjoying life in one of the greatest cities in the world. I loved it so much, I ended up staying there for two years!
In the autumn, I took a trip to Central Australia where I camped under the stars, learned about Aboriginal culture and did some hiking in the desert.
During the summer, I spent two fun months backpacking around South Australia in Adelaide and Kangaroo Island, swam in waterfalls and snorkeled in the Great Barrier Reef in far northern Queensland, and hiked the Blue Mountains and welcomed in the New Year at Sydney Harbour in New South Wales.
In 2012, just before returning to the UK, I spent around three months in Broome in far northern Western Australia where I worked on a roadhouse.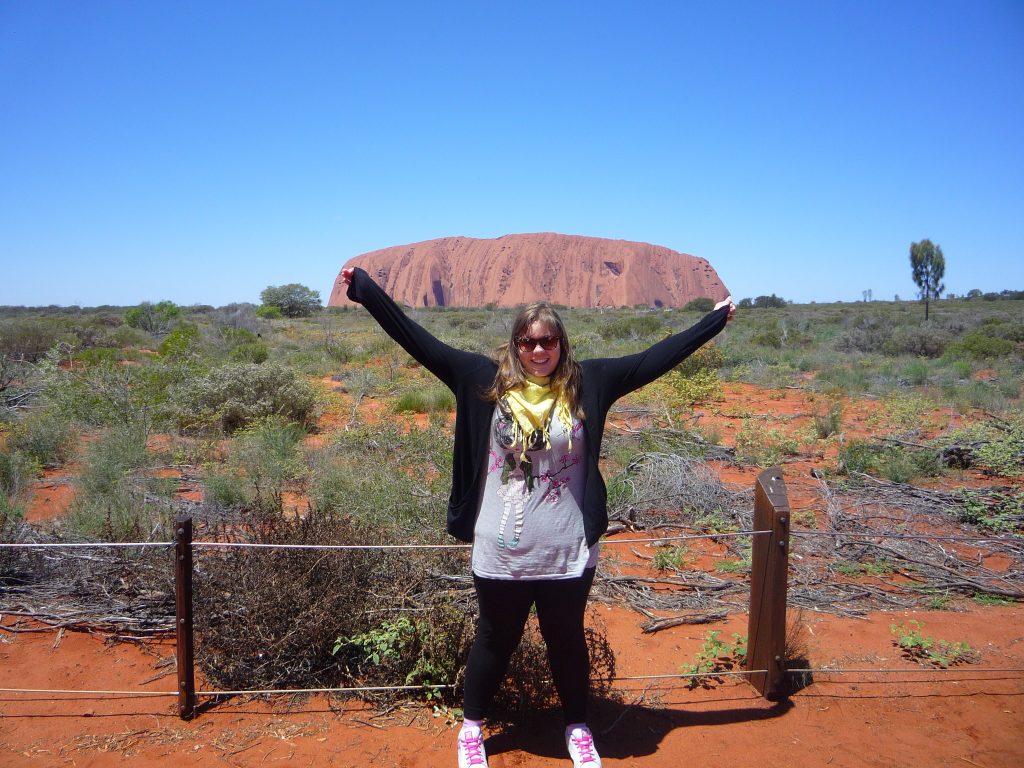 During my stay in Australia, I also visited Fiji on a solo trip over Christmas and New Year and enjoyed island hopping and relaxing on beautiful, paradise beaches.
I traveled back to the U.K. via the Hawaiian islands and the United States throughout the summer of 2012 on an awesome, epic road trip of a lifetime with my super cool friends, covering about 16 states in two months.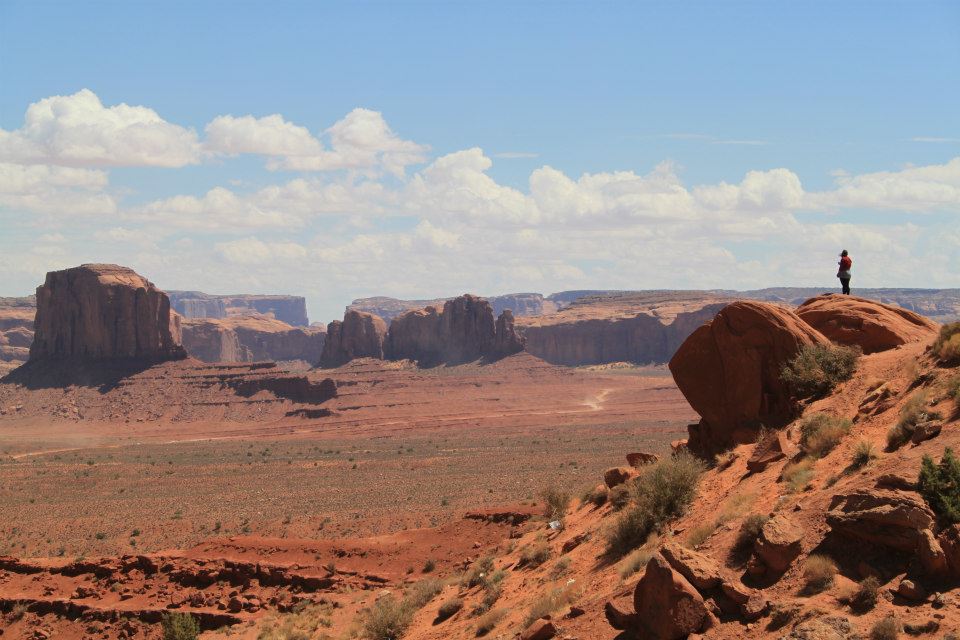 I Think I'm Turning Japanese
I lived in England again for just 10 months before moving overseas once more to Hokkaido island in far northern Japan where I stayed for two years.
During this time I took many trips hiking and camping in Hokkaido. I climbed many amazing mountains, such as Mount Yotei, Rausu, Meakan and Rishiri. I saw huge sculptures made of ice and beautiful fields full of colourful flowers. Hokkaido is one of the most stunning places I have ever been and it definitely holds a special place in my heart.
I took and a few trips across Honshu, including a three-week winter adventure travelling by train from Tokyo to Hiroshima. Another time my sister came to visit me and we spent a really fun two weeks traveling together around the Tokyo area and across Hokkaido.
Living in Japan was one of the craziest, most adventurous experiences of my life so far, and I made the absolute best friends and have the wildest memories. It feels like a dream that it even happened it was so surreal, but I would go and do it all again in a heartbeat.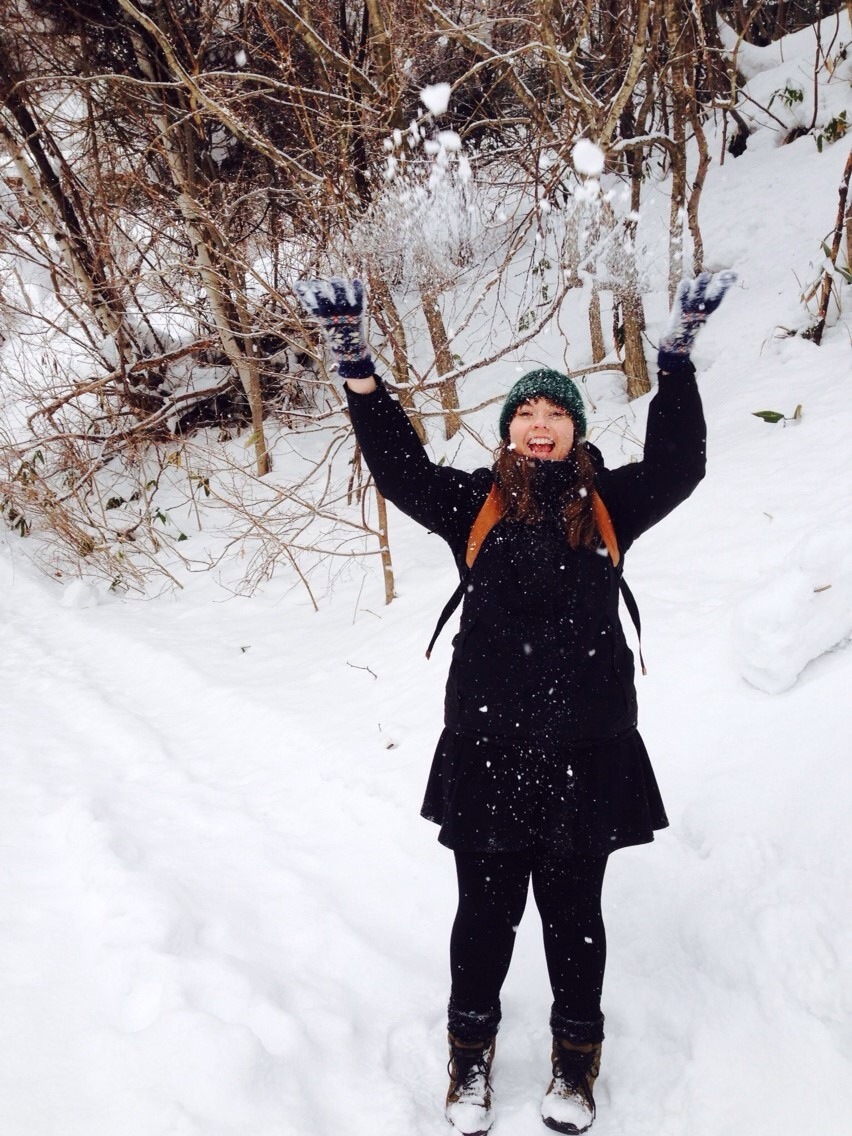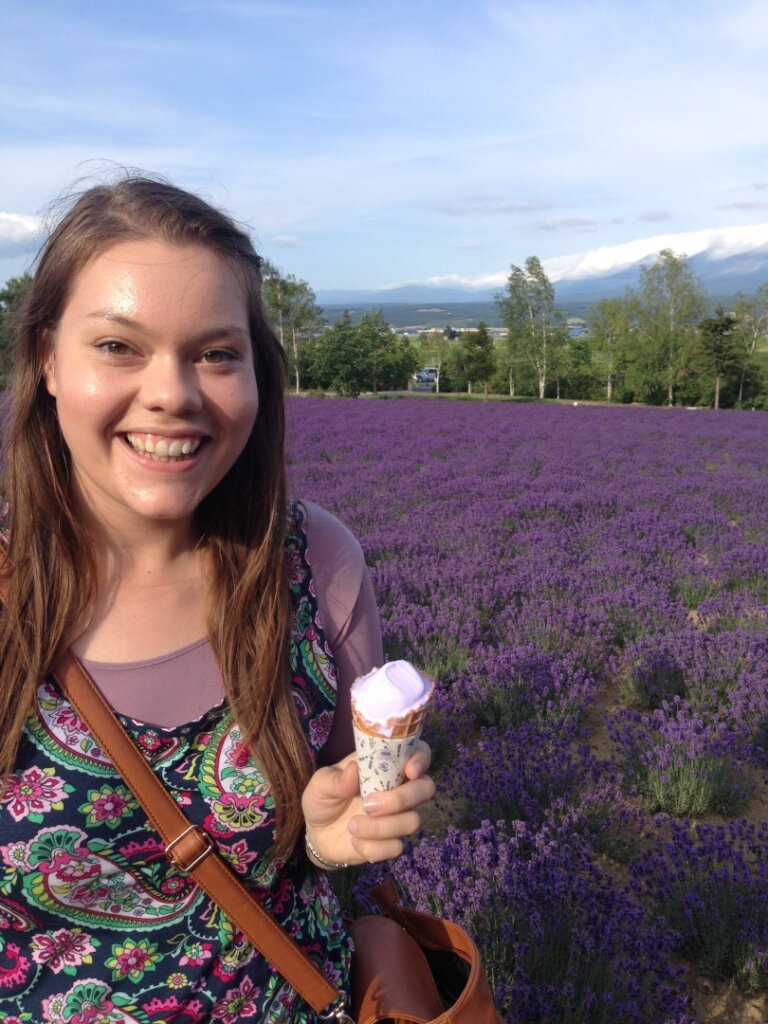 Falling In Love With Europe
Two years later, in the summer of 2015, I returned to the U.K.. I spent 6 months volunteering at music festivals, taking many trips back and forth to Ireland (in pursuit of love – we met at Bestival on the Isle of Wight), wild camped in the Highlands, spent quality time with family and friends, and did some temporary work whilst I figured out my next step.
Then in the spring of 2016, I moved to Edinburgh, Scotland, together with my Irish partner Fiachra.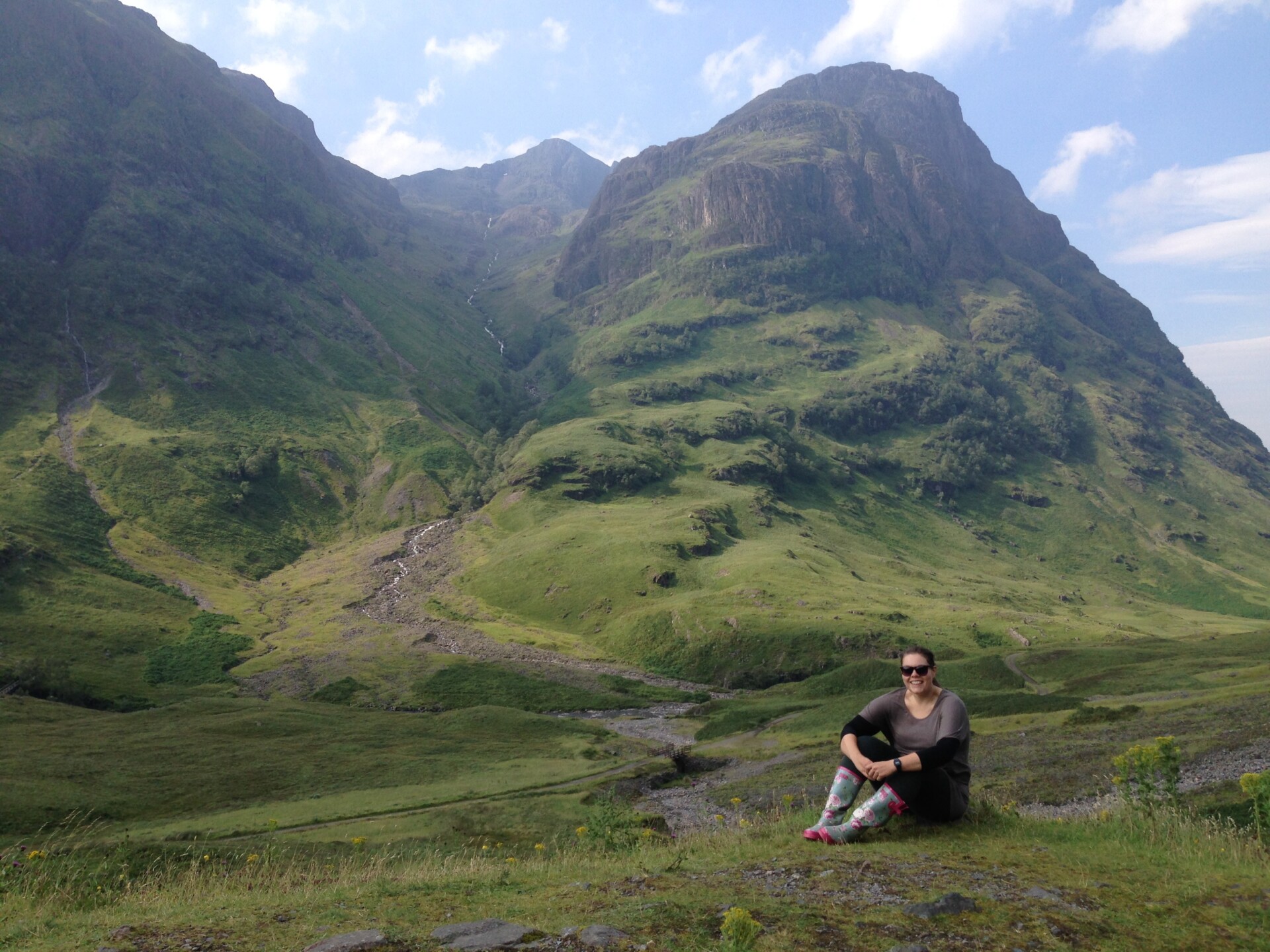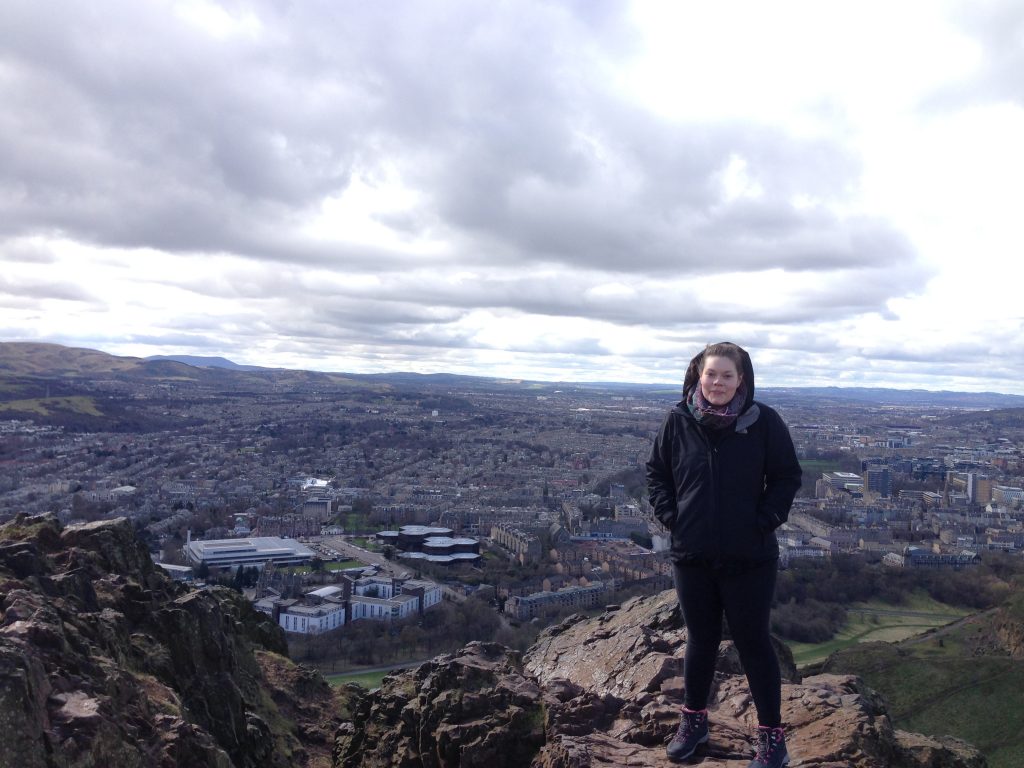 It was an amazing experience to live in one of the most beautiful cities in the world, which I visited many times before moving there. But, as a traveler, wanderlust forever captivates me, so, whenever I could I took weekend trips to relax my itchy feet. I was on a mission to explore the continent I came from – Europe!
In the autumn of 2016 I visited Scandinavia for the first time when we took a quick (and very budget!) weekend trip to Copenhagen and Aarhus in Denmark.
I made a solo trip to Barcelona, Spain in the following January.
Over the spring-summer of 2017, I inter-railed for three-weeks with my beloved. We traveled from Prague, Czech Republic to Crete, Greece, stopping off in 9 countries along the way (including Slovakia, Hungary, Serbia, Montenegro, Slovenia, Croatia and Italy) and covering a distance of about 5,000km! This trip was an absolutely incredible experience and one I would not hesitate to do all over again if given the chance! Unfortunately, due to a hard drive mishap, I lost almost ALL of my photos from this trip – so sad! 😭 I am hoping that I will be able to recover them one day, but for now all I have is stories and memories…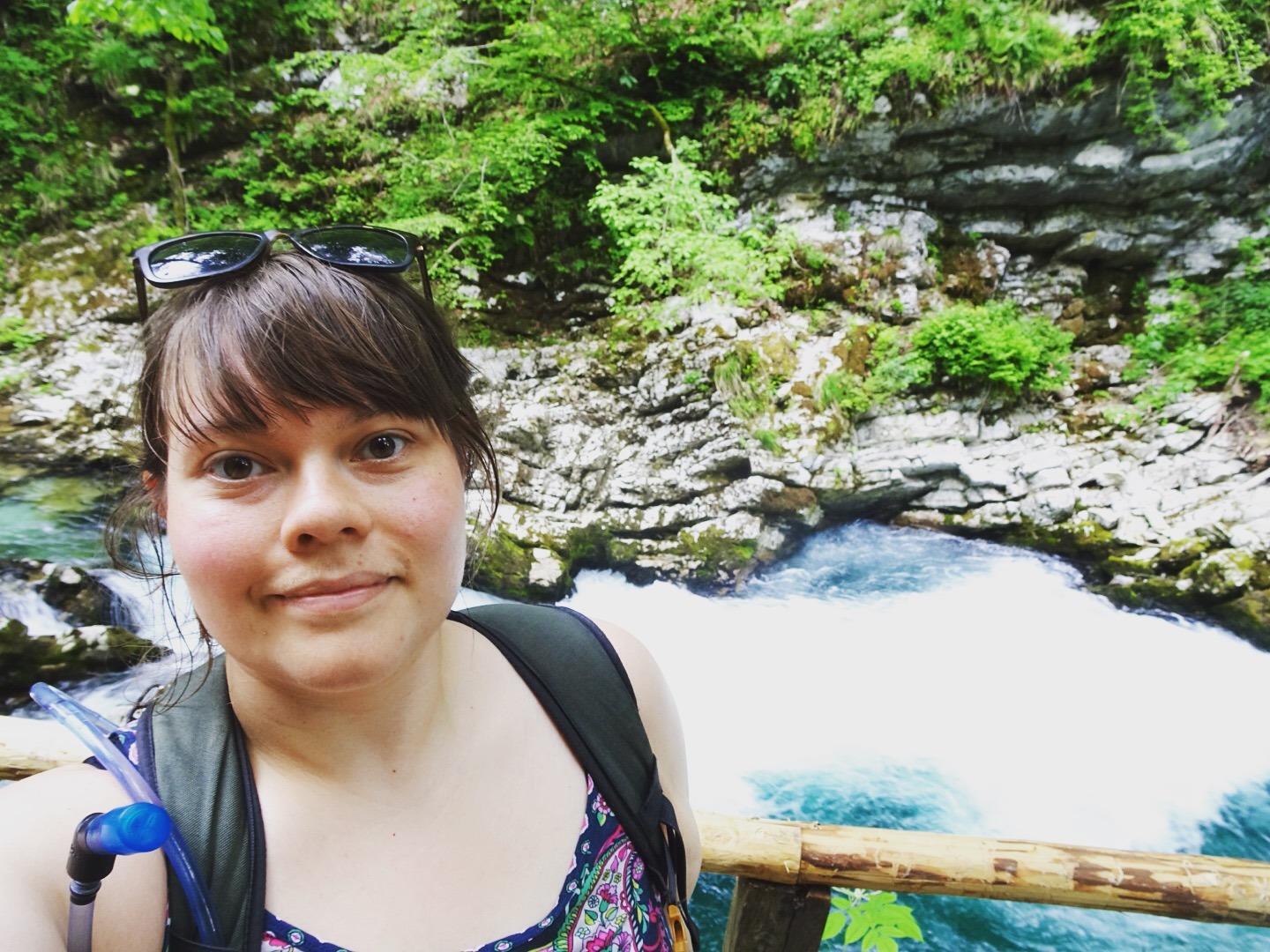 We took a romantic mini-break to Carcassonne, France in the autumn of 2017 when I bagged return flights for only £10! It would have been rude not to really! We spent the days drinking €2 bottles of red wine, munching baguettes from the boulangerie and admiring the autumnal scenery. It was brilliant. We also took a day trip to Toulouse on the train.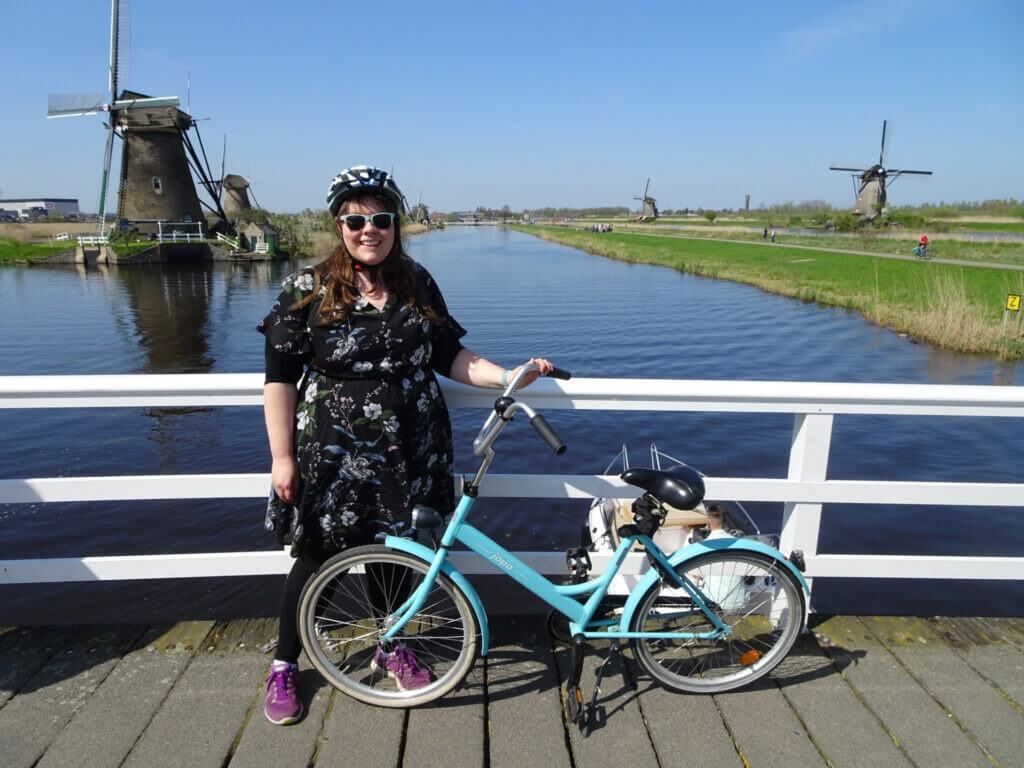 In April 2018, myself and my partner went to the Netherlands to visit his sibling and while there we traveled in a loop around Holland via train, visiting Utrecht, the Haag, Rotterdam, Harlem and Amsterdam. I got to see all the tulips at Keukenhof, ride a bike merrily around Kinderdijk and visit the Anne Frank House.
I headed to Germany in May 2018 to visit some old friends that I met in Japan. I visited Berlin and Leipzig and had a great time in each!
In August we took a trip to the Lake District and hiked the highest mountain in England – Scafell Pike!
That summer I also visited a few festivals around the U.K. and spent time with some friends living in London.
In January 2019, I took possibly my most expensive solo trip to date – Iceland! It had been a dream of mine to visit Iceland for such a long time (well, I did stop over there on the way to Canada as a kid, but spending a few hours in Reykjavik airport doesn't count!). I hiked towering glaciers, explored ice caves, held tiny little bits of iceberg, was disturbed (and humoured) by penises at the one and only Penis Museum, and bathed in the famous Blue Lagoon. Best of all, I saw the NORTHERN LIGHTS, which was an absolute DREAM COME TRUE. I do not have any great photos of it because I was not very skilled with my camera at that point, but I saw it! And I have some photos to prove it. Look!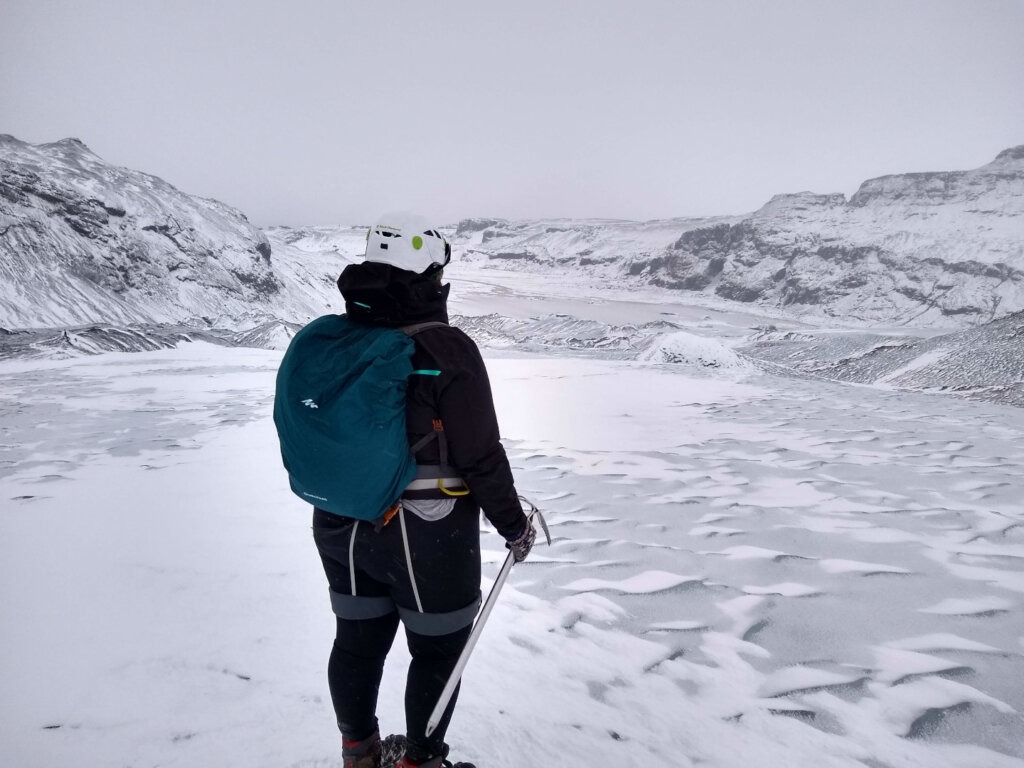 In March 2019 I took a solo trip to Northumberland, traveling along some of the most beautiful coast I have ever seen in the U.K.! I had no idea that there were beaches with such golden sand in England!
I visited a friend in Luxembourg in May 2019. She was wonderful in showing me around her (albeit tiny) country over three days. I was thoroughly charmed!
At this time I also took a camping trip to Wales with family and friends. We hiked Snowdon (the highest mountain in Wales) as well as explored cute little towns and countryside. It was gorgeous and I definitely need to go back!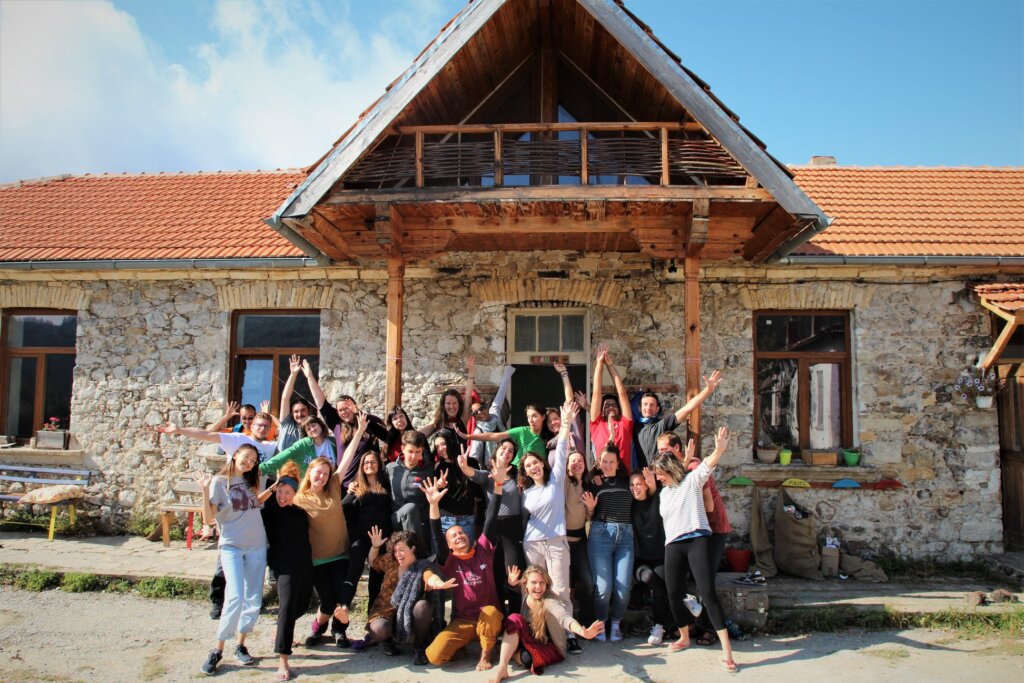 In September 2019, I was lucky enough to take part in an Erasmus+ Mobility program to Bulgaria. I got to hang out for a week in the gorgeous Rhodope mountains with a bunch of amazing human beings, connecting with nature and feeling incredibly at peace! If you ever get a chance to do something like that, I highly recommend it (check out my Travel Resources page for ideas!). During my trip I also visited Sofia and thought it was a really beautiful city with great food! I'd love to travel Eastern Europe some more.
All the while I was exploring the U.K. and Europe, I continued my many adventures around Scotland too. I visited almost every nook and cranny of the place. In November 2018 we did the North Coast 500 – an epic road trip all around the north of Scotland. I took many solo camping and hiking trips across the highlands! I rode along the most beautiful railway in the U.K. – the West Highland Line. I made trips to several Scottish islands including the Isles of Arran, Mull and Skye. Having seen so much of Scotland, I can honestly tell you that it is one of the most beautiful (and coldest and wettest) places on the planet!
Quitting Our Jobs, Packing Our Bags & Traveling The World Together
After 3 years and 9 months of living in Edinburgh, Fiachra and I decided it was time for a new adventure. We quit our jobs, donated and sold most of our belongings, and whatever was left we put into a storage unit. I sold my car and we moved out of our flat. We said goodbye to our friends and family and we left the U.K. in January 2020 with just each other and a couple of backpacks.
Who knew that the coronavirus pandemic would become so rampant as it did, that more than two years later we would be still on the road!
From the U.K. we headed to on a flight to Singapore (via Finland – I MUST return one day to visit Moominland), and from there we travel via bus, boat and plane all the way to Bangkok. Along the way, we were in awe of Singapore's magnificence, Malaysia's quirks and delicious street food, and Thailand's stunning island beaches and warm hospitality.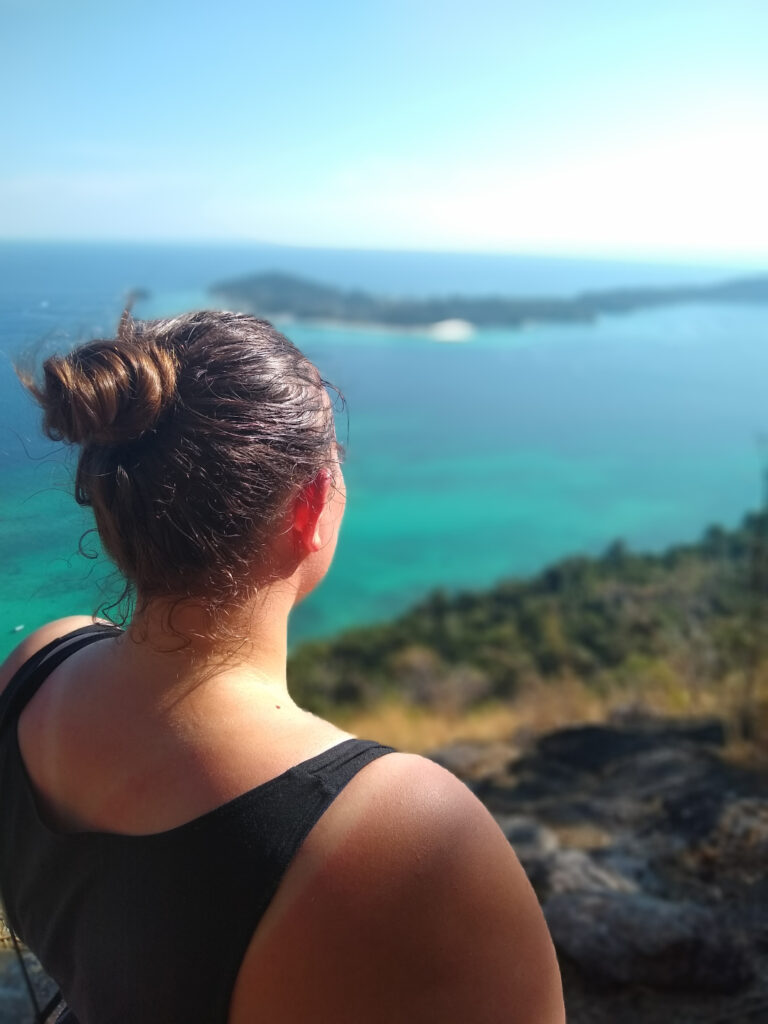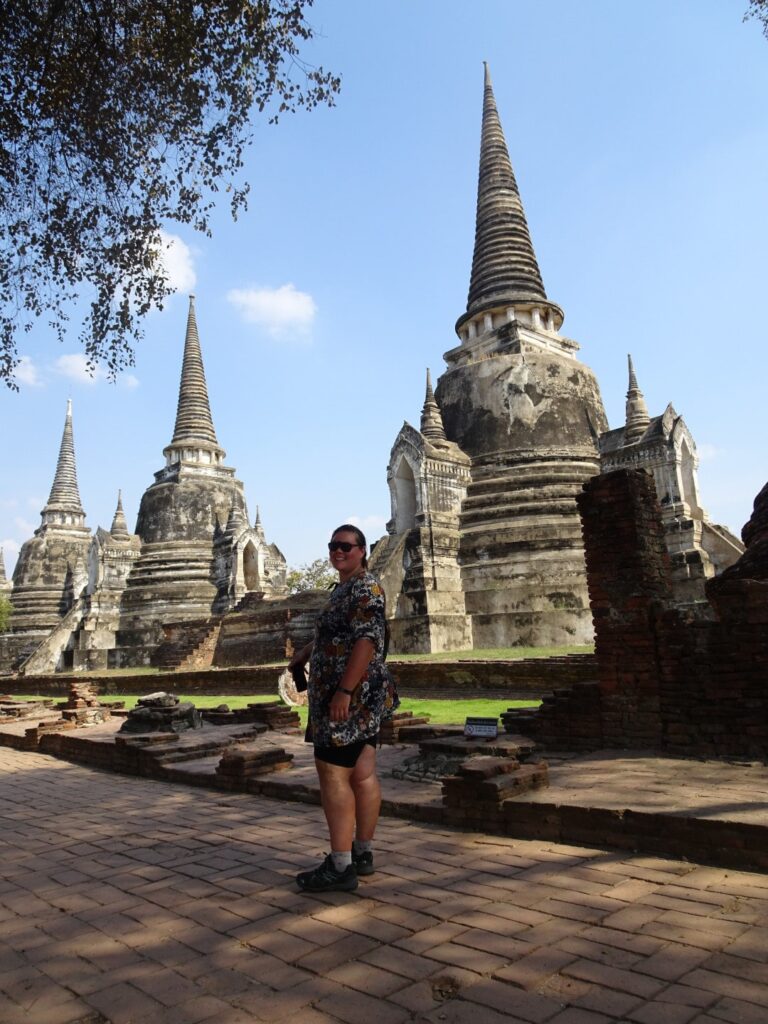 Moving To The Other Side Of The Planet, Again…
After a month and a half traveling in South East Asia, in March 2020 we arrived in New Zealand on our Working Holiday Visas. Two weeks later the border closed and would remain closed for two years! I am stunned and so, so, so, so grateful that we arrived before it would have been too late!
Within our first two weeks we bought a campervan, and since then we have been traveling and working our way across the country. We spent one year and a half in the North Island, and as of June 2021 we have been exploring the South Island.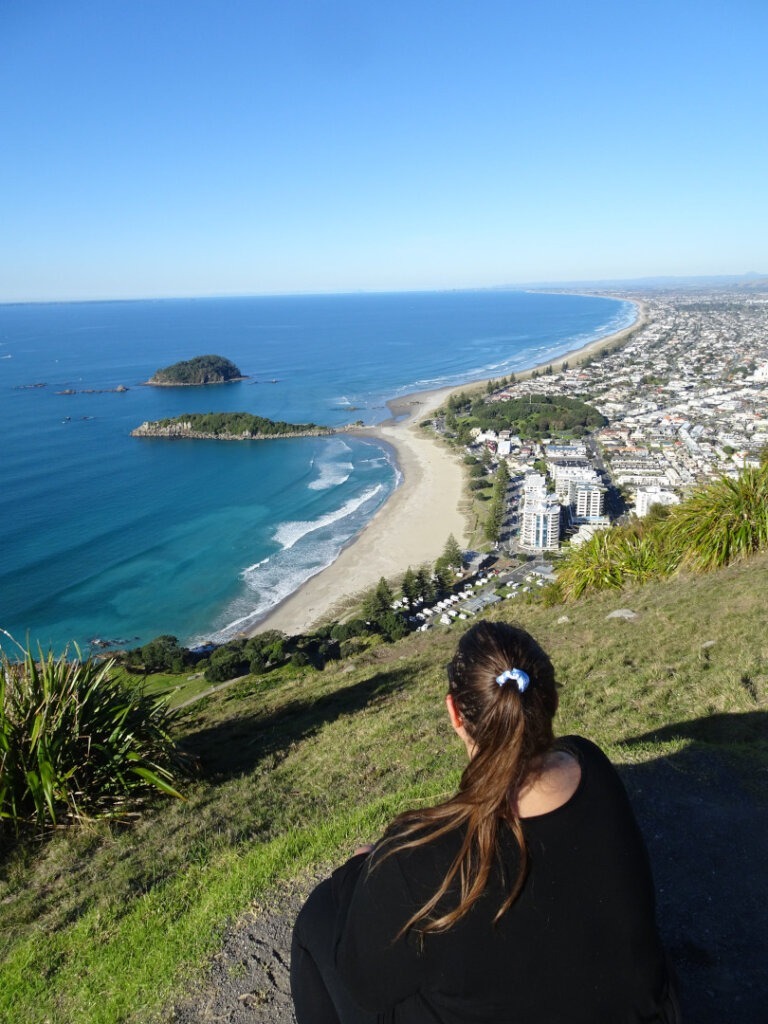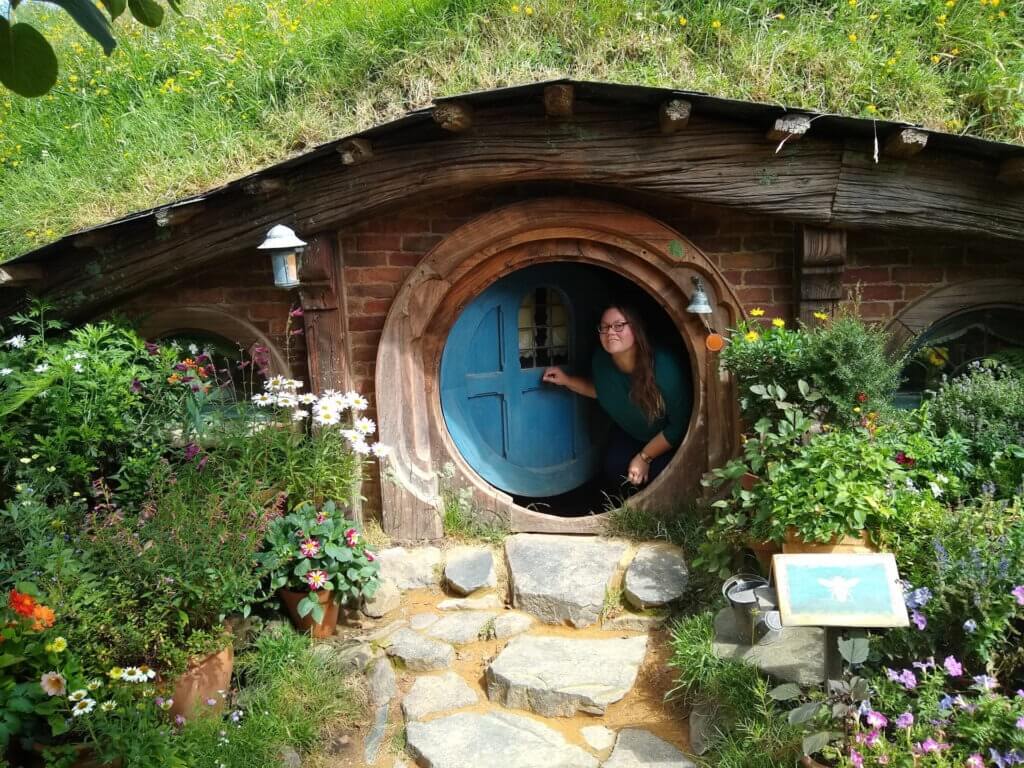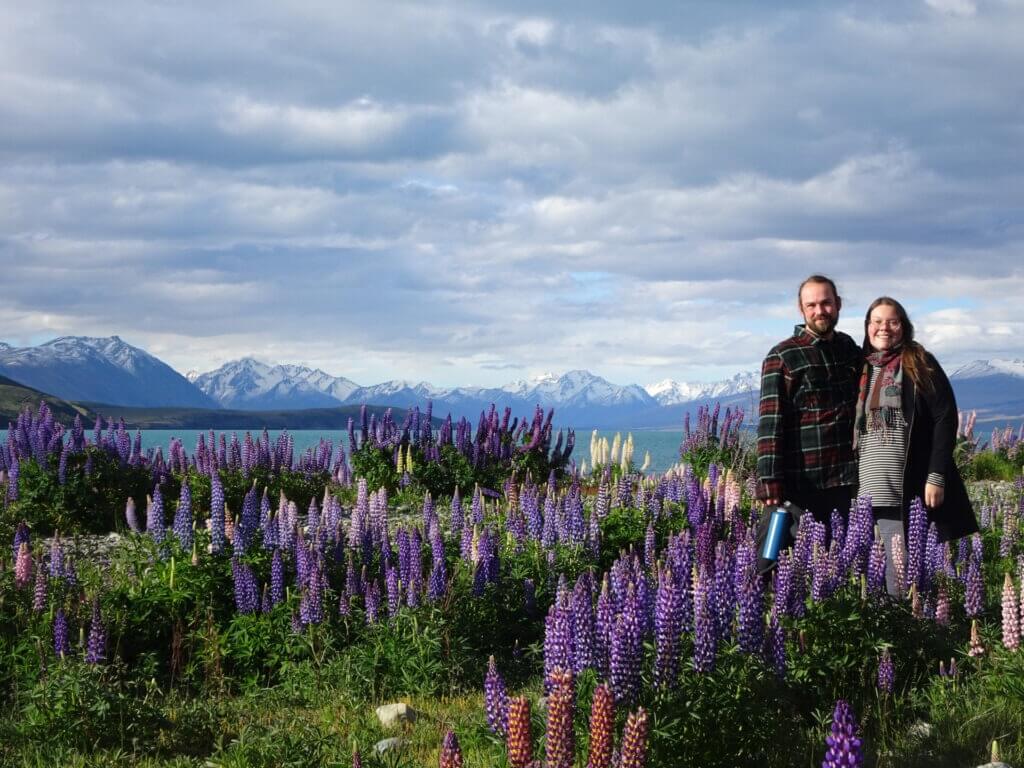 Where To Next?
Throughout my time on Earth, I have visited many amazing and beautiful places and I hope to visit many, many more with the time I have. India, Mexico and South America are just more some of the bullets on my bucket list. My dream is to never stop travelling, exploring, discovering and learning.
Curious to find out where I will go next? Subscribe to my mailing list!
Discover More…
[wd_map]
Read My Latest Posts
Follow Me On Social Media
Buy Me A Coffee!
If you enjoy my content, you can support me for the price of a cup of coffee. Donate today through Ko-Fi. I would really appreciate it!