Anne Frank House – 10 Things To Know Before You Visit
Disclosure: Please note that some of the links on this page may be affiliate links (*). If you have any questions, please read my full disclaimer here. Thank you for your support!
Last Updated On 22nd April 2022 By Lauren | Wild Lovely World
On my recent trip to the Netherlands, I visited the Anne Frank House.
I've been to Amsterdam numerous times and every time I didn't get a chance to go… until now! And I'm so glad I did it!
Whether you're a history buff, interested in World War II, an aspiring writer, a fan of the book or just curious how people could live in hiding for so long during such a sad and difficult time, it's well worth the short time and cost it takes to visit.
Here are 10 things that in retrospect it may be have helpful to know before I visited the Anne Frank House. I hope they help you make the most of your time at the Anne Frank House.
10 Things To Know Before You Visit The Anne Frank House
1. Book Your Tickets Online In Advance
If you want to visit Anne Frank House when you're in Amsterdam, you absolutely need to book tickets online in advance.
Tickets are only available through the official museum website and are released exactly 2 months in advance to the day. For example, if you want to go on Sunday 15th April, you'll be able to book tickets from Thursday 15th February.
They go online at 9:00AM Netherlands time and sell out fast! So I recommend going online exactly two months to the day from your planned visit date and booking your tickets.
You'll have to book a 'time slot' as to when you'll plan to enter the building. The slots are set in 15 minute blocks all day throughout the opening times from 9:00 to one hour before closing time. You'll see in the booking portal which times are still available and how many tickets are left in that slot.
So make sure you plan into your trip itinerary when you'll be in the city and have time to go to the museum in advance so you don't miss out!
General adult tickets cost 14 euro per person and there are no student discounts, however if you have a Dutch Museum Card then you'll get free entry (but you'll still have to book an entry time slot online). Plus there's a 0.50 euro fee for the online booking.
The museum is open from 9:00 to 19:00 daily, but there are exceptions depending on public holidays etc. Check the website for more details.
2. The Entrance To The Museum Is Not Where You Think It Is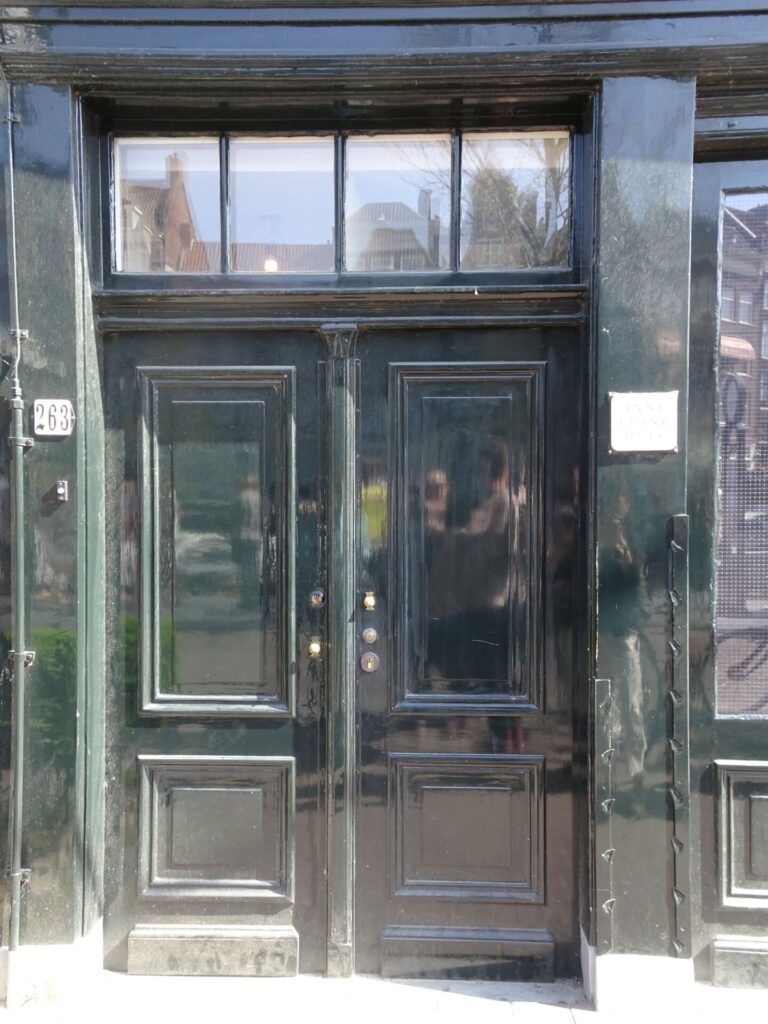 Anne Frank's House is located on Prinsengracht 263, but the entrance of the museum is on Westermarkt 20, just around the corner.
If you want a photo, you can take it on Prinsengracht, and there's a plack on the wall to help you identify the correct building! Also, there will be a big group of people outside it and across the street by the canal taking pictures of it!
3. Even Though You Have A Time Slot You'll Still Have To Wait
We had our tickets booked to enter between 14:00 and 14:15 on a sunny Sunday afternoon. We got there at 14:07, and joined the end of the queue to enter. But we didn't get into the museum until it was around 14:30 or later.
So even though you'll have a time slot booked, you'll still have to wait in a queue to enter the museum. There's no shade or shelter so prepare to wait outside whatever the weather.
A member of the museum is managing the queue and checking the time slot on your tickets before you join the queue to keep that under control. But still expect a lot of people around in the general vicinity of the museum as they will, for some strange reason, decide to wait around much earlier than their ticket time (I heard someone behind us being turned away with a time slot an hour and a half in advance than the time they were trying to get in!).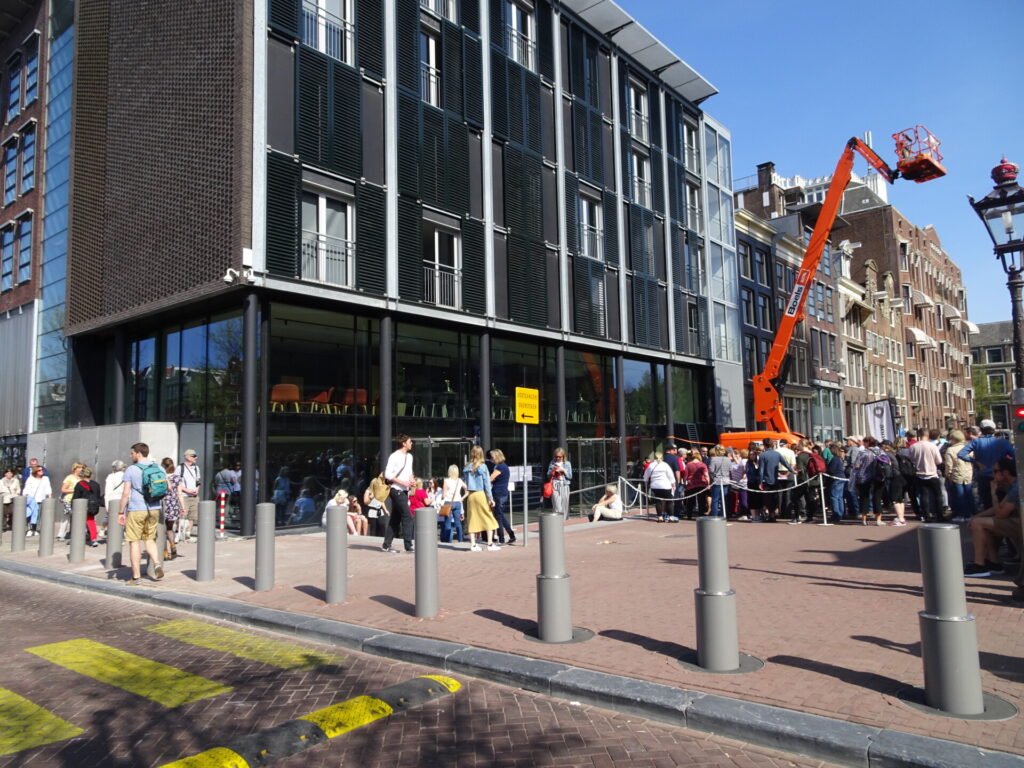 4. No Large Bags Are Allowed, But You Can Take A Handbag Or Backpack
Due to 'potential damage' you could possibly do to the house surroundings, make sure to carry your bag close to you and keep it to your side or on your front. If you don't, you could risk someone coming to tell you off (this happened to me!) but in general, as long as you're careful, you should be fine.
It's worth noting here too that there are some quite narrow entrance ways and stairs within the house and Secret Annex, so make sure to factor that in if you're taking a bag (or are just afraid of small spaces!).
Also, there are no lockers! But there is a cloakroom where you can leave stuff. But I suggest to only take anything you can carry around with you.
5. A Free Audio Guide Is Included
The whole of the tour around the Anne Frank House is by audio guide.
I didn't realise this when booking the visit, but I think it's a great idea and really stops that 'museum fatigue' I can experience when reading so many wall panels! They are still there to provide extra information, and there are some great exhibits, but most of what you'll learn is through the audio guide and videos, which is great!
The tour can be set in different languages, just ask the lady handing it over to you when you enter (standard setting is English).
The guide will start when you enter different rooms in the museum, and start automatically when it connects. If you don't connect, just go over to one of the black square 'audio guide panels (numbered)' on the walls and it will start. It runs on a loop, so you may join halfway through, so just stay to hear the rest from the beginning when it resets.
The guide also matches the videos playing in the rooms and also what is written on the walls and in the display panels for those hard of hearing.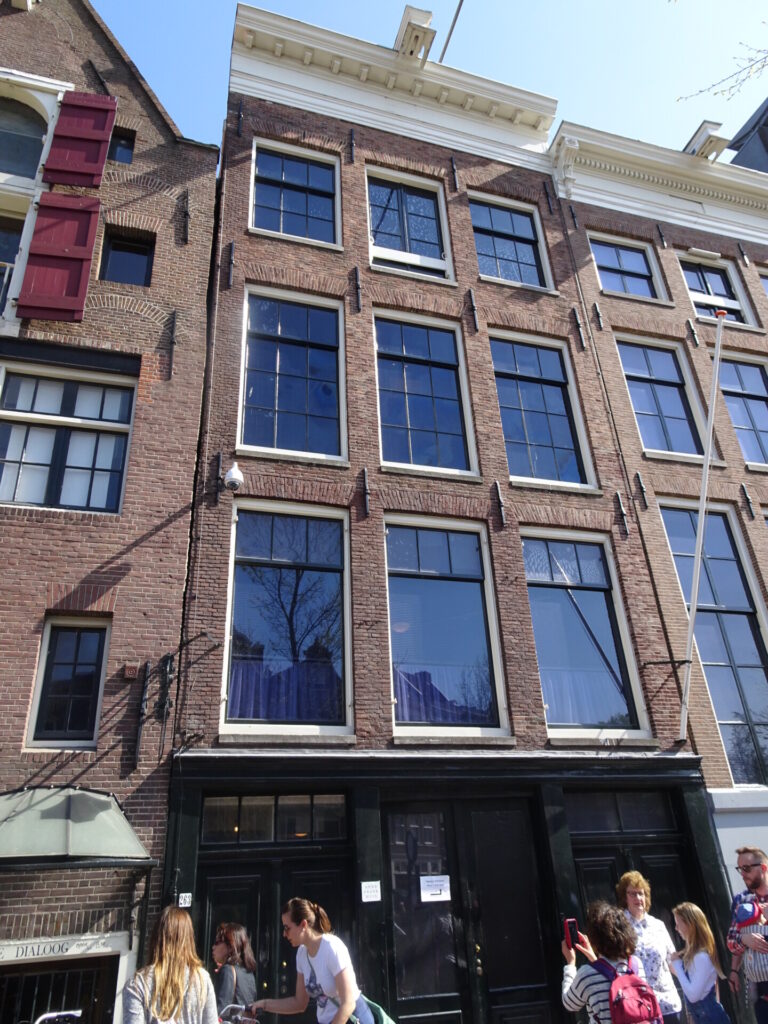 6. The Whole Tour Lasts Around One Hour
It'll only take you around one hour to have a look around the whole of the Anne Frank House.
We entered around 14:30 and had finished by around 15:30. This is going at a moderate pace.
You'll likely also get stuck behind people and have to queue to enter certain rooms or go up certain stairs (particularly when entering the Secret Annex, this was the biggest queue and slowest moving).
While you're queuing, just take a look around, listen to the audio guide and take it all in!
7. It's Informative & Interesting, But Very Brief
The tour will only give you a snapshot of the Frank family and what life was like for them in the Secret Annex. It doesn't go into very much detail at all, and is very brief. You will only learn the basics.
If you want to learn more about it, you'll have to go reading further online (there's plenty of resources), watch documentaries or read Anne Frank's diary itself!
Here's an overview of what you'll learn in the museum
The business premises for Otto Frank's Opekta company, the spice storerooms and the offices.
Where Anne was born, when she moved to the Netherlands, her school life, friends and passion for writing.
About Anne's family (her father, mother and sister Margot) and what life was like for them in Amsterdam before the war.
Her interpretation of the development of the Jews persecution in Europe, the rules and sanctions imposed on them – including a yellow star patch/badge.
About Otto's plan to save his family and development of the Secret Annex, including photos, stories and interviews with the colleagues and friends who helped to keep them hidden and got them supplies.
Go through the secret entrance to the Secret Annex behind the bookcase.
Explore the Secret Annex, the bedrooms, bathroom, kitchen and be able to see the attic from below. You'll see (recreation photos of) how they lived, pictures and posters put on the wall, books they read, games they played and stories about life there from Anne's diary.
Learn a little about the other people hiding in the Annex with the Frank family.
How they were found, arrested and what happened after that – the concentration camps they were sent to and what the conditions were like there. You'll see the deportation and registration cards with their names on.
Discover what happened after the war was over, and how Anne's diaries were kept safe and then published for the world to read.
See carbon-copies of the diaries, as well as Anne's other writings including short stories and notes.
8. No Photos Are Allowed
They don't check your bags when you go in. I had a camera in my backpack, but you can't take any photos once you go inside the museum.
I think this is much better anyway. it allows you to fully be immersed in the experience rather than being distracted by taking photos. There's not a lot to take photos of anyway. It's basically a lot of empty rooms and then a few display cabinets on the walls. The most interesting part is just seeing where they lived for two years while in hiding. That kind of atmosphere and experience cannot be caught on camera! Save the pictures for the street outside!
9. Consider Buying Anne Frank's Diary At A Second Hand Store
They sell many copies and versions of the famous book in the gift shop at the end of the museum tour but they are very expensive. Of course, it's up to you (I understand some people like to buy in the official gift shop), but you'll get a much better price online or at a second hand store (better for the environment too!).
10. Stay & Check Out The Local Neighbourhood
The area of Joordan is located just across the canal to the west of the Anne Frank House. It is a well known hip and trendy district of Amsterdam.
There's lots of cafes, bars and antique shops nearby, as well as the Westerkerk and the Homomonument.
There's a Fluorescent Art museum too – Electric Lady Land. Unfortunately it was closed when we were there, otherwise we would have liked to have checked it out! There is also the Amsterdam Cheese Museum which is highly rated.
We went to the Pancake House next to the museum for coffee and to try some poffertjes (mini pancakes served with butter and sugar). I highly recommend it! Also, they gave us a free clog key ring!
Have you visited the Anne Frank House? Are you planning a visit? Let me know if you find these tips useful, or if you have any other suggestions! Thanks 🙂
Did you find this article useful? Let me know in the comments or join me on Twitter, Facebook, Pinterest and Instagram. Buy me a coffee here!
Pin For Later
Add this post to your Pinterest board.
Book A Tour In Amsterdam
Disclosure: Please note that some of the links on this page may be affiliate links. Affiliate links are marked with an asterisk (*) where possible to help disclose these to you. If you decide to make a purchase through one of these links, I may earn a commission at no additional cost to you. I use all of the companies I recommend and I use them because they are awesome and help make my travels better. If you are ready to book and would like to support Wild Lovely World, using these links is one way to do that. Thank you for your support! If you have any questions, please contact me or read my full disclaimer here.