13 Weird & Wonderful Things To Do In Leipzig
Disclosure: Please note that some of the links on this page may be affiliate links. If you have any questions, please read my full disclaimer here. Thank you for your support!
Last Updated On 7th June 2023 By Lauren | Wild Lovely World
This post will give you 13 ideas of the weirdest, most wonderful and unusual things to do in Leipzig. From goths to secret Nazi meeting places, Buddhist meditation in shopping centres to eating a "bird's heart" – Leipzig has a whole array of strange and different things to do!
I recently took a short trip to Leipzig, a city in eastern Germany, to visit a friend who was studying at university there. I have to be honest, I wasn't expecting much from the place as I was just there to visit a good old pal. However, I was pleasantly surprised and charmed by what I discovered in Leipzig. Leipzig is a city with a strong history and culture. You will certainly find lots of interesting and unusual things to do in Leipzig!
In this post, I share a few of the key highlights from my trip to Leipzig and inspiration for things to do in Leipzig if you ever happen to be there too or are planning a trip to Leipzig!
The Best Unusual Things To Do In Leipzig – Your Complete Guide
How To Get To Leipzig
Travelling To Leipzig By Bus
Leipzig is an easily accessible city in Germany. The best way to travel there is by FlixBus. I traveled to Leipzig from Berlin using FlixBus. The journey was quick and comfortable. It was also very cheap! You can search for tickets and book online. Click here to check for prices and journey times on Flixbus to and from Leipzig.
Travelling To Leipzig By Train
It's also possible to travel to Leipzig by train. Rail Europe is a great website where you can organise your train tickets. Click here to check for prices and journey times to and from Leipzig.
Where To Stay In Leipzig
I was fortunate enough to stay with my friend when I visited Leipzig. However, if I hadn't been so lucky then these are the places I would have considered booking. These hostels and hotels are great for budget travellers who don't want to compromise on comfort and style.
Recommended Hostels In Leipzig
Groners Hostel
Groners Hostel is a boutique, high-end hostel. The decor is smart and sexy. There is a shared kitchen and co-working area. The rooftop garden overlooks Leipzig's vibrant heart of the city. Superb 9/10 reviews from guests. Click here to check reviews, prices and availability for Hostel Groners in Leipzig on Hostelworld.
Hostel Multitude
Hostel Multitude is in a lovely old renovated building in trendy Plagwitz-Lindenau. The decor is beautiful, clean and bright. Hostel Multitude has an in-house bar, beer garden and living area. The beds are beautifully handmade and built to be cosy and practical, with curtains, a reading lamp and a socket. Superb 9/10 reviews from guests. Click here to check reviews, prices and availability for Hostel Multitude in Leipzig on Hostelworld.
Recommended Hotels In Leipzig
Spirit Lodge Leipzig
A small hostel located in the heart of Leipzig's cultural scene. Spirit Lodge's decor is bright with pastel-coloured walls and spacious wooden beds. There is a shared kitchen so you can save money on eating out. There is a communal room where you can relax or do some yoga. Fabulous 8/10 reviews from guests.
Luga Homes – Stadthaus
Centrally located in Leipzig, Luga Homes has lovely modern rooms with shared bathrooms. They have luxury apartments with full kitchens and private bathrooms. Free WiFi. Very good 8/10 reviews from guests.
Click here to check reviews, prices and availability for hotels in Leipzig on Booking.com.
Traveling a lot and want to save heaps of money on accommodation? Housesitting is one way to do that. Become a Housesitter with Trusted Housesitters* and find free accommodation in Leipzig!
Book A Tour In Leipzig
Travelling to Leipzig and want to find other awesome things to do? Check out these options:
Motorboat Canal Sightseeing Cruise (From €15 per person): I recommend this popular and highly rated tour in Leipzig – 70-minute Motorboat Canal Sightseeing Cruise. This is a relaxing tour where you can admire Leipzig's architecture and historical buildings. You will see the city from a different perspective as you travel by boat on Leipzig's various waterways. Book the canal boat tour here on Get Your Guide.
Leipzig Combo Tour: Guided City Tour & City Sightseeing (From €19 per person): This 2.5 hour tour will take you on all the best sights in Leipzig city and the surrounding areas. You will go on a guided tour on foot around the old city and then onto a modern bus tour to explore cultural sites such as the Gohlis castle. See more details and more this combo tour here on Get Your Guide.
Evening Tour of Leipzig with the Night Watchman (From €14 per person): On this 1.5 hour tour, you will explore Leipzig at night. Visit mysterious alleyways and passages in the old town. Your guide will tell you interesting and curious tales along the way! Learn more about this tour and book tickets here on Get Your Guide.
13 Weird & Wonderful Things To Do In Leipzig
1. Get Naked, Swim & Have A Picnic At The Lakes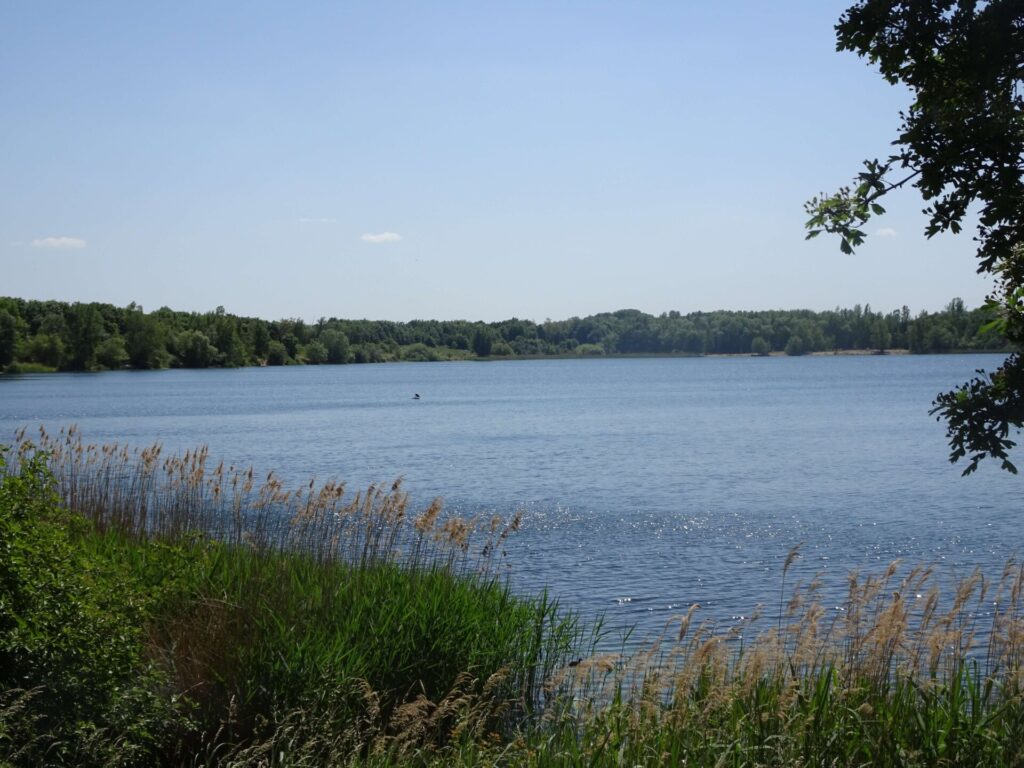 Leipzig is surrounded by beautiful lakes which are easily accessible and great fun on a sunny day. The biggest and most popular lake to visit is Cospudener See (nickname: Cossi), but I visited Kulkwitzer See (nickname: Kulki). I got there by taking tram number 1 all the way to Lausen. The lake is then just a short walk from the tram stop.
I opted for a swimsuit, but it is quite popular to bathe in the lake naked. So don't be surprised if you see a bunch of nudists sunbathing by the shore! The nickname for this activity is FKK, which means Freikörperkultur/Free Body Culture. So, if you want to experience German culture at its best, maybe this is the way to do it!
The water at Kulki lake was so clear and beautiful. It was a little chilly in late May, it was still wonderfully refreshing to swim in.
2. Visit St Thomas Church – Famous Composer Bach's Workplace For 27 Years & His Burial Site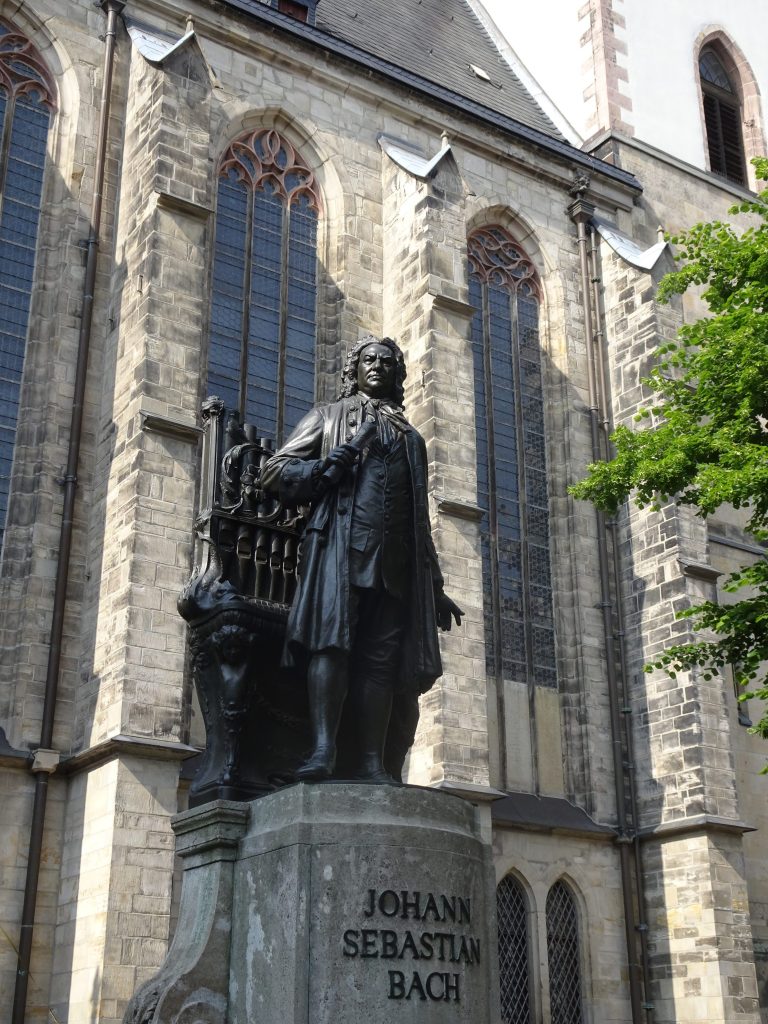 Johann Sebastian Bach was born in 1685 in Eisenach, but in 1723 he moved to Leipzig to work at St. Thomas Church (Thomaskirche), which he ended up doing for 27 years until he died in 1750. He instructed students in the choir and composed many songs as well as taught at a local college. When he died he was buried inside the church and there is a tomb there which you can visit.
In the square outside the church, there are often street performers playing Bach's songs. There is a large statue of him dedicated to his memory. Bach was said to be a bit of a hipster during his time. He was supposedly unconcerned with his appearance which is why one of the buttons on his waistcoat is undone. He also had 20 children with two different wives! Bit of a ladies' man too! Unfortunately, 10 of the children died in childhood. His large family is the reason he has an empty pocket in his statue. This is to signify little wealth, despite his success.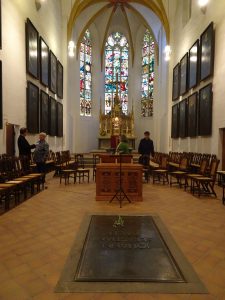 3. Monument To The Battle Of The Nations – The Secret Meeting Venue & Storage Unit For The Nazis
Just outside Leipzig city, to the southeast in the Probstheida District, is a giant war memorial. It is called the Monument to the Battle of the Nations (Völkerschlachtdenkmal). It is made of granite-faced concrete, is 91m high. The monument took 15 years to build (from 1898 to 1913) using money from donations.
It commemorates Napoleon's defeat at Leipzig when the unified armed forces of Russia, Prussia, Austria and Sweden prevailed in a decisive victory over Napoleon and his allies on German soil. The monument is said to stand on the spot of some of the bloodiest fighting in the Battle of Leipzig from October 16-19, 1813. In the end, 600,000 soldiers from over twenty countries took part in the battle and 100,000 were killed or wounded.
How The Nazis Used The Monument To The Battle Of The Nations In Leipzig
During the Third Reich years, Hitler used the monument as a venue for his meetings! He also used it as storage space for SS soldiers, ammunition and foodstuffs during the last days of World War II. After this, when Leipzig was part of the GDR of East Germany, the communists almost demolished the monument. They feared that it represented nationalism, but decided to allow it to remain. To them, it represented a time when Germany and Russia joined forces to defeat a common enemy.
Entry To The Monument To The Battle Of The Nations
The monument is adorned with giant statues of archangels, fallen warriors and guardians of the dead. If you want to go inside the monument, you will need to buy a ticket from the office. By going inside you will be able to view the crypts and FORUM 1813 museum. These are located at the base of the monument and contain information about the battle, weaponry and equipment.
The ticket office is open from 10am-6pm from April-October and 10am-4pm November-March. It costs adults €8.00, students and seniors €6.00 and children under 6 free. There is also a public bathroom inside the ticket office you can use for free.
You can, however, climb the 500 steps on the outside without paying. From the top, you will get a nice view over the park and a glimpse of the Leipzig city skyline. This is what I did with friends, as we arrived too late to go inside. It was still really good fun climbing the outside.
The monument is also wheelchair accessible.
How To Get To The Monument To The Battle Of The Nations
You can travel to the monument by train S1, S2 or S4. The trains leave every 15 minutes from the city centre/Leipzig Hauptbahnhof to the Leipzig Völkerschlachtdenkmal stop. It takes about 10 minutes and 5 stops. The monument is then a 10-15 minute walk from the tram stop through the Wilhelm-Külz-Park.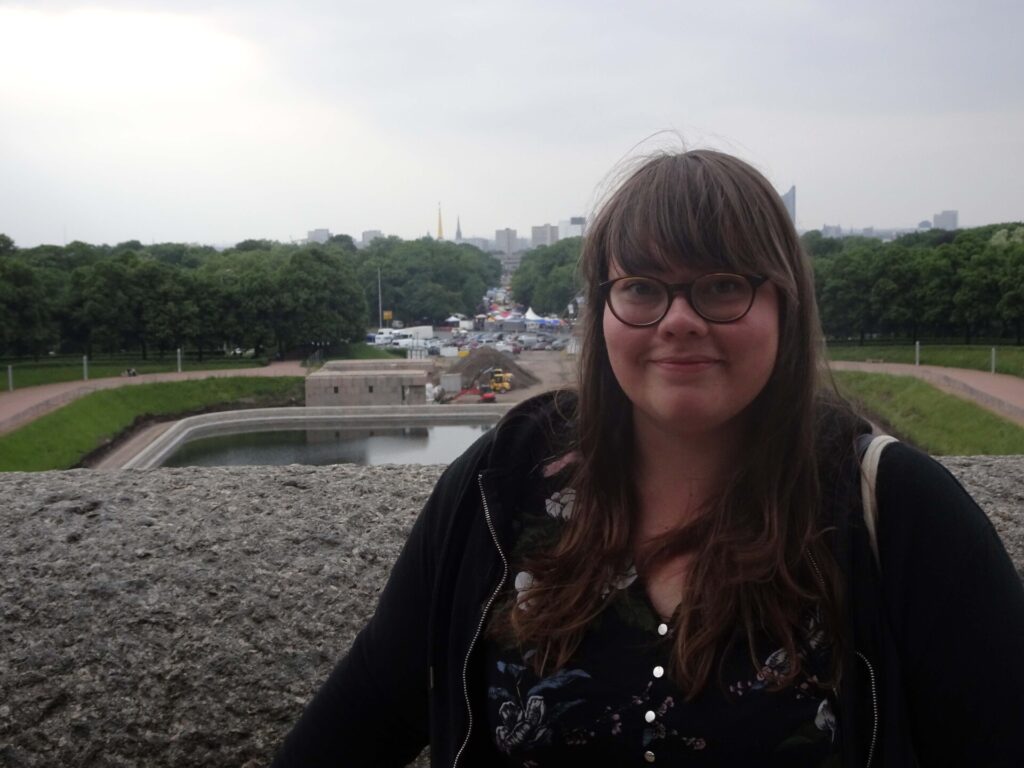 4. Coffe Baum – A Free Coffee Museum & The Oldest Coffee House In Germany
If you're a coffee lover like me, you'll love the Coffee Museum at the Zum Arabischen Coffe Baum. It is said to be Germany's oldest coffee house as they have been serving coffee since 1711! This also makes it one of the oldest coffee houses in Europe, and perhaps the world.
The Coffee Museum is located inside the Coffe Baum, in Leipzig Zentrum, is completely free and open daily from 11am-7pm. Just go inside and up the stairs (unfortunately no access for wheelchairs).
Located over several floors, you can learn all about the history of coffee and the origins of the coffee house. Discover famous German coffee, paraphernalia and coffee products. Did you know that the paper coffee filter was invented in Germany in 1908 by Melitta Bentz? And that for hundreds of years coffee houses were deemed as dangerous or masculine places where men would meet and discuss politics and the economy, from which women were banned? You'll learn all this and more.
There is a cafe at the Coffe Baum too, of course. They serve a selection of drinks and food, and seating is available inside and out. However, I do not recommend staying here for a coffee, as it is quite expensive and the service is slow.
Read more about my visit to the Coffee Baum here: The Coffe Baum: A Free Coffee Museum & The Oldest Coffee House In Germany
5. Stand At The Starting Point For The Protests Leading To The Fall Of The Berlin Wall – St. Nicholas Church
During the rule of the GDR in East Germany, churches were the only place that remained autonomous from the state. Churches, therefore, became a refuge for many dissatisfied citizens to meet and discuss the oppression and injustices occurring within the state in a safe place. As a result, they became a sanctuary to alternative political groups and the spread of information. This spurred the formation of spontaneous demonstrations and protests against the GDR.
At the St. Nicholas Church (Nikolaikirche) in Leipzig, peace prayers had been held every Monday evening since 1982. It was a chance for people to get together who shared the same views of the state. For many years, people gathered there and numbers grew. A huge community developed of people who wanted to leave the GDR. A unique atmosphere grew, power to the people essentially. With this, the group felt mobilized to voice their concerns publicly.
Protests In Leipzig Leading To The Fall Of The Berlin Wall
On the 9th October 1989, 2 days after the 40th anniversary of the GDR, the gatherings in St. Nicholas church had grown from hundreds to thousands. Up to 8,000 people were crammed into the churches in central Leipzig and 70,000 people gathered throughout the city. Each person was holding a candle. The security forces were stationed around the town, barricading it with tanks and weaponry. However, the protest was a peaceful one, which gave them no motive to attack. Surprised by the numbers, they shied away from causing a massacre. Despite their fears, the people continued their peaceful unification against the regime and chanted "We are the people!". This reminded the leaders of the GDR that a democratic republic has to be ruled by the people, not by an undemocratic party claiming to represent them.
From then, the protests grew and grew in numbers and locations. They became known as the Monday demonstrations. This pressure on the government eventually lead to the fall of the Berlin Wall on 9th November 1989, exactly one month later. It was marking the imminent end of the socialist GDR regime.
In the square outside the St. Nicholas Church in Leipzig, there is now a memorial dedicated to this event. One is in the form of a pillar, similar to those inside the church. It represents the importance of the church as a meeting place and formation of peaceful protest groups. There is also a plaque on the ground.
6. See The Leipzig Panometer – Home Of The Largest 360 Degree Panorama In The World
The Leipzig Panometer is held within a former gasometer. It is the largest panorama in the world (area of 3500 square meters and 32m in height). German artist Yadegar Asisi coined the name from gasometer and panorama. His work consists of large scale photographic panoramas and are displayed in several cities in Germany. The visual panoramas are coupled with a thematic exhibition that changes over time (usually every couple of years).
During my visit to the Leipzig Panometer, it was the Titanic. The Titanic just so happens to be one of my favourite historical events, so I had to check it out! The exhibit included a panorama of what the Titanic looks like on the bottom of the Atlantic ocean! It was very cool to see and I really enjoyed my visit there. It was certainly an unusual and interesting thing to do in Leipzig.
Read more about my visit to the Panometer here: What Does The Titanic Look Like Underwater? I Found Out In Leipzig
How Much Does It Cost To Visit The Leipzig Panometer?
It costs adults €11.50, students and seniors €10.00 (on Tuesdays students can enter for €5.00), children €6.00 and under 6 free to view the exhibit and the panorama. There is an option to rent binoculars but I don't think this is necessary. The ticket also comes with a small information leaflet about some of the debris scattered in the image and the story or significance behind them.
Can You Take Photos Inside The Leipzig Panometer?
You can take photos inside but there are signs saying you can't take panoramas (although nobody is there to stop you). You can walk around from ground level or climb a 15m high platform in the centre to view it from a height. The lighting and sounds in the exhibit change on a loop, from reds to blues and atmospheric instrumentals to the sounds which would have been heard on the ship such as voices in a dinner scene. It was pretty cool to see something that most people will never be able to see, even if it was computer generated, I felt very moved by the experience.
How Long Do You Need To Visit The Leipzig Panometer & When Is It Open?
I spent about 1.5 hours there and I really enjoyed my visit – definitely worth a look if you have the time to spare.
The Leipzig Panometer is open Monday-Friday 10am-5pm, and until 6pm on the weekend and public holidays, last admittance 1 hour before close.
How To Get To The Leipzig Panometer
To get there I took the train (S1-6 all go this direction) to Leipzig MDR stop and walked 15 minutes from there to the Panometer.
Next to the Panometer there is another old tower which you can enter and have a look at for free.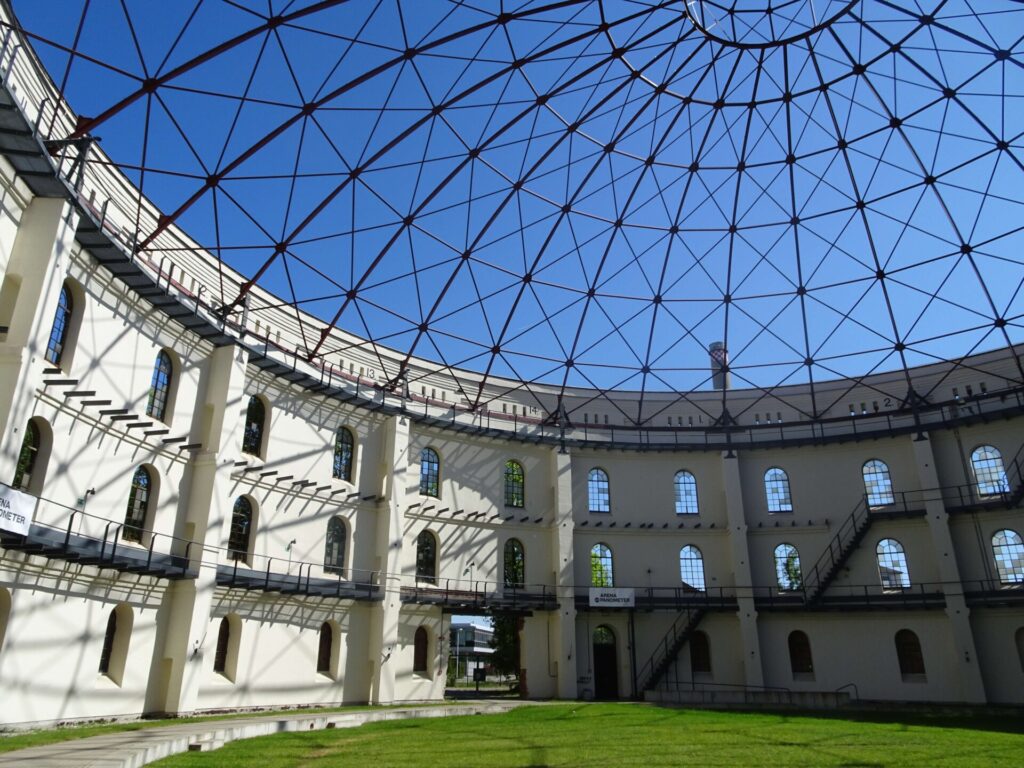 7. Practice Buddhist Meditation In A Shopping Centre
Inside the shopping centre opposite St. Nicholas Church (Passage, through Speck's Hof) in Leipzig Zentrum, you'll find this Buddhist meditation water bowl. It is also  a clock and a compass. I'm not sure why it is there, but you can have a go at making the water hum or vibrate by rubbing your hands on the two metal pipes either side of the drum.
8. Try The Leipziger Lerche – The Famous Pastry Of Leipzig
Leipzig only really has one food it's famous for – the Leipziger Lerche. 'Lerche', in German, means Lark. Originally these little songbirds were stuffed into cases of pastry with herbs and eggs and served as a delicacy!
For years, so many of these little birds were sacrificed for food. Eventually, in 1876, the Saxonian King Albert I banned them from being hunted to protect the species from extinction.
In a bid to keep the pastry business going, local chefs created a sweet version to replace the traditional meat-filled pastry after the ban. Today's version consists of a shortcrust pastry filled with a mixture of crushed almonds, nuts (like marzipan) and a cherry. The cherry symbolises the Lark's heart. On top is a grid of two crossed dough strips, so you can easily recognise it in the bakery.
You can still buy the pastry today from many bakeries throughout Leipzig. I got one takeaway from a small bakery near Augustusplatz, LUKAS Bäcker, for just a couple of Euros. It was really delicious, and as I love trying local foods while I'm away, I just had to do it!
If you're a foodie, check out this Sightseeing and Food Tour of Leipzig* on Get Your Guide. Explore Leipzig and discover culinary delights along the way. The 3-hour guided tour includes food and drink.
9. Do Some Urban Exploring
While I was in Leipzig, I noticed a surprising amount of abandoned buildings. From houses to shops to factories to warehouses… they were everywhere. It's an urbex dream.
The reason for this is apparently due to the socialists. Firstly, they were not maintaining nineteeth century buildings as the GDR didn't like them. Secondly, before the build and after the fall of the Berlin Wall, many people fled the east to the west. This left a lot of residential and commercial buildings derelict.
When I got off the train at MDR on the way to the Panometer, I noticed a series of abandoned warehouses and factories. I decided to go exploring…
Check out where this is and more pictures from this urbex here: Urbex In Leipzig: Abandoned German State Railway Repair Shops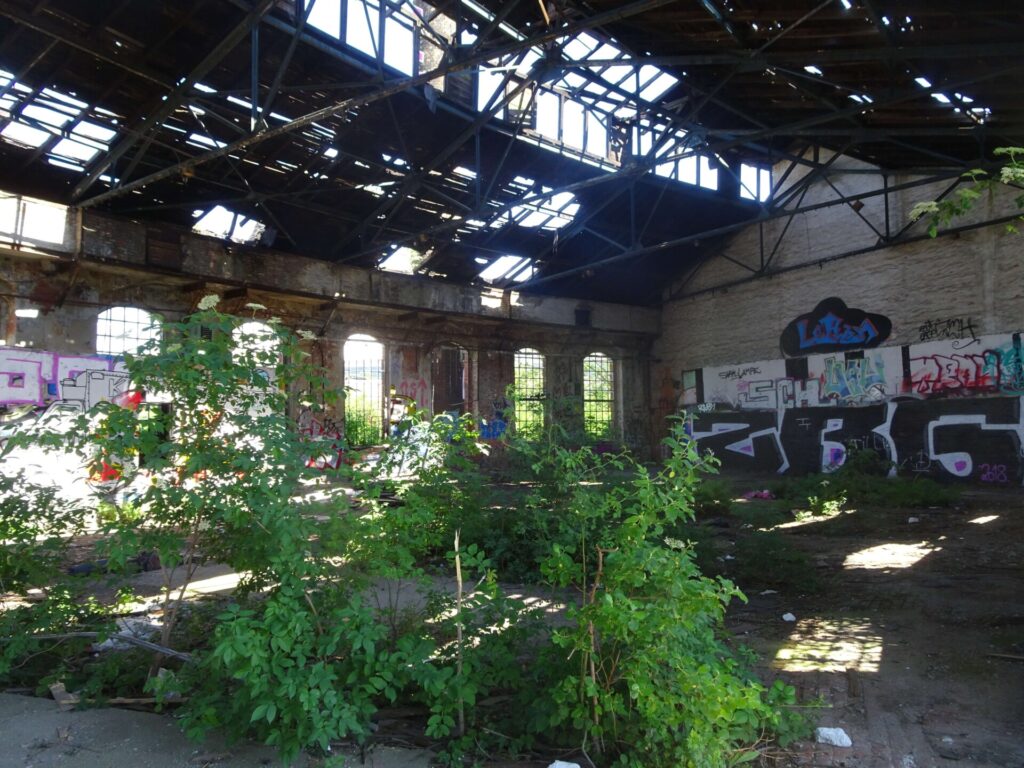 10. Visit The Museum In The Round Corner – A Stasi Museum In The Former District Headquarters Of The East German Secret Police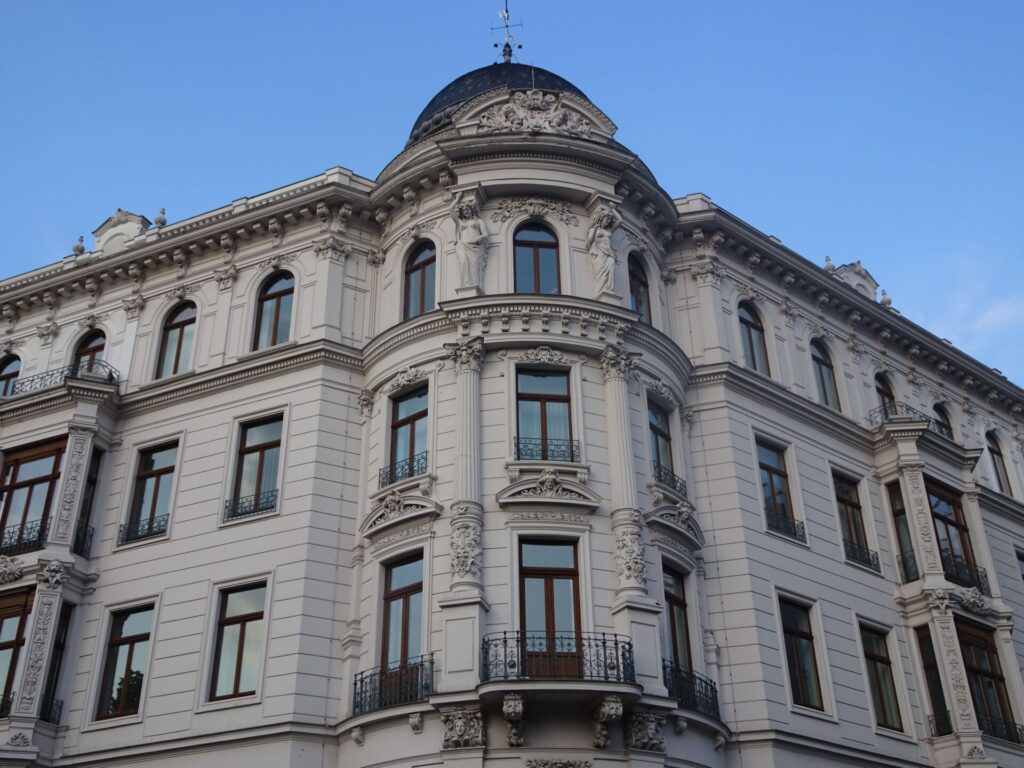 For 40 years, the GDR had it's secret police headquarters in Leipzig. They were located in the building called the "Runden Ecke" meaning "Round Corner". The name refers to the rounded corner of the building where the main entrance was located. In the former office buildings of the Stasi, visitors to the museum can learn about the secret police's function, methods and history. Rather comical disguises in the form of wigs and fake moustaches, propaganda posters, and secret listening and surveillance devices are all on display.
The Citizen's Committee, which runs the museum, have tried to leave the building in its original state. They hope to preserve as much as possible the authenticity of how it was during its use up to 1989. Brownish-yellow wallpaper and linoleum floors are throughout the entire museum, as well bars on the windows, filing cabinets, desks and reproduction of a prison cell from the former Leipziger Stasi-detention for those awaiting trial. It seems even the smell of the GDR lingers. It's quite eerie if you ask me.
Admission to the museum is free, however all the displays are in German only. In the small office/library located down the hallway in the museum, there are audio-guides available in a variety of languages (Polish, English, Chinese etc.) for a charge of €5.00 per person. Unfortunately, I arrived too late at the museum to do the audio tour as the recording lasts around 70 minutes. But I had a good look around and enjoyed it a lot. Even though there is no information in English, you can get a good idea of all the objects by looking at them and the accompanying photographs.
11. Drink At Auerbach's Keller – The Home Of Goethe's Play Faust – & See The Statue Of Goethe
Have you ever heard the story of the man who sells his soul to the devil for all the knowledge in the world? Well, that man is Faust, the protagonist in a classic German legend based on a famous historical figure of the same name. Poet and playwright Johann Wolfgang von Goethe rewrote the folktale into a tragic play entitled 'Faust: Parts One and Two'. It is widely considered to be one of the greatest works of German literature to date.
Goethe's Life In Leipzig
Goethe was a student in Leipzig 1765 to 1768. He studied law, but grew tired of it, and instead went along to poetry classes and writing. He hung out at the Auerbach's Keller, then a cellar wine bar and now one of the oldest and most famous restaurants in Leipzig. It was said to the Geothe's favourite bar, and here he saw paintings of the legend Faust, engaging in work with the devil in the form of riding out of the bar on a barrel. The story was a great inspiration to Goethe. In the story, Auerbach's Keller is the first stop that the demon, Mephistopheles, takes Faust on their travels together.
Today, there is a statue of Goethe in the Naschmarkt, in front of the Old Exchange building. Goethe is also said to have lived in one of the apartment buildings lining this square.
Auebach's Keller
Close by is the Auerbach's Keller. In the front, there are two statues. The first shows Faust and Mephistopheles. Opposite are a few students who are angry and want to fight with Faust but are being held back by bystanders. This relates to what happens within Goethe's play.
You can go down the stairs and have a look inside the Keller, but if you want to stay and have a drink it can be quite expensive. A set menu is also available of traditional German food, but it costs about 25 Euro per person. Sometimes in the evening they also have performances.
12. Join The Leipzig Free Walking Tour
Ahhh, I love a free walking tour! Each time I am in a city, I like to go on a tour to see the highlights and learn something interesting and unusual about the place. Leipzig was no exception, and I found a free walking tour which I joined and really enjoyed. Free Tour Leipzig does a 2-hour tour in English every Monday, Wednesday, Friday, Saturday and Sunday at 11 am. An extra tour is on Saturdays at 3 pm. The tours start from Augutusplatz (besides the large fountain with the horses).
The tour goes around the Zentrum area of Leipzig and can be delivered in English, Spanish and German. Our guide was very friendly and informative! I highly recommend it as one of my top things to do in Leipzig!
13. Discover The Delights Of The Leipzig Goth Festival
My trip just so happened to coincide with the world famous Leipzig Goth Festival! This is the largest annual goth festival in the world! Every year in May, the city is plunged into the dark world of gothic music, and arts. There are, of course, elaborate fancy dresses and costumes! There are loads of music gigs, market stalls and performances to check out. Although I didn't join any of the "official" events, I enjoyed just walking around and being absorbed by the atmosphere. I particularly enjoyed admiring people's outfits! Many of the people dressed up will want to pose to have their picture taken, so I didn't mind taking a few!
I think the Leipzig Goth Festival says a lot about the culture of the city. A lot of the people I met say they love Leipzig so much because of how accepting it is of all ways of life. They feel freer in Leipzig than in any other place to just be themselves. Although I was only there for a short time, I really felt this was true. I did feel very comfortable, and everybody I met seemed comfortable too in their own skin!
13 Weird & Wonderful Things To Do In Leipzig
Have you ever been to Leizpig? What were your highlights? Are you planning a trip there? Will you fit any of these on your to-do list?
Did you find this article useful? Let me know in the comments or join me on Twitter, Facebook, Pinterest and Instagram. Buy me a coffee here!
Pin For Later
Disclosure: Please note that some of the links on this page may be affiliate links. If you decide to make a purchase through one of these links, I may earn a commission at no additional cost to you. I use all of the companies I recommend and I use them because they are awesome and help make my travels better. If you are ready to book and would like to support Wild Lovely World, using these links is one way to do that. Thank you for your support! If you have any questions, please contact me or read my full disclaimer here.