How To Get To The Isle Of Arran From Edinburgh (By Car & Public Transport)
Disclosure: Please note that some of the links on this page may be affiliate links. If you have any questions, please read my full disclaimer here. Thank you for your support!
Last Updated On 11th July 2023 By Lauren | Wild Lovely World
In this post, you'll find out how to get to the Isle of Arran from Edinburgh.
I will share my experience of booking ferry tickets to Brodick on the Isle of Arran and travelling to the ferry port in Ardrossan from Edinburgh.
Plus what it is really like to travel by Calmac Ferries and what it is like taking my car on a ferry for the first time ever!
Travelling To The Isle Of Arran From Edinburgh
Where Is The Isle Of Arran In Scotland?
The Isle of Arran is located in the south-west of Scotland. It is a small island in the Firth of Clyde.
It is one of the most frequently visited islands for Scottish residents and visitors alike. This is because it is one of the most accessible Scottish Islands and one of the most southerly.
Top Reasons To Visit The Isle Of Arran
Arran is often referred to as "Scotland in Minature". This is because the island has both Highlands and Lowlands, which are divided almost exactly in two through the middle which is the same for the Scottish mainland.
The varied landscape of Arran means that you have golden beaches, rolling hillsides and high-rising mountains dotted with waterfalls all in one place.
If you are visiting Scotland for a short time and want to visit one of the Scottish islands, Arran is a good choice. It is very convenient to get there from the big cities of Glasgow and Edinburgh and there's so much to see and do!
How Long Does It Take To Get To The Isle Of Arran From Edinburgh By Car?
It takes about three hours in total to travel from Edinburgh to the Isle of Arran by car and ferry.
Breaking it down, it takes about one hour on the ferry from the coastal town of Ardrossan on the mainland to Brodick on the Isle of Arran.
Ardrossan is about two hours drive southwest of Edinburgh. The quickest route follows the M8 to Glasgow and then it is around a one-hour drive south-west of Glasgow via the A737.
How To Get To The Isle Of Arran From Edinburgh By Public Transport
I haven't travelled by public transport to the Isle of Arran, but I have heard it is very accessible.
Travelling To The Isle Of Arran By Train From Edinburgh
By train and ferry, it would take around 2.5 hours to get from Edinburgh to the Isle of Arran.
From Edinburgh, you would take a train to Glasgow (approx. 45 minutes). Then take a train to Ardrossan Harbour (approx. 40 minutes). From there, you can walk to the ferry terminal in just a few minutes. Then take the ferry for around one hour.
Use National Rail Enquiries or Trainline to plan your train travel and get an idea of times/prices. In the UK, train prices change depending on the time you travel and how far in advance you book your tickets. To save money on train travel, you can get a Railcard (save 1/3 on your train tickets).
Travelling Around The Isle Of Arran By Bus
After you arrive on the Isle of Arran, in Brodick, it is possible to travel around the whole island by bus. While I was in Arran, I saw many bus stops everywhere. People were always waiting for them. I wasn't sure how long they had been waiting, but I was sure that the bus would come eventually!
There is only one main road on Arran – the A841. Circling this road around the island, it is approximately 57 miles and would take around 2 hours to drive it by car. The bus follows this entire route around the island, and occasionally dipping into the smaller B roads. So, it is possible to travel around the island completely by public transport, however, it will take longer on the bus.
Take a look at the StageCoach bus timetables on the Isle of Arran here.
Booking Ferry Tickets To The Isle Of Arran
How Much Is The Ferry From Ardrossan To Brodick?
I got a return with the Calmac Ferry, from Ardrossan to Brodick, two adults and a car, for about £47 total.
You must pay for the vehicle, excluding the driver. Then each person pays on top. It can be very cheap if you are travelling without a vehicle!
For a passenger travelling on foot, it costs just £4 for a single or £8 for a return ticket from Ardrossan to Brodick.
It is free to take your bike on the ferry.
How Far In Advance Do I Need To Book The Ferry To The Isle Of Arran?
I recommend planning as far ahead as you can!
I booked the ferry tickets just a few days in advance of when we planned to travel.
Due to the short notice, many of the ferry times were already sold out. Our preference was to travel over on a Friday night. But the only one available to book for us was to leave on Saturday morning at 6:30 am!
How Do I Book The Ferry Tickets Online?
The booking process with Calmac Ferries is very easy. Just follow the process online and complete the forms here.
When you book, you can choose to print your tickets off at home or pick them up at the ferry port. I chose to print them off at home. After booking, I got an email confirmation with a PDF attachment. Print this.
Calmac Ferry Review – Our Experience On The Calmac Car Ferry From Edinburgh To The Isle Of Arran
A (Very) Early Morning Drive From Edinburgh To Ardrossan
Because I was not planning well ahead, most of the ferry times had already been booked. If we wanted to go to the Isle of Arran that weekend, the only option left was to take the Saturday morning sailing at 6:30 am! Despite knowing how bad I am at being a morning person, I optimistically believed this would be achievable.
Predictably, I came to regret this decision later. As I stayed up late packing, I finally got to bed after midnight. Then I realised I had to be up in again 3 hours.
It felt like I had been asleep for about 5 seconds when the alarm sounded. Still, I managed to drag myself out of bed and finish packing the car.
We set off just after 4 am to drive the 2-hour trip to the ferry port in time for check-in!
The journey was pleasant, due to the lack of traffic at such a time in the morning. I zoomed across the motorway in much less than the predicted ETA.
Checking In For The Ferry
We joined the check-in queue and waited until the check-in time commenced, which turned out to be about 30 minutes before the stated check-in closure.
As I had put in my car registration number on the booking, when we approached the booth the lady already knew who I was. She took the paper ticket I had printed off. She told me to move forward into the lanes. Once on the ferry, we would be parked "bumper to bumper".
Waiting To Board The Ferry, There & Back Again
The wait to board the ferry, however, was not fun or fast. Our tickets stated that check-in closed 30 minutes before departure. But we were left waiting UNTIL the departure time before any boarding of the boat actually commenced.
I was growing ever more tired at a standstill in the queue. And I was grumpy that I could have, in hindsight, had an extra hour in bed. I vowed not to make the same mistake on the return!
In fact, when departing Arran from Brodick to Ardrossan, we turned up 10 minutes before the check-in closure. I felt a spark of joy well inside me as if we had beat the system. But then we had to wait for OVER AN HOUR because there was a delay to the arrival of our boat from the other side 🤦‍♀️.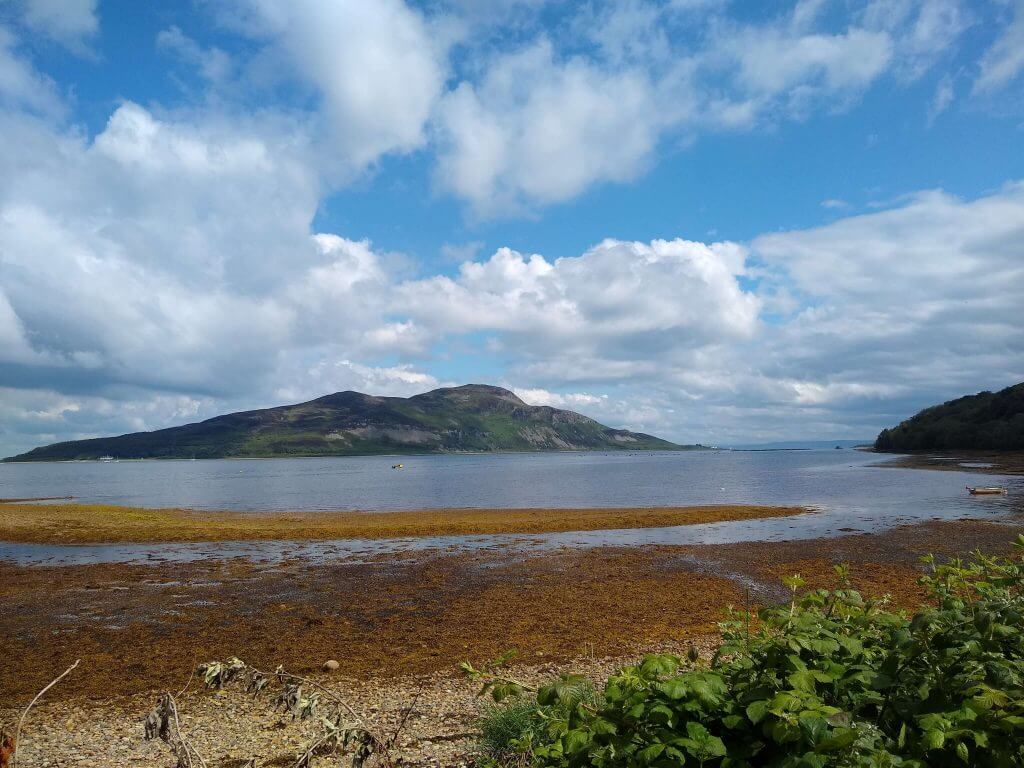 My First Time Driving Onto A Ferry. What Could Go Wrong?
It was my first time taking the car on a ferry, and I was a little bit nervous! Luckily, there were many people supervising to ensure that it all went well. There were, however, a few 'bumps in the road'!
Firstly, once we were on the ferry and parked, I realised that the guide hadn't left enough room on my driver's side for me to get out. I was forced to climb over the handbrake and exit through the passenger door.
Secondly, after we arrived in Brodick, we got back into the car to be ready to leave the ferry. Unfortunately, I was one of the first on and had parked on a movable ramp that raised up and down. As it was lowered to allow us to drive off, the car almost slid off the edge of the ramp thanks to my dodgy handbrake! The man had to stop lowering it and instructed me to reverse backwards!
We Packed A Breakfast Picnic
Although you can buy food on the ferry, we are always looking for ways to save money when we travel! We took our own cereal in containers and whatever was leftover of the milk from the fridge at home.
We searched for a quiet place to relax and enjoy our modest breakfast in peace. In a wide, open seating area we found a large circular table surrounded by sofas which were too far away to make dining comfortable. It would have to do.
Encounters With Fellow Passengers
The ferry was very busy for such an early departure! There many different types of people travelling – hikers, bikers, teens and stag parties.
While we had our breakfast, nearby us was a small family of four who had the same idea. The two small children were dressed in fleece cotton pyjamas and dressing gowns as if they had been pulled right from their beds. They huddled around a small table tucking into their little plastic bowls with little plastic spoons to match. I meet the mother's eyes and we smiled at each other.
At the tables opposite, there was a party of around 20 golfers clad in plaid trews and golf hats. They were being loud and obnoxious while downing cans of Carling. It was 7:30 in the morning!
After the kids got their sugar fix they proceeded to run around screaming. We decided to explore a little more and we discovered a large and quiet lounge area. It was full of sofas on which many people lay down to sleep.
Exploring The Ferry
I decided to head outside and enjoy what there was of a view, despite the heavy rain.
Through the mist I could see the outline of an island, and then buildings slowly began to appear above the shore. In just over an hour since departing the mainland, we had arrived on the Isle of Arran!
Where To Stay On The Isle Of Arran
Looking for accommodation recommendations? Check out these options. I didn't stay in any of these hostels or hotels myself but they all look fabulous to me and get great reviews.
Recommended Hostels On The Isle Of Arran
Lochranza Youth Hostel (Hostelling Scotland)
Lochranza Youth Hostel is perfect for solo travellers, families and groups. You can even take your dog! There are comfy beds, WiFi, laundry and a drying room. On-site parking and a cycle store are also available. There are dorm rooms and private en-suites. All have lockers and bedside lights. There's an option to pre-book breakfast or cook your own meals in the large, well-equipped kitchen. Rated 4.5/5 on reviews from guests.
Recommended Hotels On The Isle Of Arran
The Douglas Hotel
Situated in Brodick, the Douglas Hotel is just a 2-minute walk from the Ferry Terminal so it's perfect if you're travelling on public transport. There's traditionally Scottish home-cooked food and a bar on-site. The rooms are elegantly decorated and each has a luxury bathroom. Breakfast is included. Rated 9.4/10 on reviews from guests.
Auchrannie Resort
My friend makes a yearly pilgrimage to Auchrannie Resort once per year. It looks absolutely fabulous and she raves about it! This beautiful resort features gorgeous rooms, lodges and suites. There's a spa and pool and dining options. You won't want to leave! Rated 4.5/5 on reviews from guests.
Search for accommodation on the Isle of Arran using the search box below.
What To Do On The Isle Of Arran – Your Free Isle Of Arran Guide Map
I have created this free guide map with the best things to do on the Isle Of Arran. It is everything that me and Fiachra saw and did on the three days we visited the island in June 2019. Happy adventuring! 🙂
Check out these posts for more Isle of Arran inspiration:
How To Get To The Isle Of Arran From Edinburgh – Thanks For Reading!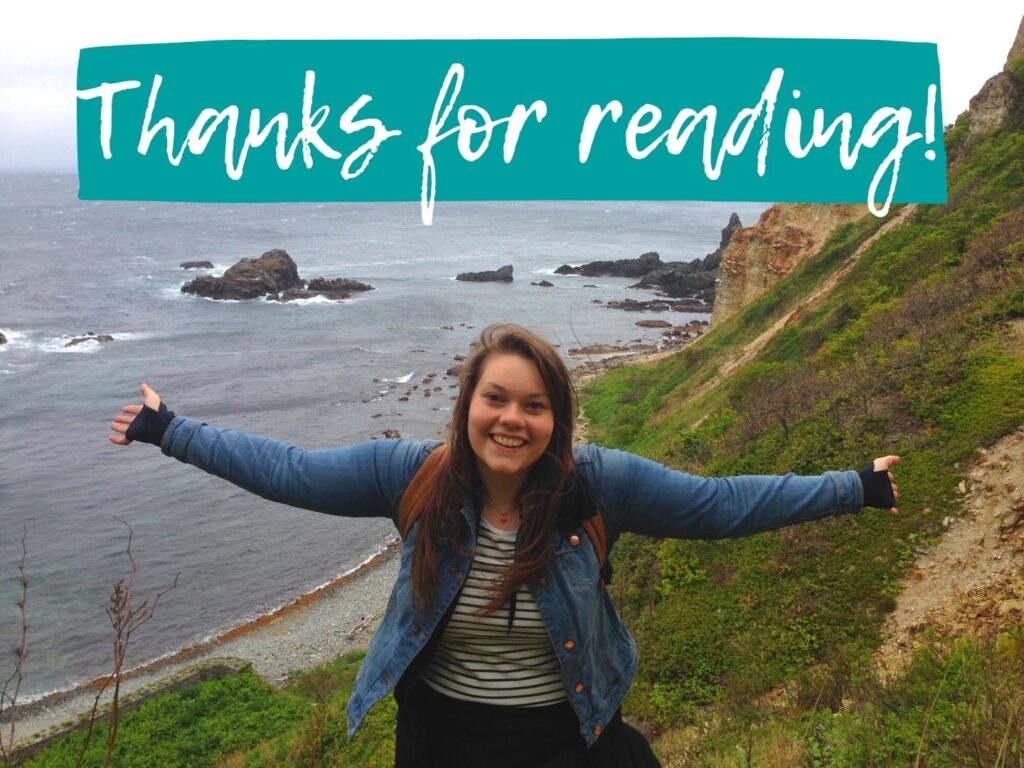 Did you find this article useful? Let me know in the comments or join me on Twitter, Facebook, Pinterest and Instagram. Buy me a coffee here!
Disclosure: Please note that some of the links on this page may be affiliate links. If you decide to make a purchase through one of these links, I may earn a commission at no additional cost to you. I use all of the companies I recommend and I use them because they are awesome and help make my travels better. If you are ready to book and would like to support Wild Lovely World, using these links is one way to do that. Thank you for your support! If you have any questions, please contact me or read my full disclaimer here.