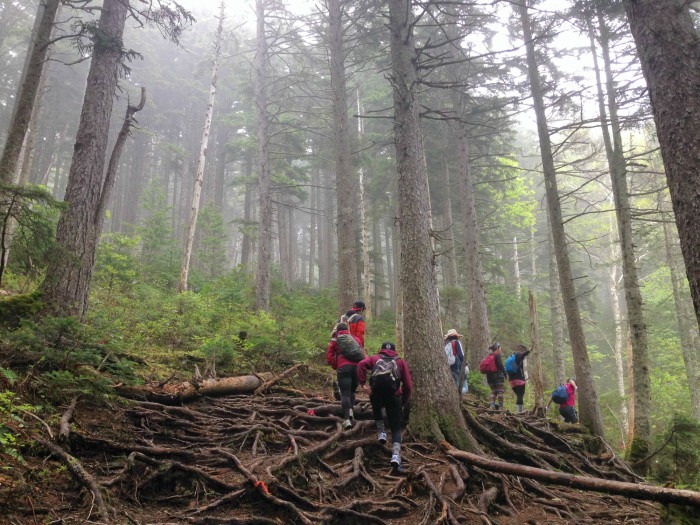 Hiking An Active Volcano In Hokkaido – Mount Meakan
Disclosure: Please note that some of the links on this page may be affiliate links. If you have any questions, please read my full disclaimer here. Thank you for your support!
Last Updated On 12th July 2021 By Lauren | Wild Lovely World
Mount Meakan is a stunning volcano on the northern island of Hokkaido in Japan. It is a beautiful hike and I did it with a group of my friends. Here is a post I wrote about the hike a few years ago on an old blog. I have republished it here.
Hiking 登るHokkaido :  Mount Meakan (雌阿寒岳 Meakan-Dake)
In June 2015 I headed out east to celebrate Rina's birthday. My friends being my friends, our idea of a decent celebration is hiking 1,499m up an active stratovolcano.
About Mount Meakan, Hokkaido
This is Mount Meakan, the highest mountain in the Akan Volcanic Complex located in Akan National Park in Hokkaido, Japan.
I've visited the Lake Akan region perhaps around six times, but I never had a chance to hike this volcano… until now.
A relatively easy hike (despite the height), many of my friends have climbed this mountain many times before and their pictures always looked stunning.
At the summit you can see two unique pools of water – 赤沼 (Sekinuma, Red Pond) and 青沼 (Aonuma, Blue Pond). Located by Lake Onneto, you can also have wonderful views over the lake and surrounding mountains, forest and valleys.
Mount Meakan is said to be the female counterpart of the couple Meakan and Oakan, Oakan being the male.
Mount Oakan (雄阿寒岳 Oakan-dake) is actually a little shorter than Meakan (1,370m) but the hike is said to be much more difficult, so Meakan is the more popular choice amongst many hikers and trail walkers.
I was super stoked to finally be getting to hike this mountain! As a local, Rina has climbed this mountain perhaps around three or four times, but knowing I had never done it and wanted to before I leave Japan, I think she included it in the schedule just for me! (What a sweetheart… and that's what friends are for 🙂 ).
Getting to Mount Meakan
I took the train to Kushiro Friday night with Brae and Ellen (discount ticket with JR, around 16,660 yen return Sapporo to Kushiro) and Rina picked us up at the station around midnight. We drove north 45 minutes to Akan town, and spent the night at Emily's house.
In the morning, we rose bright and early, getting super pumped. Our crew consisted of Ayame, Chris, Ellen, Emily, Braeden, Miyuki, Joe, Emily, Rina and me. It was Ayame and Joe's first time to hike! Joe even brought a brand spanking new bear bell (super legit and way better than my crappy version from the 100 yen shop).
After a compulsory combini stop for snacks and toliet, we headed to the trail head just around the back of Lake Onneto. Driving past the lake, it looked so beautiful sparkling green and blue under a super humid and cloudy sky. There was even some mist rising up off the water.
We parked the cars in the car park outside the toliet block / camp site and got ourselves ready to start. The trail is well signposted and we started the hike around 10.30am.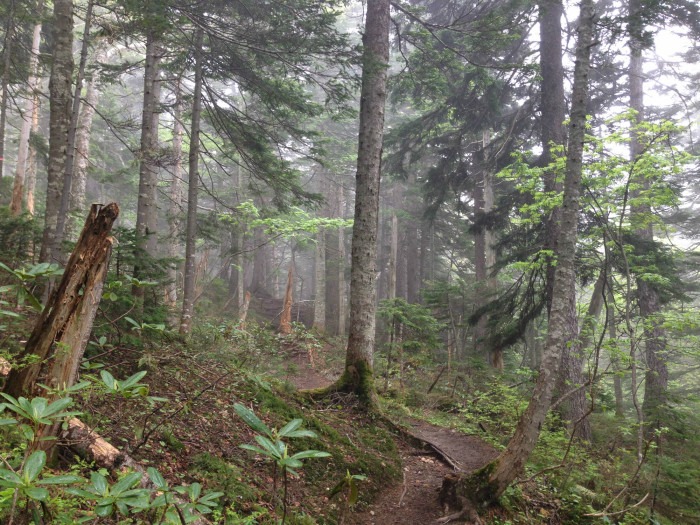 Our Hike To The Summit
The forest smelled super lush. The trail is gorgeous. The trees are huge. Some are broken and snapped close to the trunk, their wooden bodies laying down the mountain side. There were also a lot of alpine flowers. You have to climb over many tree roots and rocks, as the path gently slopes up and around the mountain.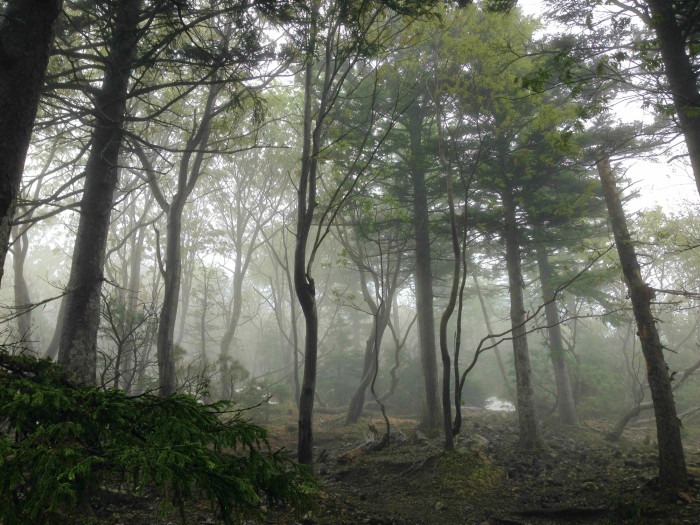 There was a lot of cloud between the trees – it looked eerie and mysterious. Rain drops clung to the branches and pines. The higher you go, the steeper it becomes. It's so interesting to see the landscape and foliage change as you gain altitude.
Although we were hiking in early June, there was still at lot of snow on the slopes, covering the path. We had to be careful to cross the snow without sliding down the mountain (not terribly easy in trainers/sneakers… but alright in walking boots. We had to use some sticks to help us make the crossings, and a lot of encouragement from friends!).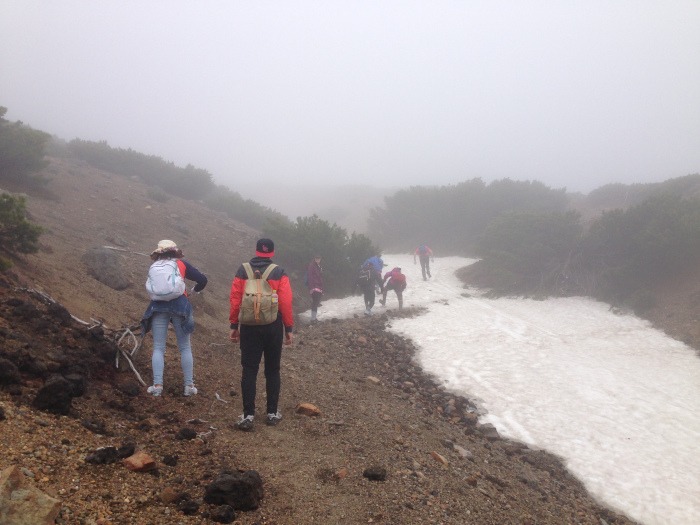 Toward the summit, the ground becomes rocky and uncovered, and there are a lot of bushes in the open air.  It was incredibly foggy. Visibility wasn't good. The clouds kept rolling in due to the strong winds.
An Active Volcano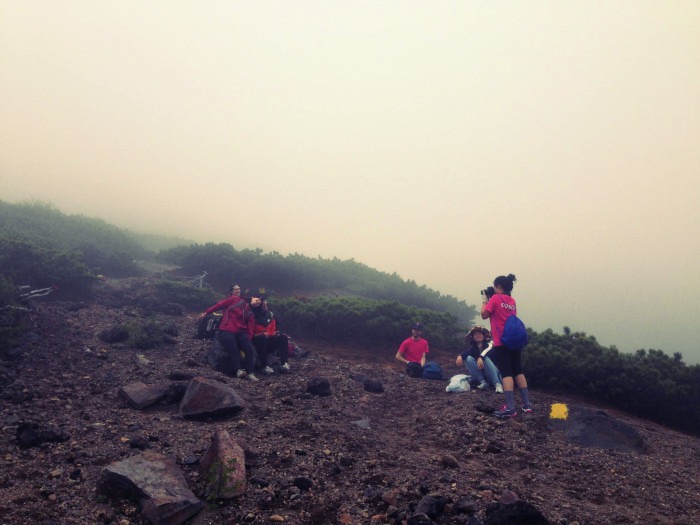 Just two days before we hiked, there was an earthquake with a seismic intensity level of seven in the Lake Akan area. We believe that this could have caused an increase in sulfuric gas activity in the volcano's crater.
No one made any hesitation to descend the mountain immediately… it was hard to see and breathe as we stumbled down the mountain side.
As we approached the ninth station, the air suddenly became filled with sulfuric gas. Taking an in-breath at the wrong moment, a lot of it ended up in my lungs. The same thing happened to my friends, and we were coughing a lot. It became difficult to breathe.
Chris and Emily, who were further ahead, became concerned and turned around the head back, warning us about what lied ahead. No one made any hesitation to descend the mountain immediately. The cloud surrounding us was so thick and full of gas, it was hard to see and breathe as we stumbled down the mountain side.
Descent
After around 10 minutes of walking back down, strangely the cloud began to clear. All of a sudden we could see the mountain Akan-Fuji, a stratovolcano rising majestically 1,476m above the ground beside Meakan. We stopped to admire this view and the peeping of the blue sky between the dark clouds.
A little later, it cleared little more and we could see a beautiful, gorgeous panorama over the mountains and valleys below. The landscape was covered with dense emerald green forest and to one side we could see the turquoise blue Lake Onneto once more.
Lunch Stop
Our summit picnic plan failing, we decided this would be a good place to stop and enjoy our lunch. I set up my camera to make a time-lapse of the clouds rolling over the mountain side like a sea. I got out my inari-sushi pack, and began to enjoy it, when a gust of strong wind came by and ripped the plastic lid right off and smacked Braeden who was sitting across from me right in the face. I was distracted by the delishness and it was over in a flash, so I didn't see this happen, but my friends did. Roars of laughter! Chris salvaged the plastic top from a nearby bush.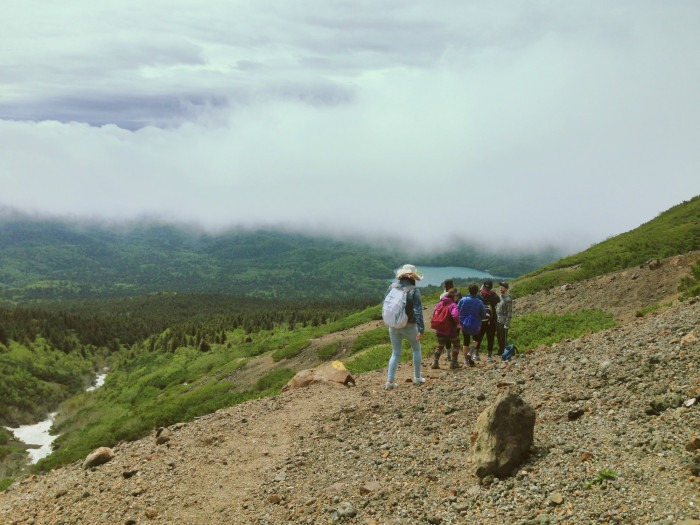 Part way down, we saw a chipmunk looking squirrel jumping around the tree roots. I slipped on my ass a couple of times in the snow. Braeden walked into a tree branch and it hit him in the eye (not much luck that day haha). Miyuki made a rap about our adventure. Ellen took a lot of beautiful pictures.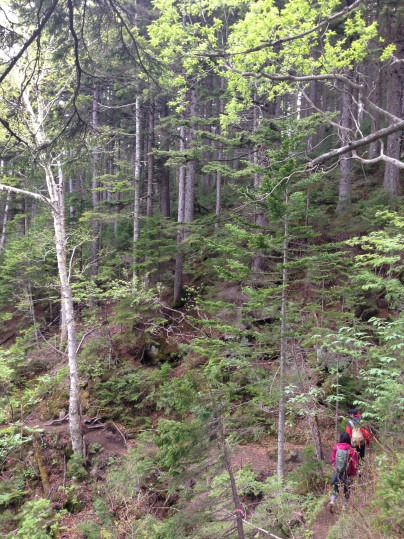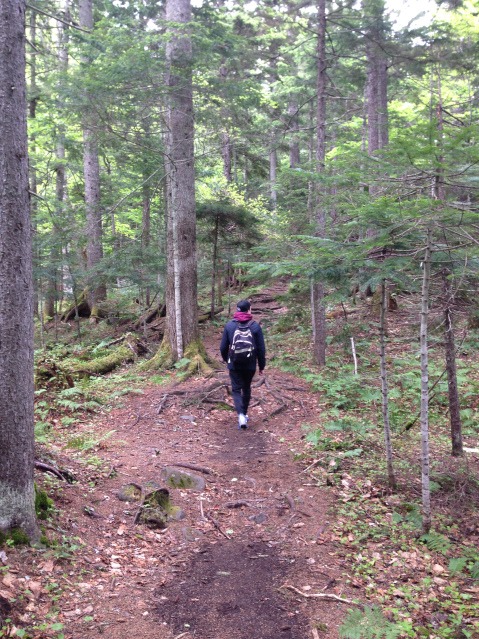 Happy Hiking
We arrived back at the car park around 2.30pm, so the entire trip took around four hours. It was disappointing to be unable to reach the summit and see the ponds, but I had a wonderful time hiking with my friends, and the views we did see were absolutely gorgeous.
I think this might be the last time I will be able to visit the Lake Akan region before I return back to the U.K., but if I ever do come back I would be happy to challenge this mountain again, and hope for better weather next time.
Want more? Check out this video I made of the hike 🙂
Have you hiked this mountain or want to go? Share your experience and thoughts below.
---
Links
Japan Hike Guide – Mount Meakan – blog post
Japan Guide – Lake Akan (阿寒湖 Akanko)
Lake Akan Tourist Information
Location
Coordinates: 43.386400, 144.008900
Google maps
Date visited
Saturday 6th June 2015
Disclosure: Please note that some of the links on this page may be affiliate links. If you decide to make a purchase through one of these links, I may earn a commission at no additional cost to you. I use all of the companies I recommend and I use them because they are awesome and help make my travels better. If you are ready to book and would like to support Wild Lovely World, using these links is one way to do that. Thank you for your support! If you have any questions, please contact me or read my full disclaimer here.