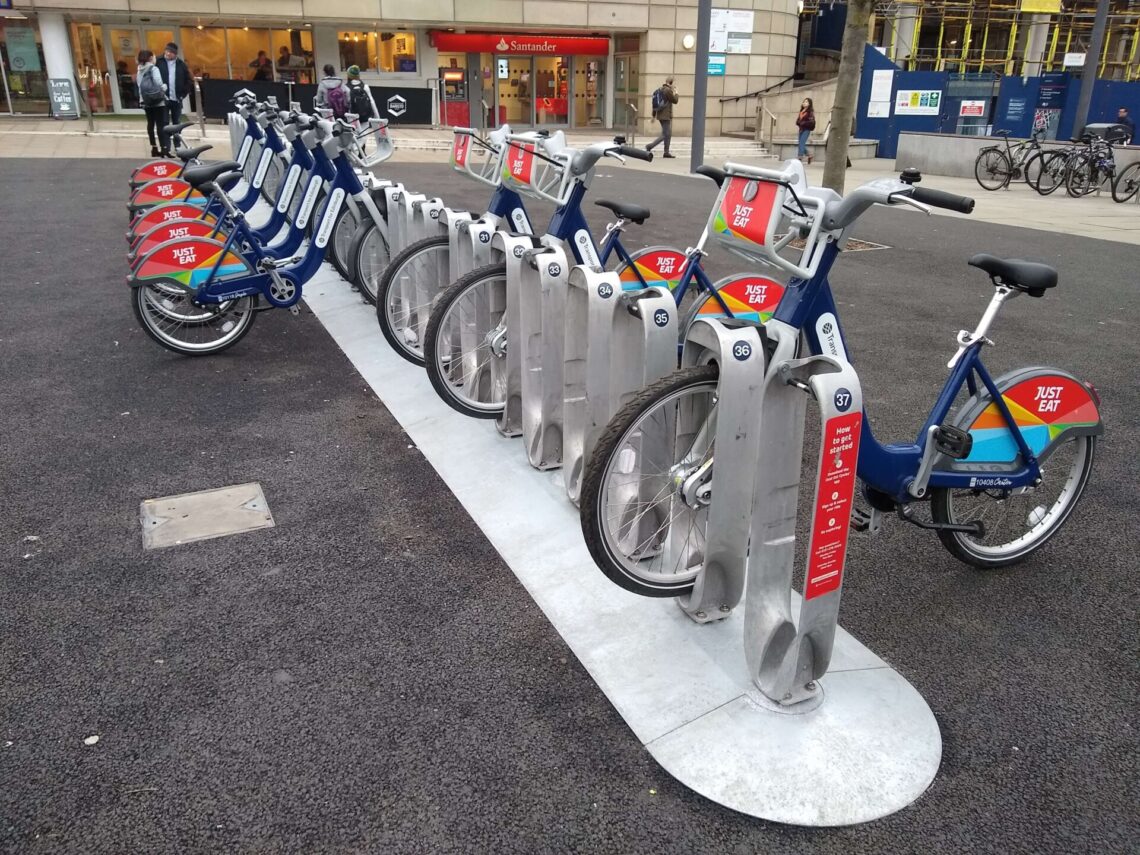 Taking Just Eat Cycles For A Spin – An Honest Review Of The Edinburgh Bike Hire Scheme
Disclosure: Please note that some of the links on this page may be affiliate links. If you have any questions, please read my full disclaimer here. Thank you for your support!
Last Updated On 11th July 2023 By Lauren | Wild Lovely World
Transport for Edinburgh recently launched a new city cycle scheme sponsored by food delivery website Just Eat called Just Eat Cycles in Edinburgh. The programme has been live since September 2018, and although has run into difficulties and criticism, promises to make bike rental easier and cycling a go-to mode of transport for the residents and visitors to the beautiful city of Edinburgh.
Myself and Fiachra had some free time during the January New Years Holidays and, willing to try new things, decided to give Just Eat Cycles in Edinburgh a go. Here's a review of our experience!
Summary: Overall Review Rating Of The Just Eat Cycles In Edinburgh – 6/10
Good for small and quick journeys across the city center and suburbs.
Affordable and inexpensive bike rental.
Must have the app, data, GPS and credit/debit card to use.
Inaccurate and unclear information on pricing and rental process.
Lack of flexibility with length of hire and parking locations.
How Just Eat Cycles Works In Edinburgh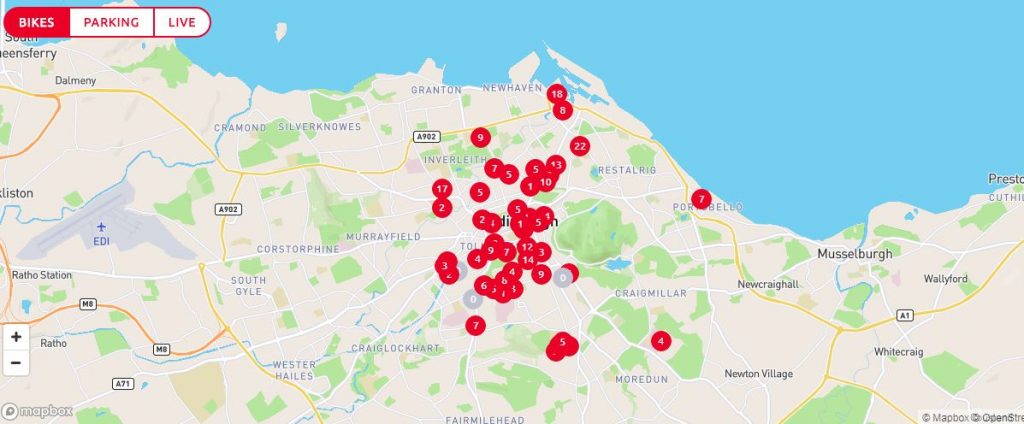 How much is it and how long can I use the bike for?
According to the app, the price options are as follows:
£1.50 for a single trip of up to 1 hour – each 30 minutes thereafter is £1 extra. 
£3 for a day subscription, allowing unlimited journeys of up to 1 hour each in a 24 hour period. 
For £90 you can sign up for an annual membership, allowing unlimited '1 hour' hires for 365 days.
As you can see above, there are several options, but annoyingly each option limits you to 1 hour rides only. To get around this, you can pay extra per 30 minutes, or 'park' the bike at one of the stations which theoretically pauses your rental time until you begin using it again. However, it is not possible to simply lock the bike in any location, for example outside a supermarket, while you go in to buy something.
Setting up your Just Eat Cycles account:
Step 1: Download & install the Just Eat Cycle app for Android or iOS.
Once installed, you check the map for bike locations in the app (or you can do this on the website) – this will show how many bikes are available at each location (although we discovered that this is not always accurate).
Step 2: Sign up for the service.
Payment details: The first screen you will come to when you tap this is to select a 'payment scheme' (either rental for 60 minutes, a full day etc) and input your payment details.
Based on the reviews, many people are put off at this stage. Don't worry though, the app will NOT take any payment until AFTER* you have completed your rental. It's just taking them now to setup your account. I selected '£1.50 for 60 minutes'. And put in my card details (you can only pay by debit or credit card). (*However, see the update further down to find out what happened the next time I put in my payment information!)
Generic demographic questions: After inputting payment details, the app asks for some general demographic survey information such as year of birth, age, gender identity, first part of postcode etc.
Step 3: Preferences:
You can opt to be automatically charged for journeys over 60 minutes by £1 per 30 minutes. We selected 'Yes' for this. (Although the app gives the error that we would be charged an extra £5 per 30 minutes… more on that below…)
Also allow the app to access your location so it can see when you are at one of the bike stations.
Renting a bike with Just Eat Cycles in Edinburgh:
Step 1: Go to your nearest bike station.
When you open the app, it will tell you where your nearest one is (if you have internet/GPS turned on). Once you arrive, it will detect your location by GPS and know that you have arrived at a station.
Step 2: Select 'Unlock bike'.
The app will tell you the name (Mike, Chelsea, Jay etc) of the bike you have been allocated.
Step 3: Find the bike.
(Unfortunately, the first station we went to, the bike Fiachra had been allocated just did not exist, and it said it was there when it wasn't. Perhaps it had been the victim of vandalism and abandon. We moved onto the next nearest station with available bikes…)
Step 4: Unlock the bike.
Push the small silver button on the top of the bike. The bike should unlock.
(At this station, I had some issues as the lock was broken. The bike would just not unlock when I pressed the button, and the app kept saying that the bike had been returned (If you don't unlock the bike within a certain amount of time (perhaps 30 seconds) the app will timeout). I feared every time that I would be charged. I found at the end that I thankfully wasn't. If you encounter an issue with a bike, click 'Report' and state what is wrong with it from a list of options. Annoyingly, 'lock' was not listed as an option, so I selected 'tire' instead. Reporting a problem with the bike will stop the bike from being shown as available, allowing you to select to unlock another bike again after the timeout).
Step 5: Adjust the seat height (the only modifiable thing on the bike).
(Unfortunately both of us struggled to fix the seat to a suitable position as the adjuster was loose). 
Step 6: Ride!
During a journey with Just Eat Cycles in Edinburgh:
The app will track your time using the bike and notify you if you have gone over your 60 min allowance.
If you have enabled the extension, it will let you know that you'll be charged extra and show a timer of how long you've used it. If you don't have it enabled, but keep the bike overtime, then you'll be told at the end how much you'll be charged. 
Returning a Just Eat Cycles bike in Edinburgh:
Stop at one of the stations located on the map.
Select 'Return bike' on the app.
You'll be asked to lock the bike using the front wheel lock (push down on the lever).
The lock will register to the phone and the app will end your journey.
Payment will be taken from your card.
We checked our accounts immediately after our journey and we had two pending charges – £1.50 for the initial rental and £1 for an extra 30 minutes.
Pros & Cons Of Just Eat Cycles In Edinburgh
Reasonably decent bikes but not without fault:
According to BikeBiz, "the Pashley bikes will feature high-quality Shimano gears and brakes, a gel saddle, front and rear LED lights, full-length mudguards, puncture resistant tires and a step-through frame allowing ease-of-use for all cyclists."
Perhaps due to the fact that it is a relatively new scheme, we found the majority of bikes to be in reasonably good condition and included all of the above. I have, on the other hand, seen bikes abandoned around the city with flat tires etc, but these could be due to vandalism.
While riding the bikes performed reasonably well with working front and rear lights, an acceptably comfortable seat, well-inflated and solid tires and working gears and breaks.
It has three gears, but there is not much noticeable difference between the first and second gear, but a big difference between the second and third.
Due to the bulky metal frames attached to the handlebars I was initially surprised at how light the bike seemed, but after a while it became very heavy, especially when riding uphill.
In addition, the dynamo to power the lights make it very difficult when pedaling up hills and we both seemed to be going impossibly slow!
Despite adjusting our seats, Fiachra couldn't get his to stay up so had to ride very low which made it uncomfortable for him. I also had problems with my seat where it wouldn't fix in place and it kept shifting while riding. 
Extensive, flat and safe – the impressive Edinburgh Cycle Network:
Cycling is a excellent way to get around Edinburgh. Before my bike was sadly stolen in May 2018 (a common occurrence in Edinburgh, unfortunately), I used to enjoy cycling to work and back along the canal.
Aside from the majority of the New Town/Old Town, the areas surrounding the city are relatively flat. In addition, there is an extensive network of cycle routes which runs all around Edinburgh and Midlothian.
The networks haven't been built as part of the scheme, but have existed for many years, although they blend in so well that you could live in the city for years without noticing them. If you're observant though, you'll notice that these comprehensive routes are clearly marked with blue signs showing locations and distances all across the city and suburbs, making it so easy to get around by bike.
I found the cycle lanes around the Meadows/Holyrood area, where we went on our trip, for example, to be particularly impressive. I felt very safe having our own lanes, separate from the pavement and the road, with toucan crossings, separate traffic lights and road markings just for bikes. It felt very similar to when we were cycling in Denmark or the Netherlands.
Affordable travel for short, recreational city center journeys:
For bike rental in a touristy city, it's actually very affordable. You can rent the bike for just £1.50 for one hour, and £1 for an extra 30 minutes after that. For a full day, it'll cost you £3, but unfortunately each trip is limited to 60 minutes each, even if you rent it out for the full 24 hours.
It's quite unclear on the website how pausing the time works, but we are under the impression that the bikes must be parked at virtual and physical stations. This would be annoying if you wanted to go out for the day and not have to worry about the time and finding a station to park the bike in. So, it's only really worth it if you're making multiple, short trips rather than wanting to hire out a bike for the whole day. For longer rides and less stress, it maybe better to use another service such as Bike and Go, for example, where you can rent a bike for up to 72 hours and keep it with you overnight (but their service requires a £10 registration fee – read more about them below).
The costs are (only slightly) cheaper than other public transport, such as the Lothian Buses and Trams, but, again, only if you're making a short journey. A single ticket on Edinburgh public transport costs £1.70 and unlimited journeys for a day costs just £4. There's no time limit for the bus or tram, so you can ride it as long as you want and go as far as you want.
Due to Edinburgh being a relatively compact city, you can actually travel a fair distance by bike within a short amount of time. Thanks to the Cycle Network, it makes quick and cheap travel even easier. The majority of bike stations are currently located centrally, and south to Morningside, north to Newhaven, east to Leith and west to Dalry, although they are introducing new stations all the time. Just Eat Cycles could be great for getting around these locations, but if you need to travel further it would be best doing so by other means. 
Furthermore, if you need to get anywhere important and in a hurry, you'd be better off using a bus or a tram, or even walking. In our experience, the availability and condition of the bikes was unreliable, so only consider it if you've got time to spare for the possibility of things going wrong!
Simple and easy to use app, but requires updates and improvements:
Registering for the service has to be done through the app. It's free and takes just five minutes. We found the app downloaded quickly and was easy to use. You can do it on Wifi, but when you want to rent the bike you need data and also GPS.
Strangely, it asks for payment details before any other information. Payment can only be made by credit or debit card. It makes it seem like you are purchasing a rental immediately, but the app only charges you at the end of your journey (However, see update below!). We checked our bank balances after we ended our trip and we had pending charges to our cards for the correct amounts.
After inputting payment details, it asks for some general demographic survey information such as name, year of birth, age, gender identity, first part of postcode etc, most of which are optional to answer.
The service is run completely online and automated so you need the app, data, a credit/debit card and GPS is required, otherwise you cannot use it.
Disappointingly, I found that many of the app functions did not work, for example I cannot see my journey history, or view my account details.
There is a Live Chat Help Desk service available for any queries, and they seem to be reasonably responsive when I asked a question.
Inaccurate and unclear information:
As mentioned above, it's not clear when you sign up when you'll actually be charged (we found it's at the end). (Update: the next time I tried to use the service in February, I was charged immediately after I had input my card details. I contacted Customer Services via their Instant Live Chat who were of little help explaining why it had occurred, however were quite happy to resolve and give me a refund!).
Slightly disconcerting is the pricing errors in the app – we noticed it said we would be charged another £5 per 30 minutes when in fact it is £1 per extra 30 minutes, and this is what we were charged.
It was also not clear on the station location map what the difference is between available bikes and parked bikes. But when we went to a station with only parked bikes we couldn't unlock one, so presumably the 'parked' bikes are unavailable.
There was also inaccurate information on the available bikes. The first station we visited, the allocated bike just did not exist, and the app said it was there when it wasn't.
Improvements also need to be made on the bike fault reporting system. At the next station, there was a problem with the lock, and the bike would not unlock and the app kept telling me that I had now returned the bike. I feared I would be charged every time this happened (3 attempts in total). Then, when I reported the problem with the bike in the app there is no option to select broken lock as the fault, so I had to select something else at random. 
Other options for bike hire in Edinburgh
Bike and Go – Rent a bike from train stations across the UK, including Haymarket, Waverley, and many more around Scotland and beyond. Register online and you can pick up a bike in any station which is part of the scheme for just £3.80 per day. You can even keep the bike overnight for up to 3 days.
BikeTrax – Slightly more pricey but of surely better quality, you can hire a premium city bike (including folding bikes), road bike or mountain bike, with options from from £20 for 24 hours, £15 per subsequent 24 hours, or £90 per week, £70 for subsequent weeks. A helmet, lights and lock are included. You need photo ID to hire and to sign an eContract and provide a pre-authorised card or a damage waver. They get 5 star reviews on TripAdvisor and are probably a good option for longer cycling trips starting in Edinburgh.
Just Eat Cycles In Edinburgh – An Honest Review Of The Bike Hire Scheme
Did you find this article useful? Let me know in the comments or join me on Twitter, Facebook, Pinterest and Instagram. Buy me a coffee here!
Check out these posts for more about Edinburgh:
Disclosure: Please note that some of the links on this page may be affiliate links. If you decide to make a purchase through one of these links, I may earn a commission at no additional cost to you. I use all of the companies I recommend and I use them because they are awesome and help make my travels better. If you are ready to book and would like to support Wild Lovely World, using these links is one way to do that. Thank you for your support! If you have any questions, please contact me or read my full disclaimer here.