11 Awesome Things To Do In Corrour & Loch Ossian
Disclosure: Please note that some of the links on this page may be affiliate links. If you have any questions, please read my full disclaimer here. Thank you for your support!
Last Updated On 11th July 2023 By Lauren | Wild Lovely World
If you're taking a trip on the West Highland Line, I highly recommend a stop at Corrour and Loch Ossian.
This incredibly unique and remote place is a real hidden gem. Located in the Scottish Highlands, Corrour is the highest railway station in Britain and the area is only accessible by train. Close by is the beautiful Loch Ossian surrounded by stunning mountains.
Here are 11 ideas of things to do in Corrour and Loch Ossian. Fit these into your itinerary and you'll have the best time in the remote Scottish wilderness!
The Best Things To Do In Corrour & Loch Ossian
1. Hike The Trainspotting Mountain – Leum Uilleim
Leum Uilleim is a 909m high Corbett situated about 3km south west of Corrour train station.
Trainspotting Film Location
The mountain gained international fame after being featured in the 1996 cult classic Scottish film Trainspotting. The film is based on a book by Irvine Welsh of the same name. I highly recommend watching the film before your visit to Scotland!
In one scene, one of the characters called Tommy decides that the group of friends needs a spot of fresh air and he takes them to Corrour with the intention to climb Leum Uilleim. Upon getting to the wooden bridge (no. 2 below) they decide it is too much effort and head home.
I've been a huge fan of Trainspotting since I first saw it, so I was super excited to get to Corrour and hike the famed mountain myself!
Hiking Leum Uilleim
The trail begins from Corrour station and winds across the boggy moorland to approach the mountain's ridge. From there it's a steep climb upwards and across to the rocky summit cairn. The ascent is about 524 meters.
Although I had an OS Map I got a bit lost and ended up extending my walk by 1-2 hours going in the wrong direction across the moorland. Be sure to follow the path carefully! It is also VERY steep so make sure you wear sturdy, waterproof boots and take frequent breaks if you need to. Carry plenty of water and sun protection as there is NO shelter.
At the top there are beautiful views (on a clear day) of the surrounding mountains, including Ben Nevis, and the Lochs Ossian and Treig. I was blessed with good weather so when I did it the views were spectacular. I could see as far as the iconic conical mountain Schiehallion all the way in Perthshire. Spotting this mountain here intrigued me to climb it, which I did a couple of months later!
You can make this a circular route by going down from the summit cairn to the circular ridge. The whole hike will take about 3-5 hours depending on how fast you are. I did it in 5 hours and took my time and a lot of rest breaks.
Follow the route for Leum Uilleim on WalkHighlands.
2. Take Your Picture On The Trainspotting Bridge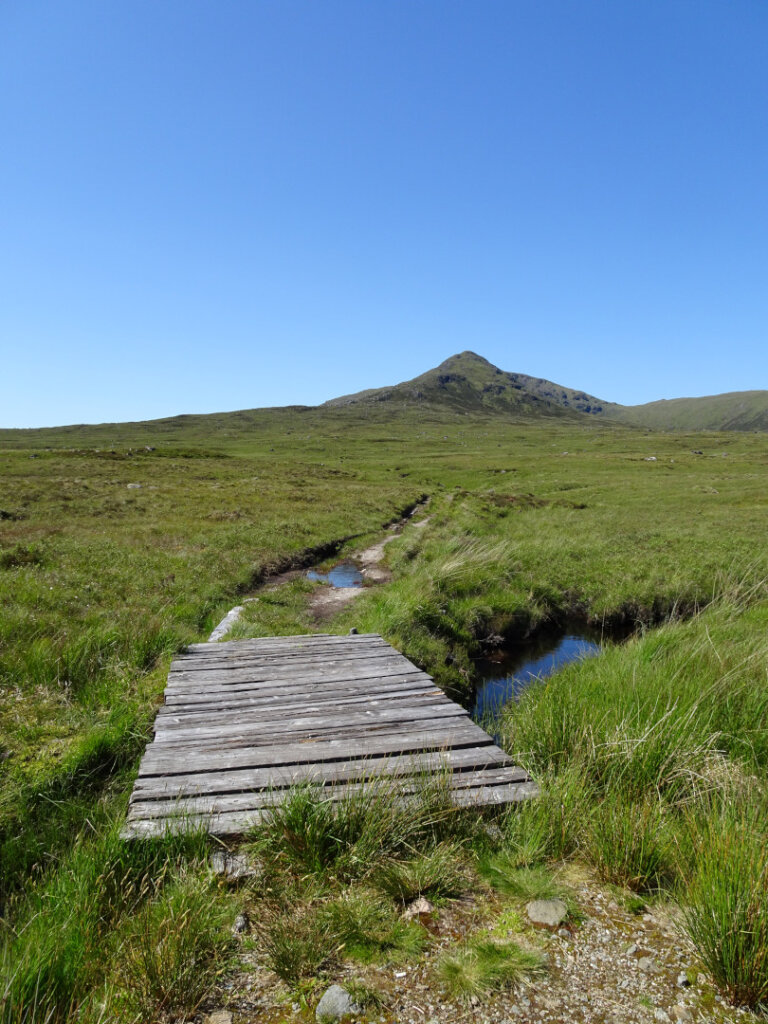 Just a short walk from Corrour station on the path leading up to the Trainspotting mountain is the Trainspotting bridge.
This is where the characters in the film stop for a rest break and have a rant before deciding to give the mountain a miss and head back to Edinburgh.
The funny thing is, it is literally less than a minutes walk from the train station.
There's some interesting graffiti on the bridge – "Tommy was ere" – and nice views across the moor and to the mountain.
Stop here and have a rest. Enjoy being in the middle of nowhere!
3. Visit The Highest Mainline Railway Station In Britain – Corrour Summit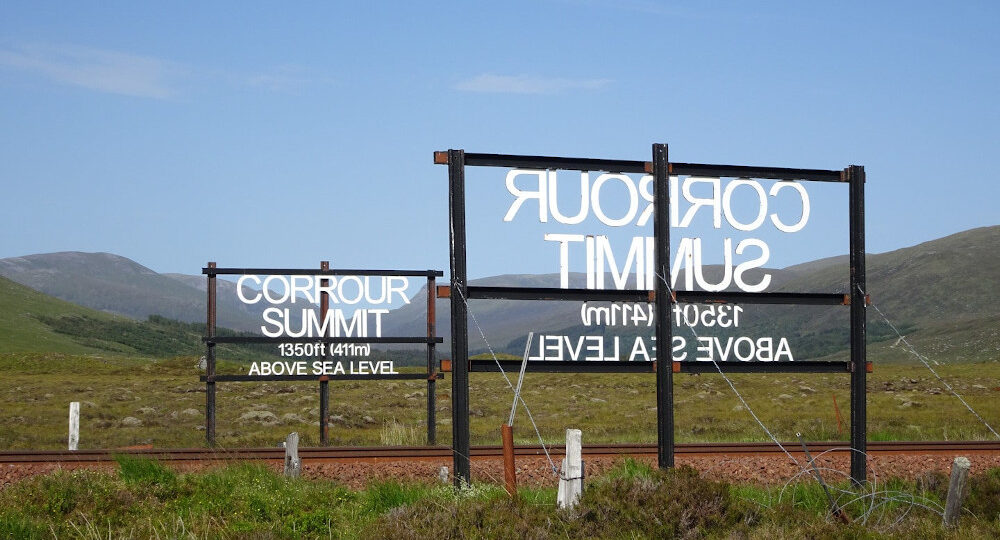 Grab a photo with these signs! Marvel at being at the highest mainline railway station in Britain!
411 meters above sea level, this remote place has no road access and is only accessible by train.
Read more about traveling to Corrour in this post: Corrour Station: How To Get There & Why Go On The West Highland Line
4. Bag A Munro – Beinn Na Lap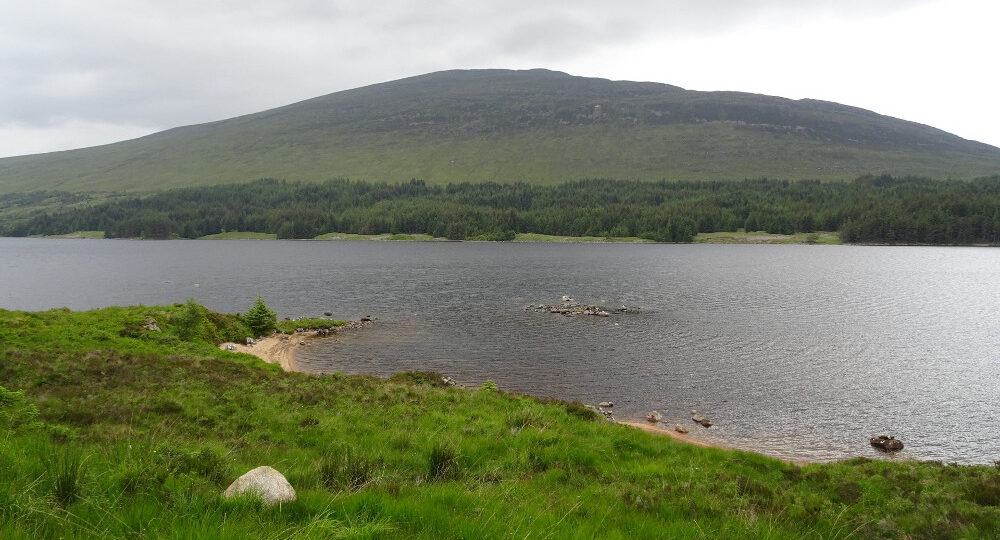 On the north side of Loch Ossian is Munro Beinn na Lap.
Beinn na Lap is 935 meters high, but ascending from 400 meters already makes "bagging this Munro" relatively easy for those who are so inclined.
The hike isn't particularly interesting. Basically a steep ascent up the south side and then hike along the top.
I didn't do this while I was in Corrour but I considered it. Given the time I had I decided to do Leum Uilliem instead. It seemed more interesting to me and I am a big Trainspotting fan.
But if you have the time and you want to bag a munro then it would definitely be worth the effort!
Follow this walking route for Beinn na Lap on WalkHighlands.
5. Swim In Loch Ossian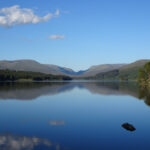 The weather was absolutely glorious while I was in Corrour. The UK even clocked some of its hottest days EVER for that time of year while I was there.
I love wild swimming and Loch Ossian was just so tempting I could not refuse. Probably I would have swam there even if it wasn't so warm, but the weather just made it even better.
Although the water was still quite cool, it wasn't so bad that I was hyperventilating which is what usually happens to me when I get into cold water outside. In some parts of it, the currents were actually warm.
The scenery was just so perfect, and with the sun shining down on me, it was absolute bliss. The water was so clear.
By the hostel, there's a small set of steps leading down into the water.
There are many rocks and just a little way in it gets quite deep, so you don't have to go too far from the shore.
Swimming in Loch Ossian was one of the highlights from my experiences in Corrour!
6. Walk To Loch Treig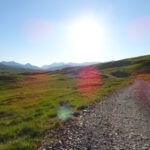 Loch Treig is a 9 km long freshwater loch in a steep-sided glen about 4.3 km from Corrour.
There are two paths which lead to the loch, one from the station and one from the hostel. You could do both of them in a loop. There are a few signs you can follow, but it basically goes in the direction of the railway line.
I almost made it there on an evening walk I took after I arrived, but decided I was too tired from the day's other activities. I turned back as far as the railway bridge. Just a little further though, and I would have come across a lovely long loch banked by what look like golden sand beaches.
There's a bothy close by if you want to extend this walk further.
The train line runs along the edge of this Loch Treig. If you're taking the West Highland Line further north from Corrour you'll be able to see it from the train.
It would take around 2-4 hours to walk to Loch Treig and back to Corrour.
Looking for more hikes and walks to do from Corrour Station? Check out this post: The Best Hikes & Walks From Corrour Station
7. Loop Around Loch Ossian
There is a circular walk which goes all the way around Loch Ossian.
It's a wonderful walk which is fairly level so suitable for many abilities. The path is well paved.
It is quite long (9 miles). The north side is more difficult then the southern side. It will take anywhere between 3-6 hours depending on how fast you are and how many stops you make.
I only had time to do a short walk along the loch so I walked about 3/4 of the way on the south side. It was a lovely walk with views over to Beinn na lap, Corrour Lodge, the mountains are the far end and little beaches peppering the shoreline.
This walk is a good option for a wet or dry day as there's plenty of shelter in the woodlands dotting the path.
Next time I'm in Corrour I hope to walk the whole way!
Follow the route around Loch Ossian on WalkHighlands.
8. Stay At The Loch Ossian Hostel
The lovely little Loch Ossian Hostel* is an absolute must if you plan to stay in the Corrour area.
The eco-friendly hostel is a wonder in itself. Situated on the west banks of Loch Ossian, it is only accessible by a 20 minute walk from Corrour train station.
The old building has had quite a history. It started in 1897 as a stable for horses which would transport people between the train station and a boat to cross the loch. In 1931 the building began operating as a hostel. In 1942 it was destroyed in a fire and was replaced by a small bungalow.
The facilities are excellent. There are compost toilets, hot showers, a fully-equipped kitchen, and seating areas to chill inside and out. The hostel utilises hydro, wind and solar energy and the kitchen fire to heat the hot water.
It is managed by Hostelling Scotland. There are two dorms – male and female – with around 20 beds in total. As the hostel is quite small, book in advance to make sure you get a bed at this unique and remote hostel. During the summer, the hostel will be booked out (especially on the weekends) for weeks in advance.
For two nights mid-week in June 2019, I stayed at Loch Ossian Hostel* and had a wonderful time. I met some lovely people, including the friendly manager Jan.
It was very comfortable and I highly recommend it! It's a once in a lifetime experience (but I really hope to go back!).
9. Refuel At The Station House, Corrour Station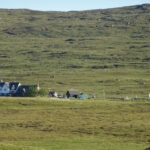 The only restaurant for miles around, the Station House is your go-to for a well deserved pint after a day on the hills or a relaxing cup of coffee while waiting for the train.
The atmosphere of this little cafe is cosy and comfortable. It has plenty of couches, a fireplace, seating inside and out, games, books and interesting railway themed decor.
The prices are quite expensive, which is not unusual due to it's remote location. But the food is good quality, tasty and with big portions. You're looking at around £15-20 for a main. Many dishes feature local and seasonal produce. It's open for breakfast, lunch and dinner.
It's recommended to book a table in advance, especially in the high season (July-August). Just give the restaurant a call and let them know when to expect you.
You can book a stay by the Station House in the 'Corrour Signal Box' through AirBnB.
10. Take A Look At Corrour Lodge On Loch Ossian
On the east bank of Loch Ossian is Corrour Lodge. The imposing modern architecture looks a bit odd against the backdrop of stunning rural wilderness.
Built of granite, steel and glass in a geometric composition, it was designed by architect Moshe Safdie and finished in 2003 at a reported cost of £20 million.
The whole building is available to hire exclusively and can host 14 adults and 14 children. If you wish to invite guests, the dining hall seats up to 40. With multiple sitting rooms, libraries, studies, a games room, sauna and a rooftop hot tub, the lodge "combines contemporary luxury with a rural wilderness on a grand scale." I'm sure you can imagine how much a stay here might cost!
You can get glimpses of the lodge as you walk on the path around Loch Ossian. As you get further towards it the path will pass directly beside it.
11. Switch Off, Take In The Peace & Quiet, & Enjoy The Scenery!
This really is a magical and unique place! Enjoy your time here and make the most of it!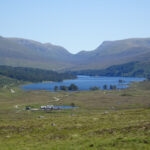 The 11 Best Things To Do In Corrour & Loch Ossian
Have you visited Corrour and have any other tips? Are you planning to make a visit and want to include these into your itinerary? Share your ideas in the comments!
Did you find this article useful? Let me know in the comments or join me on Twitter, Facebook, Pinterest and Instagram. Buy me a coffee here!
Need more advice about what to do in Corrour and how to get there? I got your covered:
Pin It!
Save this post to your Pinterest board.
Looking for more Scotland inspiration? Check out these posts:
Disclosure: Please note that some of the links on this page may be affiliate links. If you decide to make a purchase through one of these links, I may earn a commission at no additional cost to you. I use all of the companies I recommend and I use them because they are awesome and help make my travels better. If you are ready to book and would like to support Wild Lovely World, using these links is one way to do that. Thank you for your support! If you have any questions, please contact me or read my full disclaimer here.