The Best Hikes & Walks From Corrour Station
Disclosure: Please note that some of the links on this page may be affiliate links. If you have any questions, please read my full disclaimer here. Thank you for your support!
Last Updated On 11th July 2023 By Lauren | Wild Lovely World
There are plenty of beautiful walks and hikes to do in Corrour in the remote Highlands of Scotland.
Corrour Station is the most remote station on Britain's railway network and the highest station at 411m above sea level. The area is only accessible by train or a very long walk from the nearest road 16km away. However, I suggest catching the train there on one of the most scenic train journeys in the UK.
Whether you go for the day or stay overnight, there is plenty to do, including lots of great walks to enjoy. In this post, I will share the 6 best walks you can enjoy either on a day or overnight trip to Corrour.
Want to know how to get to Corrour Station? Check out this post: Corrour Station: How To Get There & Why Go On The West Highland Line
The 6 Best Walks & Hikes From Corrour Station 👣
What To Pack & Wear For Your Walks From Corrour Station
In the area around Corrour Station, there is no shelter and the environment is very exposed. Even in the autumn and winter, you need to protect yourself from the sun. The weather can change dramatically so be prepared for all eventualities, including strong winds and heavy rain and snow.
There are no shops or facilities apart from those at the Loch Ossian Hostel and the Corrour Station House. So make sure you take everything you will need with you!
If you want to get a bite and drink after your walk, you could book a table at the Corrour Station House. Or consider staying overnight at the hostel (I highly recommend it!)! Click here to check hostel prices and availability.
The tracks are not as well worn as others you may have hiked so it's easy to get mistaken and take a wrong turn! It's a good idea to take a map. I had an OS Map and I still got lost on my way up Leum Uilleim. It ended up taking me an extra 1-2 hours! So be sure to follow the paths carefully.
The paths can be very steep, boggy and muddy as well so be sure to wear good boots to keep your feet dry!
Remember to tell someone where you're going and when they should expect you to return!
Corrour Walks Packing List 🎒
Here are suggestions of what to wear and pack for this walk:
OS Map – Rannoch Moor & Ben Alder Map 385.
A compass could be handy too.
Wear sturdy, waterproof boots.
Windproof and waterproof jacket – I wore my incredibly waterproof mountain walking jacket.
Use a good hiking backpack – I used my 30L walking backpack which I love!
Plenty of water, at least 2 litres – I love my trekking bladder as it means I can drink on the go!
Sun protection (hat, sunglasses, sunscreen, long sleeve top).
First aid kit.
Headlamp, just in case it starts getting dark before you're back.
Packed lunch and snacks.
Camera – I love my Sony Cybershot DSC HX-90 and I used this camera to take the photos in this post!
Hiking poles if you prefer them.
If you're hiking in the winter you may want to consider crampons.
For extra safety on a long, remote walk, consider getting a personal locator beacon.
Not sure whether you should do a day hike or overnight trip to Corrour? Check out this post.
The Best Hikes & Walks Accessible From Corrour Station
1. Loch Ossian Circuit
The Loch Ossian circuit is the easiest and most popular walk from Corrour Station.
The circular walk goes all the way around Loch Ossian. The path is fairly level so suitable for many abilities. It is well-formed and easy to follow.
The walk is quite long at 14km, so it will take anywhere between 3-6 hours to complete depending on how fast you are and how many stops you make.
I only had time to do a short walk along the loch so I walked about 3/4 of the way on the south side. It was a lovely walk with views over to Beinn na Lap, Corrour Lodge, the surrounding mountains and little beaches peppering the shoreline.
This walk is a good option for a wet or dry day as there's plenty of shelter in the woodlands dotting the path.
I highly recommend doing this walk at the least!
Follow the route around Loch Ossian on WalkHighlands.
2. Loch Treig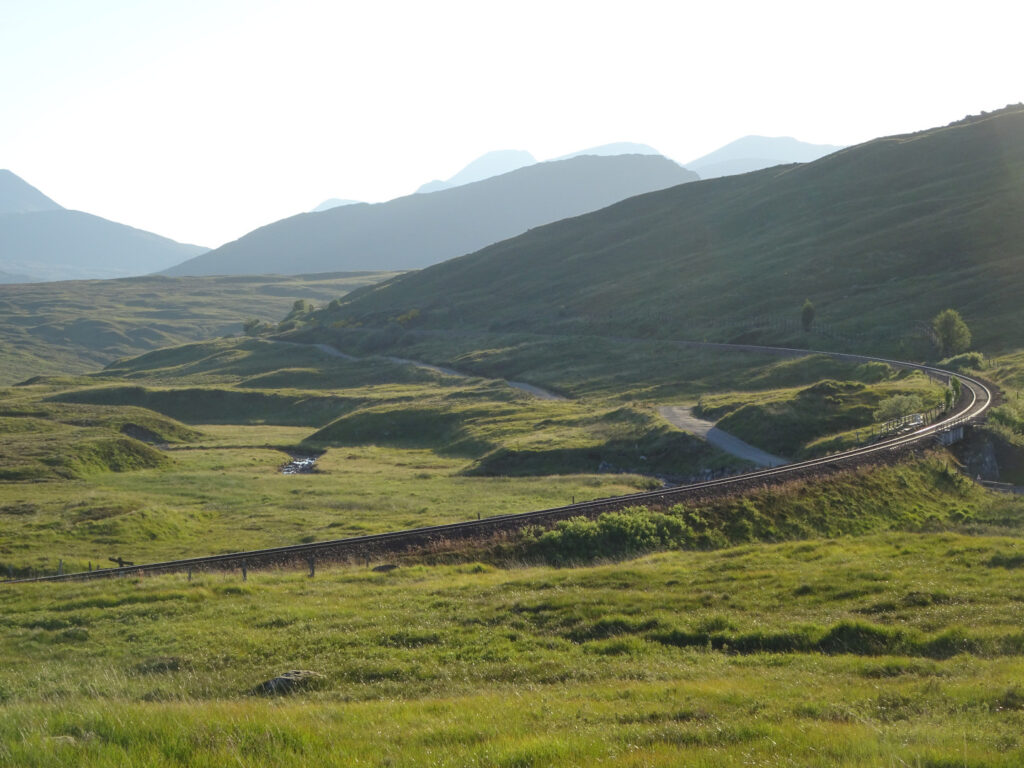 Loch Treig is a 9km long freshwater loch in a steep-sided glen about 4.3km from Corrour Station.
The West Highland Line runs along the edge of Loch Treig. When I took the train, I saw that the long loch is very pretty, set within a gorge and banked by golden sand beaches.
There are two paths which lead to the loch, one from Corrour Station and one from Loch Ossian Hostel*. You could do both of them in a loop.
The path is well-formed and easy to follow from Loch Ossian to Loch Treig. There are a few signs, but it basically goes in the direction of the railway line.
I walked halfway to Loch Treig when I visited but I didn't get all the way there as I was too tired from my other hikes that day.
It would take around 2-4 hours to walk to Loch Treig and back to Corrour.
2.1. Extension To Staoineag Bothy
If you want to extend this walk further then you can continue to Staoineag Bothy nearby to Loch Treig. The walk to the bothy from Loch Ossian is around 10.7km.
Check out a map of this walk on Mud and Routes.
3. Beinn Na Lap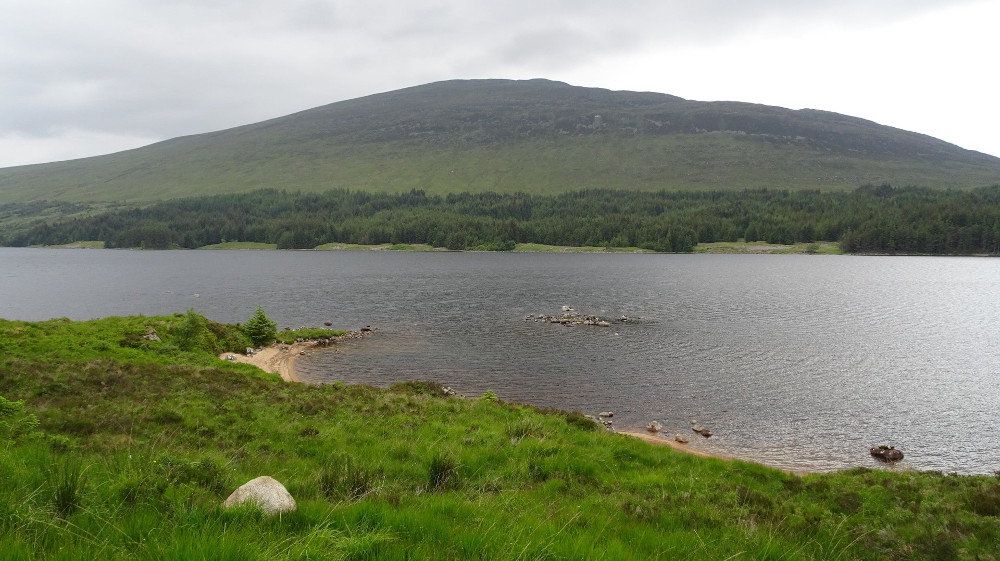 On the north side of Loch Ossian is the Munro Beinn na Lap. At 935m high, bagging this Munro from a starting point of over 400m is relatively easy.
In my opinion, the hike doesn't look particularly interesting. It's basically a steep ascent up the south side and then a hike along the top.
It takes about 3-5 hours to hike straight up to the summit and back down.
I didn't do this while I was in Corrour but I did consider it. Given the time I had, I decided to do Leum Uilliem instead as it seemed more interesting to me and I am a fan of Trainspotting!
But if you have the time and you came to Corrour to bag a Munro then it would definitely be worth the effort. I would say that the views from the summit are fantastic.
Follow the walking route for Beinn na Lap on WalkHighlands.
3.1. Combination with Sgor Gaibhre & Carn Dearg
If you want to bag more Munros, then check out Sgor Gaibhre and Carn Dearg You can combine your hike up Beinn na Lap into a circuit with Sgor Gaibhre and Carn Dearg. For more details, check it out below.
For more awesome things to do in Corrour & Loch Ossian, check out this post: 11 Awesome Things To Do In Corrour & Loch Ossian
4. Leum Uilleim
The 909m Corbett of Leum Uilleim gained international fame after being featured in the 1996 cult classic Scottish film Trainspotting. In one scene, the characters decide to head to Corrour with the intention of climbing Leum Uilleim. Spoiler alert, they didn't end up hiking it and jumped on a train back to Edinburgh instead. But I don't suggest you follow in their footsteps!
Leum Uilleim is a wonderful mountain to climb. I hiked it in 2019 and although it was a challenge I was rewarded with beautiful views from the summit. I could see all the surrounding mountains, including Ben Nevis and the iconic pointy Schiehallion, and both Loch Ossian and Loch Treig.
From Corrour Station, the trail crosses boggy moorland to approach the mountain's ridge. It's a steep climb upwards to the rocky cairn, but thankfully quite short. Starting from Corrour at a height of 411m, the ascent to the summit of Leum Uilleim is only about 524m. From the summit, walk along the ridge, then around and down the other side. As a lovely loop walk you return a different way which makes it more interesting.
The whole circuit takes about 3-4.5 hours return.
Follow the route for Leum Uilleim on WalkHighlands.
5. Sgor Gaibhre & Carn Dearg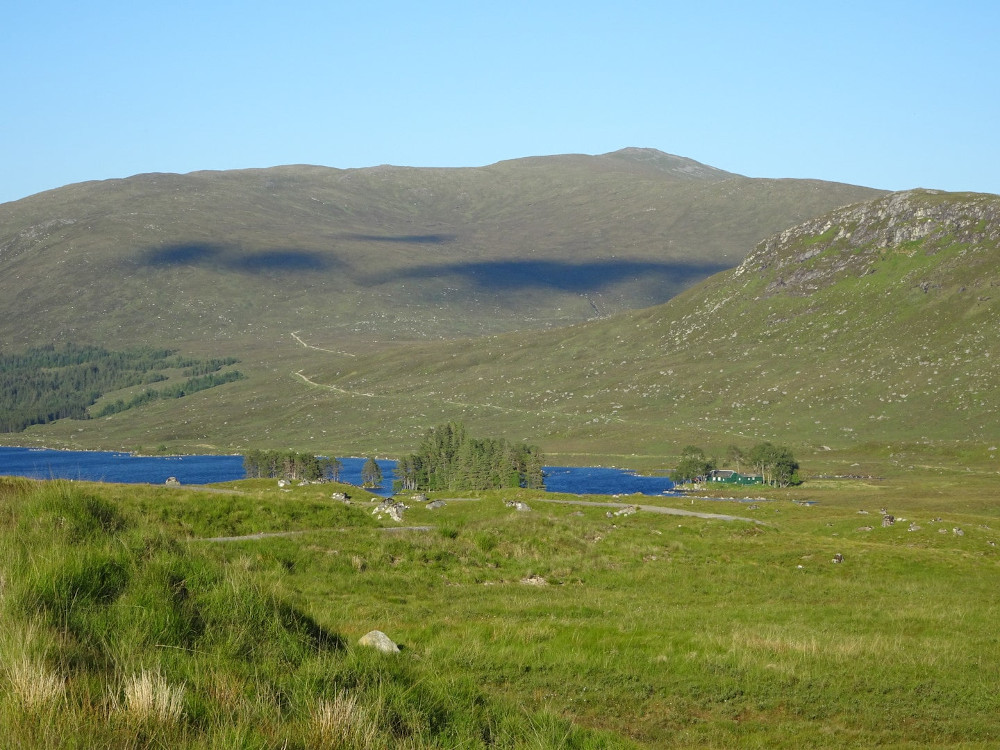 This is one of the longest walks you can do from Corrour Station but still possible to achieve in a day hike.
Sgor Gaibhre (peak of the goat, 955m) and Carn Dearg (red cairn, 941m) are two munros in the Grampian Mountains of Scotland.
As they are so remote, they are best reached from Corrour Station, however, they can also be accessed from the south on Rannoch Moor.
If you're keen on munro-bagging then doing this loop walk will have you bagging two-in-one. The two Munros are connected by a long ridge.
Sgor Gaibhre and Carn Dearg can be accessed by a track nearby to the Loch Ossian Hostel and also by a track at the eastern end of Loch Ossian itself.
This circular walk is around 22km in distance and will take around 7-8 hours to complete.
Check out WalkHighlands for the full walk description and map.
5.1. Carn Dearg Solo
You can of course also just hike Carn Dearg by itself, taking the path from the hostel up and down. This would be a much shorter walk at around 10.6km so good if you want something a bit more relaxing. However, you might feel that seen as you are up there you may as well go over on the ridge to Sgor Gaibhre!
Mud and Routes have a map of this option.
5.2. Combination With Beinn Na Lap
It's also possible to combine this walk with the Munro Beinn na Lap, but then you're in for a long day of hiking! Doing all three together would also take you almost completely around the Loch Ossian circuit too. The whole three-munro circuit takes in a distance of around 26km and would take approximately 9 hours of walking at a decent pace.
You can read more and see maps of the Beinn na Lap, Sgor Gaibhre and Carn Dearg circular hiking route on Steven Fallon.
6. Chno Dearg & Stob Coire Sgriodain
I discovered this walk on another blog. I feel it's worth mentioning just for the sheer effort that the author put into hiking this route. It looks absolutely epic, to quote his description, but I can't say I would attempt it myself!
Chno Dearg (1046m) and Stob Coire Sgriodain (979m) are two Munros that are usually climbed together. Stob Coire Sgriodain is a steep-sided ridge next to the Loch Treig and Chno Dearg is one of the less distinguished mountains further to the west.
The walk to these munros is usually attempted from the north at Fersit, but it is possible to go from Corrour Station. This route is around 26.5km and very strenuous. I would only attempt this if you have a good level of fitness and the right equipment.
Read the full walk description and see photos on Mud and Routes.
The Best Hikes & Walks From Corrour Station, Scotland – Thanks For Reading!
In this post, we have looked at the best hikes and walks from Corrour Station. With a combination of easy walks around Loch Ossian to more difficult Munros, there is something for everyone of all abilities in Corrour. You can go for a day trip or an overnight trip and stay in this beautiful, remote place hidden deep in the Scottish Highlands. Whatever you choose, make sure you go well-prepared for your trip using the packing list provided to ensure you have everything you need. Enjoy your adventure! – Lauren x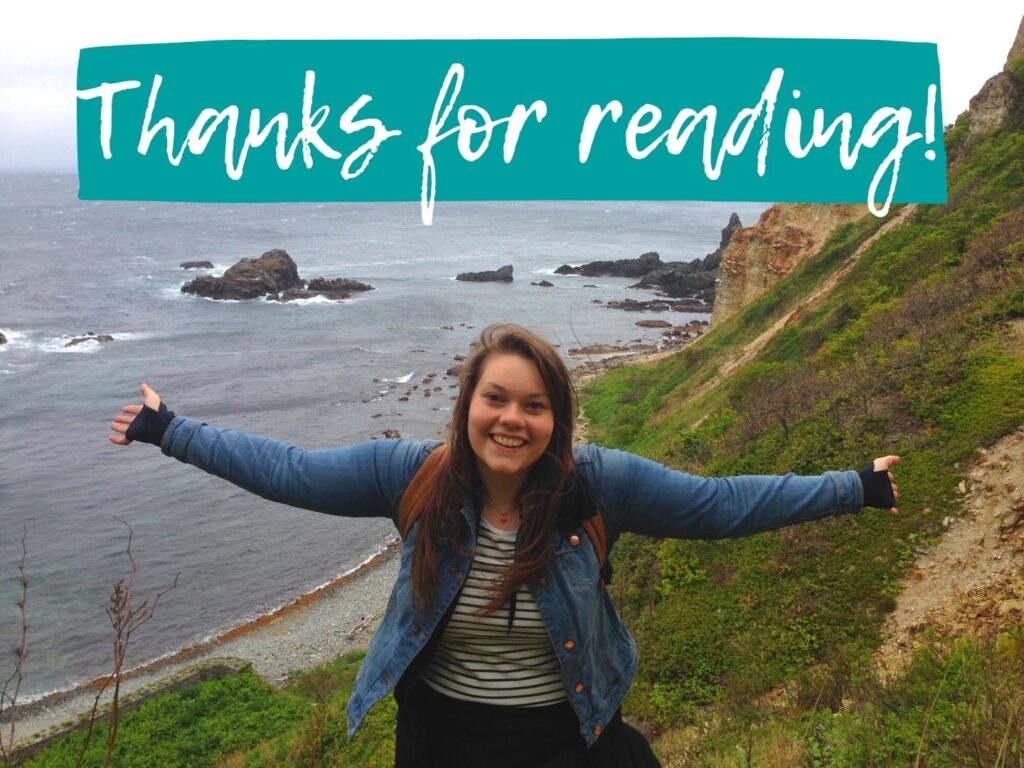 Did you find this article useful? Let me know in the comments or join me on Twitter, Facebook, Pinterest and Instagram. Buy me a coffee here!
Read more about Corrour & Loch Ossian:
Want more Scotland inspiration? 🏴󠁧󠁢󠁳󠁣󠁴󠁿 I got you covered:
Disclosure: Please note that some of the links on this page may be affiliate links. If you decide to make a purchase through one of these links, I may earn a commission at no additional cost to you. I use all of the companies I recommend and I use them because they are awesome and help make my travels better. If you are ready to book and would like to support Wild Lovely World, using these links is one way to do that. Thank you for your support! If you have any questions, please contact me or read my full disclaimer here.