Autumn In Edinburgh: The Best Places To See Colourful Leaves
Disclosure: Please note that some of the links on this page may be affiliate links. If you have any questions, please read my full disclaimer here. Thank you for your support!
Last Updated On 11th July 2023 By Lauren | Wild Lovely World
Don't you just love autumn? It's my favourite season! 🍂 As soon as the leaves begin turning those golden shades, I have to get out and admire them. Over the last few years, I have enjoyed discovering Edinburgh in the autumn and the beautiful autumnal scenery across the city.
Autumn is a wonderful time to visit Edinburgh. After the busy rush of the tourism peak season and the summer festivals, the city quietens down.
Nature surrounds Edinburgh, and in the autumn it really comes to life. Wildlife scavenge before hibernation and the burns babble before they freeze.
The multitude of shades of red, orange and yellow bring vibrancy to the city under the darkening days and cloudy skies.
There are plenty of beautiful places to take a walk and enjoy the sound of the leaves crunching under your feet.
Here are the best places I've discovered to see colourful leaves during autumn in Edinburgh. You won't be disappointed!
9 Beautiful Places To Enjoy Autumn In Edinburgh
Edinburgh Travel Inspiration:
1. The Hermitage Of Braid
The Hermitage of Braid is a real hidden gem in Edinburgh. A secluded little glen with a pretty woodland and a flowing river dotted with little waterfalls, it is easy to think you are in the middle of the countryside.
This beautiful place in the south of Edinburgh is absolutely gorgeous any season, particularly in the autumn. It is one of the best places to see colourful leaves in Edinburgh in the autumn.
A walk up and down the river paths will take around 30-60 minutes. You can go along one side and back up another, crossing at a bridge at the end.
Your walk can be extended with an exploration of Blackford Hill (the home of the Royal Observatory) and a trip to Blackford Pond to see the birds.
If you go on a weekday, the Hermitage House will be open (Mon-Fri, 9 am-4 pm). The old mansion house is a short walk along the Braid. Inside features a small museum and exhibitions about the history of the house and area (free admission). There is also information on other local geological and natural sites to explore.
How To Get To The Hermitage Of Braid:
To get to the Hermitage of Braid by public transport, take Lothian Bus services 11, 15 or 15A to Comiston Road (£1.70 for a single ticket, £4 for a day ticket). From there it's a short walk to the entrance on Braid Road (just past a little coffee shop – Lodge Coffee House). 
If travelling by car, it is possible to find free parking on the roadside along Braid Road.
Read more about the Hermitage of Braid and Blackford Hill here.
Follow this route on WalkHighlands for a delightful 1.5-hour walk exploring to Hermitage of Braid and Blackford Hill.
2. Corstorphine Hill
This is one of my favourite places to explore in Edinburgh, particularly in the autumn!
There are lots of reasons why I love Corstorphine Hill. It has one of the best views of Edinburgh, which Robert Louis Stevenson loved too. While you're there you may even spot zebra over the fence in the nearby Edinburgh Zoo*. There's also a monument to Sir Walter Scott here hidden in the woods.
The hill is almost completely covered in trees, so it is a beautiful little wood to explore and get lost in. It really is a perfect place in Edinburgh to admire the colours in autumn.
It takes a couple of hours to fully enjoy exploring this hill. I recommend wearing good boots as surfaces can be uneven and can be slippy and muddy after a lot of rain!
How To Get To Corstorphine Hill:
There are several access routes to the Hillwood Park. You can enter either from Queensferry Road in the north, Corstorphine Road in the south or off Clermiston Road in the West. If going by public transport, a great walking route is to take the Lothian Bus service 41 to Queensferry Road and then walk all the way over the hill and down the other side to Corstorphine Road. From there, you can take the Lothian Bus service 12, 26 or 31 back to the city centre.
There is also a small free car park in the north near Barnton Quarry.
Read more about Corstorphine Hill and get a free map of the trails here.
Book Tickets To The Edinburgh Zoo
The epic Edinburgh Zoo* is right next door to Corstorphine Hill! The fantastic zoo is a fun day out while visiting Edinburgh. The zoo has great enclosures and a wide array of animals, including zebra, penguins, giraffes, lions, pandas, koalas and more! Book tickets below through Get Your Guide*:
3. Royal Botanic Garden Edinburgh
The Royal Botanic Garden Edinburgh has 70 acres of manicured gardens for you to enjoy – for free!
Boasting 100,000 plants and 10 glasshouses (entrance fee for glasshouses, £7 for adults), it is considered a national treasure and is nearly 350 years old.
There are large spaces and several paths to walk around and explore. Some interesting features include the Scottish Native Plants Collection, the Chinese Hillside and the Rock Garden.
With many types of plants, flowers and trees, the gardens offer a variety of different shades of autumnal colours.
There are also special exhibits and seasonal events to enjoy.
Due to shorter daylight hours, the Royal Botanic Garden Edinburgh has varying closing times in autumn:
September: 10am-6pm.
October: 10am – 5pm.
November: 10am – 4pm.
How To Get To The Royal Botanic Garden Edinburgh:
The best way to get to the Royal Botanic Garden is by bus, bike or on foot.
This is because there is little option for car parking close to the gardens. You can find some metered options on the surrounding streets but they tend to be very expensive or require a parking permit.
There are two entrance gates into the gardens – East and West. The West Gate on Arboretum Place is served by Lothian Buses 29, 42 and 24. The East Gate on Inverleith Row is served by Lothian Buses 8, 23 and 27.
There are bike racks located by both entrance gates.
To walk from the city centre (Princes Street), it will take you around 20-30 minutes. The journey goes through the scenic village of Stockbridge.
Another option is to walk via the Water of Leith Walkway. You can start at any point along the route. Read more about the Water of Leith Walkway below!
4. The Meadows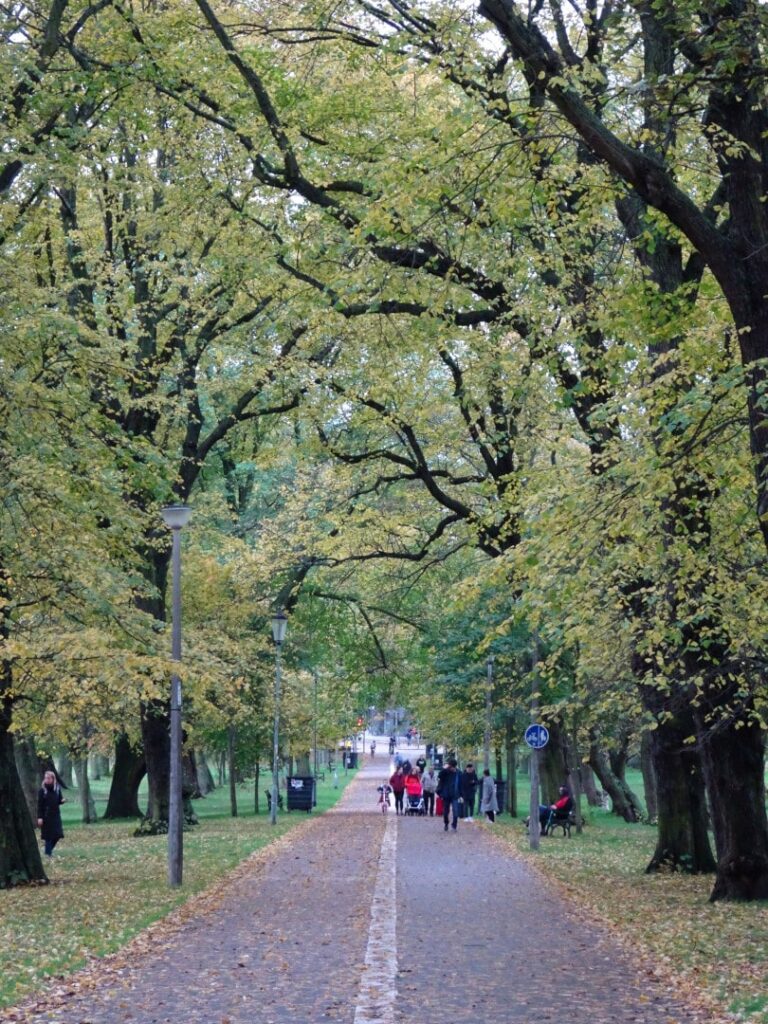 Just south of Edinburgh city centre, The Meadows is a wonderful large outdoor area. Despite its close proximity to Edinburgh's Old Town, it is surprisingly off the tourist trail and definitely a hot spot for the locals.
The long tree-lined walkways make this a pretty place to observe the autumn colours in Edinburgh. The wide open green spaces can be used at your leisure for enjoying a picnic, playing sports or a stroll.
I like coming here to meet with friends and go for a walk or a bike ride.
How To Get To The Meadows:
The park is just a short walk from Edinburgh's Old Town. Head down Middle Meadow Walk. It will take you about 5 minutes to get to the Meadows from the Greyfriars Bobby Statue, which is just a few minutes walk from the Royal Mile.
There are some great cycle paths through the Meadows which connect with the Edinburgh Cycle Network. If you're considering hiring a bike with Just Eat, check out my review here.
5. Princes Street Gardens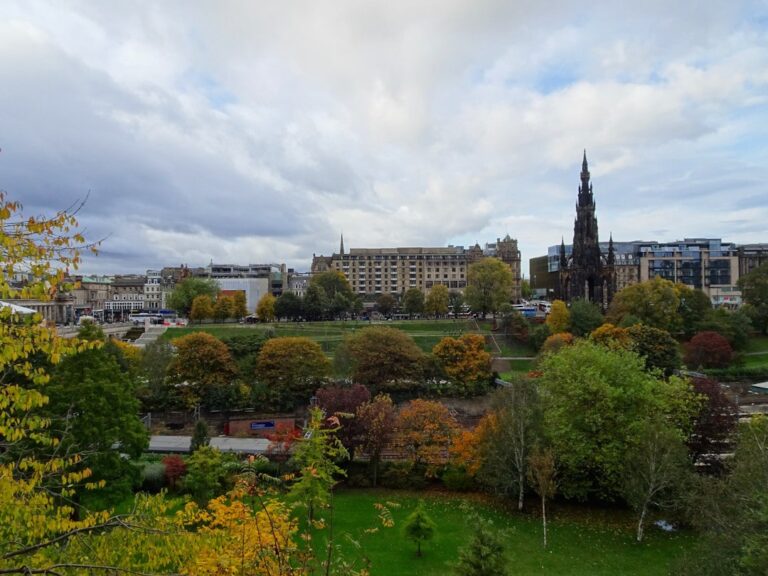 Admire the autumn's colourful leaves under the backdrop of Edinburgh Castle* and the Walter Scott Monument.
The Princes Street Gardens are ideally located in the centre of Edinburgh. The large park is accessible from sunrise to sunset. It's the perfect place to get some nature time amid the hustle and bustle of the city.
There's plenty of space to take a walk and enjoy the trees, flowers and sculptures. You can also have a picnic on the grass or on the many benches. There are also a couple of cafes and food vendors. Make sure to take a look at the recently refurbished Ross Fountain too.
While I was working in the city centre, I used to love coming to Princes Street Gardens to have my lunch. I would sit on the steps of the Scott Monument to eat my sandwiches. I wonder how many tourist pictures I am in after sitting there on my breaks 😂
Between the east and west gardens is a piece of land called The Mound. Here is the Scottish National Gallery (free admission to the permanent collection, 10 am-5 pm, until 7 pm on Thursdays). It has many wonderful masterpieces and special exhibitions (sometimes an entrance fee). I highly recommend even a quick visit to see the landscapes of how Princes Street looked in the olden days. It is fascinating to see how it has changed over time!
How To Get To Princes Street Gardens:
The gardens are in Edinburgh city centre.
It takes just a few minutes to walk there from Waverley Station.
Most Lothian Buses will take you to Princes Street. Princes Street runs parallel to and the full length of the gardens.
6. Water Of Leith Walkway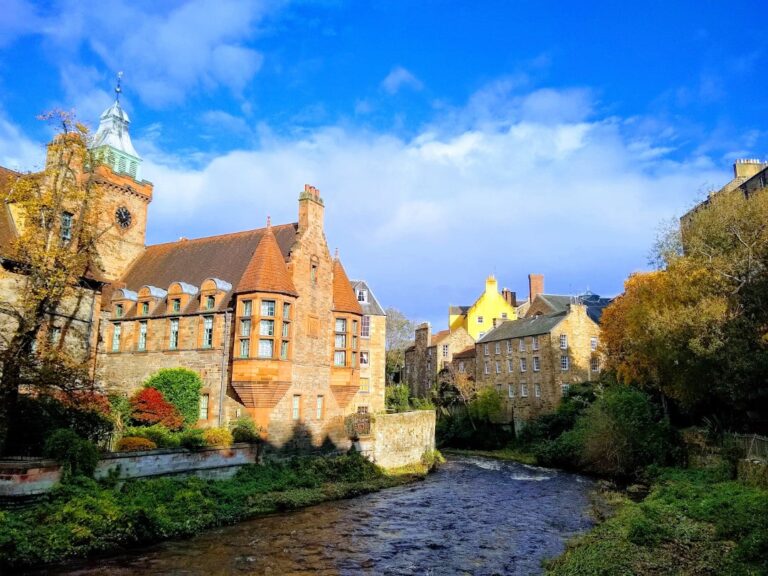 Another favourite with Edinburgh locals is the Water of Leith Walkway.
The tree-lined paths and interspersed woodland make this a great place for an autumn walk in Edinburgh.
A good path runs alongside this beautiful river, all the way from Balerno near the Pentland Hills to the sea at Leith Docks.
The river is very pretty all along it and makes a great walk or cycle for a morning, afternoon or a full day!
While you're beside the river, you are likely to see much wildlife including herons. There are also several waterfalls and interesting bridges along the way. You won't feel like you are in the middle of a city!
As I live quite close to the Water of Leith, I love going here if I need some much-needed nature time! 😊
How To Get To The Water Of Leith Walkway:
You can join at several points along the Water of Leith.
One of the most popular routes close to the city centre is to join near Dean Village and walk along the path to the Royal Botanic Garden. This will take around 45 minutes, and passes through Stockbridge on the way.
If you do this on a Sunday, you can make a visit to the Stockbridge Market (every Sunday, 10am-5pm)
Get a free basic map of the Water of Leith Walkway route here.
To walk the whole length of the Water of Leith, combine these two walks from WalkHighlands: Balerno to Slateford and Slateford to Leith. It will take about 6 hours to walk the whole way!
7. Roslin Glen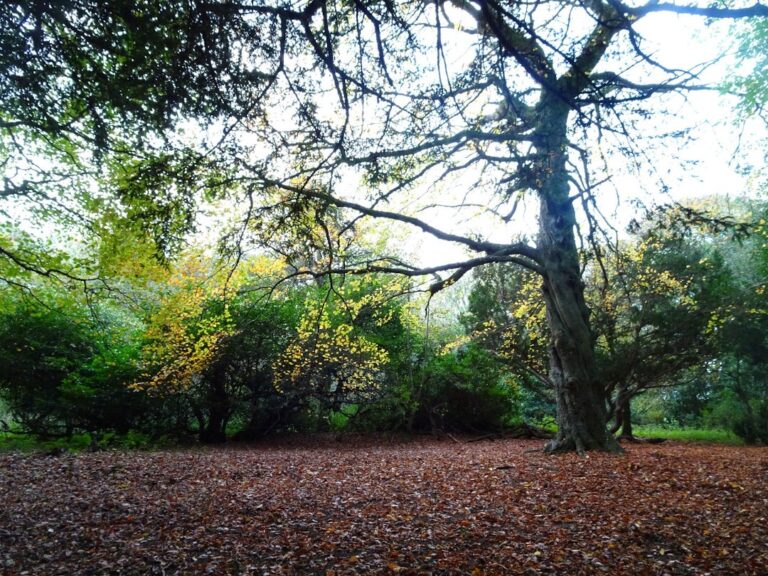 A little further out of Edinburgh is Roslin Glen Country Park and Nature Reserve. Even though this is not technically in Edinburgh, I feel that it's worth mentioning this wonderful place. It is stunning to visit in the autumn and a great place for a walk.
This beautiful glen features pathways within woodlands and wildflower meadows.
The River North Esk runs through the glen, along with a weir and bridges.
There are a few interesting historical buildings dotted here and there as well, including gunpowder mills.
Close by to Roslin Glen is the little village of Roslin.
The Rosslyn Chapel is the most famous landmark here – an elaborately carved chapel build in the 15th century. The Chapel featured in The Da Vinci Code Movie.
Rosslyn Castle is another site to be seen within the glen. The heavily fortified castle ruins are now part of a private residence. However, you are able to have a brief look at them in their dramatic location above the River Esk.
You can link your walk through Roslin Glen to Penicuik, Dalkeith, Roslin Village, Castle and Chapel and Springfield Mill. I've walked from Penicuik to Roslin Village before and it was a wonderful trip! I will have to write a post about it. 😊
How To Get To Roslin Glen:
If travelling by car, there is a free car park with plenty of space. It will take about 25-30 minutes to drive to Roslin Glen from Edinburgh city centre.
To get there by public transport, it is best to take a Lothian Bus service 37 to Penicuik/Deanburn (£1.70 single, £4 for unlimited journeys in 1 day). It will take about 45-60 minutes from Edinburgh city centre. Get off at either Penicuik (if starting your walk there) or in Roslin Village and walk down to the glen in a few minutes.
Get a free map to Roslin Glen Country Park here.
Follow this WalkHighlands route for a 2 hour walk through Roslin Glen including Rosslyn Chapel.
8. Liberton Kirk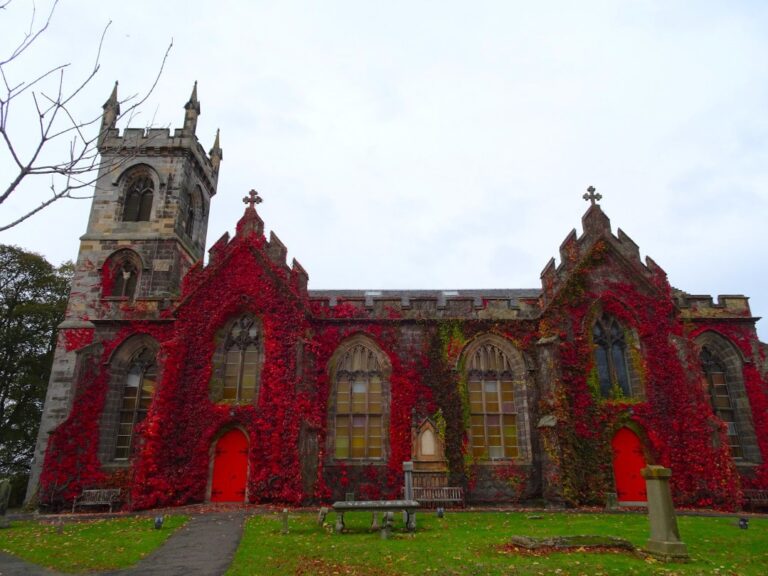 How pretty is this little church covered with beautiful ivy? This is Liberton Kirk, and in the autumn it turns a startling shade of red. It matches wonderfully with the bright red church doors!
Although I have lived in Edinburgh for almost 4 years, I hadn't heard of this place until a couple of weeks ago. I was searching for places to go in the autumn and came across pictures of the stunning red ivy which covers Liberton Kirk. I just had to go! The very next day I went there and I wasn't disappointed!
During my visit, the groundskeeper let me in to take a look inside. I must say that the outside of this church is much more impressive! However, it was still interesting to see. There is a large stage where there are sometimes performances held.
While you're there, explore the nearby graveyard as well. Some of the graves are very old, and some are inscribed with stories. Take a look around and might discover more about the history of this little place.
How To Get To Liberton Kirk:
Take a service 31 Lothian Bus to Bonnyrigg and get off at Liberton Kirk Brae. It will take about 30 minutes from Edinburgh city centre. The entrance to the churchyard is just a few minutes walk down the road from the bus stop.
9. River Almond Walkway
Waterfalls? Check. Ruins? Check. Beautiful autumn colours? Oh, absolutely!
The River Almond Walkway is a stunning part of the city which I am sure a lot of people do not know about!
Having been here many times in all the other seasons, I knew that this spot would be just as beautiful in the autumn. I was happy to find my suspicions were true when I went for a walk there to take some pictures for my blog!
A full nature trail follows the river and passes through various landscapes, including woodlands, marsh, ponds and meadowland.
There is a large diversity of wildlife living here, with many species of flora and fauna. Along the path are information signs so you can learn about anything you might (or might not) see. I've seen plenty of grey herons perching in the river and wild garlic on the shores.
Toward the end of the 18th Century, the River Almond was an industrial site. There are the ruins of many old mills from this time along the banks of the river. You can enjoy discovering them on your walk!
One of the best sections to walk is between the Old Cramond Brig (Bridge) and Cramond Beach. This is a shorter walk which will take around 60 minutes. You can extend this with an exploration of Cramond Island, which is well worth it if you haven't been! Find details of how to get there and a link to a route description and map for these walks below.
In Cramond village, you can find an old Roman fort, pubs and cafes, a kirk and a cute little harbour.
How To Get To The River Almond Walkway:
By public transport, it's possible to take the bus to one end and leave from another.
To begin at Cramond village, take the Lothian Bus service 41 to Cramond Glebe Road. From the bus stop, walk through the village down to the harbour. The walkway along the river begins from here (there is a sign to help you).
To begin at Old Cramond Brig, take the 41 and get off at Templar's Cramond. Walk down Brae Park Road to Dowie's Mill Lane, and begin heading up the river from here. Walking down the pretty Brae Park road, with cute cottages and fields with chickens and ponies, you will think you are in the countryside, not in a city!
By car, there is free parking in Cramond Village.
See the route for the 2 hour walk between Cramond Beach and Island and Old Cramon Brig here on Walk Highlands.
Take a look at a map of the River Almond Walkway and points of interest along the way here.
More Epic Experiences In Edinburgh
Book incredible things to do in Edinburgh with Get Your Guide:
The Best Places To See Colourful Autumn Leaves In Edinburgh – Thanks For Reading!
So there you have it, my best recommendations for places to admire the autumn colours in Edinburgh. I hope this inspires you to visit Edinburgh in the autumn, take a walk in a new place or just enjoy a familiar place in a different season. – Lauren x
Have you been to any of these spots in the autumn? Do you have your own suggestions to share? Let's hear them in the comments! 😊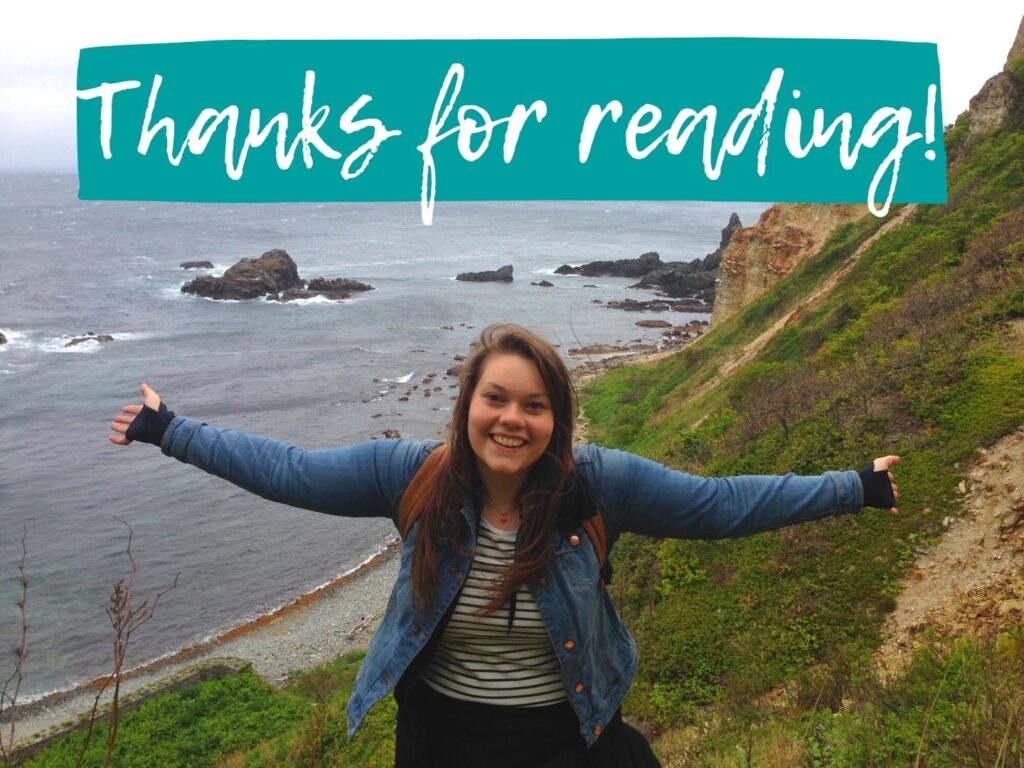 Did you find this article useful? Let me know in the comments or join me on Twitter, Facebook, Pinterest and Instagram. Buy me a coffee here!
If you enjoyed this post, share it with a friend!

My Travel Resources guide will help you get the best deals when booking your next trip – check it out here!
Pin This Post – Autumn In Edinburgh!
Add this post to your Pinterest board for later.
Disclosure: Please note that some of the links on this page may be affiliate links. If you decide to make a purchase through one of these links, I may earn a commission at no additional cost to you. I use all of the companies I recommend and I use them because they are awesome and help make my travels better. If you are ready to book and would like to support Wild Lovely World, using these links is one way to do that. Thank you for your support! If you have any questions, please contact me or read my full disclaimer here.