12 Free & Cheap Ways To Exercise & Keep Fit While Travelling
Disclosure: Please note that some of the links on this page may be affiliate links. If you have any questions, please read my full disclaimer here. Thank you for your support!
Last Updated On 22nd April 2022 By Lauren | Wild Lovely World
When you're travelling it can sometimes be hard to find time to exercise and keep fit, but it's important to remember to look after yourself and stay healthy. The best way to get moving is to incorporate physical activity into your itinerary or daily schedule. I have often found that when I am travelling I am being the most active because I do all of the things in this list! Here are 12 ideas for travel fitness that are fun and, best of all, all of them are free (or really cheap!)! These are great ways to exercise and keep fit while travelling.
12 Ways To Exercise & Keep Fit While Travelling
1. Walking, Hiking & Mountain Climbing
My first tip to help you exercise and keep fit while traveling is to get out and walk!
This is absolutely my favourite thing to do while traveling. It's such a great way to get outdoors, fresh air, exercise and also see the sights – plus you'll get gorgeous views! So get out into nature and explore! Anywhere you go, there's bound to be some local walking trails nearby, whether it's in the mountains, national parks, city or country side. Even in cities you'll find nature, for example some of the best walks I have done is around the city of Edinburgh – by the river, along the coastline and in the hills.
Include Hikes & Walks Into Your Travel Itinerary
When planning travel, I also really like to encorporate adventurous outdoor activities within my itinerary. For example, while researching for my recent Interrailing trip I came across the Samaria Gorge in Crete, Greece, a 16km long trek through the longest gorge in Europe. I was astounded by the beauty of the photos I saw online, and absolutely had to do it. So we planned it into our itinerary to go all the way to Crete from Prague just so we could do this hike and it was well worth it!
Look at the maps before you go and do some online research. There are loads of cool websites for finding walks – such as japanhike.wordpress.com and Walk Highlands – depending on your destination. Doing a quick Google search is a great place to start. When you arrive at your destination, ask the locals for their recommendations and check a local guidebook or tourism office – you can also get maps there of trails and routes.
My favourite hiking destinations: Japan (Hokkaido, Hiroshima, Tokyo, Kumano Kodo Trail), Greece (Meteora, Samaria Gorge), Scotland (Edinburgh Hills, Loch Lomond National Park, Highlands, West Highland Way), England (Lake District), Slovenia (Bled), Montenegro (Kotor)
2. Swimming, Surfing, Snorkeling & Diving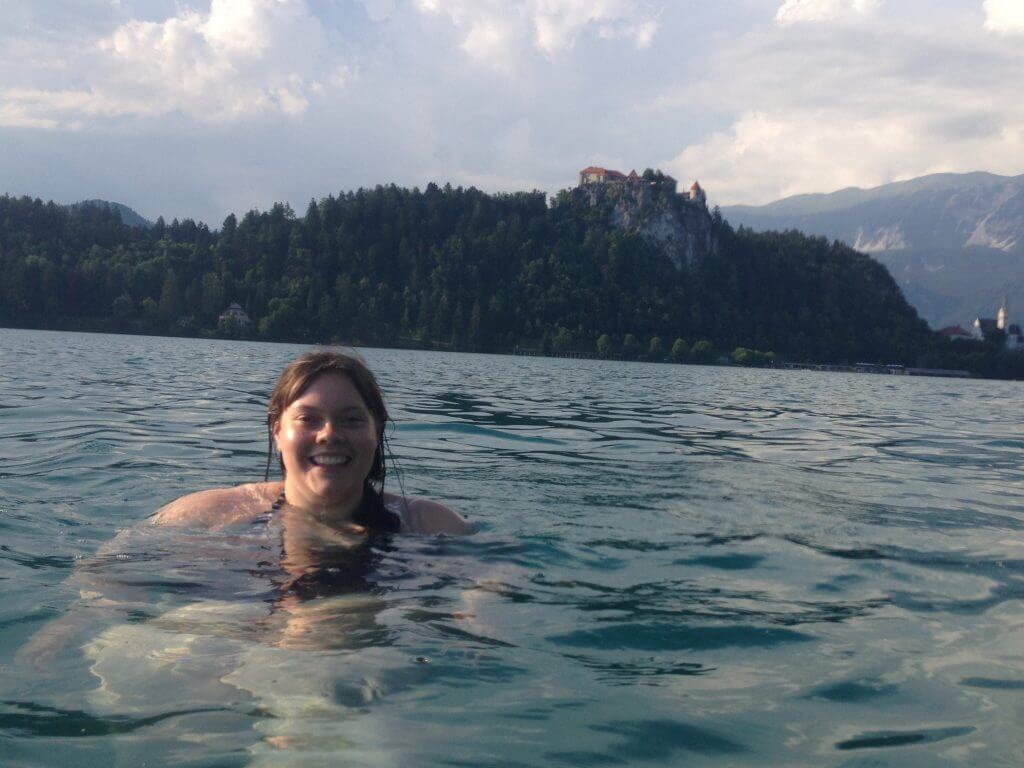 There is nothing better than an outdoor swim! Wild swimming has amazing health benefits and can leave you feeling invigorated and refreshed! You can wild swim in most lakes and seas, but make sure to check any local advice for your health and safety, such as algae spottings or jellyfish, before you dive in! Swimming is an excellent way to exercise while travelling.
If there's no wild water, visit the local baths, pool or spa. In Budapest, Hungary we visited the Szechenyi Baths (which was AMAZING by the way) and it was so fun to have a swim in the thermal pools and I also took part in an impromptu aqua-aerobics class!
Try A New Experience
If you're feeling adventurous, you could try surfing, snorkeling or diving – most places by a body of water have rental or sports centers where you can do the activities on a day trip or for a few hours. While I was in Australia,  I tried surfing for the first time at a lesson from a surf school along the Great Ocean Road. It was a really good way to learn a new skill and also get to know the local culture through a sport as it is such a popular hobby there. During my trip to Queensland, I took a day boat out into the Great Barrier Reef where I snorkeled for a few hours and had lunch on the boat too before they brought us back to shore. It was great fun and one experience ticked off the bucket list!
In Fiji, I rented snorkel equipment from my hostel and went at it alone around the reefs close to the island shore and saw some amazing sights under the water. Viewing the world in this way is a unique experience which you'll only get the chance to do sometimes once in a lifetime – I was so lucky to see reef sharks, sun fish, clown fish and sea turtles amongst many other amazing creatures of the sea. Well worth the unfortunate sunburn on my back if you ask me!
Cold Water Swimming
Wild swimming in the cold seas of the Atlantic on the west coast of Ireland or in the high mountain lakes of the Lake District are some new things I tried this last year, and although it was freezing at first and I had to use willpower to stop me running back to my warm towel on the beach, every time I had an incredible experience and every time this builds up the strength to go once more! There's always opportunities to have a splash about if you have courage! Just go for it – you won't regret it!
My favourite swimming spots: Croatia (Dubrovnik – St. Jacob's Beach, Split – Kasjuni Beach), England (Lake District – Blea Tarn), Scotland (Gullane Beach, North Berwick Beach), Ireland (Kerry – Inch Beach), Greece (Crete, Chania – Chrissi Akti Beach), Budapest (spas), Montenegro (Bay of Kotor), Slovenia (Lake Bled), Australia (Melbourne – Sandringham Beach)
3. Cycling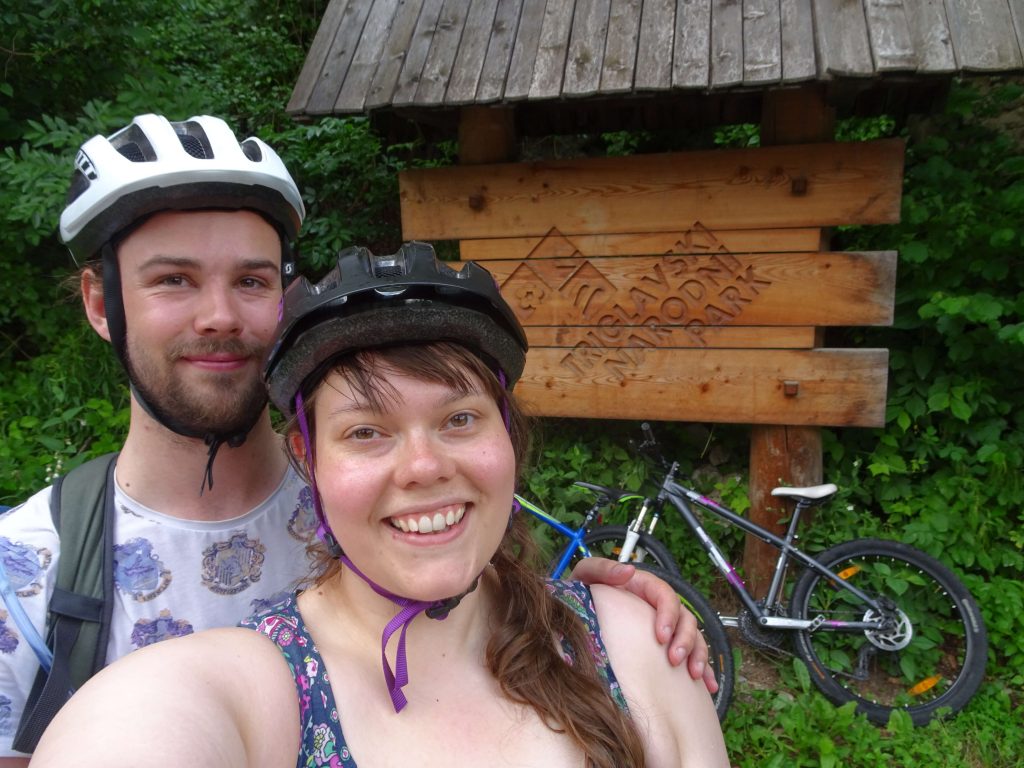 Riding a bike is a super fun way to explore! Hire a bike from a local shop or tourist information centre and go for a ride solo or on a bike tour.
While in Slovenia we hired bikes from the local tourism office for just 8 euro each for 6 hours, including helmets and a lock, and we cycled to the stunning Vintgar Gorge. In such a remote area, this was by far the best way to get there as it was too far to walk, there was no public transport and we didn't hire a car. The entrance was setup for cyclists too with racks and was well guarded. Afterwards, we had enough time to cycle all the way around Lake Bled which was a wonderful way to see it.
When I visited the Fuji Five Lakes in Japan, cycling was a great way to explore this region too – I got a bike for free from my hostel and cycled around the whole of Kawaguchiko. So not only is cycling a great form of exercise, it's also a great way to save time, see more and have fun!
Plan Your Next Trip To A Cycling Destination
Why not plan your next trip to a country or city renowned for it's cycling, such as Copenhagen, Denmark or Amsterdam, The Netherlands? In fact, my next trip coming up in the Spring is to The Netherlands and I am planning some cycling trips as part of our explorations and days out – I can't wait to hit the saddle!
My favourite cycling cities: Slovenia (Lake Bled), Japan (Furano – Hokkaido, Fuji Five Lakes – Yamanashi, Kyoto), The Netherlands (Amsterdam and the countryside), Denmark (Copenhagen), Australia (Melbourne), Scotland (Edinburgh)
4. Ice Skating, Skiing, Snow Boarding & Snow Shoeing
These are all excellent activities for the winter to get you out and about and warmed up in the cold.
Funnily enough, I also tried skiing for the first time while in Australia! I think it's one of the only places in the world where you can potentially surf and ski within the same day. In Victoria, I took a trip up to Mount Buller and got a beginners skiing lesson. I was so terrified though I had an embarrassing moment on a ski lift when me and my friend went all the way up but had to come all the way back down again as we were too scared to trust the skis to take us down the mountain once we got to the top.
This experience came in handy, however, when I went to Japan a few years later and as the winter lasted 6 months in Hokkaido if I wanted any kind of outside life in the winter I had to have another go! I did improve a lot thanks to my very patient friends who were kind enough to give me some lessons and I'm very, very glad I gave it another go, but after this experience I realised that winter sports just aren't for me! But, it's always worth a try to find out what you like and what you don't like, and it is very good exercise!
Snowsports For Beginners
If you're trying skiing or boarding for the first time I recommend getting some lessons or ask a friend to teach you. It can be frustrating when you're friends shoot off without you down the mountain but don't discourage and just keep trying! You'll pick it up eventually – it just takes practice!
Also remember to wear all your protective clothing and don't layer up too much as you will warm up as you're moving about – thermals under and waterproofs over your regular outfit are enough.
If you're going abroad it's also a good idea to get comprehensive travel insurance too as accidents can happen!
Snow sports can be expensive too but if you're just doing a day or so I didn't find rental equipment to be too badly priced (less than £50) and in good condition. Go to a big enough resort and companies will be competing with each other to get prices down and you'll have loads of options in sizes, styles and brands too.
Different Winter Activities
Not into adventure sports at all? Then help the locals shovel snow!!! The calorie burn potential is over 200kcal for every 30 minutes! Trust me it is hard work!
Travelling in winter can be a great experience if you try new activities and immerse yourself in the local culture. I even tried ice fishing for the first time in Hokkaido which was great! A lot of my friends liked snow-shoeing too which is a really clever way to do winter walks and hikes in the snowy mountains.
5. Resistance Bands
These may not look fierce but they are totally a great alternative to heavy weights so you can exercise when you're travelling.
As they are light and portable, these can be thrown into your suitcase or backpack and taken with you anywhere, and come in a variety of strengths and sizes.
There are heaps of videos you can do on YouTube as well so you can really get a great workout.
Inexpensive and available from online stores such as Amazon* or Decathelon.
6. Fitness Apps, Websites & Online Videos
Apps and online resources are a great way to workout and exercise while travelling – it's like having a personal trainer! My personal favourites that I use regularly:
Running Apps
5k/10k Runner – This app took me from couch to 5k in just a matter of weeks, and then I was super motivated to carry on and went all the way to 10k. If you're going to get serious into your running, I recommend downloading the 10k straight away as it incorporates the 5k into it.
These apps aren't free (for the full version), they just cost a little bit like a couple of pounds, but are highly recommended. They start off slow and build your stamina so you can go further and further each time. It incorporates gamification, as you can earn medals and rewards.
The best thing is that it tells you when to warm up, walk, run and cool down so it is totally hands free and you can listen to your music at the same time. It also tells you when you are at the half way point so you know when to turn around and start going back. Once downloaded you don't need to be connected so this app will work anywhere.
Weights & Cardio Videos
Fitness Blender – These guys make the best online fitness videos, hands down. If you are looking any kind of exercise, like cardio, stretches or weights, they'll have a workout video for it. They are simple in their production so everything looks fresh and you can just concentrate on getting the best workout without any distractions. Very easy to follow and they have lots of versions and modifications for beginners to advanced. An absolute range of videos from 5 minutes to 60 minutes. Some of my favourites are the low-impact cardio workout (to be quiet!) and their range of 1,000 kcal workouts.
No Equipment & HIIT Videos (Great For Beginners)
nowloss.com – Adrian Bryant is an absolute legend and I love this website so much! His signature workouts are high intensity interval training and rely just on body weight or minimal equipment that you have lying around you house (like bed sheets, bottles of water, mops) to create heart racing, fat burning workouts that you can easily achieve in just 10 minutes. His website is full of amazing and useful information and advice as well on how to lose weight and look great naked.
7. Free Outdoor Gyms
These are popping up everywhere in local parks and green spaces and are absolutely free! They are a great way to do some quick exercise while travelling because you don't need to carry any equipment.
UK: The Great Outdoor Gym Company, Wicksteed,
Australia and New Zealand: Free Outdoor Fitness
Worldwide: Calisthenics Parks
USA: Playcore
8. Always Take The Stairs, Walk Everywhere & Join Free Walking Tours
THE biggest tip I can give you is to always take the stairs and walk everywhere. Keeping up your steps is a really easy and fun way to keep fit. You can get a pedometer to keep track and challenge yourself to do more everyday (I have one and I love it!). As you're moving around a new place just do it all at your own pace. Keep your body moving. Always take the stairs and not the elevator or escalator. Why not walk everywhere and discover on foot, instead of spending money and time figuring out the transportation system!?
Walking tours are also a really good way to get exercise while travelling. You will learn about the history and culture of a place and orientate yourself/see the sights and pick up some interesting facts on the way. It's optional to tip the guide at the end, but not compulsory. You may look like a drug dealer, or if you're really strapped for cash just casually slip away and hope the guide doesn't notice!
Best free walking tours I have done have been in Copenhagen, Edinburgh and Budapest. Just Google 'Free Walking Tour' and the city you're visiting to see what's available. Sometimes hostels also offer their own free walking tours or can recommend one for you.
9. Morning Stretches & Yoga
Another good way to incorporate exercise while traveling is to start off the day good with just 5 minutes of stretches. You can incorporate meditation and/or yoga into the routine. It will keep you flexible, loosen tension and it's very, very good for the mind as well as the body! If you're really into Yoga, why not go on a retreat or plan it into your itinerary? Best place to do yoga without a mat is a sandy beach!
10. Use Your Body Weight
You don't need equipment to exercise while travelling. Just use your body weight! Jumping jacks, ski step, on spot running, ab work, push ups, squats, lunges – no equipment needed. You can do it anywhere at anytime!
11. Backpacking & Travelling Via Unconventional Means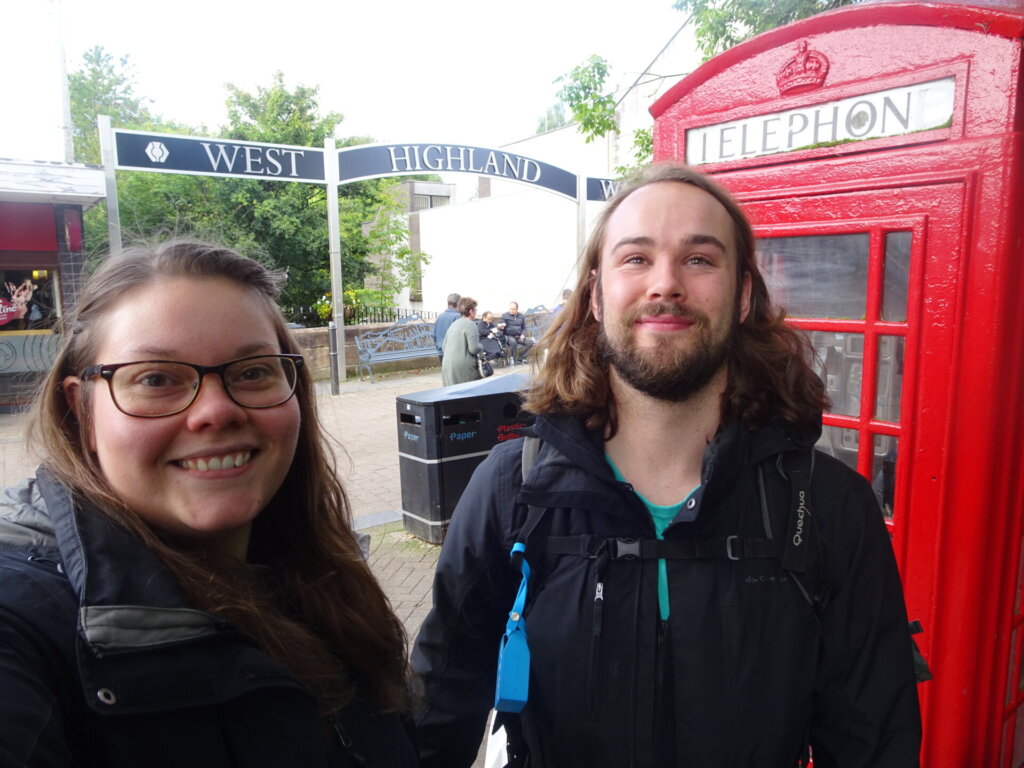 Backpacking is an excellent way to exercise while travelling. Carrying around all that extra weight is really good training and hard work! Just be careful on your back and don't strain yourself or carry too much for too long (like I did on the West Highway Way and totally did my back in carrying a 16kg backpack for 8 hours a day hiking over the Scottish Highlands!). Make sure you have a good supportive backpack with good straps!
You could also go on a long distance walking holiday – where walking is the holiday! There are so many amazing long distance walking routes such as the West Highland Way, the John Muir Way, the Great Glen Way, Te Araroa and the Pacific Crest Trail.
A lot of people travel around the world using themselves or a bicycle as a means of transport – check out my pal Ryan who literally walked the entire length of Japan and New Zealand, and my friends Andy and Claire spent two years cycling from Japan to England. If they inspire you, why not look into your own long distance adventure?
12. Just Have Fun!
Another way to exercise while travelling is just to have fun! Play games with people you meet – volley, frisbee, hide and seek, tag. A couple of my best travel memories is playing frisbee with strangers in Central Park in New York and Yoyogi Park in Tokyo. Go dancing! Go to a ceilidh in Scotland or line dancing in Texas. Run along the beach. Have a water fight. Have a push up competition. Anything to get you moving about and having fun!
12 Free & Cheap Ways To Exercise & Keep Fit While Travelling
Got any more tips for exercise while traveling in addition to this list? Share and write them in the comments!
Did you find this article useful? Let me know in the comments or join me on Twitter, Facebook, Pinterest and Instagram. Buy me a coffee here!
Disclosure: Please note that some of the links on this page may be affiliate links. If you decide to make a purchase through one of these links, I may earn a commission at no additional cost to you. I use all of the companies I recommend and I use them because they are awesome and help make my travels better. If you are ready to book and would like to support Wild Lovely World, using these links is one way to do that. Thank you for your support! If you have any questions, please contact me or read my full disclaimer here.