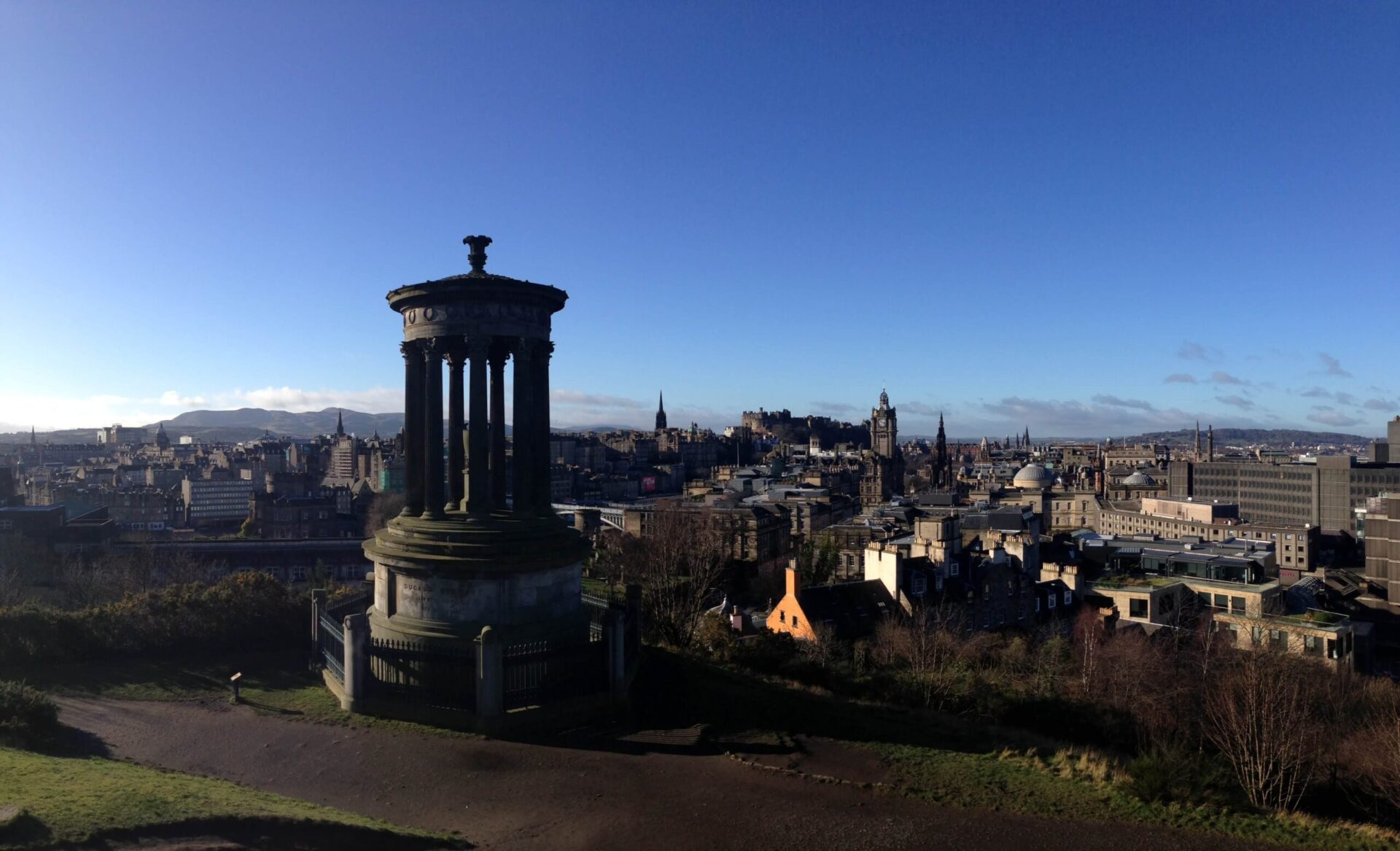 Calton Hill In Edinburgh – Everything You Need To Know
Disclosure: Please note that some of the links on this page may be affiliate links (*). If you have any questions, please read my full disclaimer here. Thank you for your support!
Last Updated On 17th July 2022 By Lauren | Wild Lovely World
Calton Hill, 103m (338ft), is a gorgeous little hill. It is an absolute must if you are visiting the city even for a short time. Climbing the hill is a great way to orientate yourself with the layout of Edinburgh, so I recommend going for a walk up Calton Hill on the first day of your itinerary!
Do you know that most famous view of Edinburgh? You know, the one that if you look up pictures of Edinburgh on the internet, then there is always that same photo that comes up?! Calton Hill is where all those pictures were taken! Which view am I talking about? This one, of course!:
Calton Hill is so close to the city centre. It is located at the east end of Princes Street, just 5 minutes walk from Edinburgh Waverley Station! So easy!
With it being so accessible and with just absolutely gorgeous views of the beautiful city of Edinburgh, then you have no excuse not to do it!
In this post, discover everything you need to know about Calton Hill in Edinburgh, including how to get there, the Calton Hill walks and the history of Calton Hill.
Calton Hill is No. 4 in our Quick Guide to The Seven Hills of Edinburgh series. Check out the full series here: The Seven Hills Of Edinburgh: A Quick Guide
Quick Guide To Calton Hill In Edinburgh
Check out these posts for some more Edinburgh travel inspiration! 🏰 🏴󠁧󠁢󠁳󠁣󠁴󠁿 :
Book awesome activities and tours to do in Edinburgh:
Calton Hill Is The Location Of The Most Famous View Of Edinburgh
Calton Hill offers excellent views of the city centre. There are panoramic views of Leith and the Firth of Forth, Arthur's Seat and the Salisbury Crags, and Holyrood Park.
You will of course also see all the incredible architecture including Edinburgh Castle, the old City Observatory, and all sorts of monuments such as the Scott, the Nelson, the Dugald Stewart (that one in the famous photo!) and the National Monument.
The view from Calton Hill is absolutely iconic. I reckon it is the most used imagery of Edinburgh for ads and travel websites to promote the city. To top it off, it's a UNESCO World Heritage Site.
"Of all places for a view, this Calton Hill is perhaps the best." Robert Louis Stevenson, 1889
History Of Calton Hill
Calton Hill has quite a long and varied history. The short version is that in 1724 the town council bought the hill which made it one of the first public parks in the country.
The famous philosopher David Hume lobbied the council to build a walk "for the health and amusement of the inhabitants". The walk around the hill is still there to this day for everyone to enjoy.
You can learn more about Calton Hill by visiting and reading the information signs dotted along the paths.
Calton Hill Monuments & Historical Buildings
There are several monuments and historical buildings at the summit of Calton Hill. Here is some information about the Nelson Monument, the National Monument and the City Observatory.
The Nelson Monument
The Nelson Monument commemorates the victory and death of Lord Admiral Nelson at the Battle of Trafalgar in 1805.
It was designed by Robert Burn (the same guy who designed Hermitage House!) in the shape of an upturned telescope.
The time ball on top was added in 1852 and during summer it is lowered to coincide with the firing of the gun from Edinburgh Castle* at 1 o'clock.
You can climb up the tower of the monument for a hefty £5 entry. The museum on the ground floor is free.
The National Monument
The National Monument, designed by Cockerell and Playfair, is (in my opinion) the most prominent of all the monuments on this hill. It was modeled on the Parthenon in Athens. Seeing it will help you to understand why Edinburgh is called the 'Athens of the North'!
The monument was intended to commemorate Scottish soldiers and sailors who had died in the Napoleonic Wars.
Also known as Edinburgh's Disgrace, funds ran out during the build and it was left unfinished in 1829. However, some say that it was intended to be this way. To me, this just adds to the allure of it.
It is an iconic structure which you can climb and observe the views. It also makes for a dramatic sunset silhouette.
The City Observatory
The City Observatory is a historic building on Calton Hill which has been redeveloped by collective arts organisation 'Collective'. They have transformed the building into a gallery space, shop and restaurant.
It's worth popping in to see going what's on in there as they have changing exhibitions and projects. I enjoyed my visit when I went and it gives something else to do at the top of Calton Hill.
Festivals & Events At Calton Hill
Edinburgh has many events and festivals happening all throughout the year. It's a great city to enjoy a celebration! Calton Hill is an excellent place to watch these events from and has even hosted some of them in the past.
Watching Fireworks In Edinburgh – Edinburgh Hogmanay & Edinburgh Festival
Calton Hill is a great place to watch fireworks from throughout the Edinburgh Festival season (August) and the New Year's Hogmanay celebrations (December). This is because Calton Hill is elevated and is so close to Edinburgh Castle from where the fireworks are released.
I've been up here on New Year's Eve myself and the view is really amazing. Imagine the beautiful city buildings with their lights shining spreading out below you and being illuminated by sparkling fireworks – just stunning!
Bear in mind that if you are going up Calton Hill during any season or event, then it will be very busy! Calton Hill is one of the most popular locations to view fireworks from and celebrate New Year's Eve. If you want some other suggestions of great locations to watch fireworks in Edinburgh, just get in touch or leave a comment below and I can give you some great tips!
Beltane Fire Festival
Every year in spring, on the last night of April, Calton Hill is the scene of the Beltane Fire Festival. This is an interesting spectacle with lots of costumes, fire, drumming and acrobatics!
Over the years, this Celtic ritual celebration has grown massively in popularity. The event used to be free to join/observe, but now it is a ticketed event to help crowd control. If this is something you are interested in and want more information, check out their website.
How To Get To Calton Hill In Edinburgh
Walk Up Calton Hill From Edinburgh City Centre
There are several entrances/exit points on the hill and a variety of paths. So there are numerous routes to get to the summit of Calton Hill. Here I will share the best/most direct ways to get to the top of Calton Hill to make it easy for you.
The Most Direct Route To Walk Up Calton Hill
Climbing Calton Hill is super easy: it only takes about 5-10 minutes from Edinburgh Waverley Station on Princes Street.
The best way to get there is to go to the very east end of Princes Street. Basically, that means when standing in front of Edinburgh Waverley Station looking at Princes Street in front of you and The Balmoral Hotel is on your right, turn right and walk in that direction. Keep walking as it turns into Regent Road.
You will soon find the entrance into Calton Hill on the left of the footpath. It is very easy to find. Just look for all the stairs going up! Here is the location on Google Maps.
From there, there are steps to climb going all the way up to the top. There are quite a lot of steps going this way so take your time and have a rest if you need to.
After 5-10 minutes you will be at the summit of the hill. You will arrive directly where all the monuments are, plus that famous view of Edinburgh. Enjoy those awesome views!
Alternative Route To Get To The Top Of Calton Hill (Wheelchair & Pram Accessible)
Alternatively, there is a small entrance into Calton Hill from Blenheim Place/Royal Terrace. This wheelchair and pram-friendly path is located on the north side of Calton Hill near Leith Walk.
I think it could be quite tricky to locate this path if you are not familiar with it. It is located next to the Greenside Parish Church. Just look for the path to the left of this church leading into the trees. Here is the location on Google Maps.
This is an even, sealed path which climbs up quite steeply. However, it is definitely doable by most people.
The path is quite sheltered by trees and bushes until you approach the top. However, you will soon see beautiful views of the New Town emerge beneath you.
It takes a little longer to walk up this path but as it is not steps I think some people will find it a bit easier! As you get higher to the top, the path is not as steep as in the beginning. Soon it turns into a path that skirts around the edge of the hill, giving you an awesome panoramic view.
As you are coming from the other side of the hill, you will need to cross over the top of the hill to get to the monuments. The monuments is where that famous view of Edinburgh is! Just walk in the direction of all the buildings!
Exploring All Paths & Routes At The Top Of Calton Hill
There are paths going all the way around the top of Calton Hill. You could even go down a different way than you came up, and continue your route exploring the city. Edinburgh is a great city to just wander and 'get lost'. So enjoy the panoramic views of the city and surroundings and explore!
There are a lot of information on signs about the geology, monuments and viewpoints on the top of Calton Hill. Enjoy reading these as you walk around and learn about where you are.
What To Wear To Walk Up Calton Hill
As all the paths are paved and well maintained, and the hill isn't very high, you can do this walk in just any regular shoes. I've seen people up there in stiletto heels (but I wouldn't recommend it)!
If you're visiting after rain, then I recommend shoes which will deal well with mud – it can be quite muddy at the top of Calton Hill sometimes! The top of the hill is a large open grassed area.
Check the weather before you go – if it is raining or windy, I recommend a wind/waterproof jacket. Edinburgh can be very wet and windy most days, so carry one with you just in case.
There is no shelter/shade at the top of Calton Hill, other than the City Observatory art gallery and shop, so consider this if you're walking in wet or hot weather too.
Edinburgh Sightseeing Bus Tour
The Edinburgh Sightseeing Bus Tour is a great way to explore Edinburgh if you are not familiar with the city. This bus tour will take you to Calton Hill (but you will still need to walk to the top by yourself 🙂 !).
Edinburgh is a bus-dominated city and it can be a little confusing to know how to get around if you do not know which route you need to take.
The Edinburgh Sightseeing Bus goes to all the major destinations and stops in Edinburgh, so it makes it really easy to get to where you want to go. You can get a ticket to hop-on/hop-off with unlimited 24-hour journeys. As a passenger, you also get an audio guide so you can learn about what you're seeing while you ride the bus.
My friend took this bus tour when she visited Edinburgh and she thought it was awesome!
It costs a very reasonable £15 and you can book it online here on Get Your Guide.
Location Map Of Calton Hill In Edinburgh
Find More Awesome Stuff To Do In Edinburgh
Book onto one these popular tours in Edinburgh:
Looking for more awesome stuff to do in Edinburgh? Check out these posts:
Quick Guide To Calton Hill – Everything You Need To Know – Thanks For Reading!
I hope this post has answered all your questions about Calton Hill and you have an excellent time visiting this wonderful feature of Edinburgh – Lauren x 😊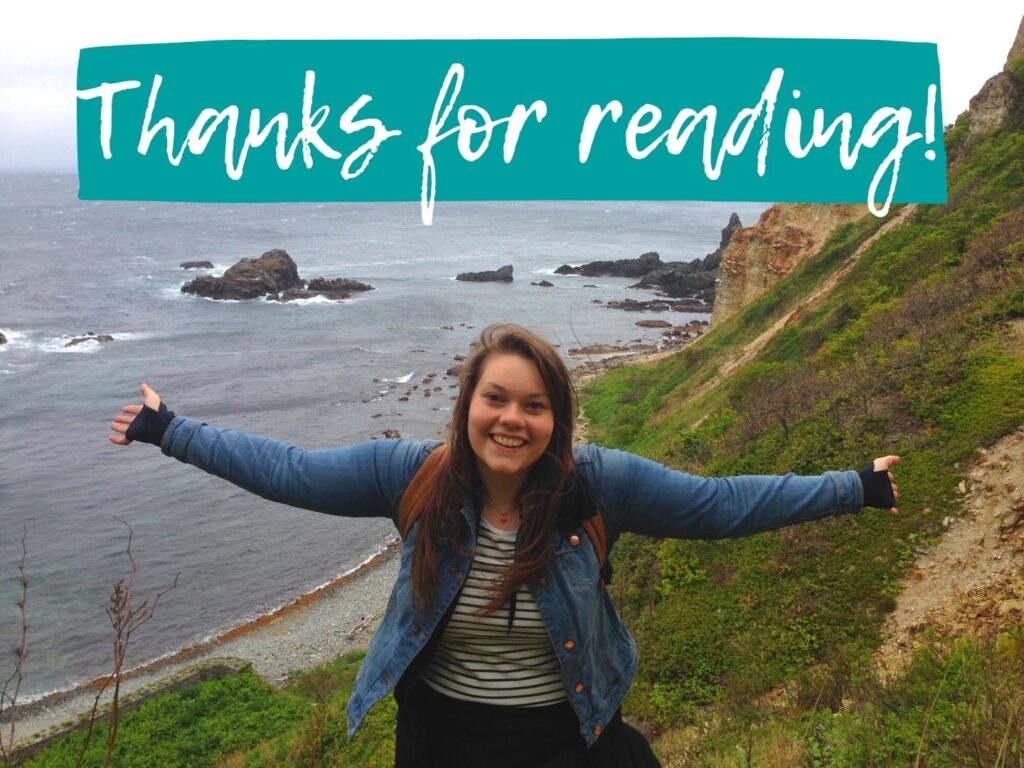 Did you find this article useful? Let me know in the comments or join me on Twitter, Facebook, Pinterest and Instagram. Buy me a coffee here!
Calton Hill is No. 4 in our Quick Guide to The Seven Hills of Edinburgh series. Check out the full series here: The Seven Hills Of Edinburgh: A Quick Guide

My Travel Resources guide will help you get the best deals when booking your next trip – check it out here!
Disclosure: Please note that some of the links on this page may be affiliate links. Affiliate links are marked with an asterisk (*) where possible to help disclose these to you. If you decide to make a purchase through one of these links, I may earn a commission at no additional cost to you. I use all of the companies I recommend and I use them because they are awesome and help make my travels better. If you are ready to book and would like to support Wild Lovely World, using these links is one way to do that. Thank you for your support! If you have any questions, please contact me or read my full disclaimer here.