Hostelworld Booking Guide – How To Book The Best Hostels
Disclosure: Please note that some of the links on this page may be affiliate links. If you have any questions, please read my full disclaimer here. Thank you for your support!
Last Updated On 10th July 2021 By Lauren | Wild Lovely World
Planning a trip and want to learn how to book the best hostels? In this complete Hostelworld booking guide, learn 12 essential tips of how to book the best hostels and ensure you have a fabulous stay!
Why Use Hostelworld To Book Hostels?
Hostelworld* is my go-to website when planning solo, couple or small-group budget backpacking trips to any location in the world. I've been using the service since 2010, stayed in over 35 hostels, and written over 30 reviews for the site which makes me a 'Globetrotter' by Hostelworld's standards.
I have found Hostelworld really helpful to me throughout my backpacking experiences. When I was a newbie way back in 2010, it was great to find a website that had so many accommodations and really easy booking options. More than 10 years later, I am still using Hostelworld* so hopefully that tells you how great I think it is.

Hostels Wherever You Want To Go
Hostelworld has a huge portfolio of hostels all around the world. There are more than 17000 hostels in 178 different countries! I've stayed in hostels in Australia, Japan, New Zealand, Germany, France, Hungary… you get the idea.
Really Easy For You To Use
I like that the interface is really easy to use. Later on in the post, I'll give you a complete guide to booking hostels using the Hostelworld filters and booking options to make sure you find the best hostels for your trip.
Flexible Booking Options In Case Your Plans Change
For many bookings you can pay a deposit and pay the rest when you arrive at the hostel. Hostelworld now offers free cancellation for many bookings too which is great if your plans change.
Helps You To Plan Your Trips
If I'm in the early stages of planning for a trip, using Hostelworld can be a great place to looking for a guide price of how much a night's stay is going to cost. It's a really fast and easy way to get some estimates by putting in approximate dates and the location, even if I end up booking elsewhere. This way I can see if there are any hostels within my budget in the location I want to visit.
Helpful Reviews From Like-Minded People
What I find most valuable about Hostelworld is the reviews – you can (mostly) guarantee people are going to be honest and say what a place is really like. Also, if they're using Hostelworld too then they're likely to be a similar type of traveler to you too so you'll have some common expectations.
I do have other favourite accommodation websites – see my Travel Resources page for more info on what I recommend! Which one I use really depends on what kind of trip I am going on. For example, I usually use Hostelworld* for budget backpacking trips.
Hostelworld Booking Guide – 12 Tips To Help You Book The Best Hostels
Here are my top tips for how you can book the best hostels for your backpacking trip. This complete guide to booking hostels with Hostelworld* will show you what you can do to book the best night's stay possible. With these tips you can use Hostelworld's filters and booking options to make sure you find the best hostels for your trip.
1. Use The Filters
Firstly, you want to look at the filter options. Be honest about what you want from your hostel stay and don't settle for anything less. Hostelworld* has a good filtering system so take advantage of it! For the first search I usually adjust these filters.
Price
Keep the low at 0 and adjust the high to whatever your maximum budget is per night. If you can't afford more, then don't waste your time looking.
Room
Who and how many are you travelling with? Are you going solo, as a couple, with a friend or a small group? Do you prefer your own space or don't mind sharing with strangers? Does it matter if you're in a mixed room or gender specific? There's many options available from a single room to a mixed dorm. Choose that which suits your needs.
Facilities
Free Breakfast
Breakfast is an essential but annoying meal while you're travelling because of a couple of reasons.
Firstly, not all locations have a cafe/breakfast culture so it can be really tricky to find somewhere good and cheap to eat out.
Secondly, breakfast can be kept real simple but to do this on a budget usually means a trip to the local supermarket/bakery. This can be fun but also a time waster if you'd just like to eat quickly and get on with the day.
I usually opt to include a free breakfast as a first search only and see what comes up. Then do a second search without this filter option. This is because sometimes it can cut out quite a lot of choice unless it is common to offer a free breakfast in that location. If it brings the results down to too few choices, then remove the filter and see the options then.
Some hostels also offer a breakfast for a small fee which will be written in the hostel description. The reviews are really telling of whether it's worth the money or not.
Luggage Storage
You're likely gonna want to store your bags if you arrive before check-in time (2-3pm) or want a full days sightseeing after you check-out (10-11am). It's very common for luggage storage to be available and to be free but some hostels charge a small fee.
Free Wifi
Almost all hostels offer free WiFi these days, but double check before booking your preferred option just in case.
24 Hour Reception
Whether you need a 24 hour reception or not will depend on your arrival/departure times. But if you know you're gonna be arriving in the middle of the night, then this will be really handy for you.
I would say it's about 50/50 for hostels to have someone on the desk 24 hours or for the reception to be open from say 7am-11pm.
If your preferred option does not have 24 hours, then check the description for reception hours and procedures for out-of-hours arrivals. Most places will have a system in place, such as email in advance, a call/buzzer system, or just a really friendly guy who will stay up waiting for you!
Self-Catering Facilities
If you're wanting to cook most of your own meals then access to a kitchen or cooking facilities is essential.
You might think it's common place for hostels to have a kitchen you can use, but this isn't always the case. Even if they do have a kitchen, don't expect it to be somewhere you'd want to cook (cleanliness, actual pots/pans/utensils, counter-space, a fridge you can fit your groceries in).
Personally, when travelling for a short-mid term trip I tend to eat meals out because I want to try the local cuisine. Also, I found that often it's just as cheap (if not cheaper) to pay for a meal at a restaurant as it is to buy all the ingredients from a supermarket.
If travelling longer term then I will cook my own meals to keep costs down and enjoy a bit of home-cooking wherever you are in the world.
2. Use My Rating Rule: 7 & Up Only
I have a rule that I only book hostels (or any accommodation for that matter) with a rating of 7 and up. I never, ever book a hostel rated lower than 7.
I don't know why I came up with this magic number, but I've had very few bad experiences at hostels and I believe it is because I always follow this rule.
I'd be lying if I said it was not possible to have a mediocre (if not bad) experience at a hostel even if the ratings are higher than 7. But can you imagine if you stayed somewhere rated a 5 or a 6? Just don't do that to yourself.
This may sound snobby to some of you but rating is a big deciding point for me when choosing to book a hostel. It definitely sends alarm bells ringing for me even when a rating is as low as 7.
I would suggest you cut them out completely right at the beginning of your search so you don't even waste time having them fill up your results.
Filter them out using the tools by selecting to only show results with ratings of 7 and up. You'll usually have no trouble finding hostels rated 10 and below, and trust me you will have a better experience. The higher the rating, the better.
3. Use The Sort Function
Once you've adjusted the filters, search for your results. Then, you can use the sort function to help organise your results. Depending on what is most important to you there are three useful options.
Sort By Price
Sort by low to high price if this is important for you. Usually you're staying in a hostel to save money right? If you're on a tight budget then this feature will bring the lowest price hostels to the top.
Remember the prices are based on the dorm room size – usually the lowest price is the one with the most beds in it! So keep this in mind because there will be a lot of variation in the actual rate offered when you check out the rates in more detail.
Sort By Rating
Find the best rated hostel in your location with all the facilities you set in your filters. This is a good way to check out the competition.
Sort By Distance
Do you need to be close to the city centre, train station, airport, or other specific location? This function will order the hostels in order of distance from the location you set in your search.
Use the 'Map' Display tool to see this in greater detail.
4. Read The Reviews
Reading the reviews is an absolute must.
When you've picked out a couple of contenders, I suggest you read at least the first 3 pages of each hostel's reviews.
Generally you'll find trends, like people start to say the same positive and negative comments about a place.
Remember to take comments with a pinch of salt (because not everything that bothers someone will bother someone else!) but trust the trends.
If the trend is anything that you wouldn't like or isn't suitable for your situation, then cut it out. For example, a trend might be lots of people mention loud noises or say it's a party hostel, there were queues for showers or only one bathroom, or that the hostel was too far from the train station.
Also note who wrote the reviews, such as their age, experience and travel group, which is visible on the reviewer profile. This can be tell-tale as to what may bother or excite them based on their demographic. Such as younger travelers may want to stay in a party hostel.
Remember that a lot of reviews are perspective and opinion. This is why factual reviews, for example about the contents of the free breakfast, are going to be more valuable than someone simply moaning about lack of sleep due to a snorer in their dorm. On the other hand, it is still valuable to learn from others experiences at the hostel so you can make an informed decision.
5. Look At The Pictures
And inspect them carefully. You can learn a lot from the variety (or lack of!) pictures. If a place has no photos to view, do not bother with it at all.
Many "party" hostels will have pictures of people together having fun and doing a social activity or having a meal together. This is usually a sign they have some good social activities on for you to meet other travellers.
Ignore any stock photos of the town you're visiting. I don't know why but some places will just fill up their gallery with photos of the local sights.
The best photos are those of the neighbourhood, the bedrooms, the reception, the common spaces and the facilities. Does it look clean and well-kept? Does it look comfortable and friendly? Do the facilities match your expectations?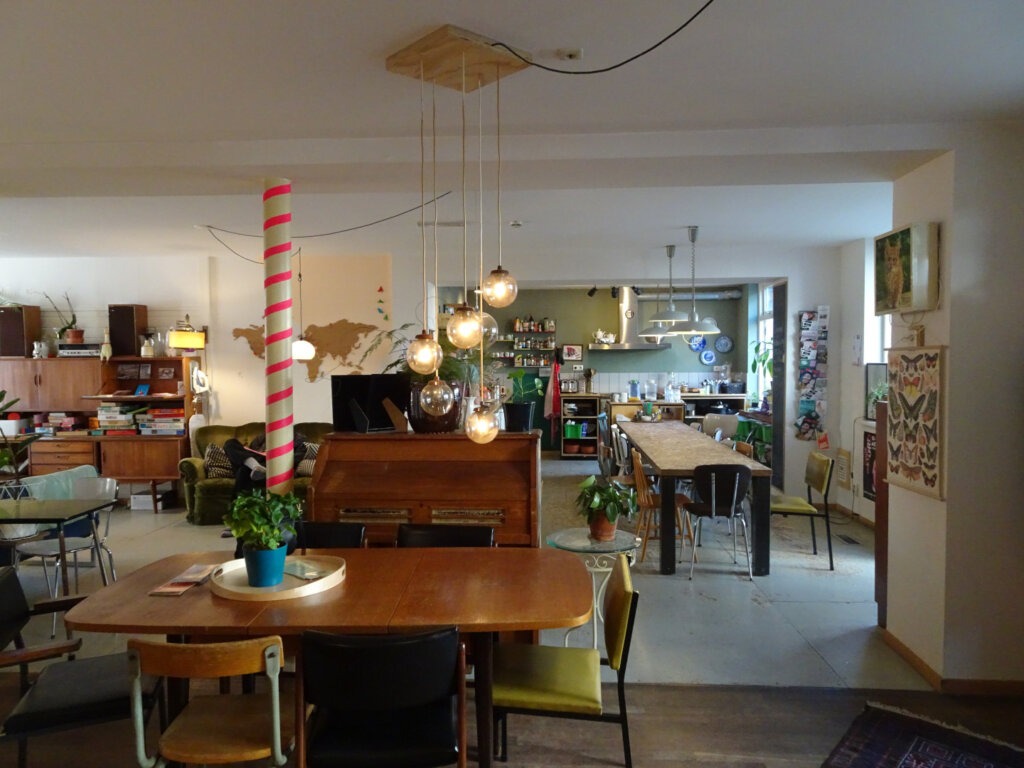 6. Check Out The Location
Where is it? Is it in a good neighbourhood? Is it close to where you wanna be? Is it easy to get to, near public transport, near a supermarket or whatever you need?
Use the 'Map' to get a better idea of where it is and how you would get there and around, and also look them up on Google Maps.
The description should also have basic information on the local area and directions to the hostel.
Stay away from anywhere in a dodgy or dangerous area – you'll need to do your research to know where is notorious, but reviews will also have good information.
7. Found A Hostel You Like? Go On Their Website
Once you've found somewhere you like the look of, get on Google and find the hostel's own website.
It will often have a bigger gallery, more information on the facilities and local area.
Sometimes there are discounts or special deals to be had if you book directly via their own website rather than through Hostelworld, for example free upgrades.
I've often found that Hostelworld* can be cheaper than booking direct due to price-matching, special deals, fixed rates or currency exchange rates. But this isn't always the case, so do your research.
I would always go with the best deal or money-saver available, so of course I recommend that for you too!
8. Too Much Or Too Little Choice?
Sometimes you'll be faced with this dilemma – too much or too little choice of hostels.
In a popular city there will be an abundance of places stay all rated highly with excellent facilities and in a cool location. So then how do you choose which one to book?
In a small country town there may be only one hostel for miles and it doesn't have great ratings and some negative reviews. Then what do you do?
Too Much Choice
It's at this stage you can be picky and select a few favourites based on things such as character, personality and vibe.
Does the hostel have free social events? Do they offer free bike rentals or free tours? Do they have cool artwork and graffiti on the walls? Do the staff get high ratings for friendliness and customer satisfaction?
If I'm struggling to choose between two really great hostels, then these things will be a deciding factor for me.
Look at the pictures again carefully and re-read the reviews. Choose the one you feel a connection with.
Too Little Choice
If there's really nothing you like or anywhere you feel you'd be comfortable staying or can afford, then go back to step 1 and modify the filters. There may be some that were left out because of the selections.
If you still can't find anything, then take your search elsewhere. For example Booking.com has hostels as well as budget hotels, B&Bs and apartments, so there may be more selection there.
Not all accommodation providers use Hostelworld. It can be common in some locations for them to prefer another website or service to advertise as that's where most of the competition is is their area.
Other Options
If you're struggling to find a hostel, then think about other options such as a B&B, apartment, guest houses and hotels, couchsurfing and camp sites.
If there's still nothing in that location, then re-visit the map and your schedule. Think about another location nearby or on route where you could stay and travel into the location.
9. Take Note Of The 'Things To Note'
Before booking, always make sure you understand the cancellation policy and whether a hostel has any minimum-night stays in place. This is common for hostels in a town with a major event such as a New Years celebration. Don't feel forced into booking a certain number of nights because you feel you have to. It's unlikely all hostels will have a condition like this in place so find another option that suits your needs.
10. What To Do When You're Ready To Book
Yay! So you've found a hostel you like and now you're ready to book.
When you book using Hostelworld*, you usually just need to pay a deposit, which is usually around 10% of the total cost of the stay. You'll pay the remainder upon arrival.
Make sure you double check the payment options, such as debit/credit card/cash. It can be common in some areas for them to only accept cash in the local currency.
Do you think you might need to cancel? Hostelworld now offers free cancellation on many bookings. If not, usually it's possible to get cancellation protection on your deposit for an extra £1. It's worth investing in this if you think your plans might change.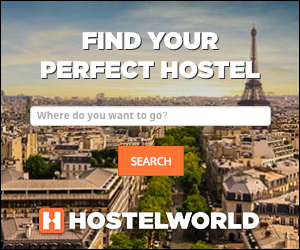 11. Get Hostelworld Credit
If you're signed up as a Hostelworld member and select to receive Hostelworld emails, then every year on your birthday you'll receive $10 Hostelworld* credit.
You can use Hostelworld credit towards your booking deposits saving you money on your trips!
Every now and then, they may also send you a survey. If you complete the survey you can get between $10-25 credited to your Hostelworld account.
The credits do have expiry dates (around 30 days), but it's definitely worth keeping this in mind and looking out for these if you are planning to take a trip anytime soon!
12. After Your Stay, Remember To Leave Your Own Reviews!
Following your experience staying at a place, leave a review to provide guidance to your fellow travelers in the community. This will also help your accommodation provider build their reputation (as long as it's positive!) and make any required improvements following your suggestions.
If you had a great time, write about it and let other travelers enjoy the same experience. If you didn't, then warn others and save them from having to go through the same thing you did! Remember that others will find hearing about your experience invaluable!
Hostelworld Booking Guide – How To Book The Best Hostels For Your Trip
So what do you think of this complete Hostelworld booking guide? Are these 12 tips useful? Do you already do any of these or have you learned something new today? Are you going to put any into practice the next time you book? Do you have any of your own tips to share? Thanks for reading and please comment below!
Disclosure: Please note that some of the links on this page may be affiliate links. If you decide to make a purchase through one of these links, I may earn a commission at no additional cost to you. I use all of the companies I recommend and I use them because they are awesome and help make my travels better. If you are ready to book and would like to support Wild Lovely World, using these links is one way to do that. Thank you for your support! If you have any questions, please contact me or read my full disclaimer here.