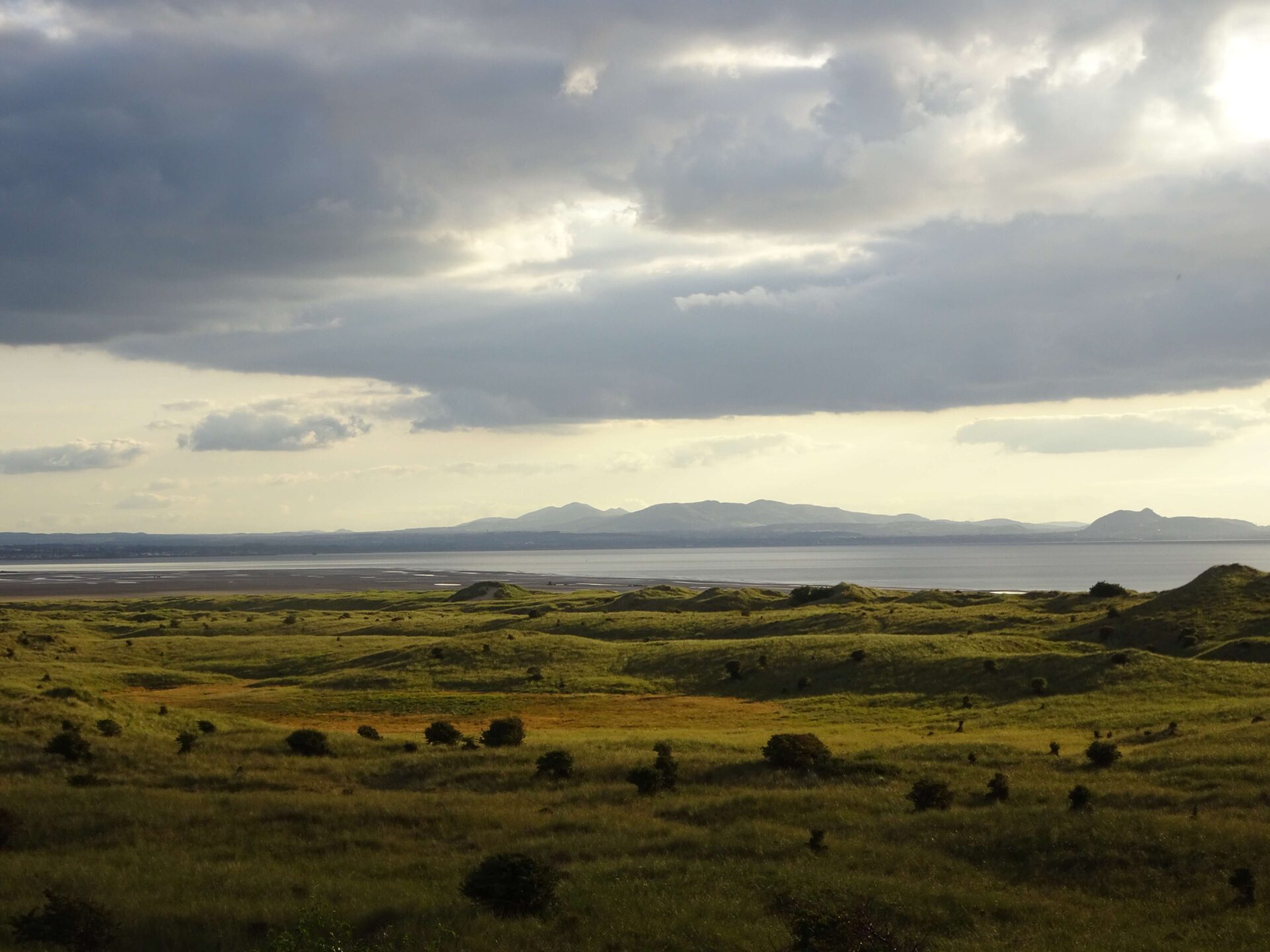 Coastal Walk From Gullane To Aberlady: Your Complete Guide
Disclosure: Please note that some of the links on this page may be affiliate links. If you have any questions, please read my full disclaimer here. Thank you for your support!
Last Updated On 11th July 2023 By Lauren | Wild Lovely World
The coastal walk from Gullane to Aberlady is a perfect day trip from Edinburgh. Discover everything you need to know about this stunning coastal walk in my complete guide.
The wide sandy bay in Gullane is one of the most popular beaches in the east of Scotland, and it is really easy to see why. It has gorgeous soft sand and the water is clear and fresh. It is cradled either side by black rocks and backed by high sandy dunes which support a wide variety of wildlife and plant species.
Aberlady Bay became the UK's first local nature reserve in 1952 and is widely considered one of the best bird-watching spots in the country. In fact, the Scottish Ornithologists' Club (Scotland's Bird Club) has it's headquarters in Aberlady.
The coastal trail is part of the John Muir Way, a 215 km /130 mile long distance walking route across Scotland, which is also part of the North Sea Trail as it is along the North Sea coast line.
At low tide you can see the remains of several wrecks, such as World War II midget submarines (X-Craft), ships and boats.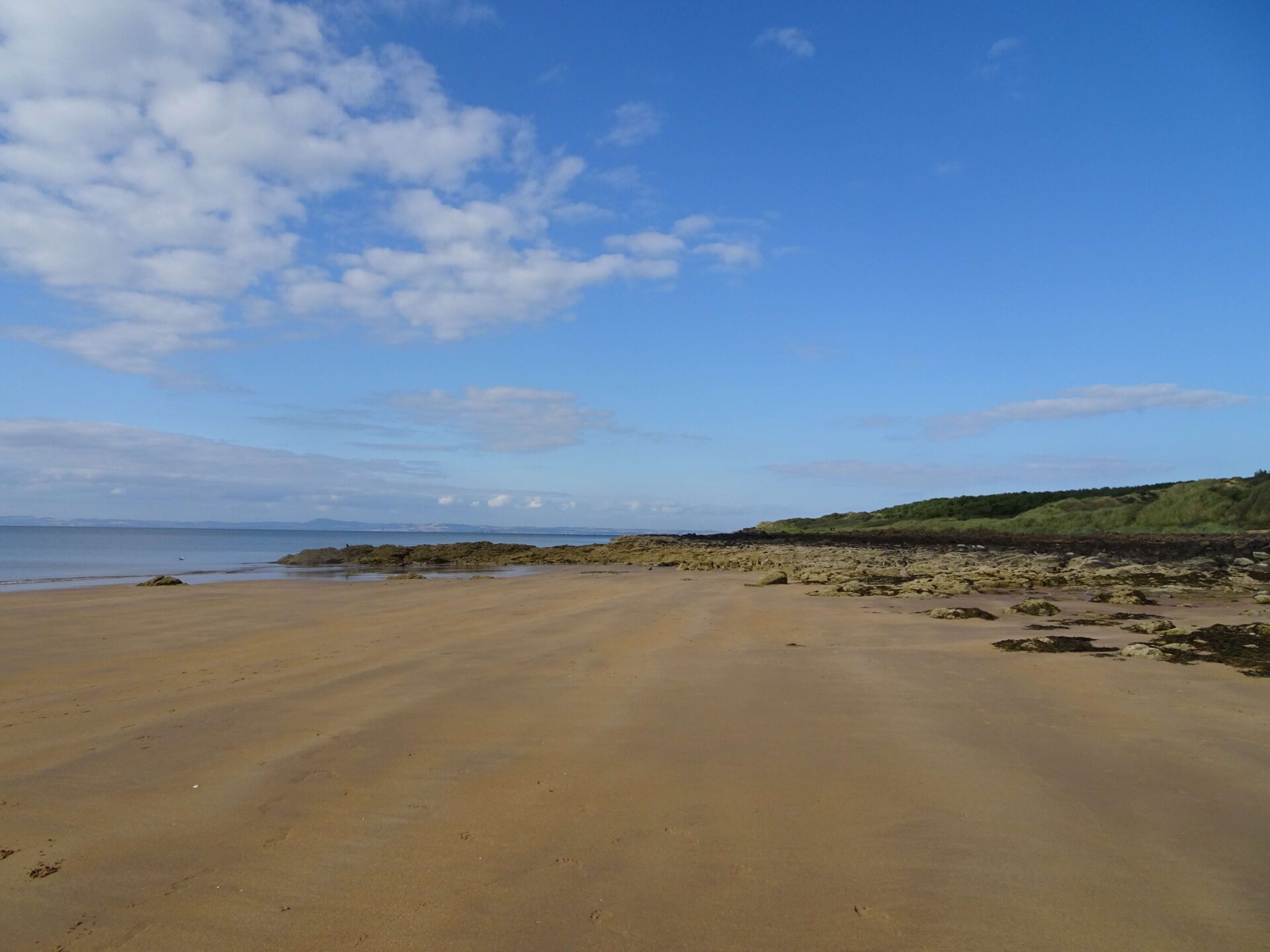 Coastal Walk From Gullane Beach To Aberlady Bay In Scotland: A Perfect Day Trip From Edinburgh
Distance: Around 6 km / 3.7 miles one way.
Time: 2-3 hours going at an easy, relaxed pace.
Terrain: A mixture of level and hilly. The walks begins at a sandy beach backed by dunes. It continues along paths. The walk ends at a wooden bridge and a road.
Highlights: On this walk you will see some of Scotland's best beaches. You will enjoy spectacular views across the sea, hills and towards Edinburgh city. There is a wobbly wooden bridge to cross so be brave! The walk is interesting because of the variety of terrain. You can also enjoy spotting wildlife and exploring historical World War II artefacts.
Dogs: Dogs are popular on Gullane Beach, but they are not permitted on the nature reserve from April to July. Dogs must be kept on a short lead at all other times.
Start: Gullane Beach.
Finish: Aberlady Village.
See Travel below on how to get there.
Traveling To Gullane & Aberlady For Your Coastal Walk
Gullane and Aberlady are both accessible by public transport from Edinburgh. They are both best reached by bus.
How To Get To Gullane From Edinburgh By Public Transport
Take the East Coast bus service 124 or X24  which operates every 30 minutes every day of the week (Monday-Sunday), or the X5 express service which is a little faster but does not run as often (only 7 times a day) or on weekends (Monday-Friday only).
If you have a Ridacard you can use this for part of your journey, to/from Musselburgh, then pay a reduced fare for the remainder.
The East Coast services operate with Zones. To/from the city it will be across 3 zones and will cost £2.60-£3.60 one way (single) or £7.50 for a County Plus ticket (all day travel on Lothian county services including in Edinburgh city centre) for an adult – check the full fares on the website
It will take around 1-1.5 hours from Edinburgh City Centre (stops in the city in Semple Street, West End Lothian Road, Princes Street) to Gullane on the 124 service.
Get off at stop Goose Green and walk all the way down Sandy Loan to the beach.
How To Get To Edinburgh From Aberlady By Public Transport
From the coastal road, head up The Wynd, passing cute cottages, naval houses and the Village Hall, and turn right to go along the High Street to the bus stop at Poplar House.
Take the East Coast Bus service 124 or X24 or X5  as above.
There is no train station is either town. The nearest station is North Berwick, Drem, Longniddry.
If travelling by car, there is a car park at Gullane Bents (beach) and at the footbridge in Aberlady Bay. You could do a round-trip the same way (12km) or take an alternative route.
Map Of The Coastal Walk From Gullane To Aberlady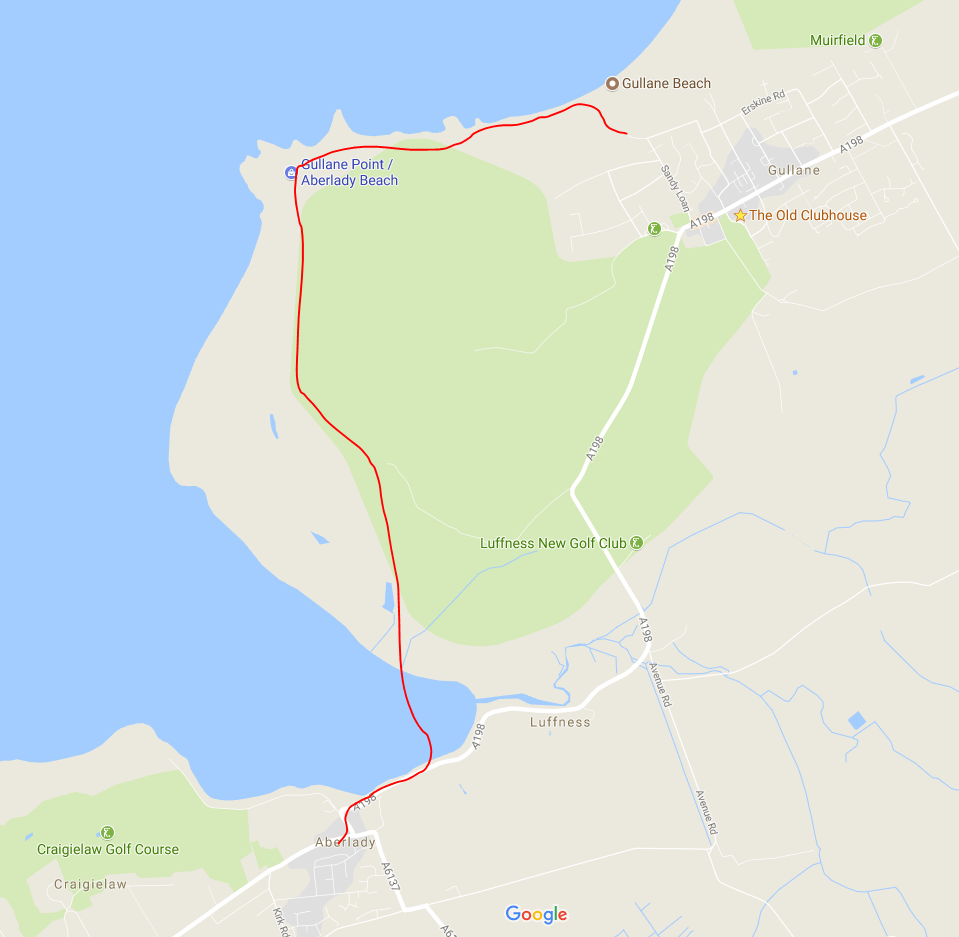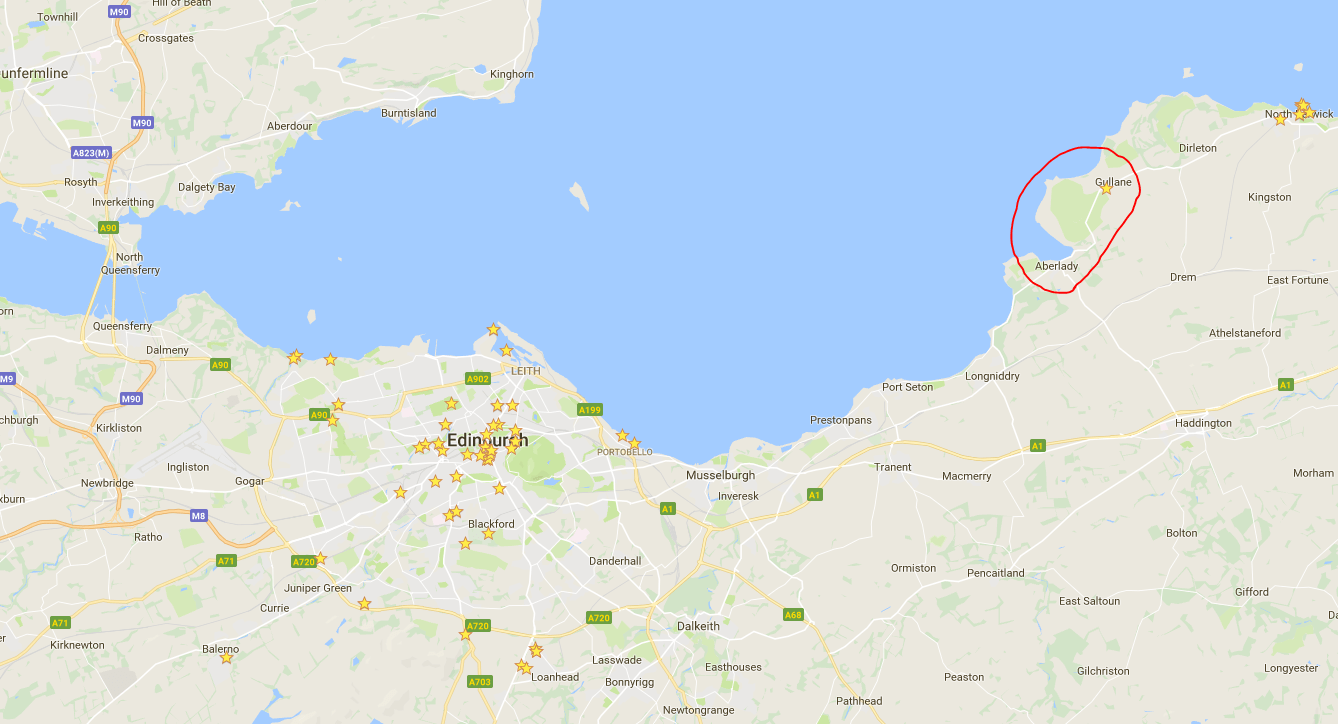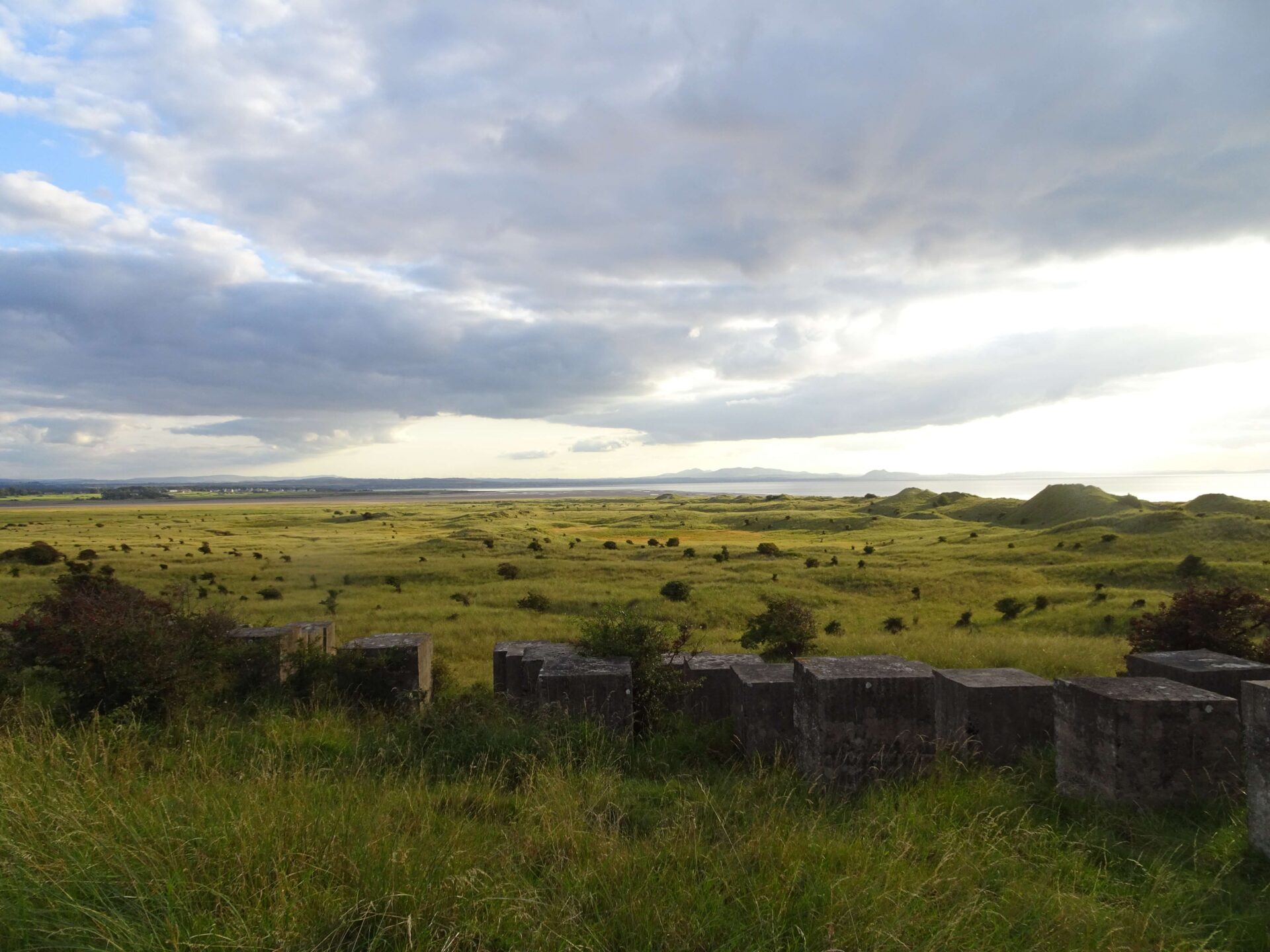 Take Time To Enjoy Gullane Beach Before You Begin Your Walk
Why not start your walk by going down to the gorgeous Gullane beach for a refreshing dip in the sea?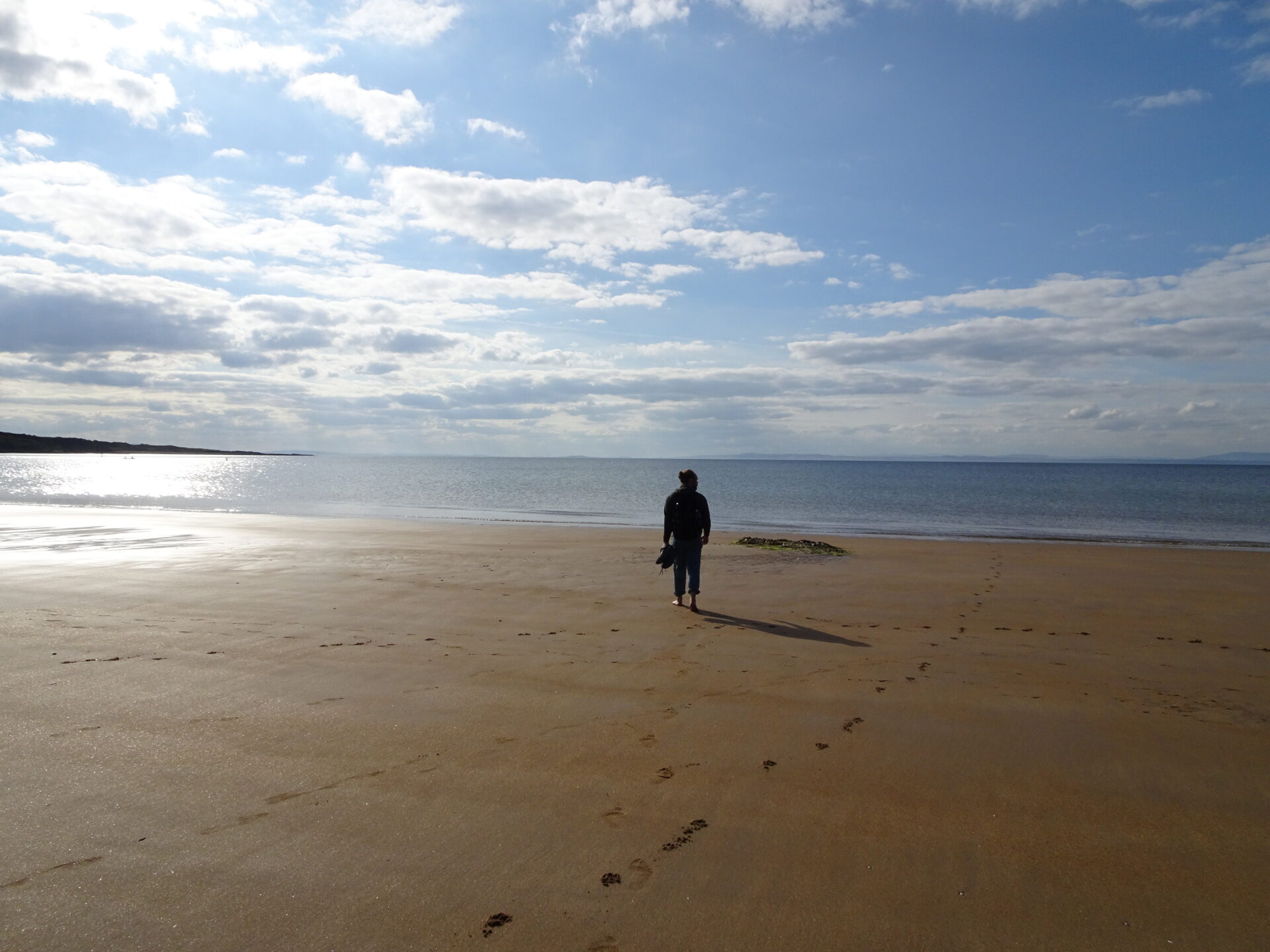 We did this walk in early September. Although the water was quite cool it was so refreshing and exhilarating – I highly recommend it! It's soft sand most of the way out. It gets deep quite quickly allowing you to swim not too far from the shoreline. Go and do it!
Or a walk along the dunes?
The dunes are full of little pathways you can go exploring and enjoy the views from higher ground.
Or enjoying an ice cream while overlooking the bay?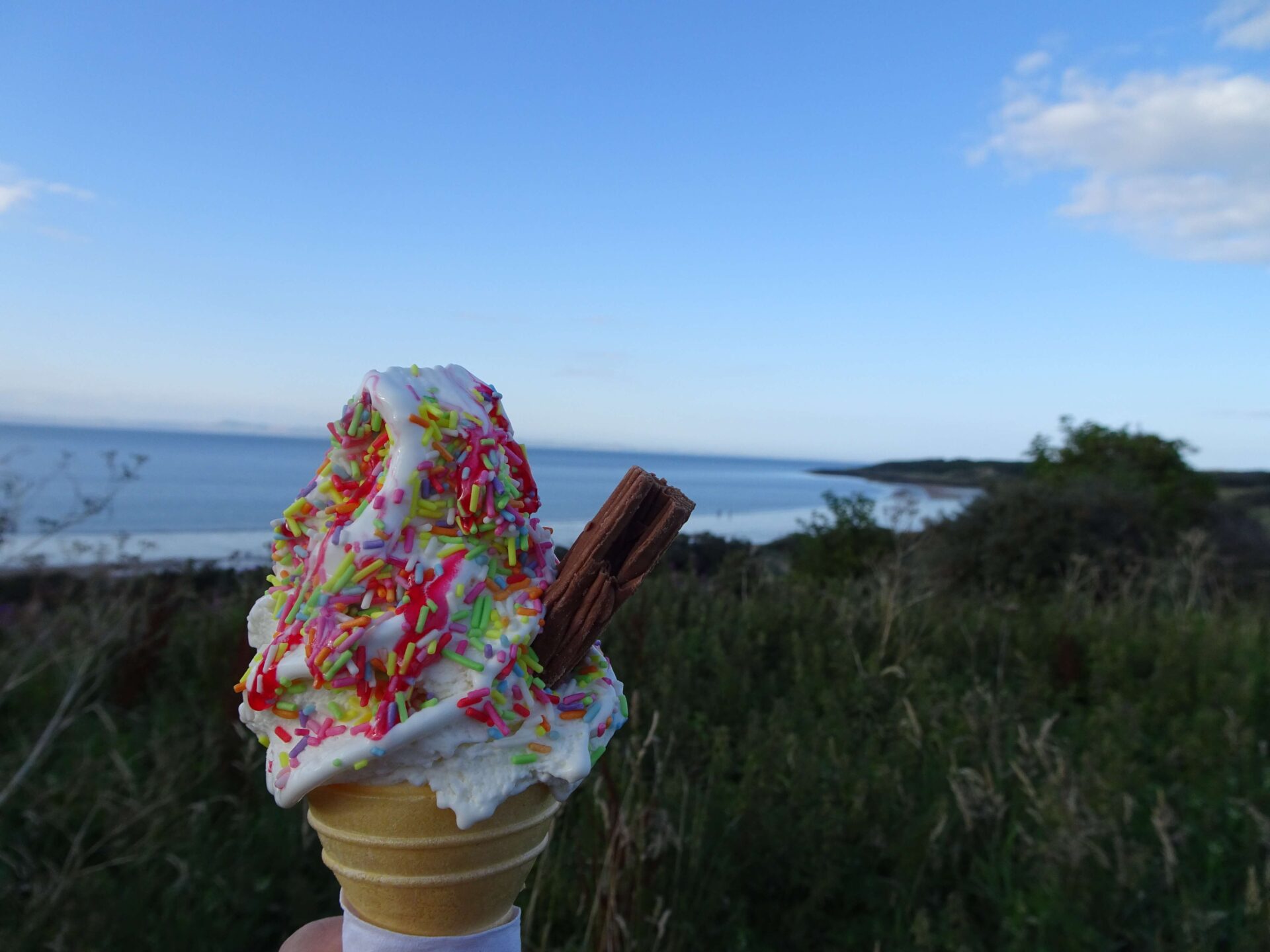 We got ice creams from a little van stopped in the Gullane Bents car park. It was about £2 with all the trimmings (sauce, sprinkles and a chocolate flake)!
Or just being soppy?
Start Your Coastal Walk From The Gullane Bents Car Park (At The Top Of Gullane Beach) Towards Aberlady
To begin this beautiful coastal walk, start from the west corner of the car park above the beach. The path heads out along the coastline with amazing views over the Firth of Forth and rocks.
Beautiful Coastal Views
Soon you will approach a perfectly placed viewpoint where you can have this gorgeous view of the wide sandy bay… 
Either side of the path you'll find plenty of seabuckthorn bush covered with bright orange berries.
This plant was thought to have been introduced to the area protect the coastline against erosion and dune stabilization. However, as it is not native to the region, it spread quickly and densely and prevented other species of plant from thriving.
Now, the seabuckthorn is managed with the aim to create a balance in conservation. The plant does provide a habitat for breeding birds and shelter for foxes and roe deer. You may be lucky enough to spot these animals leaping across the dunes (we did)!
Continue heading along the path (overgrown in parts) uphill away from the coves. The walk goes around the Gullane Golf Club and over Gullane Point. Emerging over the brow the view really opens up. Here you will be offered spectacular views across the forth and over the rocky cliffs to the beaches below.
Looking out over the water to the west you'll be able to see right across the Forth to the Queensferry Crossing and Forth Road and Railway Bridges. You may also be able to spot Arthur's Seat and the Pentlands in Edinburgh.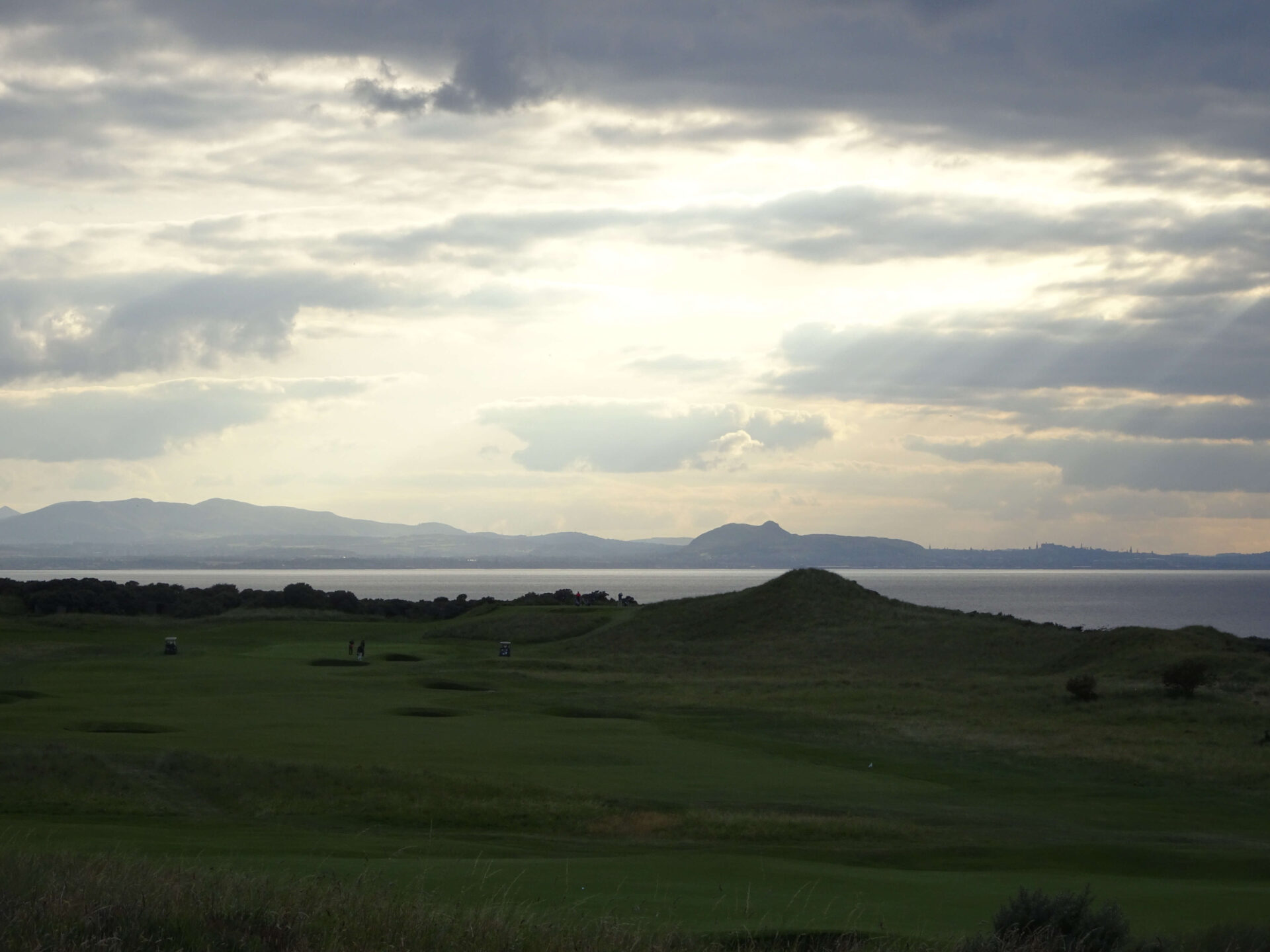 Looking back you'll enjoy beautiful views across the rocks and beaches…
Ghostly Remains From World War II
Coastal defenses, remnants from World War II, in the form of anti-tank concrete blocks can be seen arranged in long rows along the beach and dunes. These were strategically placed to create barriers for tanks and artillery landing from the sea. Follow the green way-markers between these where the path will lead downhill through the bushy dunes to another pretty cove.
Keep A Look Out For Wildlife
The path then stretches on through flat ground and gradually opens out wide following the beach on the right and high dunes towering above on the left. It was here we saw many herds of roe deer which would take a quiet moment to stop and observe visitors before taking shelter between the seabuckthorn bush.
Continue along the clear path following the signs to Aberlady. Following the end of the golf course the path will become increasingly grassy and you'll pass through marshes and fields with gorgeous views of the rolling hills.
Enjoy the view!
You may meet another friend along the way, and Aberlady is in sight!…
Berwick Law & Marl Loch
Continue along the path which will bear right at a fork and head south between the nature reserve and a golf course.
The track will narrow from open fields to a clear pathway with a fence along the left edge and trees to the right. You'll have views of Berwick Law, a volcanic plug, on your left as you approach Marl Loch on your right. The path will continue along the east side of the loch. Here you can spot swan, coot and mallard resting in the shallow water.
Shortly after this point you'll turn left through a mini tree-tunnel before emerging out to see the wooden footbridge across the Peffer Burn stream.
Aberlady Bay Local Nature Reserve
The sign and local notice board gives you some information about the nature reserve and wildlife. The reserve is an important haven for birds and wildflowers. It is a perfect spot for the bird watcher all year round and the botanist as over 540 species of wildflower have been recorded here.
Crossing the wooden bridge (which is quite aged in parts and not for the faint hearted!) will lead you to a car park. Here, there is a bench resting spot and memorial to local writer Nigel Tranter. From there, you can follow the coastal road back around into the pretty Aberlady village.
Finish Your Coastal Walk By Crossing The Wooden Bridge & Walking Into Aberlady Village
Don't forget to look back and enjoy beautiful views across the estuary!
Coastal Walk From Gullane Beach To Aberlady Bay In Scotland: Your Complete Guide
Thanks so much for reading! I hope you really enjoy this coastal walk!
Are you planning to do this walk? Or have you done this walk? If so, what were your highlights? Share your thoughts in the comments! 
Looking for more wonderful things to do in Scotland? Check out these posts:
Disclosure: Please note that some of the links on this page may be affiliate links. If you decide to make a purchase through one of these links, I may earn a commission at no additional cost to you. I use all of the companies I recommend and I use them because they are awesome and help make my travels better. If you are ready to book and would like to support Wild Lovely World, using these links is one way to do that. Thank you for your support! If you have any questions, please contact me or read my full disclaimer here.