28 Amazing Waterfalls To Visit In The North Island
Disclosure: Please note that some of the links on this page may be affiliate links. If you have any questions, please read my full disclaimer here. Thank you for your support!
Last Updated On 11th July 2023 By Lauren | Wild Lovely World
New Zealand's North Island is a lush haven full of amazing waterfalls! But with so much choice, which of these natural beauties should you visit?
Here is my rundown of the most interesting and spectacular waterfalls I have visited in New Zealand's North Island. Writing this article has made me realise just how many waterfalls I have actually seen in the North Island! It just goes to show how much the North Island has to offer.
In this post, I share 28 of the most amazing waterfalls to visit in the North Island. Plus, discover the best waterfall experience activities to get your thrill and amazing accommodation with views of or near waterfalls! All this, along with a cool map listing them all to help you plan your road trip. So what are you waiting for? Don't stop chasing waterfalls!
Add this post to your Pinterest board!
Related Read: 10 Unmissable Experiences In The North Island, New Zealand
Top Waterfall Experiences In The North Island
Looking to do something different? There are several amazing waterfall experiences in the North Island of New Zealand. Check out these most popular activities below and book a memorable experience!
Huka Falls Jet Boat Ride, Taupo
Experience Huka Falls up close on a thrilling 30-minute jet boat ride*. Zoom past rocky cliffs and spin 360 degrees on this super-fast jet boat which takes you right up to the powerful Huka Falls!
Book your Huka Falls Jet Boat Ride here (Get Your Guide).
Kaituna River Whitewater Rafting, Near Rotorua
Ride 14 rapids and over 3 waterfalls – Tutea, Kaituna and Okere Falls – on an exciting whitewater rafting experience*. Tutea Falls is the highest commercially rafted waterfall in the world at 7m high.
Book your Kaituna River Whitewater Rafting tour here (Get Your Guide).
Tongariro River Whitewater Rafting, Near Turangi
Travel over 60 rapids and through a beautiful volcanic gorge to discover a hidden waterfall on a 14km journey along the Tongariro River.
Book your Tongariro River Whitewater Rafting tour here (Viator).
Mount Karioi Canyoning, In Raglan
Jump, climb and abseil down waterfalls on the ancient lava flow of Mount Karioi near Raglan. Surrounded by natural beauty and native bush, experience the magic that this canyon has to offer!
Book your Mount Karioi Canyoning In Raglan tour here (Get Your Guide).
Coromandel Peninsula Canyoning Adventure, In Coromandel
Abseil down beautiful rock-faced gorges and slide down 10 waterfalls with a professional canyoning guide. In the dramatic Kauaeranga valley, discover the beauty formed by nature's forces.
Book your Coromandel Peninsula Canyoning Adventure here (Get Your Guide).
How To Chase Waterfalls In New Zealand's North Island
Due to the remoteness of many of these waterfalls, it's a good idea to drive yourself on your own waterfalls road trip of the North Island.
If you don't already have a vehicle to travel in New Zealand, here are some handy tips on renting or buying a car or campervan in New Zealand.
Rent A Car Or Campervan In New Zealand
To get a great price on car and campervan rental in New Zealand, I recommend the vehicle rental comparison website Discover Cars*. Begin your search here with the handy Discover Cars search box below.
Buy A Campervan In New Zealand
Buying your own vehicle in New Zealand will give you ultimate freedom!
For everything you need to know about buying a car or campervan in New Zealand, including where to look and which model you should get, check out these posts which are full of all my amazing tips:
Get free accommodation wherever you are in New Zealand by housesitting! Become a housesitter with Kiwi Housesitters and never pay for accommodation again.
Best Accommodation Near Waterfalls In The North Island
Huka Lodge, Taupo
Set on the banks of the Waikato River just a 10-minute walk from the famous Huka Falls is the beautiful Huka Lodge*. Experience world-class service at this luxurious lodge with an outdoor swimming pool, spa and tennis court. The lovely suites have private terraces and river suites. Rated 9.7/10 from guest reviews.
Check prices and availability at Huka Lodge here (Booking.com).
Dawson Falls Mountain Lodge, Taranaki
A small, family-run lodge* with magnificent views in Egmont National Park. Direct access to walking tracks to Dawson Falls and Wilkies Pools, among others. The lodge has guest lounges, a dining area, a cafe and a restaurant. Rated 8.8/10 from guest reviews.
Check prices and availability at Dawson Falls Mountain Lodge here (Booking.com).
Okere Retreat, Near Rotorua
This beautiful and pet-friendly holiday home* is situated in Okere Falls. Sleeping 6, the house has a fully equipped kitchen so you can make all your own meals. It would be perfect for a group of friends or a family. Why not book the whitewater rafting* adventure while visiting Okere Falls?
Check prices and availability at Okere Retreat here (Booking.com).
Skotel Alpine Resort, Whakapapa
In the heart of Tongariro National Park, Skotel Alpine Resort* is ideally located at the beginning of the trail to Taranaki Falls. Tawhai Falls (Gollum's Pool) is just a short drive down the road. Skotel Alpine Resort claims to be "the highest hotel in New Zealand" and is just a 10-minute drive from the Whakapapa Ski Fields. Accommodation options include en-suite rooms as well as shared dorms. There is a shared kitchen and lounge area for guests. An on-site restaurant and bar have stunning views of the mountains. There's also a sauna and a hot tub! Rated 8.1/10 from guest reviews.
Check prices and availability at Skotel Alpine Resort here (Booking.com).
Blackfern Lodge, Near Te Kuiti
This secluded and peaceful lodge in the small village of Waimiha is well-known as accommodation for cyclists doing The Timber Trail. Set in the bush by the Ongarue River, Blackfern Lodge has its own waterfall! The pretty waterfall can be accessed via a small bush walk from the lodge. I haven't included this waterfall in the list below but I feel that Blackfern Lodge is deserving of a mention here.
Check prices and availability at Blackfern Lodge here (Booking.com).
Glowworms Love Waterfalls! Learn Where To Find Them Here: 9 Free Places To See Glowworms In The North Island, New Zealand
28 Amazing Waterfalls To Visit In The North Island, New Zealand
North Island Waterfall Map
Here is your free waterfall guide map to help you chase waterfalls in New Zealand's beautiful North Island!
Northland Waterfalls
1. Whangarei Falls, Whangarei
This stunning waterfall is on the outskirts of Whangarei town. It's easily accessible with a good parking area, toilets and several nice walking tracks.
You can see the 26m high waterfall from several platforms. There are viewing points located above the waterfall and also you can get down to the bottom of the waterfall.
The walk is short and takes around 10-20 minutes depending on the tracks you take.
There is a lot of spray from this waterfall so I recommend a waterproof jacket if you go to the bottom!
The trails through the forest can be quite muddy and slippery so wear good shoes.
2. Haruru Falls, Paihia
Haruru Falls in the Bay of Islands is a wide waterfall. It's an easy 2-minute walk to the waterfall from the car park a short drive from Paihia. There are loads of chickens in the car park which is quite fun.
3. Rainbow Falls (Waianiwaniwa), Kerikeri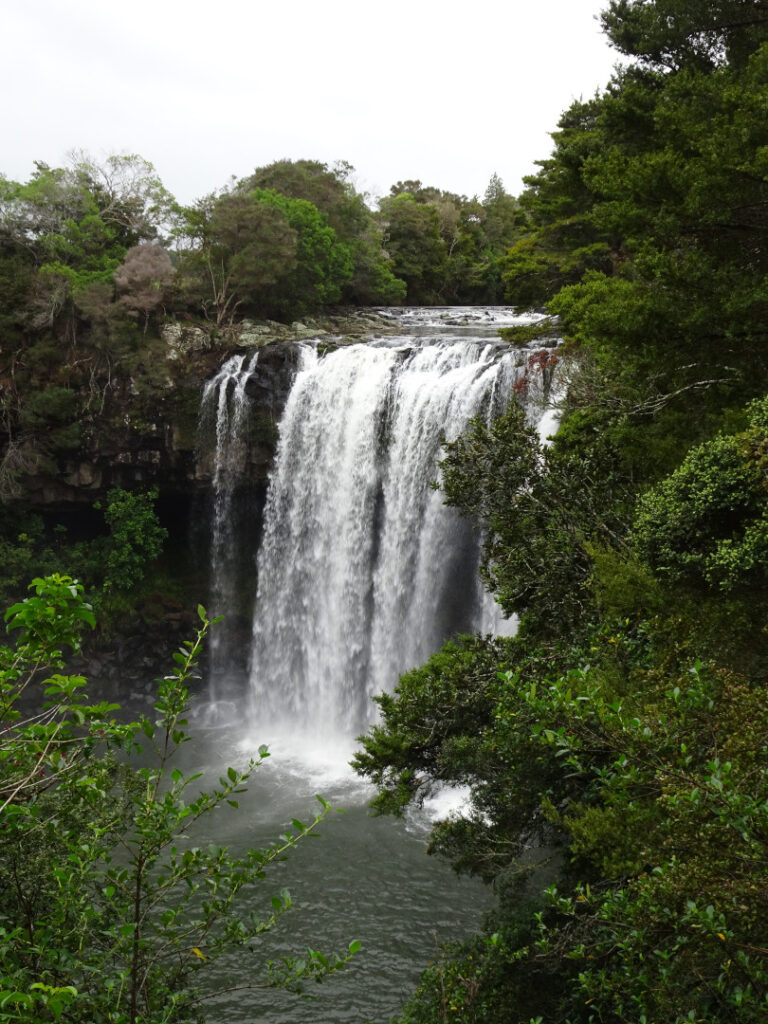 Another Bay of Islands waterfall is Rainbow Falls. The Maori name is Waianiwaniwa which means 'Waters of the Rainbow'. A short drive from the cute town of Kerikeri is the Rainbow Falls car park. There are toilets here.
There are several viewpoints on the track at Rainbow Falls. The paths are easy to follow and are suitable for buggies and wheelchairs.
The waterfall is 27m high and is quite pretty. It looks very similar to Whangarei Falls.
Rainbow Falls is the location of a historic weir that supplied the first electrical power to the early Kerikeri town. You can still see the remnants of the hydroelectric power station from the third viewing platform at Rainbow Falls. There is an information panel about it there too.
Auckland Waterfalls
4. Cascades, Waiheke Island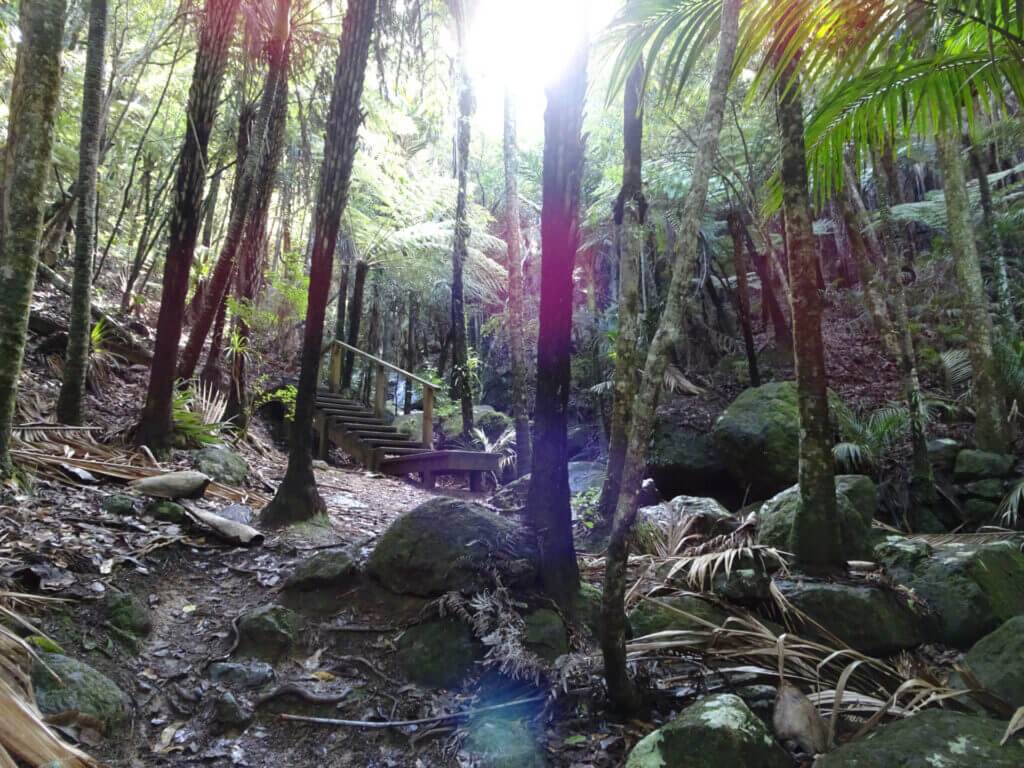 Waiheke Island's Cascades waterfall is a nice place for a bush walk, although the waterfall itself is not that impressive! Located in the Whakanewha Regional Park, this 1.5-hour loop walk is a nice outdoor activity to do on Waiheke Island.
From the Sculpture car park, follow the Nikau, Tarata and Mamaku Tracks to the Cascades Loop Track. Return via the Central Track. For a walking map of Whakanewha Regional Park, click here.
Travelling to Waiheke Island is really easy from Auckland. Just hop on the fast passenger ferry and you'll be there in 40 minutes*. To make things even easier, book a combined Ferry and Hop-on Hop-off Explorer Bus*. With this ticket, you can travel around Waiheke Island at your leisure and just hop on and -off at the stops you choose.
Making A Trip To Waiheke Island? Check Out This Post: 16 Fun Things To Do On Waiheke Island Without A Car
5. Kitekite Falls, Piha
Close to Piha Beach, west of Auckland, there is a lovely bush walk to Kitekite Falls.
Before entering the park, clean your shoes at the cleaning station to protect Kauri trees from dieback disease.
There are several trails around the bush, some of which lead to the 40m high waterfall.
The waterfall is a popular swimming spot in summer for a refreshing dip.
You also have the option of walking to the top of the falls and enjoying the pools, but be careful of the steep drop!
There is a decent-sized parking area and toilets.
6. Karekare Falls, Near Piha
Close by to Kitekite Falls is Karekare Falls. I didn't go there myself but it looks really beautiful. There is a 10-minute walk to the falls from the car park and a serene plunge pool where you can swim.
Waikato Waterfalls
7. Wairere Falls (Kaimai Forest Park), Near Matamata
Close to Matamata and in the beautiful Kaimai Forest Park is the North Island's highest waterfall – Wairere Falls. Although not the most impressive waterfall, it's a must-visit purely for its height of 153m.
There are two lookouts – the lower and the upper.
It's a 45-minute walk to the lower lookout which has a nice view of the waterfall. From the car park, follow the trail as it climbs gently upward. As you continue, it will become more challenging. You'll cross uneven ground and climb over rocks and tree roots. There are also several bridges to cross. The most challenging section is the final section of the path to the lower lookout. Here you will climb many stairs. The lower lookout is a good opportunity to take picturesque photos and admire the falls. Also, take a good rest break!
From the lower lookout, it's another 45-minute walk to the upper lookout at the top of the waterfall. The part of the trail is not as challenging as it climbs gently through woodland. As you reach the river, follow the water flow and you'll emerge at the cliff top edge. At the upper lookout are viewing platforms and you'll be right on top of the waterfall. From the top, you won't see much of the waterfall itself but there is a really nice view across the Waikato countryside.
Give yourself 4 hours in total to go up and down.
The trail to Wairere Falls is easy to access. There's a decent parking area,  toilets and bins at the beginning.
8. Bridal Veil Falls, Near Raglan
Another of my favourite waterfalls on the North Island! Bridal Veil Falls is a lovely waterfall well worth the drive from Raglan. The road is partially unsealed so be mindful when driving.
It is a very popular waterfall to visit and can get quite busy.
From the parking area by the road is a nice path to the viewing platforms. You can observe the falls from an upper platform and lower platform. The upper viewpoints can be reached in about 10 minutes. It takes about 20 minutes one-way to walk down 261 steps to the lower platform.
The waterfall is quite impressive at 55m high. I thought the views from all the viewpoints were really cool and each gave a new perspective of the falls.
Explore more of Raglan's amazing waterfalls on this canyoning adventure! (Get Your Guide)
9. Karakariki Falls (Whakakai Stream Falls), Near Hamilton
Located in the Karakariki Scenic Reserve near Hamilton is this pretty little waterfall. The waterfall does not have an official name but it is known as Karakariki Falls or the Whakakai Stream Falls.
The trail to the falls follows the stream through bush and open grassy areas. There are suspension bridges to cross to reach it. The path can be quite narrow and muddy. It takes 20 minutes one-way to reach the waterfall.
10. Huka Falls, Taupo
Huka Falls is the most natural attraction in New Zealand! It can be very busy here but there is a large car park with toilets.
Although it isn't very big at only 11m high, it is the most rapid and high-volume waterfall. The waterfall gushes at a dramatic speed, with more than 220,000 litres of water flowing through every second.
Enjoy a walk along the river to see the falls from viewing platforms and bridges.
You can get a closer look at the waterfall on the Huka Falls Jet Boat*. I saw plenty of people doing this and they looked like they were having a blast!
To be honest, I don't think that Huka Falls is the most impressive waterfall from the viewpoint, but it is still worth visiting if you are in Taupo. You'll probably get a much better view from the Jet Boat*!
I think the most interesting thing is that the water is a bright blue colour!
The trails along the Waikato River are great for walkers and cyclists and connect to the Aratiatia Rapids further north. The Aratiatia Rapids are well worth a visit. From there, you can watch the water spill from the dam and travel down the river. It was the filming location for the barrel scene in The Hobbit movies.
Stay at the Huka Lodge just 10 minute walk from Huka Falls. (Booking.com)
11. Marokopa Falls, Near Waitomo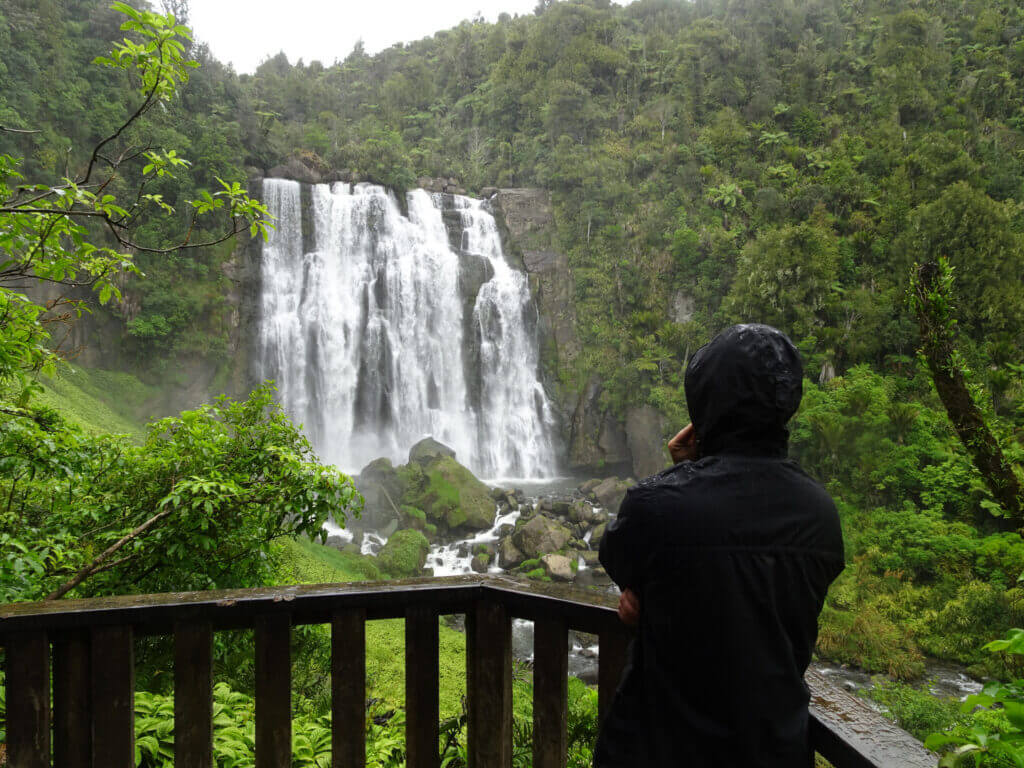 This is one of the most stunning waterfalls I've seen on the North Island of New Zealand! Marokopa Falls is absolutely beautiful, really big and completely in nature. It's definitely my favourite of all the waterfalls I've seen.
This remote 35m high waterfall is not very well known or visited. It's located near Waitomo, so if you're visiting the caves then you could take a side trip here. It's really amazing to see if you're in the area.
Just a short 10-minute walk from the roadside parking area, the trail takes you to a viewpoint of this magnificent waterfall.
I remember being really surprised at how big the waterfall was and loving how serene and peaceful it was to be there.
Other sites worth visiting close by to Marokopa Falls are Mangapohue Natural Bridge, Piripiri Cave and Marokopa Beach. I highly recommend taking a look at Mangapohue Natural Bridge – it's absolutely stunning! Marokopa Beach is a remote black sand beach with freedom camping and a spot for surfers.
12. Omaru Falls, Near Piopio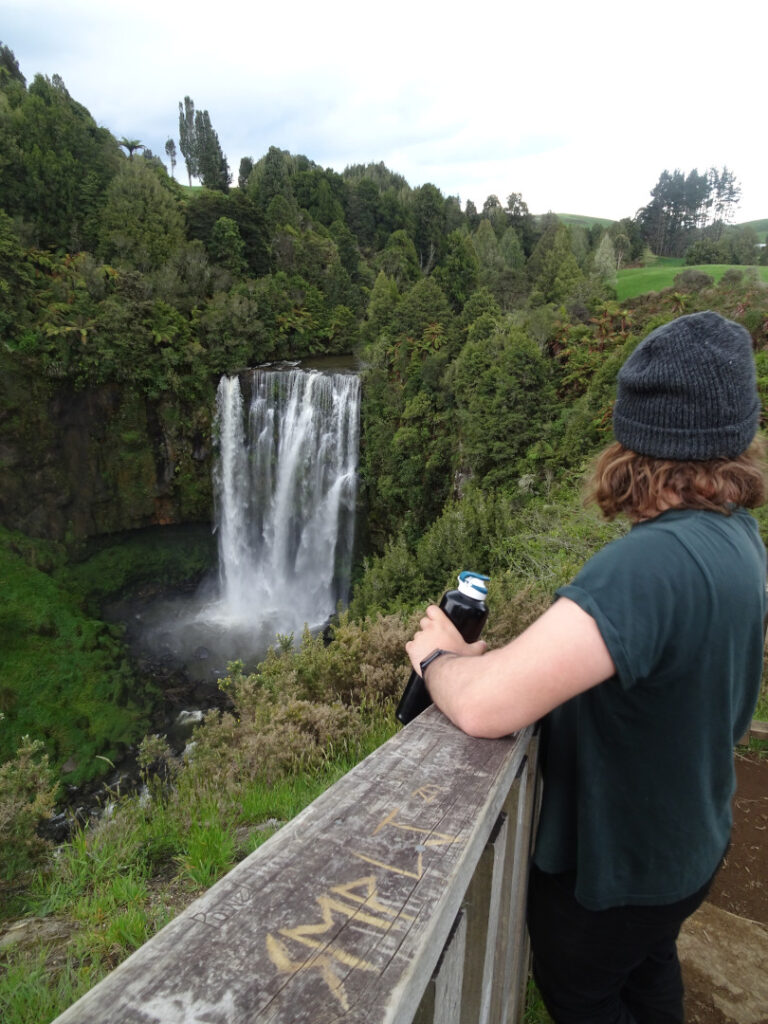 If you're heading to Marokopa Falls you could also squeeze this one in. Omaru waterfall is close to Bennydale, Piopio, Te Kuiti and Waitomo.
There is a pleasant 30-minute walk to this big 45m waterfall, taking you through farmland and along the river bank. In the end, there is a nice viewing platform to observe the waterfall.
Parking is by the roadside, however, it's very small and limited. Thankfully, this is a quiet area so you are unlikely to have any trouble.
Bay Of Plenty Waterfalls
13. Kaiate Falls, Near Tauranga
This waterfall is well known in the Bay of Plenty area. Unfortunately, it is also known for the wrong reasons. The waterfall car park is notorious for robberies. When we were there, we saw a lot of broken window glass and there are plenty of signs warning of the crime. A friend also told me she had her van vandalised in the car park. It is a shame because the waterfall is a nice place for a walk. I wouldn't let it put you off, but I would advise you to be very careful if you visit.
From the car park, there is a nice loop walk to the waterfall and through the bush. It is best to head down the downhill track and return via the uphill track. There are lots of steps on this walk, but it is quite short.
On the downhill track, you will come across two waterfalls. The walk to the upper waterfall will take about 15 minutes. This is a 3-tiered 25m high waterfall. From there, it's another 15 minutes to the second waterfall. The lower waterfall is 10m high and has a swimming hole, however, I don't advise swimming there because the water quality is not good.
Returning on the uphill track, you will pass a lookout which has great views over Tauranga and Mount Maunganui.
There is a toilet in the car park.
14. Raparapahoe Falls, Te Puke
Also in the Bay of Plenty area is Raparapahoe Falls. I didn't make it to this one myself, although it has been recommended to me by friends.
This small waterfall near Te Puke is a popular swimming spot.
Allow 1-hour return for the walk.
15. McLaren Falls, Lower Kaimai
Close to Tauranga, McLaren Falls is a popular walking and camping area. There are lots to explore here so it's worth giving it a few hours.
The park is very easily accessible with decent roads and toilets and a cafe.
You actually cross McLaren Falls over a bridge which leads to the entrance of McLaren Falls Park. You can stop at the bridge and explore the falls. It's also possible to have a swim but be very, very careful! There have been several deaths at McLaren Falls from swimming accidents.
In the 190-hectare park itself, there are several walking tracks, frisbee golf and a lake. It's nice to visit this park in autumn because of the beautiful colours of the trees.
I highly recommend staying overnight in the park in the camp spots. The camp fee is very reasonable and it's very peaceful and well maintained. There are even hot showers! We had a very nice night here in our campervan.
Another awesome thing to do here is to see the glowworms! There's another waterfall in the park which has a trail running along a stream. All along the banks of the stream and the walls of the gorge, you can see glowworms at night! I saw glowworms here for the first time and it was a really magical experience. Best of all it is free! I highly recommend it.
I love visiting McLaren Falls but some people believe the place is haunted! There have been several murders and suicides at this site over the years. This has resulted in the stigma that McLaren Falls is cursed. However, I think it is a really beautiful place and well worth a visit.
Related Read: McLaren Falls Park Glowworm Walk: Free Glowworms Near Tauranga
16. Okere Falls, Near Rotorua
North of Rotorua, 7m high Tutea Falls is the highest commercially rafted waterfall in the world! This waterfall is part of a series of several waterfalls in Okere Falls Nature Reserve on the North Island. Whitewater rafting* boats travel down the Kaituna River and over three waterfalls – Okere, Tutea and Kaituna Falls. If you want to do some thrilling water activities, Okere Falls Nature Reserve is a good place to do it. As well to rafting, there are kayaking options too.
Of course, you can always just enjoy a pleasant walk here, as I did! There are lots of walking tracks in the area to explore. You can do a 3km round trip which takes around 1 hour to complete.
Viewing platforms of the short but powerful waterfall are close by to Tutea's caves where you may be able to see cave Wetas. These caves have a bit of interesting history too which you can learn about on the information signs.
There's a freedom camping site at Okere Falls Nature Reserve near Trout Pool Road to stay overnight.
If you're visiting as a group or family, why not book a stay in this beautiful holiday home – Okere Falls Retreat? (Booking.com)
17. Wairere Falls (Whakatane), Whakatane
Another waterfall is named Wairere. This small waterfall is just a short 5-minute walk from Whakatane town centre. There's also a small parking area at the waterfall itself. A small path leads to a little viewing area.
The Wairere Falls are a sacred Maori place and have an important position in the history of Whakatane. Mills constructed in the late 19th century next to the falls were used for processing flax and flour. The stream was a water source for Maori and residents in Whakatane until 1924.
Gisborne Waterfalls
18. Rere Falls, Gisborne
A 30-minute drive from Gisborne is Rere Falls. It's only 10m high but very wide. The waterfall has a nice picnic area, toilet and small car park.
Close by is the Rere Rockslide. The natural rockslide is a popular place for people to slide down the 60m rock into the water. However, I do not recommend doing this! Many people get injured (or have died) there and the water quality is not healthy. There are warning signs in the car park.
Hawke's Bay Waterfalls
19. Shine Falls, Hawke's Bay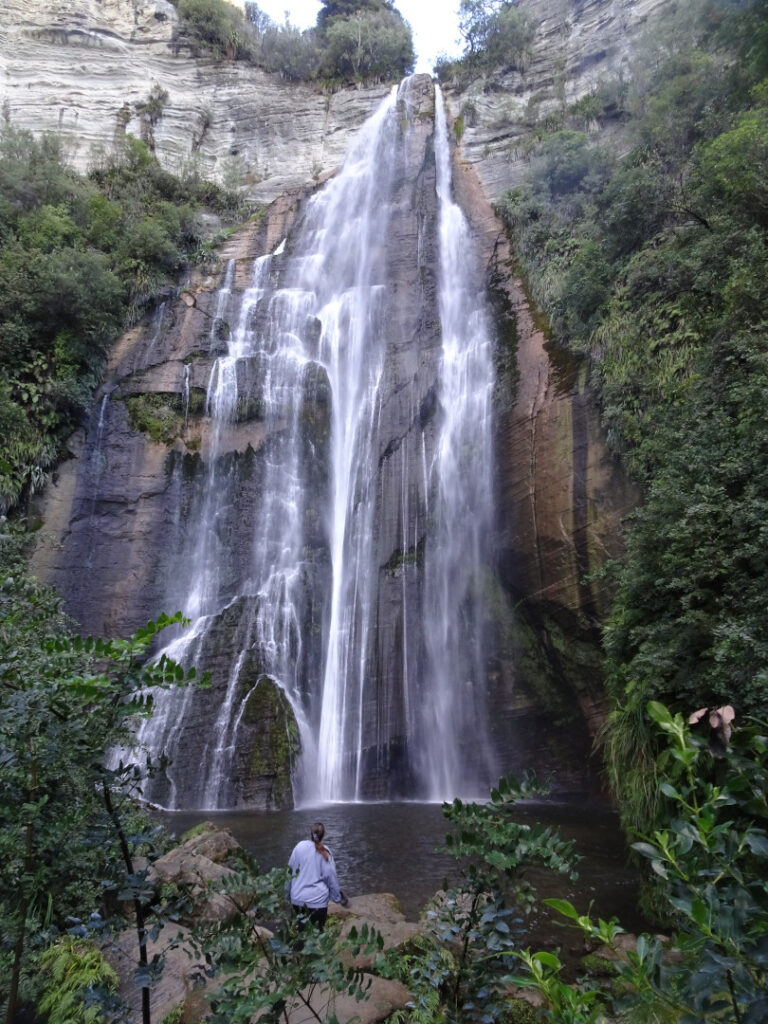 This 58m waterfall is known as "Hawke's Bay's most spectacular waterfall". I would agree with this! I loved my visit here and I highly recommend you give it a visit too.
Shine Falls is a beautiful waterfall and definitely one of my favourites of all waterfalls in the North Island!
The road there is quite long and part of it is not sealed (gravel). It takes about 1.5 hours to drive there from Napier. There is a DOC car park with a sheltered picnic area and a drop toilet. It's also possible to freedom camp here overnight in a self-contained campervan. If you stay overnight then keep an eye out for kiwi birds!
The walk to the base of the waterfall takes about 40 minutes one way. From the car park, the walk begins through farmland with amazing, towering sandstone bluffs. The remainder of the walk gently rises up and down and crosses a few bridged streams.
It's possible to swim in the Shine Falls plunge pool. Fiachra got in for a dip and although it was freezing cold he said it felt exhilarating!
20. Maraetotora Falls, Hawke's Bay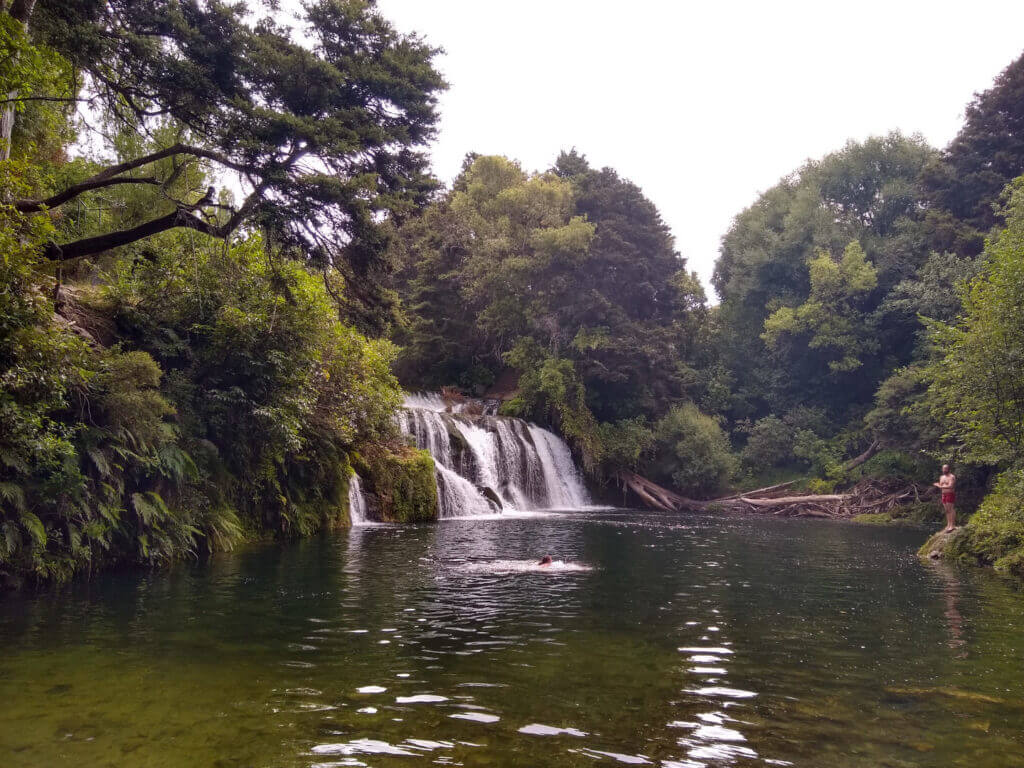 Close by to Ocean Beach and near Hastings and Napier, this beautiful waterfall is an excellent swimming spot.
We came here on Christmas Day 2020 and it was so much fun! We had a great time swimming in the refreshing water by the 15m high waterfall. There are also rocks and a ledge which make a good jumping spot into the natural swimming hole.
Maraetotora Falls are a must-visit in Hawkes Bay! The falls are an easy 10-minute walk down a short trail from the roadside parking area. There are also toilets here.
21. Waipunga Falls, Hawkes Bay
You may want to stop at Waipunga Falls if you are en route between Taupo and Napier. The falls lookout is a nice resting place on SH5.
From the rest stop, you can view the 40m large and pretty waterfall at a distance.
Manawatu-Wanganui Waterfalls
22. Mangawhero Falls, Ohakune
Close by to Ohakune in the south of Tongariro National Park is Mangawhero Falls.
I haven't been here myself but I feel it's worth mentioning!
The waterfall is 28m high and is really easy to access. It takes just 5-10 minutes one-way to walk to the viewing platform.
This waterfall is also rumoured to have been featured in the Lord of the Rings movies.
23. Waitonga Falls, Ohakune
Tongariro National Park's highest waterfall is the 39m high Waitonga Falls.
Unfortunately, I have not been there myself but looks really nice. I'd be keen to visit if I have a chance to go back there.
This waterfall is a short 15-minute drive from Ohakune but the trail there is a bit longer.
The easy walk along a well-formed trail takes about 1.5 hours return. The walk goes through a beech forest and passes a wetland with a reflective pool known as Rotokawa. On a clear day, you can see Mount Ruapehu from the path.
Have a thrilling adventure along the Tongariro River on this whitewater rafting tour. (Viator)
24. Taranaki Falls, Whakapapa
Despite the name, this waterfall is located in Tongariro National Park and not in Taranaki!
This 20m high waterfall is quite well known. The loop trail to the waterfall and back is a popular day walk. Allow 2 hours return for the 6.5km loop. I recommend starting with the upper track and returning via the lower track, as this is easier and goes downhill most of the way back.
On the walk to Taranaki Falls, you'll have beautiful views of Mount Ruapehu and Mount Ngauruhoe. Mount Ngauruhoe is also known as Mount Doom in the Lord of the Rings movies. The landscape is spectacular and the walk is nice and varied, crossing wide-open spaces on the upper track and through the bush forest on the lower track. A must-do in Tongariro National Park!
There is parking in Whakapapa village at the start of the trail. There are also toilets above Taranaki Falls where several paths meet. From this intersection, you have the option to extend your walk to the Tama Lakes. For the full Tama Lakes walk allow 5-6 hours return. I have done this walk and enjoyed it, although the Tama Lakes themselves are not as impressive as the scenery that surrounds them!
Stay at Skotel Alpine Resort, located at the start of the trail to Taranaki Falls. (Booking.com)
25. Tawhai Falls (Gollum's Pool), Whakapapa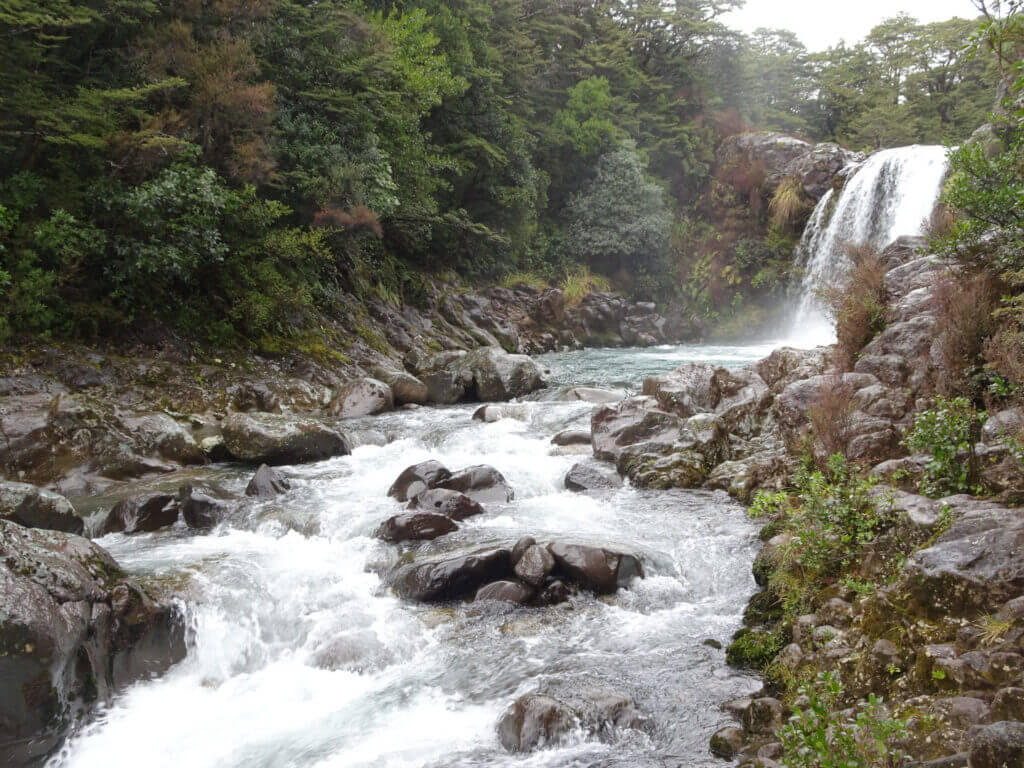 Located in Tongariro National Park, Tawhai Falls is also known as Gollum's Pool because it was featured in the Lord of The Rings movies.
This 13m high waterfall is just outside of Whakapapa village. There's a tiny parking area at the entrance to the trail. From there, it's just a short 10-minute one-way walk to Tawhai Falls.
There are two viewpoints, the upper and the lower. It's easy to see how this is the filming location in the Lord of the Rings from the viewpoints!
If you're in Tongariro National Park then it is a nice stop.
Taranaki Waterfalls
26. Mount Damper Falls, Taranaki
At 74m high, Mount Damper Falls is one of the highest waterfalls on the North Island.
Mount Damper Falls can be accessed in two ways. Firstly, on the road out of New Plymouth (SH3) or from the Forgotten World Highway (SH43).
Whichever way you take, it's quite a drive to get to Mount Damper Falls. Once you arrive, there is a small parking area by the roadside and a drop toilet.
The walk to the waterfalls is short, nice and easy, passing interesting scenery along the way. It takes about 30 minutes (1km) to walk to the waterfalls. They lead to viewing platforms to see Mount Damper Falls.
The waterfall itself is a really impressive, long drop fall. It was really cool when we saw it but it would be even better after heavy rain.
There are some other waterfalls close by to explore along the trail too. An advanced walk for experienced hikers is the extended walk from Mount Damper Falls to Rerepahupahu Falls (7-9 hours).
Read this post for more information on a road trip along the Forgotten World Highway: Forgotten World Highway: Best Left Forgotten? Your Complete Guide
27. Dawson Falls, Taranaki
This is a popular 18m high waterfall in Egmont National Park near the beautiful Mount Taranaki.
Starting on the road 50m down from the visitor centre, the 10-minute one-way walk to the falls could be challenging for some as there are a lot of steps to the bottom of the falls! Once there, however, it is cool to be so close to the waterfall as you are standing directly underneath it!
The trail can be muddy and slippery, especially in the rain like it was when we were there. So take care on the path!
Nearby is the Dawson Falls Power Station which is well worth a look at! The power station is one of the world's oldest continuously operating generators. It takes just 5 minutes to walk there along a small path. You can have a look through the windows to see the machinery at work.
Parking is at the Dawson Falls DOC visitor centre and there are toilets here too.
From the visitor centre, there are lots of other walks into Egmont National Park. We didn't have time for any others but I would have liked to have done the walk to the Wilkies Pools because it looked really cool!
Stay at the Dawson Falls Mountain Lodge, just 5 minutes walk from Dawson Falls. (Booking.com)
28. Pukekura Falls, New Plymouth
Although this is not a natural waterfall, I still want to mention it here because it's just so pretty! I saw this waterfall when I visited New Plymouth during the Festival Of Lights. It was all lit up in lovely colours and I just thought it was really nice.
This waterfall is in Pukekura Park which has lots of other attractions including a lake, fountain, gardens, rotunda and cafe.
Pukekura Falls is also famous because it was once visited by Queen Elizabeth and Prince Philip during a visit to New Zealand in 1954.
Pukekura Park is also a freedom camping spot and a great place to spend the night. We've stayed here a couple of times in our campervan.
Free North Island Waterfalls Road Trip Map
Use this guide map to help you plan your road trip to visit all of these amazing waterfalls on the North Island.
Amazing Waterfalls To Visit In New Zealand's North Island – Thanks For Reading!
Thanks so much for reading! I hope you enjoy chasing waterfalls! 💦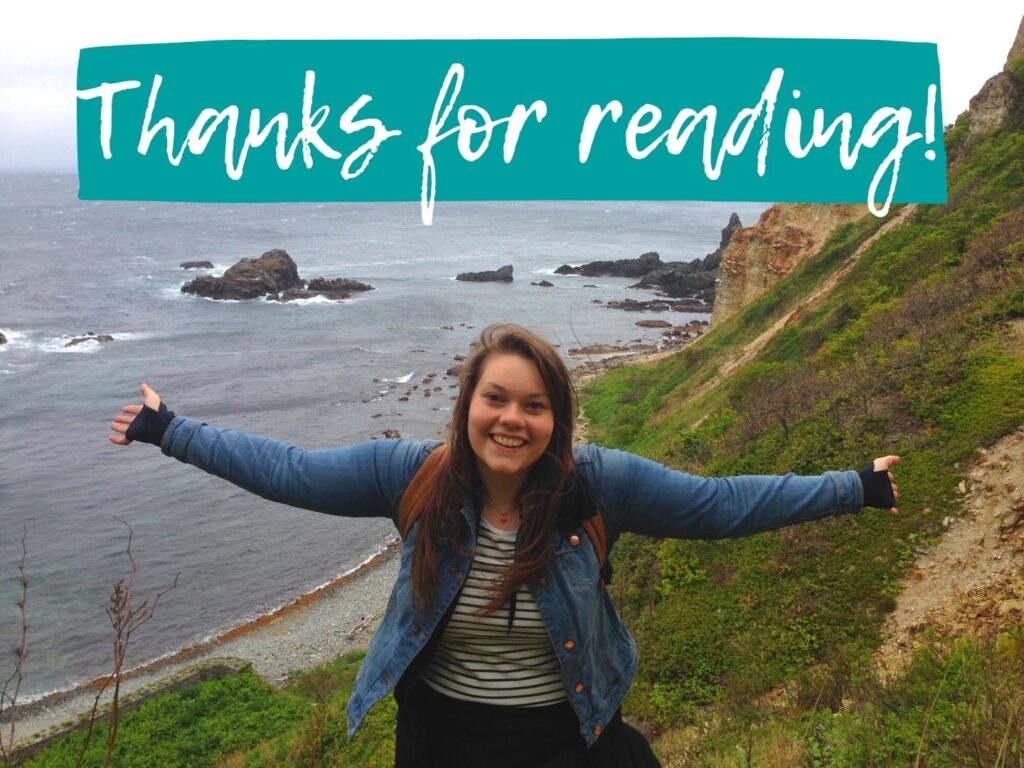 Did you find this article useful? Let me know in the comments or join me on Twitter, Facebook, Pinterest and Instagram. Buy me a coffee here!
Want more New Zealand travel inspiration? Check out these posts ❤️:

My Travel Resources guide will help you get the best deals when booking your next trip – check it out here!
Like It? Pin It!
Disclosure: Please note that some of the links on this page may be affiliate links. If you decide to make a purchase through one of these links, I may earn a commission at no additional cost to you. I use all of the companies I recommend and I use them because they are awesome and help make my travels better. If you are ready to book and would like to support Wild Lovely World, using these links is one way to do that. Thank you for your support! If you have any questions, please contact me or read my full disclaimer here.