McLaren Falls Park Glowworm Walk: Free Glowworms Near Tauranga
Disclosure: Please note that some of the links on this page may be affiliate links (*). If you have any questions, please read my full disclaimer here. Thank you for your support!
Last Updated On 19th July 2022 By Lauren | Wild Lovely World
McLaren Falls Park is the first place that I ever saw glowworms in New Zealand. I thought it was absolutely magical!
Walking along at night by a stream in the bush, I was surrounded by hundreds of glowing blue lights. The stars shining bright above and the sounds of a waterfall just added to the experience. It was a night I will never forget!
McLaren Falls Park is a spot well known among the locals in the Tauranga area to see glowworms. It is completely free to see glowworms here and you can enjoy them at your own pace!
This post will tell you everything you need to know about viewing glowworms in McLaren Falls Park.
McLaren Falls Park Glowworm Walk: Free Glowworm Viewing In The Bay Of Plenty 🪱💡
How To Get To The McLaren Falls Park Glowworm Walk From Tauranga By Car
You'll find McLaren Falls Park inland from Tauranga towards the Kaimai mountain range. McLaren Falls Park is in the Lower Kaimai area.
The best way to get there is by self-driving in a car.
Drive along the State Highway 29 from Tauranga to get to McLaren Falls Park. It will take about 15-20 minutes, so it isn't a long journey at all.
Once you reach McLaren Falls, you'll pass over a bridge over the waterfalls and head uphill around a few bends to the Park.
The park is quite big and there are many parking areas. You'll need to drive through the park a little bit to get to the Glowworm Walk/Waterfall Track car park.
There is a one way system to drive through the park, so make sure to follow the arrows.
Click here to see a map of McLaren Falls Park so you can locate where the Glowworm Walk is within the park. A snapshot from the map is below. The entrance/exit on the left is circled in red. The Waterfall Track is circled in red on the right. The track is marked in pink.
The parking area by the Glowworm Walk is quite small so it may be full. However, there is plenty of parking throughout the park so you can always park elsewhere and walk to the start of the Glowworm Walk if you need to.
Top Tip: To see the glowworms at McLaren Falls Park, you need to make sure that you enter the park before sunset. The gates to the entrance of the park close at sunset every day so you will not be able to enter with a vehicle after this time. However, if you are already inside the park you will be able to leave at anytime. If you do not make it inside before sunset, you could always park at McLaren Falls (by the bridge) and then walk up the hill to enter the park on foot.
Where To Find The McLaren Falls Park Glowworms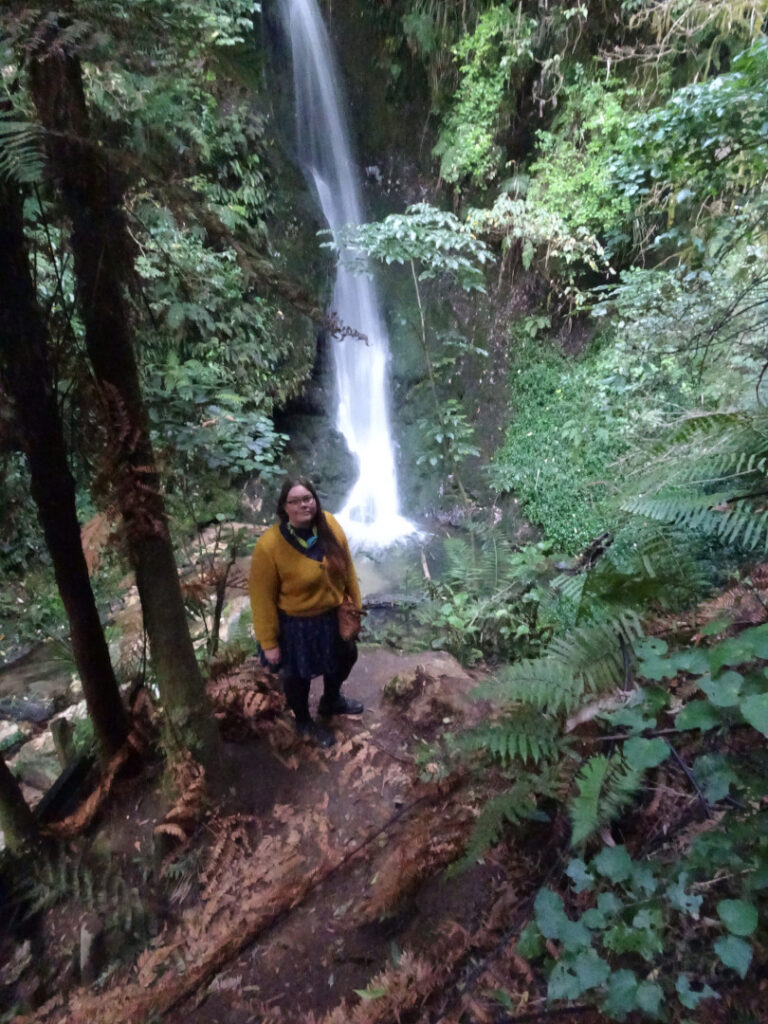 The McLaren Falls glowworms can be found on the Glowworm Walk. This is along the same path as the Waterfall Track in McLaren Falls Park.
The Waterfall Track is a loop track that starts at the Glowworm Walk/Waterfall Track car park within McLaren Falls Park.
The loop track goes through bush along a stream to a pretty waterfall, crosses a bridge to the other side of the stream and then returns back to the start at the car park.
It takes about 20 minutes to walk the whole loop. Because it is mostly flat the whole way around it is very easy.
You could walk this trail in regular shoes/trainers because it is well formed and even.
The track is also accessible for wheelchairs and prams.
There are toilets available at the car parking area at the start of the track.
How To See Glowworms At McLaren Falls Park
To see the glowworms, just enjoy a walk along the Glowworm Walk/Waterfall Track. You can see glowworms all along this loop track.
You will be able to see the glowworms best after the sun sets and it starts going dark.
Begin the walk by crossing the footbridge and walk up the track with the stream on your left.
Most of the glowworms will be just a few minutes down the track. Look for the bright blue glowworms all along the banks of the stream and on the cliff faces at the sides of the path.
Keep walking along the track to the waterfall. Have a look at the glowworms around the waterfall. It's so nice to see their sparkling blue lights with the sound of the rushing water!
After crossing the bridge, return with the stream now on your right. You will see glowworms all along the track back to the car park.
There will be heaps of blue glowworms everywhere you look on this walk. You will not be disappointed!
Top Tip: It can be quite dark along the Glowworm Walk at night, so remember to take a torch or headlamp with you. But use it with caution! Try not to point your light directly at the glowworms, especially the white light. Shining the light on the glowworms can stun them and it can cause them to turn off their blue glow in fright. This can be dangerous for the glowworms because their light is how they attract their food. Glowworms can keep their light off for many days if they feel threatened, so it can have a big impact on them. If your headlamp has a red light setting then use that. You will still be able to see the blue light of the glowworms but you will not frighten the glowworms so much.
Remember to be respectful of the glowworms – do not touch or disturb them!
For more information about glowworms in New Zealand, check out this post.
Camping In McLaren Falls Park – Spend All Night With The Glowworms!
If you just can't get enough of the glowworms, why not spend the night camping in McLaren Falls Park?
For a small fee you can stay overnight in McLaren Falls Park.
There are several camping spots throughout the park along with toilets and hot showers. I've stayed here myself in my campervan and I thought it was a really neat camping spot.
If you camp overnight you'll be able to wander down and see the glowworms whenever you like! This is really handy if you want to do some glowworm photography. I highly recommend it!
Top Tip: McLaren Falls Park is a pretty cool place to go for a walk or to hang out during the day too as there is a lot to do. Within the park there is a lake, trails and camping sites, as well as McLaren Falls itself just outside the entrance.
How To See More Glowworms For Free In The North Island, New Zealand
Want to know where you can see more glowworms for free in the North Island? In this post I share all the best spots: Where To See Glowworms For Free In The North Island!
Guided Glow Worm Experiences In New Zealand
Glowworms can be found all over New Zealand, and taking a tour inside a glowworm cave is a really cool experience. You get to see thousands of glowworms and get right up close to them.
The information provided about glowworms on a guided tour is really educational too.
I've taken many paid tours in New Zealand to see glowworms such as the Waitomo Glowworm Caves*, Ruakuri Caves* and Te Anau Glowworm Caves*.
Each cave is very unique in how it looks and how many glowworms it has. It was really great to see and I am glad that I went on them!
There are caves where you can see glowworms for free in New Zealand (such as the Waipu Caves). However, joining a tour will allow you to go deeper inside the cave and it is much safer.
If you want more in-depth glowworm experiences in New Zealand, I recommend these tours:
---
Thanks so much for reading and best of luck finding glowworms! 😊🪱💡
Did you find this article useful? Let me know in the comments or join me on Twitter, Facebook, Pinterest and Instagram. Buy me a coffee here!
North Island Travel Inspiration 💖
Check out these posts for more amazing things to do in New Zealand's North Island:
Disclosure: Please note that some of the links on this page may be affiliate links. Affiliate links are marked with an asterisk (*) where possible to help disclose these to you. If you decide to make a purchase through one of these links, I may earn a commission at no additional cost to you. I use all of the companies I recommend and I use them because they are awesome and help make my travels better. If you are ready to book and would like to support Wild Lovely World, using these links is one way to do that. Thank you for your support! If you have any questions, please contact me or read my full disclaimer here.