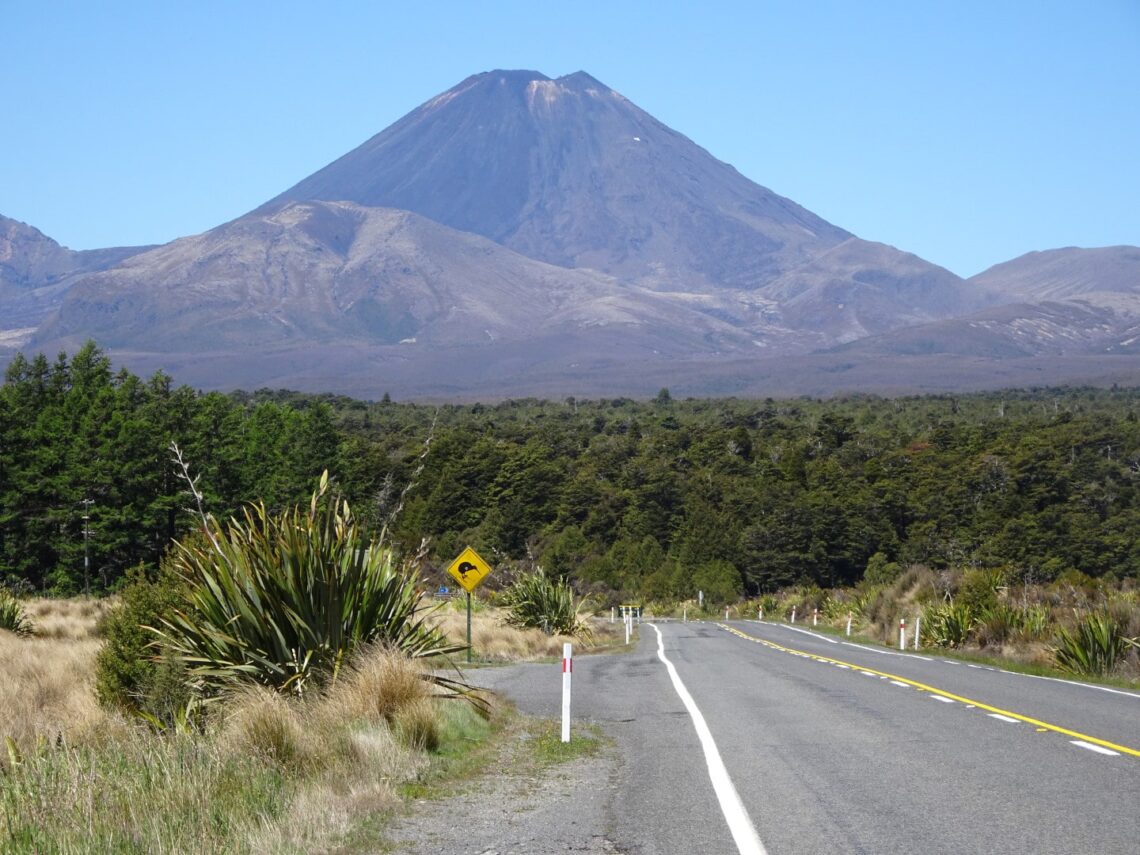 10 Unmissable Experiences In The North Island, New Zealand
Disclosure: Please note that some of the links on this page may be affiliate links. If you have any questions, please read my full disclaimer here. Thank you for your support!
Last Updated On 11th July 2023 By Lauren | Wild Lovely World
New Zealand's North Island is a special place. Geothermal wonders; towering, active volcanoes; sparkling, white sand beaches; dense forests… the North Island has a lot of incredible experiences on offer.
After travelling around New Zealand for more than two years, I have seen and done a fair number of all the incredible things that New Zealand has to offer. There is no doubt that New Zealand is a fantastic country to visit. And the North Island should in no way be neglected!
Many travellers to New Zealand focus their time on the South Island. And while the South Island is very worthy of the popularity it ensues, you should definitely consider fitting the North Island into your itinerary if you can!
Both islands are very different to each other. Considering them both, I might even be inclined to say that the North Island is my favourite. The South Island has beautiful mountains and pristine lakes, but these are similar sights that can be found in other countries too. The North Island, on the other hand, is speckled with unique wonders. Giant sand dunes; bubbling mud baths; steaming hot rivers; the clearest water in the world… the North Island will fascinate, awe and excite you.
To help you narrow down your itinerary of the North Island, I have thought long and hard about which experiences are simply unmissable. Well, honestly, it wasn't that hard. I came up with this list in about 5 minutes. 😉 In fact, I thought of way more than 10 unmissable things to do on the North Island! But I wanted to narrow it down to just 10 things for the challenge! That said, the ones that made it to this list are easily the best of the best things to do! There was no contest when it came down to it. If you're looking to tick off the most impressive North Island experiences, then this list is your must-do.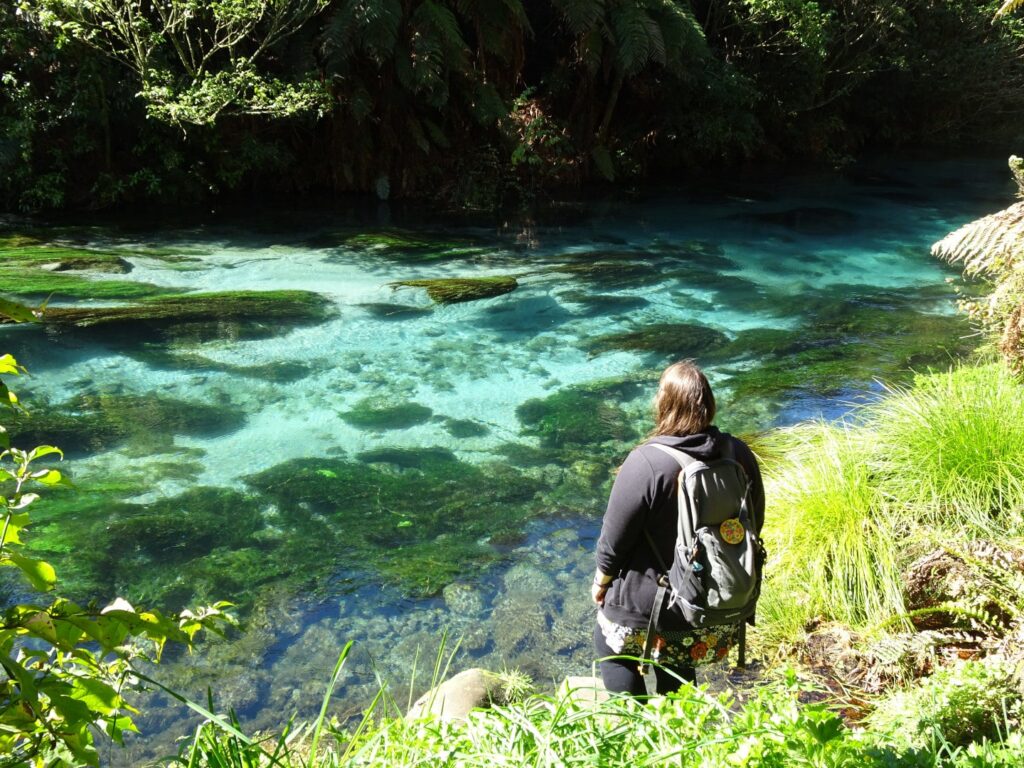 10 Must-Do & See Experiences In The North Island, New Zealand
More North Island Inspiration! 💖 🇳🇿 :
1. Cape Reinga, Northland 🌊
First up on my list of must-do experiences in the North Island of New Zealand is Cape Reinga. Cape Reinga is a very special place. Here are three reasons why Cape Reinga is worth visiting…
First and foremost, Cape Reinga has incredible importance for New Zealand's Maori. It is the most spiritual site in New Zealand.
Maori believe that after death, spirits travel along the coast to Cape Reinga. From there, an ancient pohutukawa tree guides spirits into the ocean and allows them to return to their ancestral homeland, Hawaiki (the original home of the Polynesians). The tree is called Te Aroha, the Spirit Tree, and can be seen growing out of the side of the cliff overlooking the ocean.
Secondly, the ocean just off Cape Reinga is the meeting place for two seas – the Tasman Sea to the west and the Pacific Ocean to the east. You can watch the tides from the two seas crashing into each other. The two seas create a spectacular view of wild, swirling currents. It's incredible to see!
Lastly, Cape Reinga is home to a beautiful lighthouse. The lighthouse is very picturesque and a wonderful place to observe the sea. There is a direction marker pole at the lighthouse too, so it makes a great place for a photo op.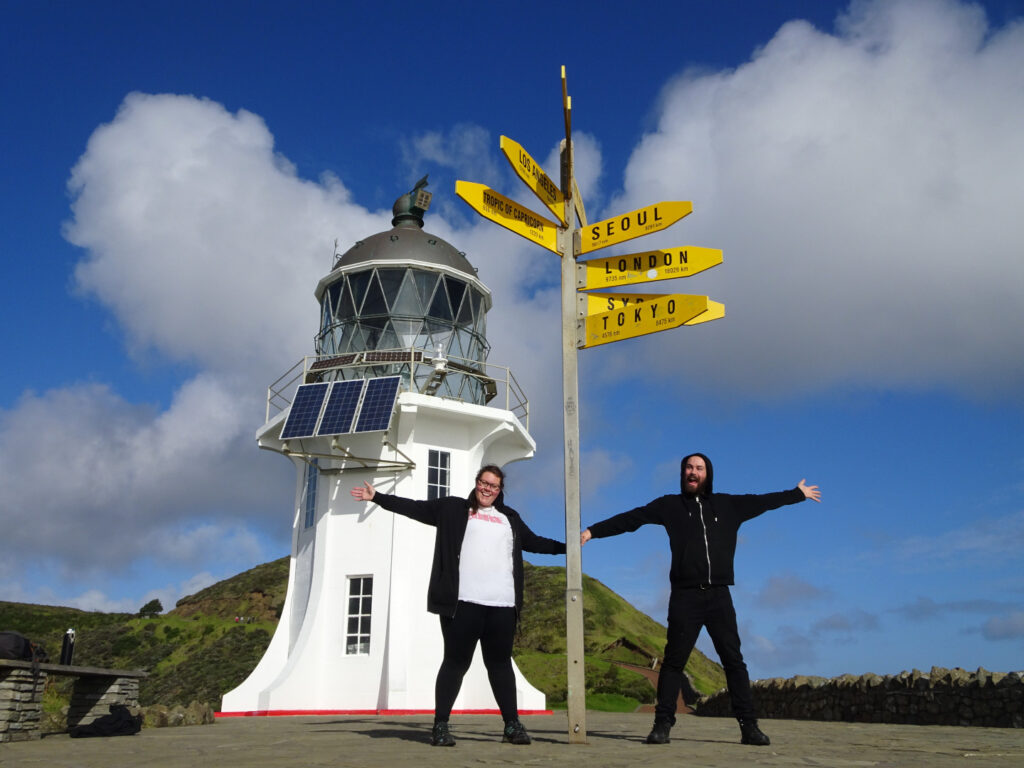 Being at the very top of the North Island, Cape Reinga is very, very far from anything else. But this magical place is just amazing. I thoroughly enjoyed my visit here and it is one of the best places to visit not only on the North Island but in New Zealand itself.
Giant Sand Dunes & Te Werahi Beach
Another amazing experience nearby is the Giant Sand Dunes. You can walk up these huge, incredible sand dunes and just marvel at their glory. If you like, you can bodyboard them. Take your own bodyboard to do it for free, or you can rent one on-site for about $10.
Nearby is also the famous 90 Mile Beach. However, 90 Mile Beach is totally overrated! It's only famous because it's so long. If you want an incredible beach, then check out Te Werahi Beach. Te Werahi Beach is stunning and can be accessed by a wonderful short walk from Cape Reinga.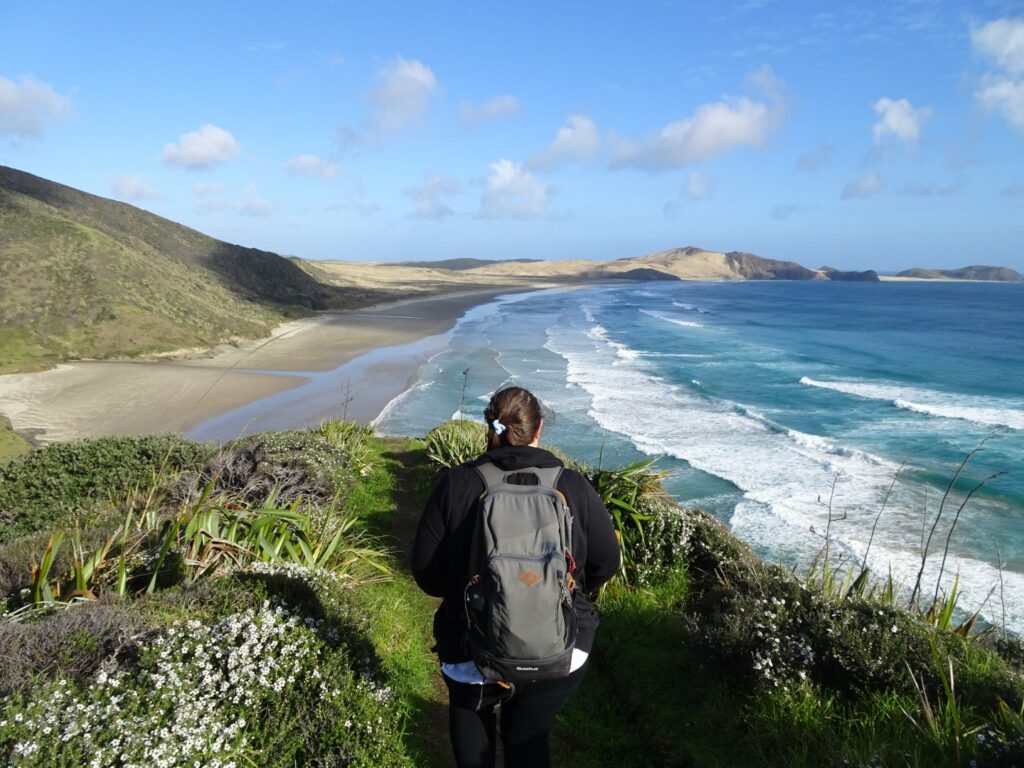 2. Waitangi Treaty Grounds, Northland 🇳🇿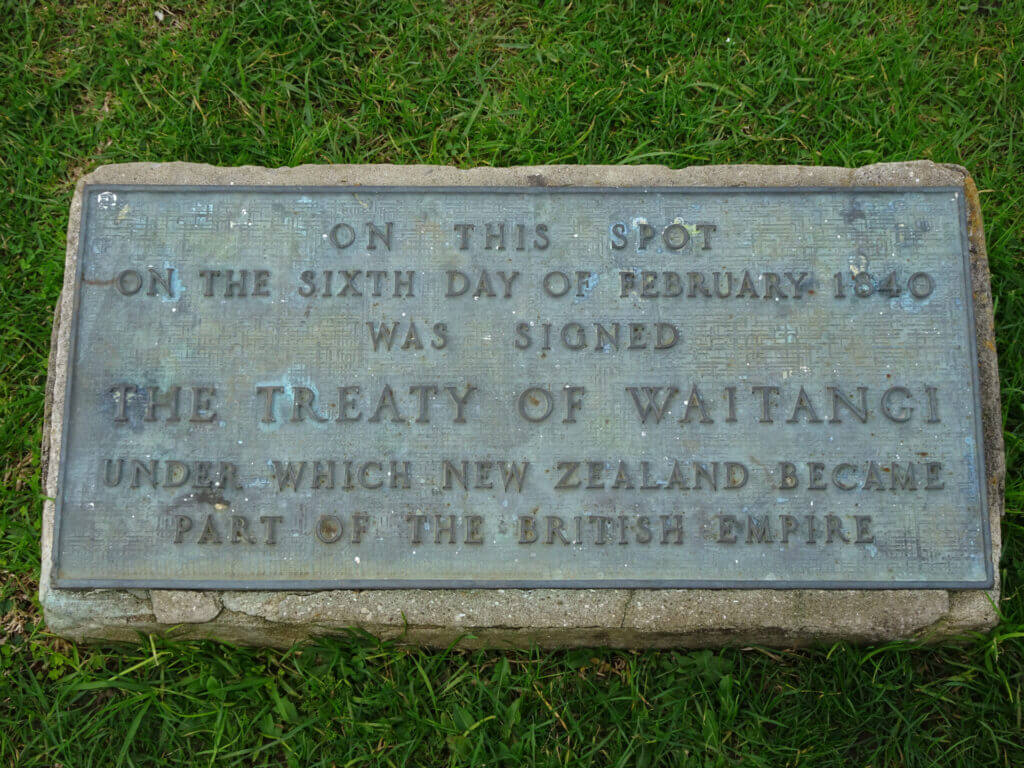 A visit to New Zealand would not be complete without a visit to Waitangi Treaty Grounds.
Waitangi Treaty Grounds is New Zealand's most important historic site. It is a protected site which marks the location of the signing of the first treaty between the British Crown and the Maori people.
Many people skip Waitangi Treaty Grounds because it is quite far to get there. But I definitely recommend visiting there if you truly want to understand New Zealand's history and culture.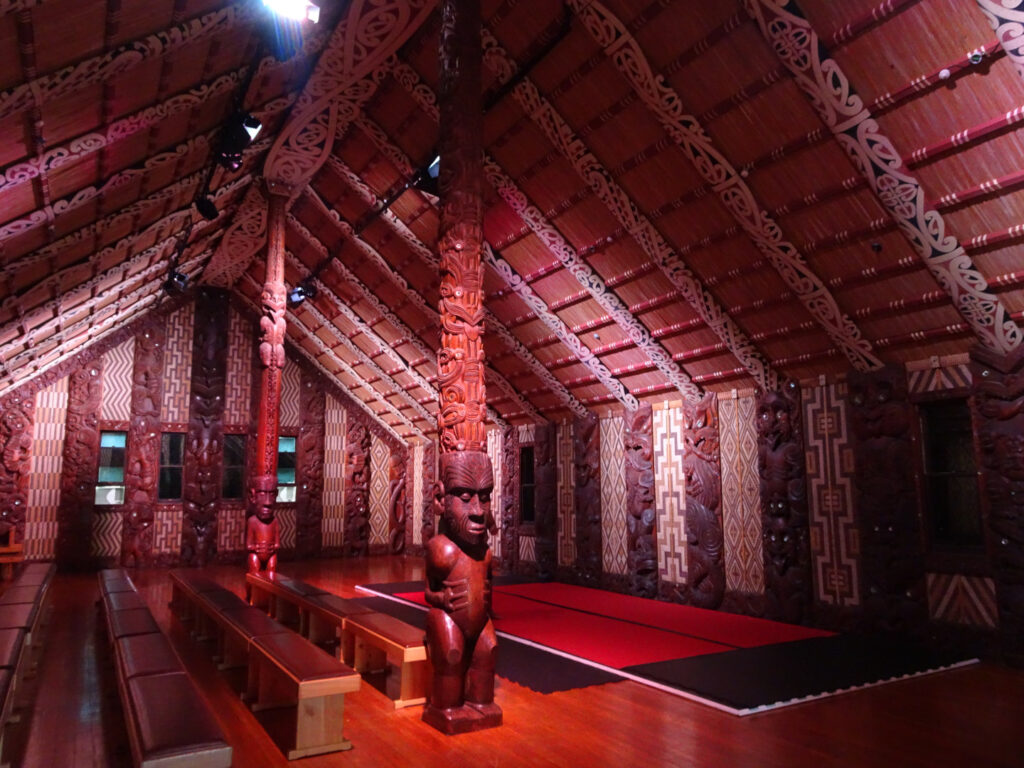 There is much to see and do at the Waitangi Treaty Grounds. Your entry ticket is valid for 2 days, so if you do not see it all in one day (or get museum fatigue!) then you can go back to finish up the next day.
With your entry ticket, you have access to all the museums and exhibits, and a short film, and you can experience a traditional Maori performance. Entry normally costs $60 for international visitors but you can get a discounted ticket on Viator* or Get Your Guide* for just $30!
For everything included, I absolutely thought it was worth it. I learned so much about New Zealand history and my time in New Zealand has been enriched because I visited Waitangi Treaty Grounds.
Book your tickets for the Waitangi Treaty Grounds here for half price off the usual entry price: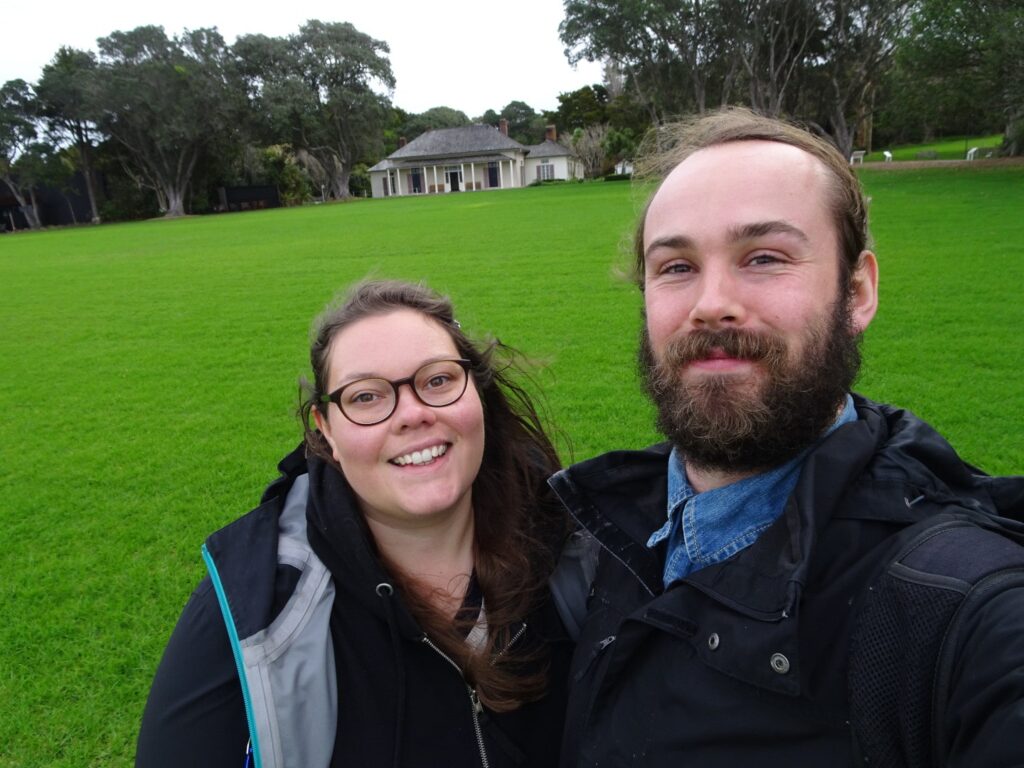 Bay Of Islands
Waitangi Treaty Grounds is located near the Bay Of Islands on the North Island, which is home to sandy beaches, waterfalls and pretty historic towns such as Kerikeri as well as other experiences. I recommend spending a few days in the area to get the most out of your trip.
For ideas on activities and tours to do in the Bay of Islands, check out these options on Viator and Get Your Guide:
3. Hobbiton Movie Set, Waikato 🧙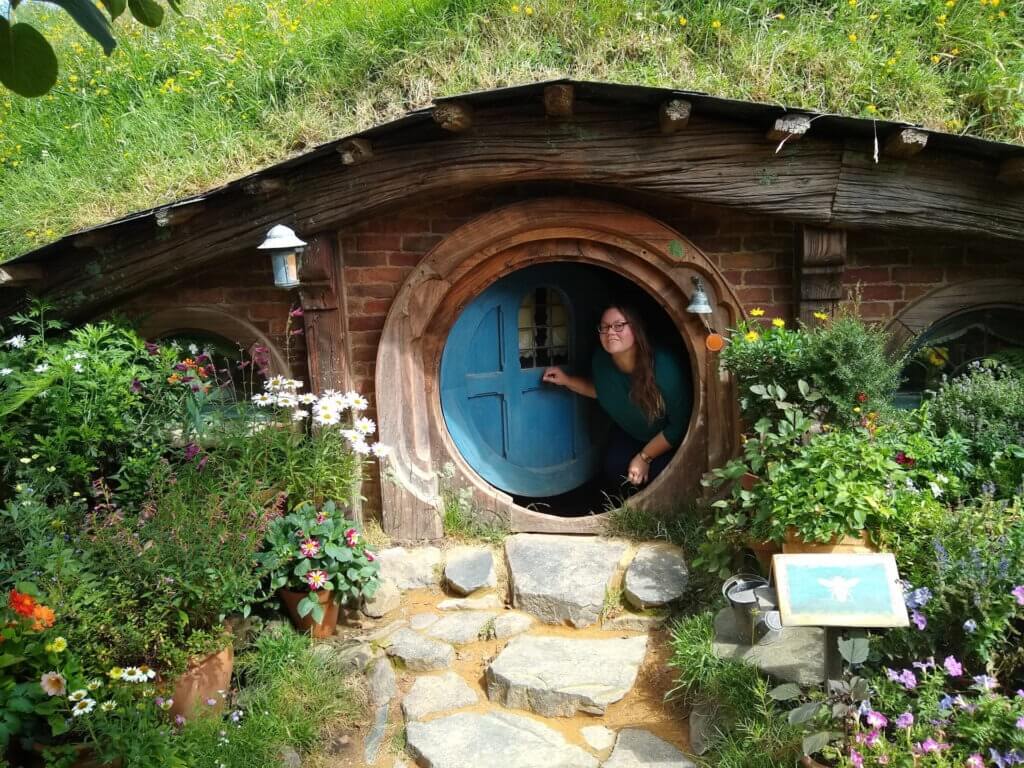 Of course, who can visit the North Island of New Zealand and not visit the famous Hobbiton Movie Set? Even if you are not a fan of The Hobbit or Lord Of The Rings movies, visiting Hobbiton is a fun and enjoyable experience.
It may seem super obvious to include Hobbiton in this list of top 10 must-do experiences in the North Island. But when it came down to it, Hobbiton just has to be done! Yes, it is outrageously touristy and expensive (and maybe just a little bit overrated), but Hobbiton is a unique experience that you should do once!
The whole Hobbiton movie set was rebuilt for The Hobbit movies and has been kept in its original condition. Tours wander around the village fit for Hobbits, with mini clothes hung on little washing lines, small wheelbarrows and gardening tools laid out, and those famous round Hobbit House doors to hide behind (there's nothing behind them but a wall, by the way!).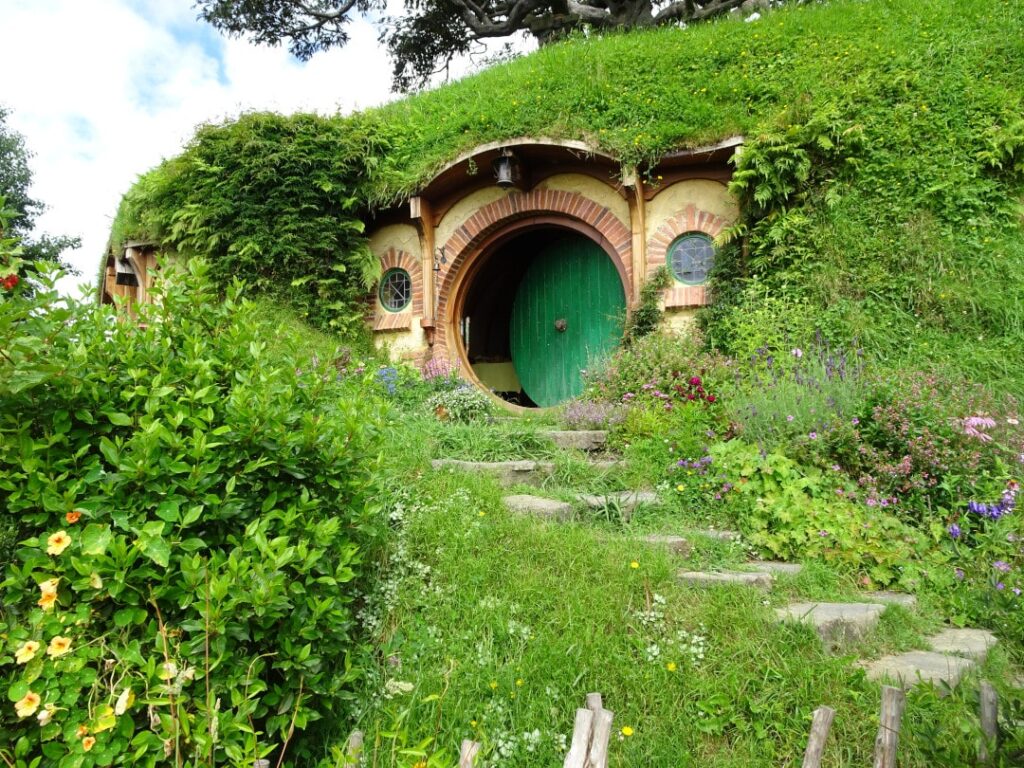 Your visit to Hobbiton includes a guided tour, loads of fun photo opportunities, and a drink in the Green Dragon pub (alcoholic and non- options included)! You will learn loads of fun facts about the movies. If you're up for it, and not afraid to embarrass yourself in front of your tour group, why not recreate your favourite scenes from the films on the actual set?!
A ticket to the Hobbiton Movie Set costs $89 per adult and the tour lasts around 2 hours.
Book your ticket to the Hobbiton Movie Set here on Get Your Guide*. Hobbiton is located near Matamata on the North Island, around a 45-minute drive from Hamilton or Tauranga.
If travelling from Auckland, consider booking a small-group tour to Hobbiton which includes transport to and from Auckland for the day. I recommend this tour on Viator*.
Current Availability Of The Hobbiton Movie Set Tour:
More Options For Visiting Hobbiton:
4. Raglan, Waikato 🏄‍♀️
One of New Zealand's most iconic surf destinations, Raglan is a must-visit for any lover of the sea. The dramatic black sand of Ngarunui Beach is a great spot to admire the ocean. The beach is a top surfing spot in New Zealand. If you're new to surfing, you can join a surf lesson here* from one of the surf schools (it is very affordable!). The beach is epic for body boarding too. Despite being a top surfing beach, it is great for beginners and those gaining confidence in the waves. Fiachra and I spent one summer visiting Raglan regularly to enjoy Ngarunui Beach! This beach is also a great place to swim and enjoy a walk.
Raglan is also an awesome spot to go kayaking. Kayak across the Tawatahi River to the Pancake Rocks – interesting, limestone rock stacks dotted along the coastline. You can hire a kayak from the Raglan Backpackers*. Fiachra and I had a fun few hours fun exploring the waters around Raglan in a kayak.
Keen for a cuppa? Raglan is home to one of New Zealand's most well-known home-grown coffee roasters – Raglan Roast. Visit their hip, mini cafe for the 'best coffee in Raglan'.
In the village, Raglan has many cafes and eateries dotted along its thoroughfare, as well as trinket shops, souvenir stalls, galleries and health food stores.
Nearby to Raglan is Bridal Veil Falls – a magnificent, 55m plunge waterfall in the Waireinga Scenic Reserve. Bridal Veil Falls are absolutely worth visiting if you're in the Raglan area. There are several viewing platforms to observe the waterfall from different angles. Read more about Bridal Veil Falls in this blog post.
Check out this post to discover the North Island's most impressive waterfalls: 28 Amazing Waterfalls To Visit In The North Island [2022]
5. Waitomo Glowworm Caves, Waikato 💡🪱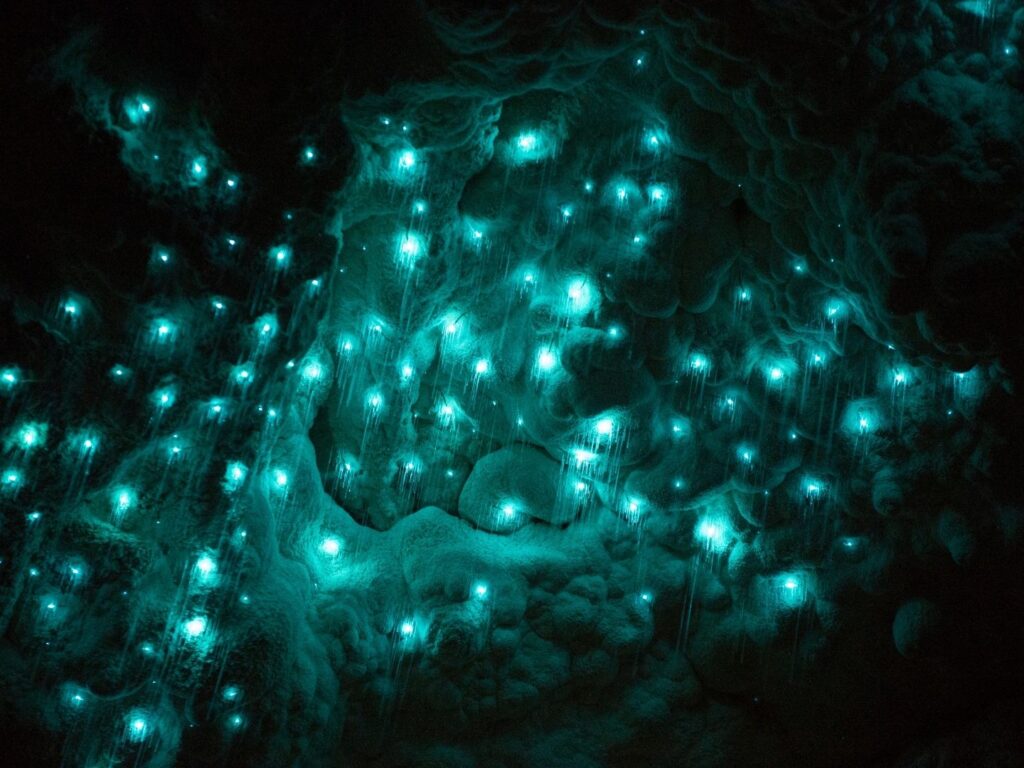 Have you ever seen a glowworm up close? Because I have, and it's SO COOL. I have seen hundreds of glowworms all over New Zealand, and I keep seeking out new places to find them because they are really awesome (trust me). But you wanna know the best place to see glowworms in New Zealand? Well, here it is – it's in Waitomo. 
Yes, yes, I know you've probably heard it all before. But the Waitomo Glowworm Caves are famous for a reason. Because they are simply an amazing place to see glowworms, as well as really cool, awesome caves! This is what makes Waitomo another unmissable experience on the North Island.
There are several ways you can see glowworms in Waitomo – for FREE and on paid tours. Both are great ways to see glowworms. I will describe more about each option below.
See Glowworms For Free In Waitomo
The best free glowworm viewing in Waitomo can be found at the Ruakuri Bush Walk. Go at night for a wonderful experience of seeing glowworms on the limestone cliffs above the river.
Ruakuri is also a great place to walk during the day to see the amazing natural formations of the limestones and wander between the caves and bridges created over millions of years. It's an awesome walk and shouldn't be missed if you are in the Waitomo area!
Another free glowworm spot in Waitomo is the Mangapahoe Natural Bridge. Again, this spot makes a great experience during the day too because of the awesome natural limestone arch which has been created.
If you're keen to see more glowworms for free in the North Island, read this blog post: 9 Free Places To See Glowworms In The North Island, New Zealand [2022]
Guided Tour Of The Waitomo Glowworm Caves
A magical way to see glowworms is to see them in the Waitomo Glowworm Caves*. On this paid tour (around $55), as well as exploring an amazing and beautiful old cave, you can view glowworms upon a boat which travels on the river naturally flowing through the cave. Thousands of glowworms live above the river in the cave and you will be able to see them close up while you are floating in the boat. The glowworms can be seen during the day. The tour lasts for around one hour and your guide will tell you all about glowworms and the geological history of the cave.
Glowworm Cave, Ruakuri Cave & Aranui Cave – Three Waitomo Caves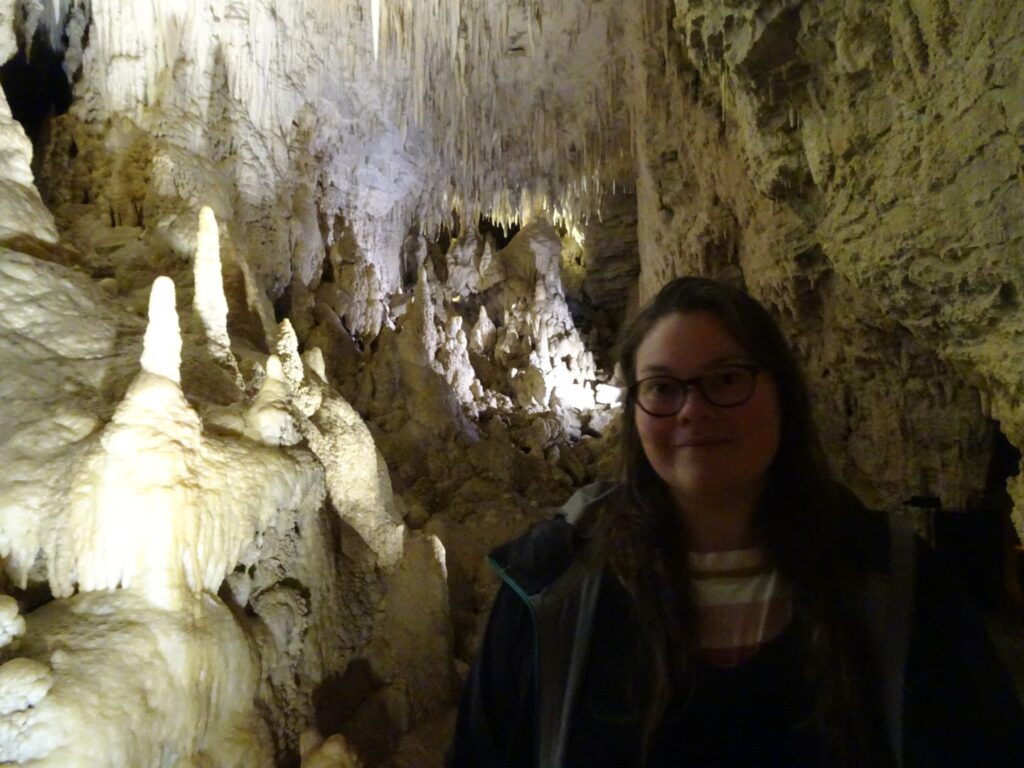 There are many caves in Waitomo, but there are three main caves that can be visited with a tour guide. If you have a few days to spend in Waitomo, then I highly recommend visiting all three Waitomo Caves on a tour – the Glowworm cave, Ruakuri cave and Aranui cave. Each cave has its own unique features so it is well worth visiting all three.
The Glowworm cave is the most famous, with the glowworm viewing taking place in a grotto on a boat (as described above).
Ruakuri cave is a huge cave that also has glowworms as well as a river. The tour will take you on a walk deep into the cave to see fossils and some remnants of the cave touring history. Ruakuri Cave is the southern hemisphere's only wheelchair-accessible cave – made possible by a giant spiral ramp entrance leading down into the cave. It is possible to go Black Water Rafting* in Ruakuri cave – jumping over waterfalls as you travel down the underground river.
Aranui cave is the smallest but most beautiful cave of the three. It is filled with wonderful formations. You can also see giant cave weta inside Aranui cave. The cave weta is a large (and freaky-looking) insect that is endemic to New Zealand.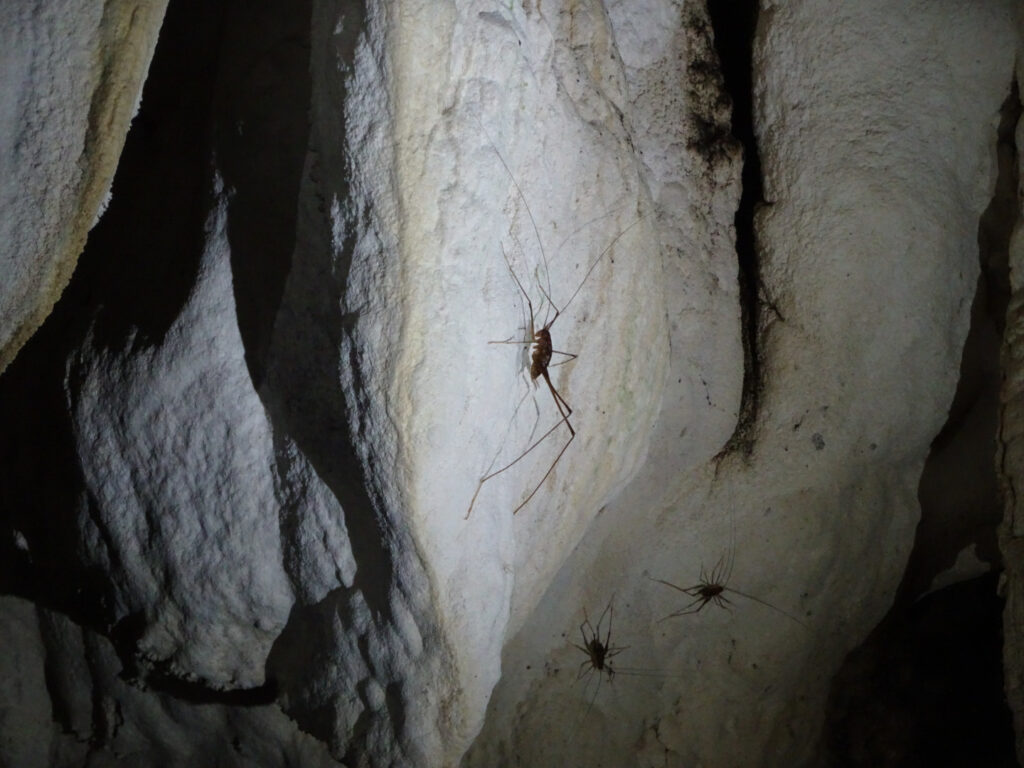 It's possible to visit all three caves individually, but you can get a great discount by booking a multi-cave (triple combo) ticket*. I have visited all three caves on the tours myself and I thought it was well worth it!
6. Mount Maunganui, Bay Of Plenty 🐚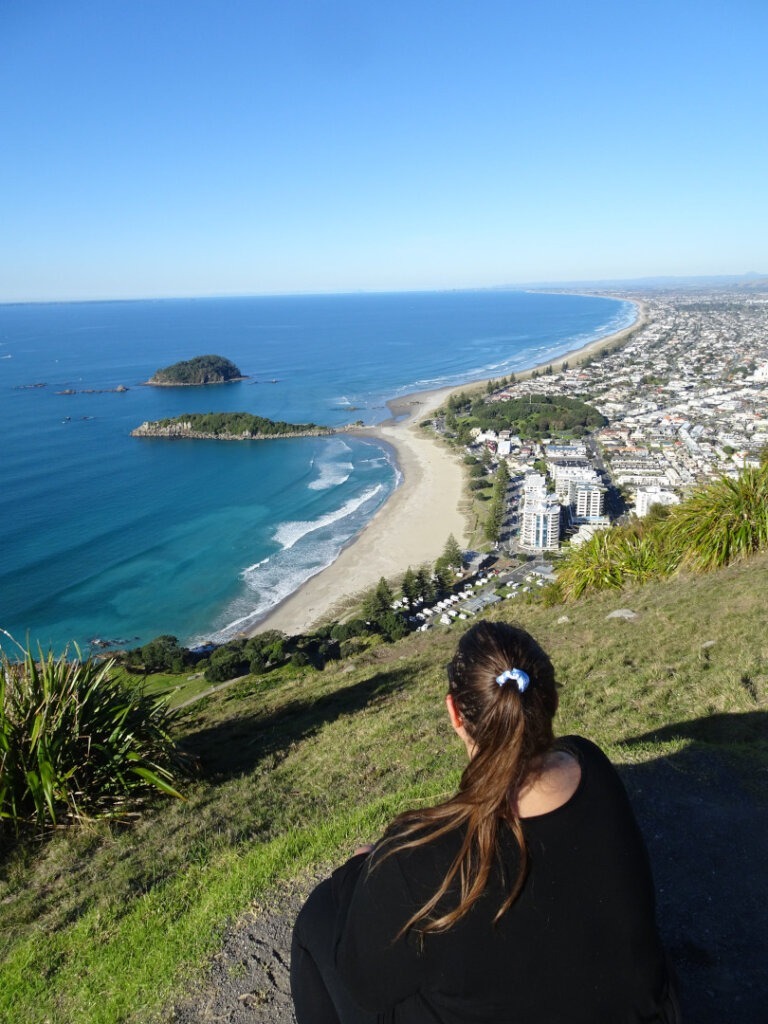 With golden sandy beaches that seem to stretch for miles, the Bay Of Plenty is a paradise.
Mount Maunganui is THE place to be in the Bay Of Plenty. The cool coastal town has a wonderful beach that is popular and safe for surfers and swimmers and has excellent beachcombing opportunities.
Moturiki (Leisure) Island, which juts out into the ocean, has the remains of an old water park. The island is connected to the mainland by a narrow manmade land bridge. It is a nice place for a short walk and provides a good spot to watch surfers waiting to catch the waves.
The Mount itself has great walking tracks around the base and up to the summit. You'll be rewarded with stunning vistas of Mount Maunganui, Tauranga, Papamoa and beyond from the top.
Spend a few hours relaxing in the warm waters at the Mount Hot Pools below the Mount. It is a little pricey to enter (approx $19 per adult) but your muscles (and mind) will thank you after. Head there on a Tuesday night for discounted entry.
You can easily spend a few days relaxing in Mount Maunganui. Make sure to check out nearby Papamoa for more excellent (and quieter) beach days and Tauranga for all your shopping and culture needs.
I highly recommend checking out The Rising Tide brewery and dumpling house for an awesome feed. Go on a Monday for their special $15 beer and dumpling combo.
7. Rotorua, Bay Of Plenty ♨️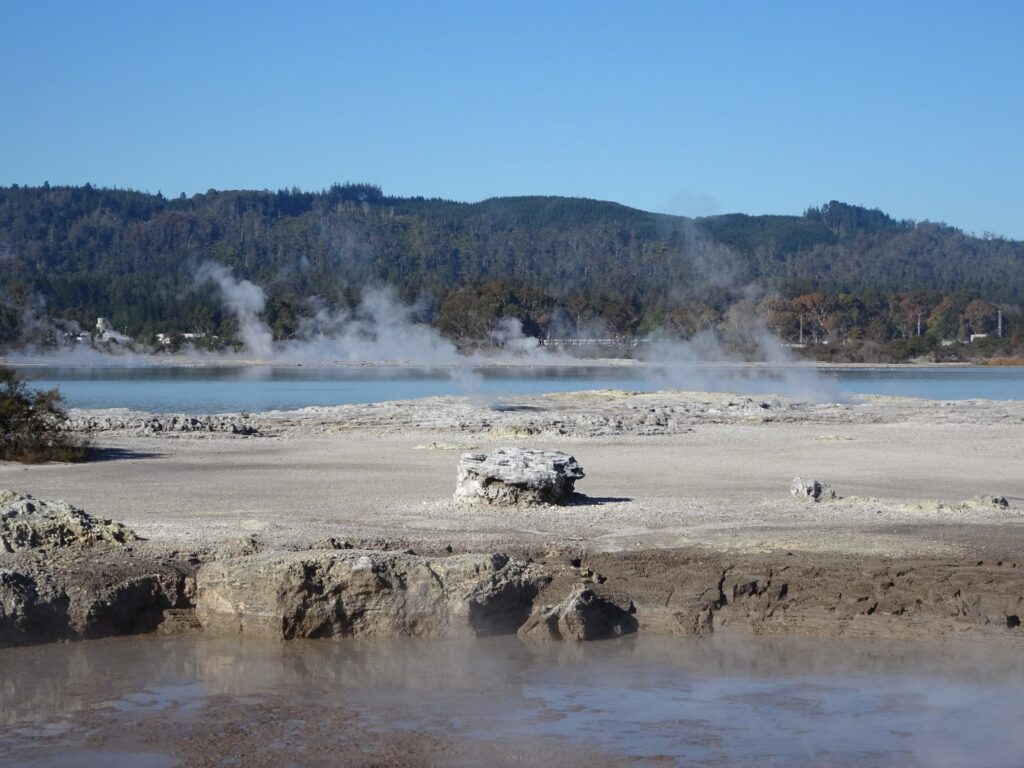 Rotorua is one of my favourite places in the North Island. There is so much to see and do here! From geothermal wonders to Maori culture to exciting and fun activities, you'll never run out of things to see and do in Rotorua!
Located in the north-central area of the North Island of New Zealand, Rotorua makes not only a great destination to visit in itself but also an epic base for day trips to surrounding cities and attractions.
Rotorua is (rightly) one of the major tourist destinations in New Zealand, but it has the feeling of a small town. There are many paid attractions to cater for all tastes, but you don't need to spend any money in Rotorua to see what the area has to offer. Many of the best things to see and do in Rotorua are free (or cheap)!
Geothermal Wonderland
The small city is set alongside Lake Rotorua and is known as the geothermal wonderland of New Zealand. You'll find fascinating bubbling mud pools, natural hot springs and that famous 'eggy smell' from all the sulphur. Some people are bothered by the smell, but you should get used to it after a while. Just think of it as part of the experience!
You can admire and experience the geothermal activity in many ways. In central Rotorua is Kuirau Park (free) which has bubbling hot mud pools and a free foot spa to dip your feet into. Sulphur Point (free) is another location to see yellow sulphur deposits and the hot steam rising beside Lake Rotorua.
There are also geothermal parks in Rotorua and the surrounding areas that charge entry fees. For example, Te Puia (from $70 per adult) is a geothermal park and Maori culture centre. Te Puia has the Pohutu Geyser – the largest active geyser in the southern hemisphere. The Pohutu Geyser erupts every hour and reaches heights of 30 meters. At Te Puia, you can also learn about Maori traditions like weaving and carving and see a recreation of a Maori village.
Outside of Rotorua, a short drive will lead you to Waiotapu. Here you can see the Waiotapu Mud Pool (free). The mud pool is well worth a visit, as you can see bubbling mud popping and exploding at random. It's amazing to see, but the smell is revolting!
If you fancy, take a visit to the Wai-O-Tapu Thermal Wonderland ($32.50 per adult – currently closed for renovations [June 2022]). At this geothermal park, you can see the Champagne Pool and the Lady Knox Geyser. However, the Lady Knox Geyser is artificially activated (at 10 am daily) so it does not have the same kind of wonderful unpredictability as naturally erupting geysers.
Closer to Taupo is the Craters of the Moon ($8 per adult) geothermal park. This park has boardwalks and gravel paths allowing safe passage over the moon-like landscape. There are steaming vents and bubbling craters to observe.
Natural Hot Springs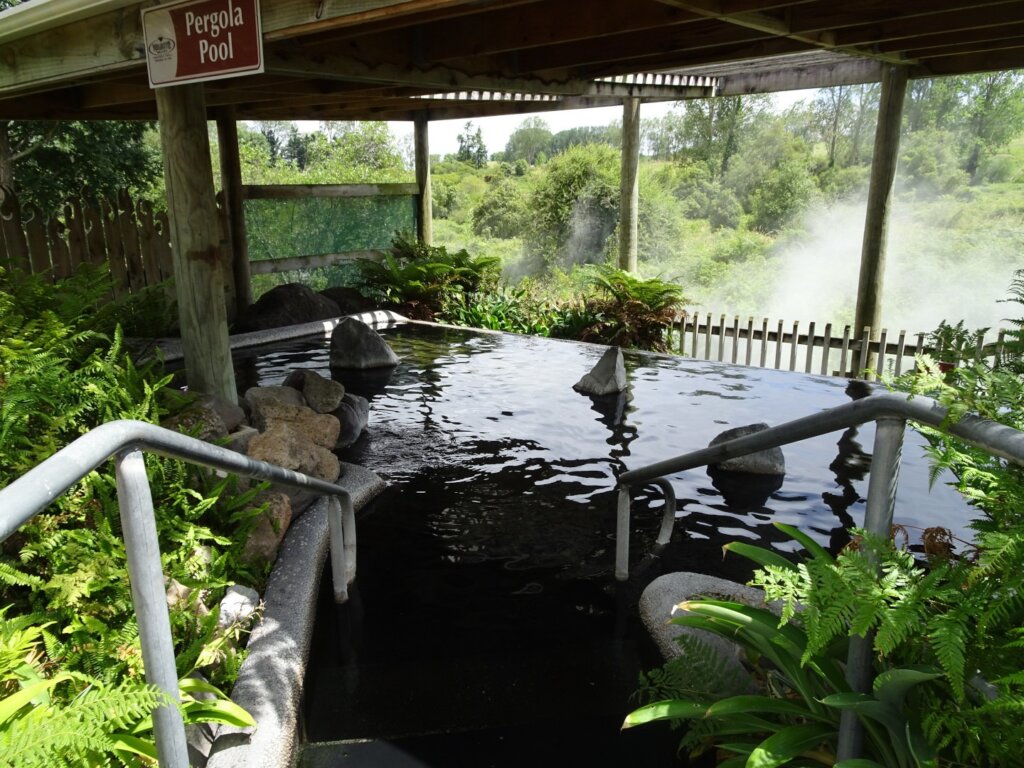 Rotorua has some of the most awesome natural hot springs in New Zealand. To experience the best of the lot, I highly recommend a visit to Kerosene Creek (free). Kerosene Creek is a beautiful, hidden hot spring with a waterfall and several pools. It is located near Waiotapu in a forest. Take a dip in the hot river and swim under the waterfall for a truly sensational and unique experience.
If you fancy a visit to a more sophisticated hot spring, then the Polynesian Spa ($34 for the Pavilion Pools*) is a must-do. The beautiful hot springs are located alongside Lake Rotorua giving wonderful views. There are several pools to enjoy, all with natural geothermal spring water. Fiachra and I spent hours and hours there enjoying all the different pools!
Another great hot spring is the Waikite Valley Thermal Pools. A short drive from Rotorua, Waikite Valley ($22 per adult) is my favourite hot pool in the North Island. The thermal pools are fed by the 'living waters' of the Te Manaroa Spring, the largest single source of 100% pure boiling geothermal water in New Zealand. You can take a short walk (free) to see the bubbling Te Manaroa Spring on a boardwalk beside the thermal pools complex.
Check out this post for more information on the best (and most affordable) hot pools to visit on the North Island: 6 Cheap Hot Pools In The North Island, New Zealand [2022]
Discover More Hot Springs In Rotorua With Get Your Guide:
Art & Culture
Besides the geothermal activity, Rotorua has heaps of fun things to do in the city centre.
The Government Gardens (free) are worth a wander. The beautiful Tudor-style building houses the Rotorua Museum of Art and History (temporarily closed until 2025 to make the building earthquake-safe).
There are many shops, cafes and bars to enjoy in the city centre. The weekly Thursday Night Markets (free) offer awesome food and entertainment.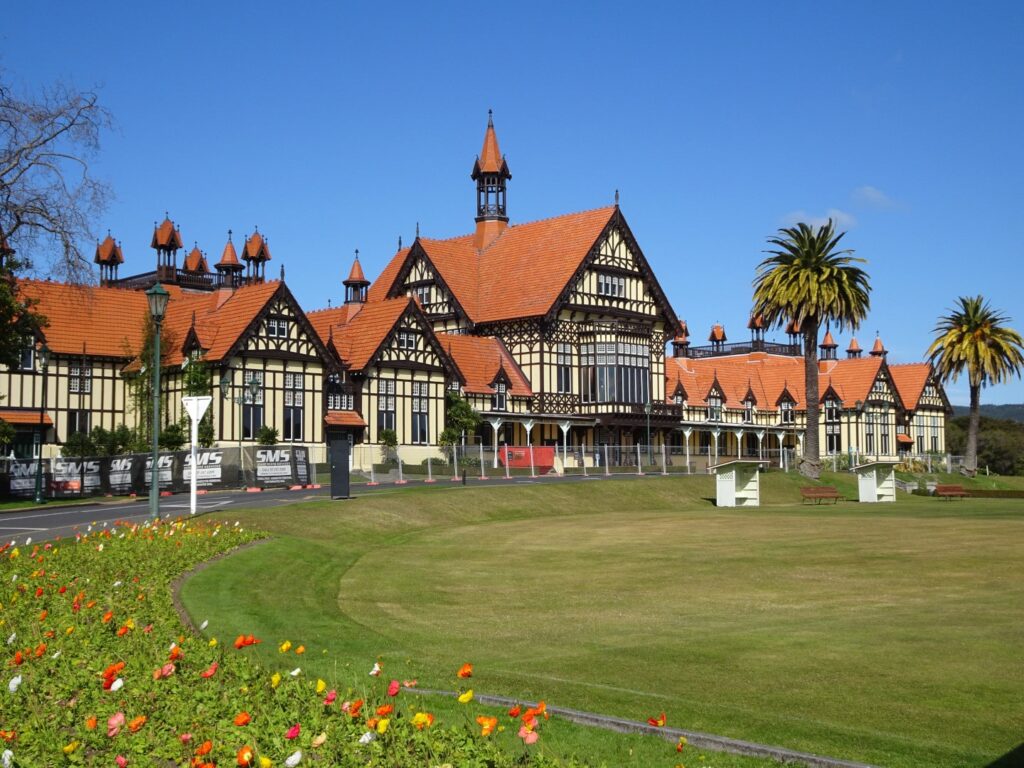 Adventure Activities
One of the most fun activities in Rotorua is the Skyline Gondola and Luge (from $46). Take a scenic ride up the gondola and ride down the luge for a hilarious and exhilarating trip down the mountainside.
If you're into adventure activities, you could also try Zorbing, mountain biking, whitewater rafting, ziplining, jet boating and more!
See A Kiwi Bird
To see a kiwi while in Rotorua, visit the National Kiwi Hatchery ($45 per adult) which has become the largest and most successful kiwi hatchery in the world.
---
I have just listed a snapshot of all the incredible things there are to see and do in Rotorua. It's worth visiting this cool spot in New Zealand and discovering all this and more for yourself!
For more tours and activities in Rotorua, check out these awesome ideas from Viator* and Get Your Guide:
8. Tongariro National Park, Manawatu-Wanganui 🌋
Whether you're a fan of Lord Of The Rings (LOTR), love the great outdoors or just want to be amazed by stunning scenery, then Tongariro National Park is one spot in the North Island that you will not want to miss.
Active Volcanoes
The 796 km² sized national park is home to three giant and active volcanoes – Mount Ruapehu, Mount Ngauruhoe and Mount Tongariro.
Mount Ngauruhoe is a secondary cone to Mount Tongariro and is otherwise known as Mount Doom for those LOTR film lovers. The iconic cone was featured in the films as the fictional fiery volcano in Mordor.
Fiction is not far from reality, however, as the volcanoes in Tongariro National Park are fairly active. Mount Ruapehu has been under close observation for many months now due to changes in its crater lake temperature, that could lead to eruptive activity. The last major eruption of Mount Ruapehu was in 1996 and it had a smaller eruption in 2007. Mount Ngauruhoe is New Zealand's youngest and historically most active volcano. It has had more than 70 eruptive episodes since 1839.
You can get live data from the monitors through GeoNet. I recommend if you are travelling to New Zealand then download the GeoNet app to your phone so that you can be alerted of any important seismic events during your stay.
Ski Fields
If you're visiting in the winter, then Mount Ruapehu has two ski fields which can be enjoyed. On the northern side is the Whakapapa ski field, and on the southern side is the Turoa ski field. They are open from June to October but are dependent on snow and weather conditions.
Hiking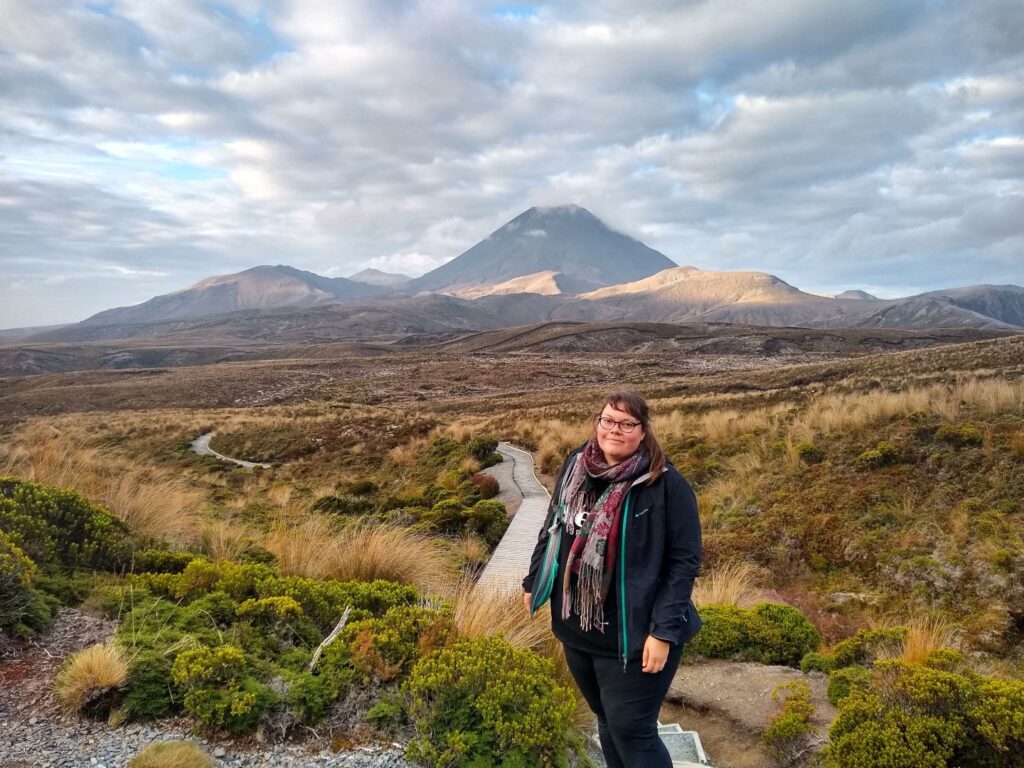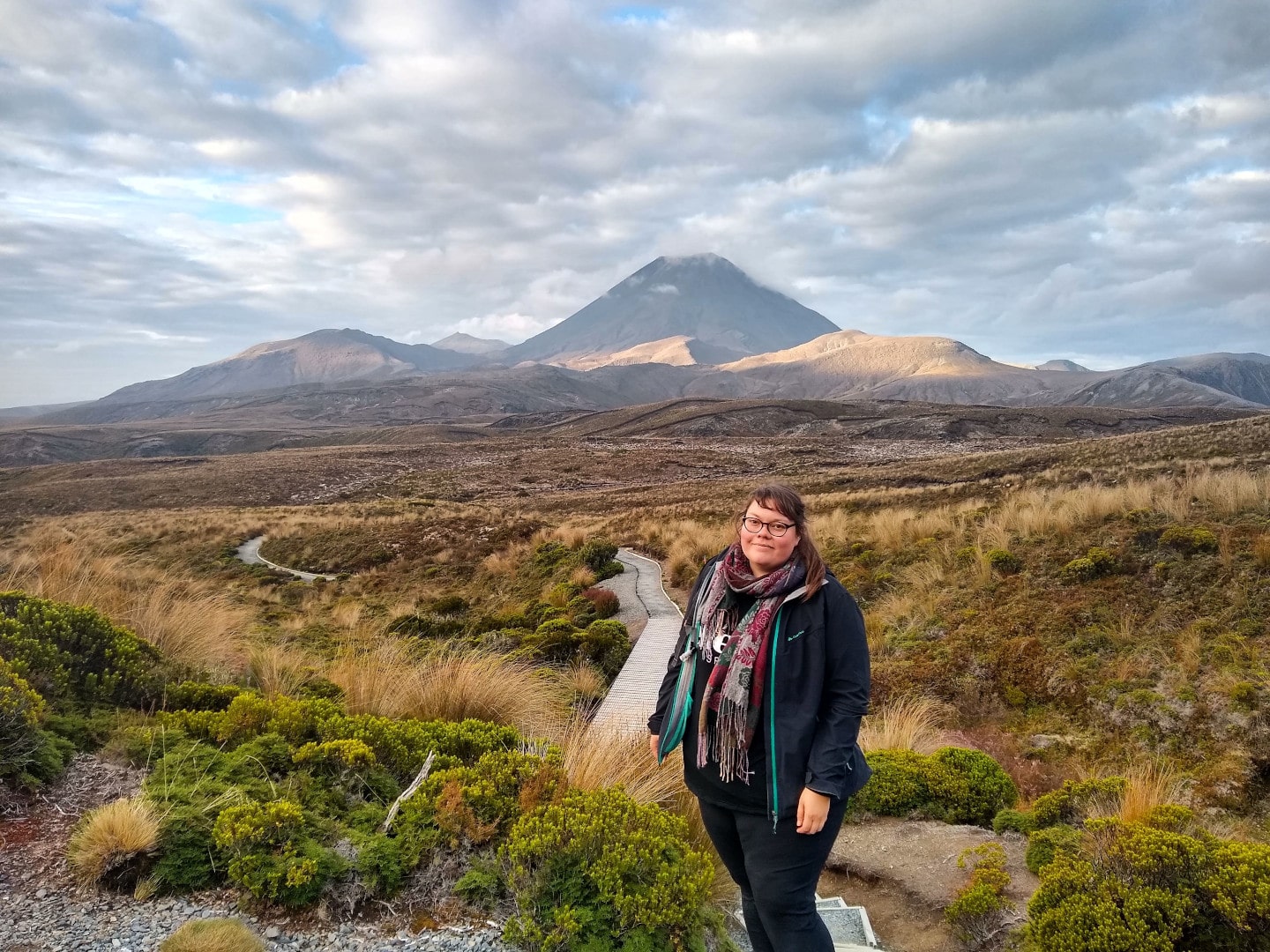 In the summer, Tongariro National Park is an excellent place to go hiking. There are several trails you can take around the park, varying in difficulty.
One of the most popular tracks to take is the Tongariro Alpine Crossing which traverses 19.4 km across the stunning volcanic landscape. It is often described as the best one-day hikes in New Zealand and is attempted by around 60,000 people every year. Despite its popularity, the hike should not be taken lightly. The walk is long, challenging and in an alpine environment. Hikers will climb nearly 800m in altitude to 1900m above sea level. The walk takes around 9 hours to complete. It is a one-way walk, so you need to arrange to get dropped off/picked up at either end. Many shuttle companies offer services to the start/pick up at the end of the walk. For more information on the Tongariro Alpine Crossing, visit the Department of Conservation's (DOC) website here.
If you're looking for a shorter walk, then there are plenty of options available. I recommend trying out the Tama Lakes Track (5-6 hrs), Silica Rapids Walk (2.5 hrs), Taranaki Falls Walk (2 hrs) and the Whakapapa Village Short Walks (up to 40 mins). All of these walks are easy and offer stunning views of the volcanic landscape and mountain scenery. I've done all these walks and thought they were all awesome. You can get all the track information for these walks on the DOC website here.
Waterfalls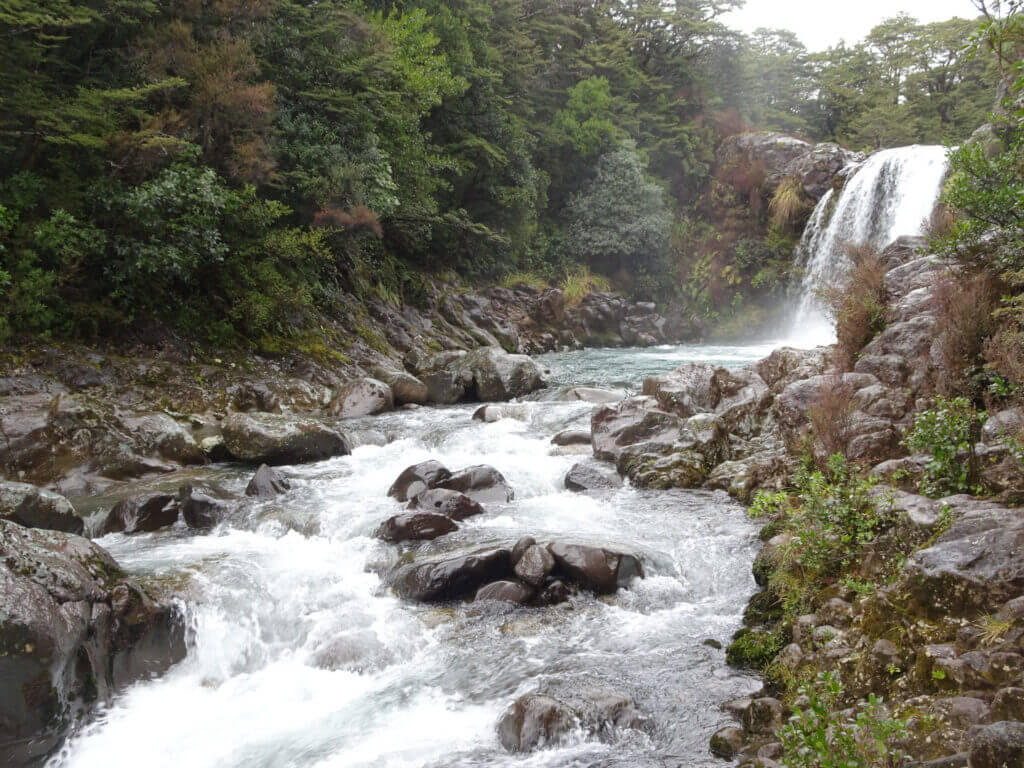 There are several beautiful waterfalls to see in Tongariro National Park. The most popular to visit is Taranaki Falls (not to be confused with Mount Taranaki). The walk to this waterfall will take you across an awe-inspiring volcanic landscape. You do this as an out-and-back or a loop walk. The walk starts in Whakapapa Village.
LOTR fans should also check out Tawhai Falls in Tongariro National Park, also known as Gollum's Pool. This picturesque waterfall was used as the filming location for the Forbidden Pool where Gollum catches fish in the movies. The Tawhai Falls track (20 mins return) is just off the highway 48 road on the way in/out of Whakapapa Village.
If you love waterfalls, then check out my blog post all about the best waterfalls and waterfall experiences in the North Island of New Zealand: 28 Amazing Waterfalls To Visit In The North Island [2022]
9. Hot Water Beach, Coromandel Or Kawhia, Waikato 🏖️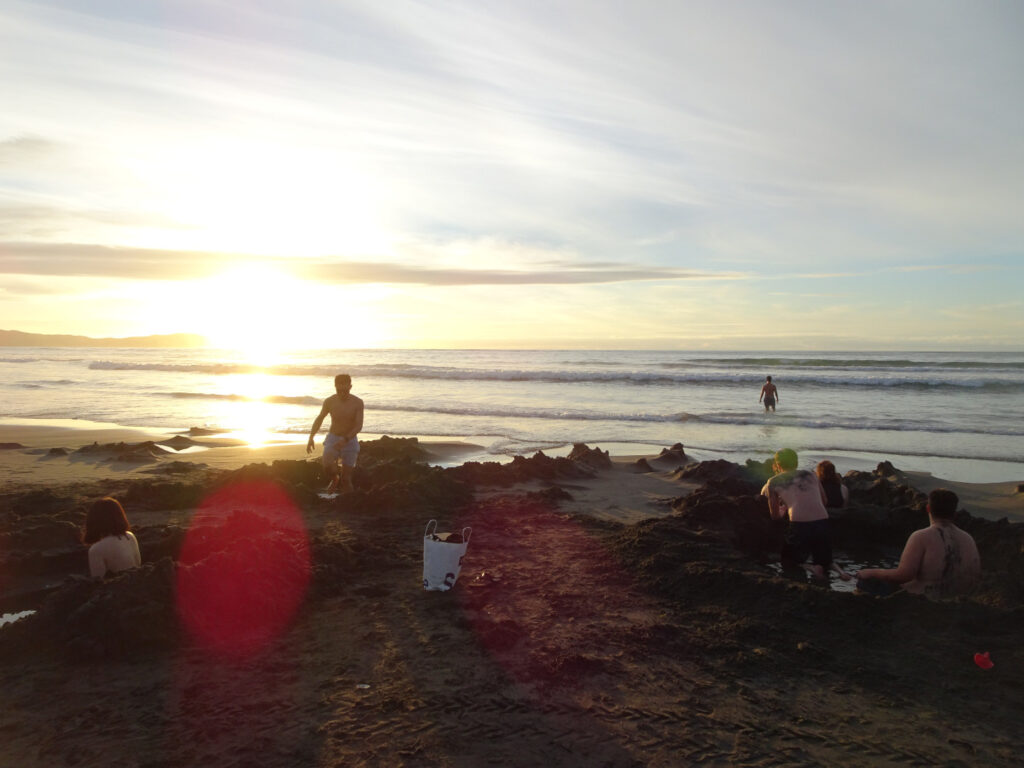 Have you ever visited a hot water beach? A hot water beach is where you can dig a hole in the sand and natural hot water comes rushing to the surface. It is a very cool and unique experience to do in the North Island of New Zealand that you should make time for on your itinerary!
There are two awesome hot water beaches on the North Island – the Coromandel Hot Water Beach (super popular and world-famous) and the Kawhia Hot Water Beach (a hidden gem!).
Coromandel Hot Water Beach
The most famous by far is the Hot Water Beach on the Coromandel Peninsula. You may have already heard of this Hot Water Beach because it is all over the internet!
Coromandel Hot Water Beach is visited by an estimated 700,000 people every year! Just meters from the Pacific Ocean, you can dig your own hot pool in the sand. Relax in the hot water before running into the waves to cool down.
The Coromandel Peninsula is a 2.5 hr drive from Auckland, Hamilton or Tauranga.
There are heaps of awesome things to do in Coromandel – it is an unmissable destination in itself! Besides the Hot Water Beach, there are also three top experiences that I recommend you must do while you're in the Coromandel:
1. Visit the cool Cathedral Cove – a cave tunnel on a beach leading to another beach.
2. Kayak to Whitianga's 'Donut Island' (Whenuakura Island) – a ring-shaped island which can be accessed via a sea cave.
3. Hike The Pinnacles (Kauaeranga Kauri Trail) – an epic hike through the Kauaeranga Valley to a rocky lookout with stunning views across the Coromandel Peninsula.
It can be very busy at the Coromandel Hot Water Beach because it is world-famous. If you're looking for a quieter and more relaxing experience, then I recommend a visit to Kawhia Hot Water Beach (known as Ocean Beach). This lesser-known spot is stunning, and you can get the same experience as the Coromandel Hot Water Beach but with way fewer people and (in my opinion) more stunning scenery!
Kawhia Hot Water Beach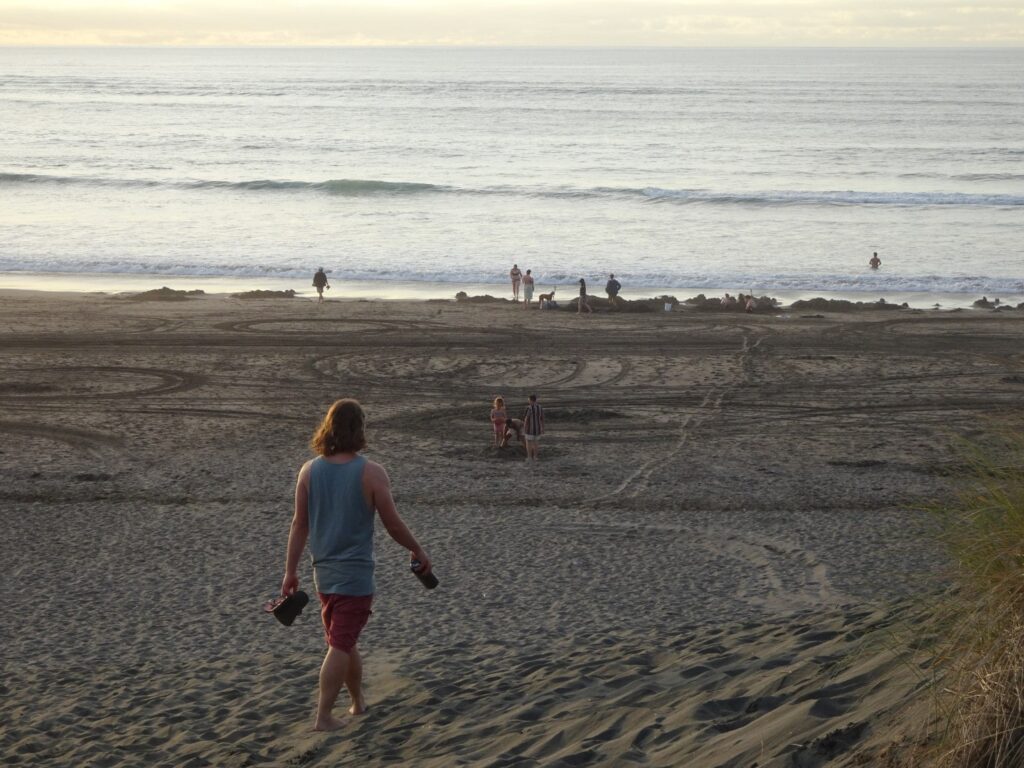 Located on the opposite side of the North Island, Kawhia is a quiet coastal community known for fishing, its picturesque harbour and its own natural Hot Water Beach. The beach is called Ocean Beach, also known as Hot Water Beach.
To get to the hidden beach, you'll have to climb a massive sand dune and then descend to the black sand beach on the other side. To dig your own hot spring at Kawhia Hot Water Beach, you must go right down to the ocean line for two hours on either side of low tide. Dig your hole and the hot water will bubble to the surface of the sand.
Kawhia is definitely off the beaten track and a hidden gem in the North Island. Being on the west side of the North Island, Kawhia's Hot Water Beach is an awesome place to see the sunset. Relax in your own natural hot spring while watching the sunset over the Tasman Sea!
If you're lucky enough to time your visit with the Kawhia Kai Festival (held annually in February – gold coin donation) then you can try awesome Maori food and enjoy entertainment. The Kawhia Regional Museum (gold coin donation) is also definitely worth a visit, with a great collection of archaeological finds, photographs and artefacts from the historical village.
Otorohanga Kiwiana & Kiwi House
Kawhia Hot Water Beach is located around a 1-hour drive from the nearest large town called Otorohanga.
Otorohanga is the Kiwiana town of New Zealand. While you're in the area, visit the display and murals of traditional Kiwi cultural icons in the town at the Ed Hillary Walkway.
If you want to see a kiwi as well as other native New Zealand birds and reptiles (totara), then visit the Otorohanga Kiwi House (approx $26 per adult entry). I thoroughly enjoyed my visit here, learned loads and saw a kiwi for the first time!
Just down the road from Otorohanga is the Waitomo Caves (no. 5 above), so you can combine your visit to Kawhia Hot Water Beach and Otorohanga with your trip to the glowworm caves!
10. Te Papa, Wellington 🔬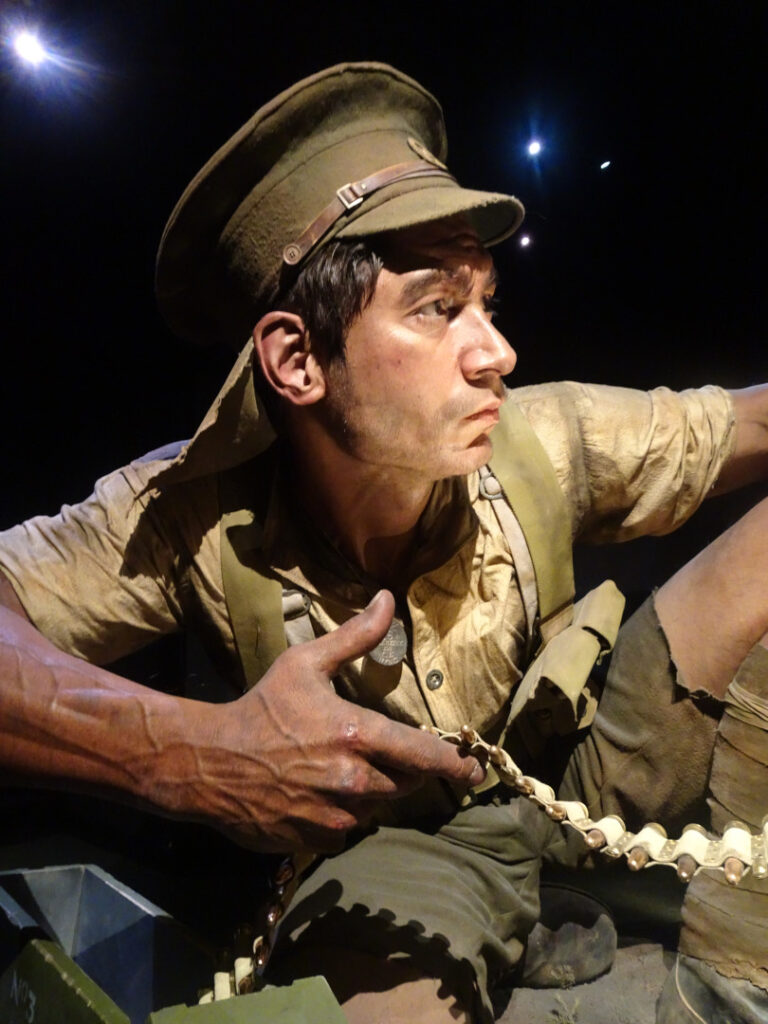 My final unmissable experience in New Zealand's North Island is Te Papa – the Museum of New Zealand in Wellington. The Maori name for the museum is 'Te Papa Tongarewa' which translates literally to "container of treasures". I think this is an awesome and very fitting name for this incredible museum.
Located in the capital city of New Zealand, Te Papa has five major collection areas – art, history, Maori treasures, Pacific cultures and natural history. The museum building is huge, with six floors full of exhibitions as well as outdoor space. I've visited Te Papa three times and only just scratched the surface of the exhibitions they have to offer. You could easily spend hours and hours in there getting so museum fatigued that you may never want to visit a museum again! But you will and you'll keep going back because everything they have to look at and learn about is fascinating and different and just plain awesome.
A true highlight of Te Papa is the Gallipoli: The Scale Of Our War exhibition. This exhibition features larger-than-life sculptures of War World I soldiers and nurses created by Weta Workshop* (the studio behind so many amazing movies including LOTR). The exhibition tells the story of the Gallipoli campaign and is highly educational and fascinating. The Gallipoli exhibition is on until 25 April 2025.
Best of all, admission to Te Papa is FREE. It's the perfect way to spend a few hours, rain or shine, and discover all the culture, heritage, natural wonders and stories that New Zealand has to share.
Weta Workshop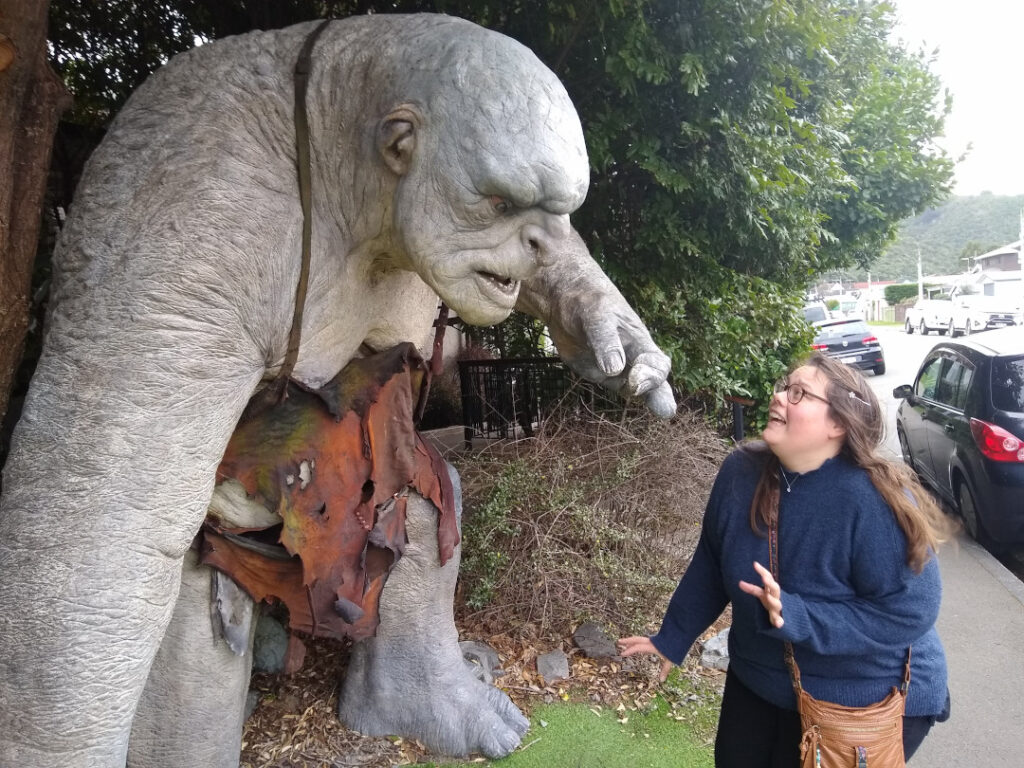 If you visit Te Papa and enjoy the Gallipoli exhibition or you're just a major movie fan, then you may enjoy a visit to the Weta Workshop. You can visit the studio in Wellington that brought to life movies such as The Lord of the Rings and The Hobbit Trilogies, The Chronicles of Narnia, Avatar, and many more. Joining a Weta Workshop guided tour will show you the creativity behind the making of movie effects – including creatures, costumes, miniatures, armour, weapons and more. You'll get to see actual props, creations and sets that were used in films and TV shows. My visit to Weta Workshop was fascinating and fun, and I'm sure you'll have a similar experience!
Other Activities In Wellington
While you're in Wellington, make sure to taste the best cheap eats the city has to offer – discover all in this my food guide: Wellington Food Guide: 10 Delicious Must-Try Cheap Eats.
I have also written a post on the 10 Best Free Things To See & Do In Wellington that I recommend you read to help plan your Wellington itinerary.
Book Memorable Activities & Tours In Wellington With Viator:
10 Unmissable Experiences In The North Island, New Zealand – Thanks For Reading!
From stunning natural beauty to fictional hand-made movie sets, there are so many incredible experiences on the North Island of New Zealand. With so much to choose from it can be hard to narrow down what to include in your travel schedule. But with this list of 10 must-do experiences, you'll know that these are the ones that you shouldn't miss on your North Island itinerary!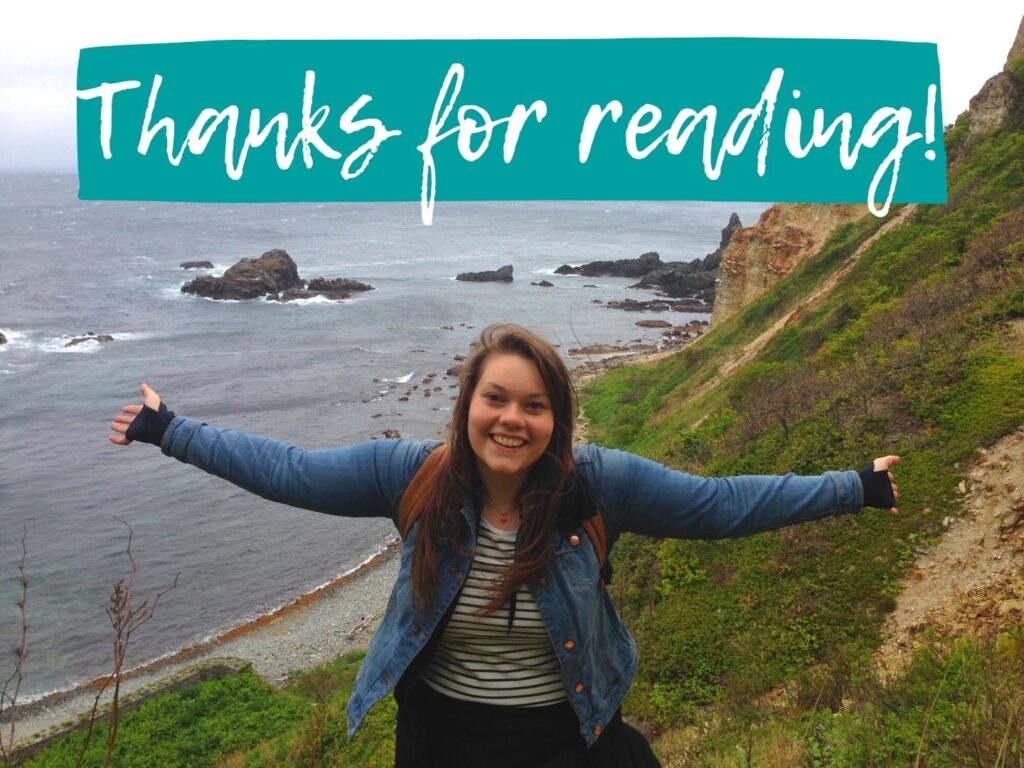 Did you find this article useful? Let me know in the comments or join me on Twitter, Facebook, Pinterest and Instagram. Buy me a coffee here!
If you enjoyed this post, share it with a friend! 💌
More New Zealand Travel Inspiration!:

My Travel Resources guide will help you get the best deals when booking your next trip – check it out here!
Disclosure: Please note that some of the links on this page may be affiliate links. If you decide to make a purchase through one of these links, I may earn a commission at no additional cost to you. I use all of the companies I recommend and I use them because they are awesome and help make my travels better. If you are ready to book and would like to support Wild Lovely World, using these links is one way to do that. Thank you for your support! If you have any questions, please contact me or read my full disclaimer here.