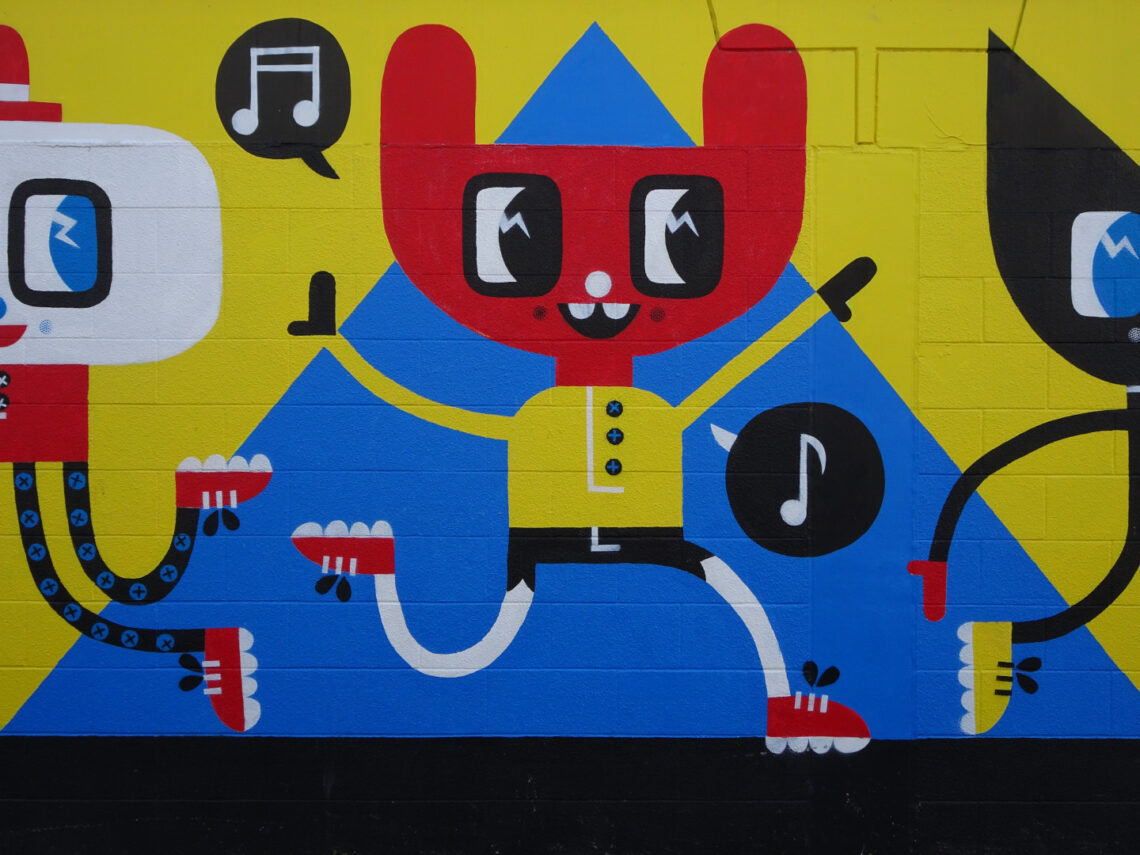 10 Best Street Art Cities In New Zealand's North Island [2022]
Disclosure: Please note that some of the links on this page may be affiliate links (*). If you have any questions, please read my full disclaimer here. Thank you for your support!
Last Updated On 12th April 2022 By Lauren | Wild Lovely World
In this post, I share 10 of the best cities to visit to see street art in the North Island of New Zealand. I have also included a cool map listing them all to help you plan your road trip.
The North Island is the most populous of the two islands in New Zealand. Therefore, you'll find some of the countries biggest cities, and in turn, amazing street art. Where there are walls, there will be spray paint!
New Zealand boasts some of the best street art in the world, designed and painted by amateurs to world renowned artists. New Zealand also hosts many street art festivals every year, allowing new and old artists to add to each cities collection. These festivals can attract thousands of visitors every year, and many murals are becoming tourist attractions in their own right.
From north to south, in this post you can discover my favourite street art cities that I have visited in New Zealand's North Island. If you're short on time, I'll also share which destinations I think are a must visit for street art enthusiasts.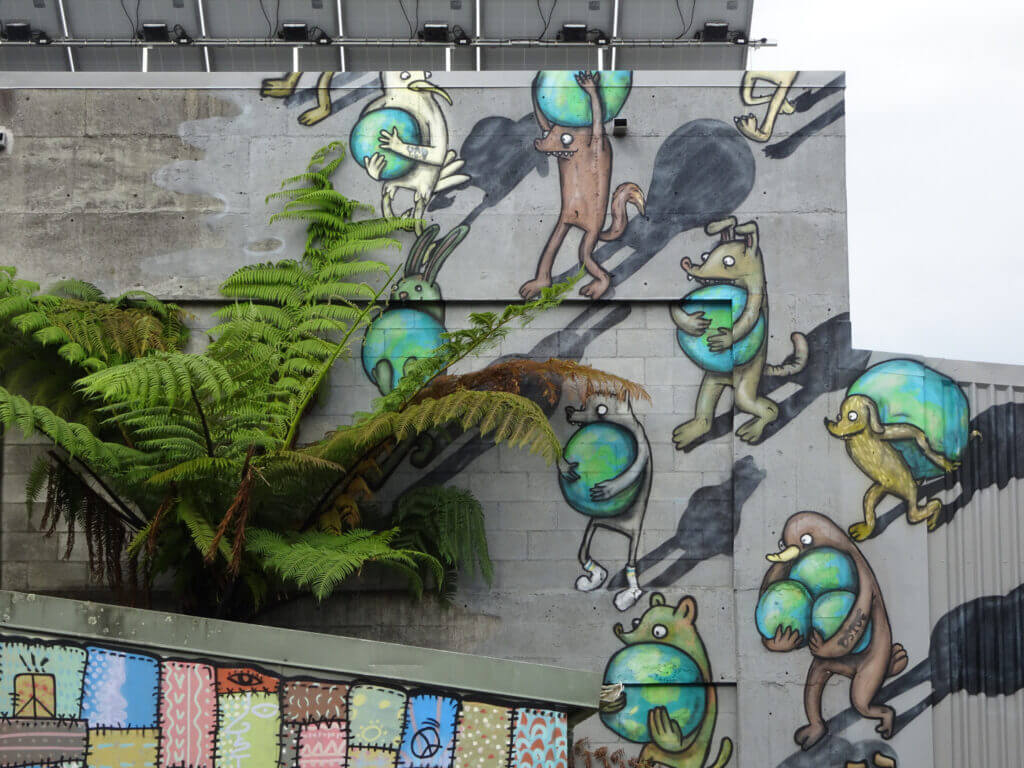 Top Activities In New Zealand's North Island
Check out these posts for some more North Island travel inspiration ❤️ :
Here are the top activities and tours to book in the North Island:
The 10 Best Street Art Cities To Visit In The North Island, New Zealand
North Island Street Art City Map 🗺️
Here is your free street art city guide map to help you get your culture fix in New Zealand's beautiful North Island!
Here are the best cities to visit for street art, murals and grafitti in the North Island. These are ordered based on their location in the North Island, from North to South. If you want to know which cities are the best for street art in a ranked order (entirely my opinion), jump to this section below.
1. Whangarei, Northland
Whangarei is the largest city in the Northland region of New Zealand's North Island. It's not as well visited as other cities in New Zealand, probably because of it's remote Northland location. But Whangarei is well worth making the trip for if you have time in your itinerary.
Whangarei is a good place to visit to see street art. In 2019, Whangarei took part in Street Prints Manaia, an International Street Arts Festival. Whangarei was gifted with 15 beautiful art murals based on the theme of "Tuia te muka Tāngata – Weaving the threads of Humanity". Some of the world's best street artists painted their colourful masterpieces on the city's walls.
You can enjoy some of Whangarei's best street art in the Street Art Trail from the Whangarei District Council. The leaflet includes photos of the murals, information about the artists and a trail map. Check it out here.
2. Tauranga & Mount Maunganui, Bay Of Plenty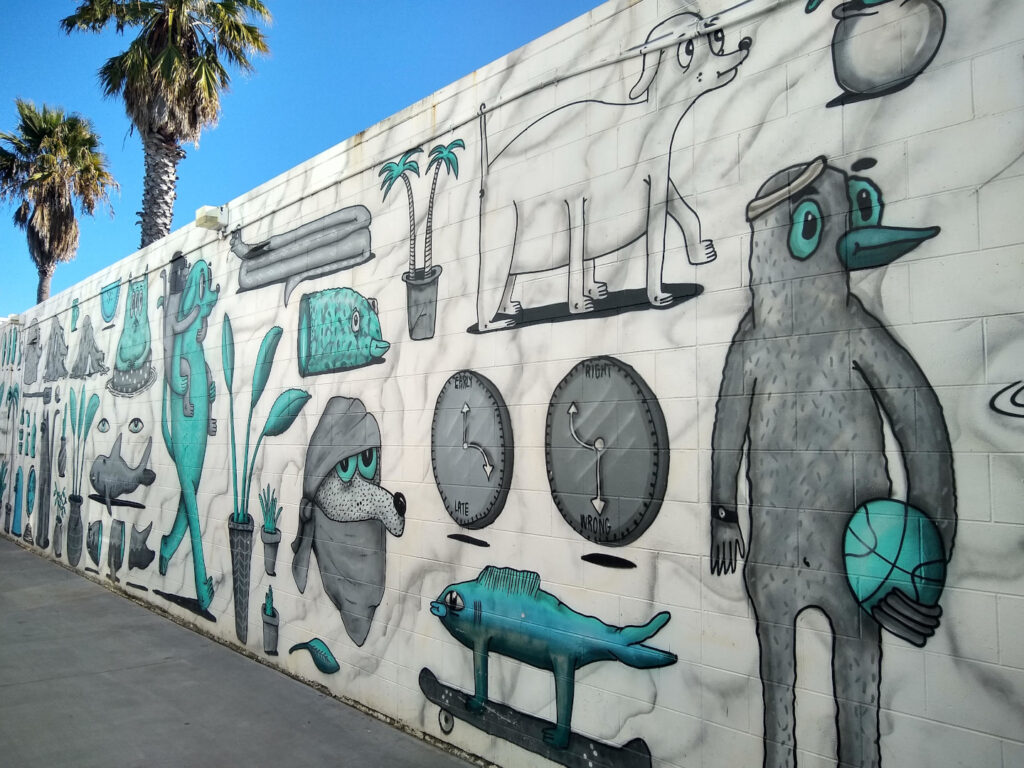 Mount Maunganui, or 'The Mount' as it is affectionately known, is one of the coolest coastal towns in New Zealand. The hip and trendy area is a surf spot and dotted with murals and street art along the shop fronts and down the alleyways. Just wander around Mount Maunganui and you'll be blessed with colourful street art on each corner.
There is also plenty of street art to see in neighbouring city Tauranga. In 2017, Tauranga exhibited Paradox: Tauranga Street Art Festival, a street art and graffiti exhibit in collaboration with Oi YOU!, at the Tauranga Art Gallery.
Tauranga and Mount Maunganui also took part in the Street Prints, International Street Art Festival in 2020. Twenty of the world's top street artists painted twenty murals across the cities.
For a trail map of Mount Maunganui and Tauranga's street art and murals as well as sculpture, follow this Art Walk Map from the Tauranga City Council.
3. Hamilton, Waikato
New Zealand's fourth largest city, Hamilton, is quickly growing in recognition of its street art. Over the past few years there has been a lot of initiative to increase the amount of public art in the city.
In 2020, what is believed to be the largest mural in New Zealand was completed in Hamilton. The mural is on Anglesea St and covers a large concrete wall. As a collaboration from several artists, it took them two and a half weeks to complete the mural, working ten hours a day, six days a week.
The Boon Street Art is a bi-annual initiative to enhance Hamilton through the creation of street art and murals across the city. You can see a map of Hamilton's murals here on their website.
For more public art in Hamilton, check out this list from the Waikato Museum. If you love art and also want to learn about Maori heritage, I also highly recommend a visit to the museum – entry is free!
4. Taupo, Waitkato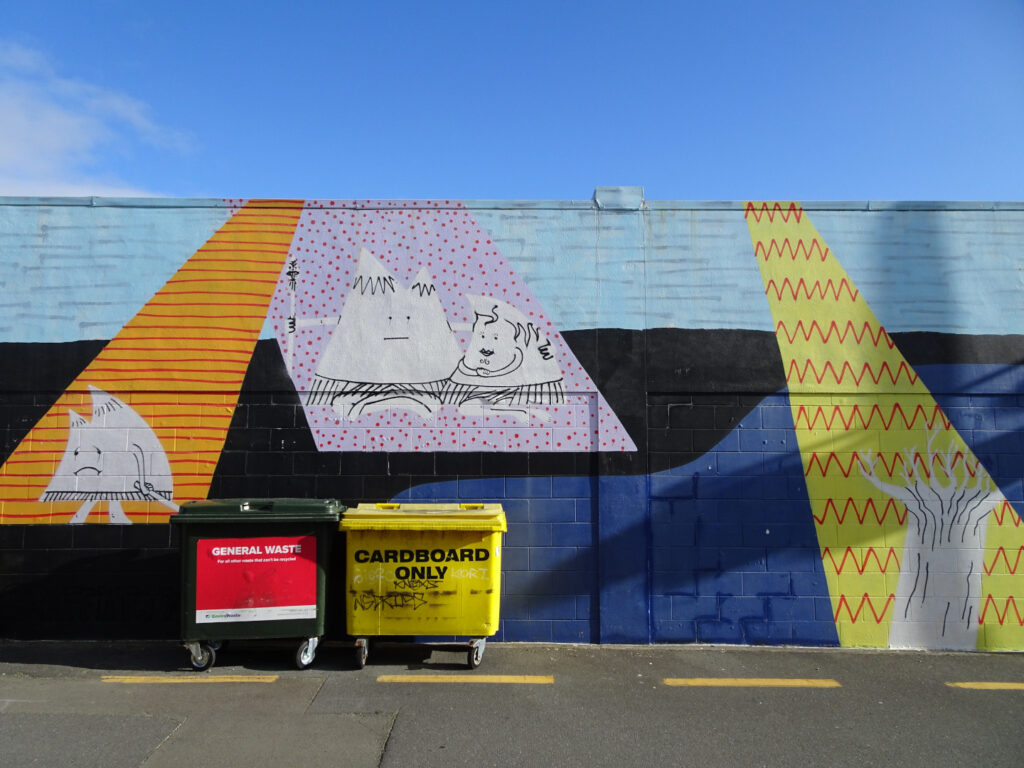 Taupo is quickly becoming the street art capital of New Zealand! A street art tour of the North Island would not be complete without a visit to Taupo. Situated on the picturesque Lake Taupo (the largest lake in New Zealand), Taupo is a big tourist destination for international visitors and kiwis alike.
Every year during Labour Weekend in October, the city holds Graffiato: Taupo Street Art Festival – New Zealand's longest running annual street art festival. Since 2000, street artists from all over the world have descended on Taupo to create an ever expending portfolio of beautiful murals on the cities streets. There are now over 80 murals in Taupo's lane ways and back alleys.
You can enjoy discovering Taupo's murals at your own pace or explore with the Graffiato Walking Tour leaflet, available online or at i-Site information centres. Alternatively, you can check out this Google Map to see a few of the locations of the street art.
5. New Plymouth, Taranaki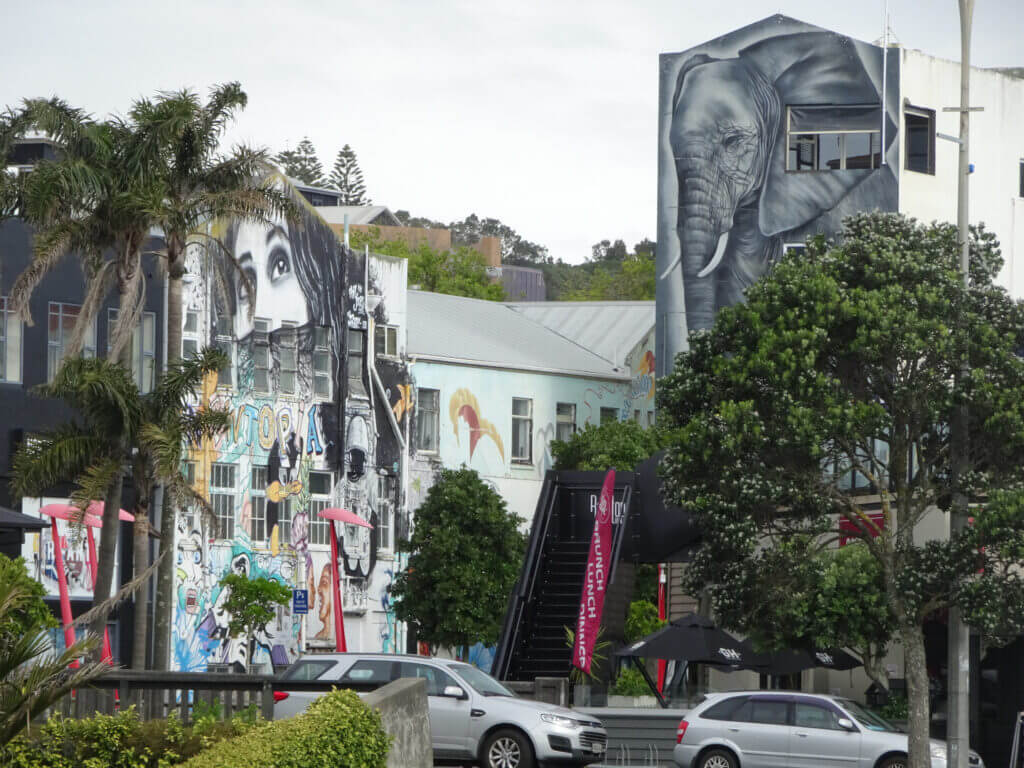 New Plymouth is another excellent place to visit yet many international visitors seldom make the trip! A coastal city with views of iconic Mount Taranaki in the distance, New Plymouth is a city with a pleasant mix of urban and nature vibes. New Plymouth also has some of the best art galleries in New Zealand, with the Govett-Brewster Art Gallery/Len Lye Centre taking centre stage.
All around New Plymouth you'll find large scale murals and street art. New Plymouth has now gained a reputation as one of the best street art cities in New Zealand. Much of New Plymouth's street art seems to have sprung up naturally, further adding to the charm of this city.
To enjoy street art in New Plymouth, just wander around the main city centre. As well as murals and graffiti, you can enjoy sculpture, most notably Len Lye's Wind Wand and Renate Verbugge's Mothers and Daughters.
6. Whanganui, Manawatu-Wanganui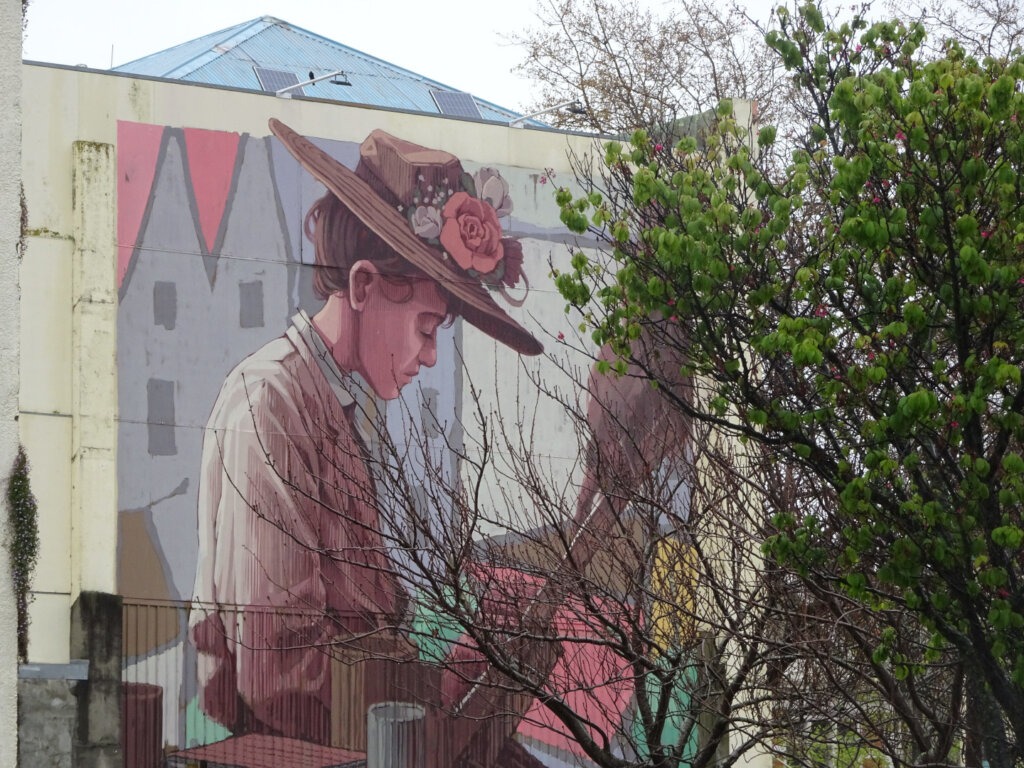 Whanganui is my FAVOURITE arty city in the North Island and hands down the BEST STREET ART CITY in the North Island. The town is full of art, murals and sculptures on every corner and there are loads of FREE art galleries to enjoy too. If you love street art and just arty things in general, you should definitely visit Whanganui.
Make sure you check out this post to learn more about Whanganui and why you should visit this super cool but little visited city!
Whanganui Walls is Whanganui's own street art and music festival held annually in March. Some of the world's best street artists visit Whanganui to decorate the city with beautiful murals. You can see lots of photos and information on the artists that have participated in this post from So Many Places So Little Time.
Enjoy a wander around Whanganui to explore Whangaui's impressive murals and street art, including sculptures along the river front and dotted down alleyways. You can also pick up a street art and mural map at the i-Site information centre in Whanganui.
7. Palmerston North, Manawatu-Wanganui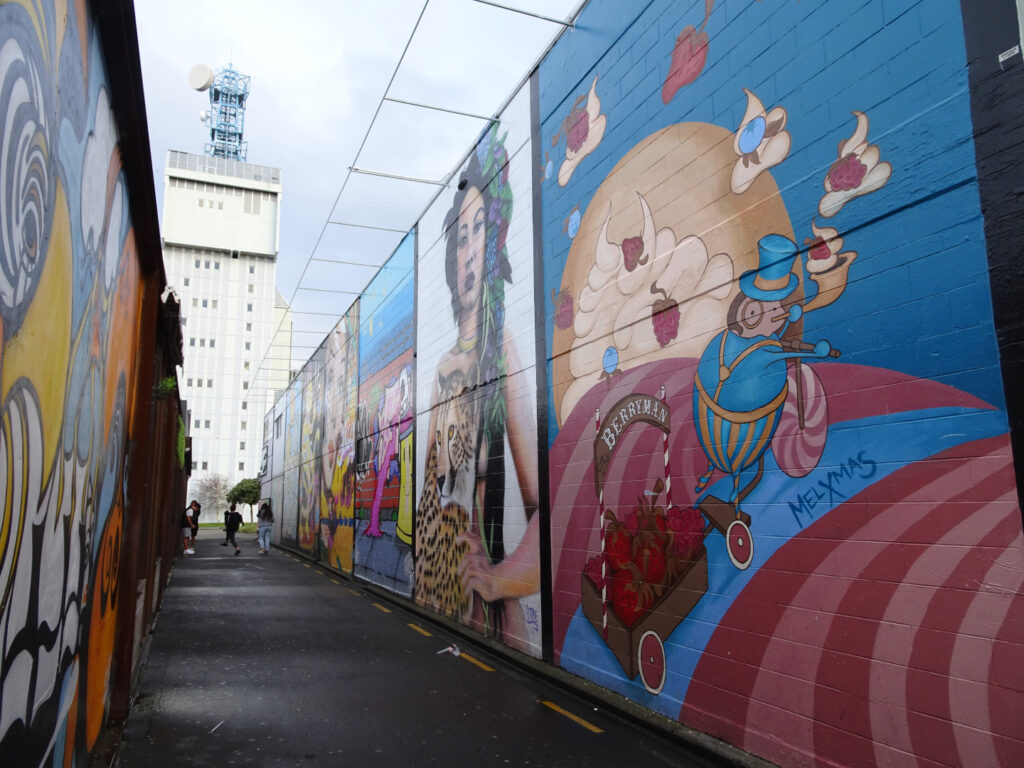 Palmerston North, nicknamed Palmy, is building it's reputation for street art and is welcoming new artists to contribute their work to the cities walls. There have recently been new projects to make the city more colourful and interesting.
In 2020, Palmerston North also took part in the Street Prints International Street Art Festival. Seventeen murals were added to Palmerston North in the festival named Papaioea, named after the original settlement in a clearing in the forest where Palmerston North now sits.
As well as these murals, there are many other interesting street art murals and sculpture to see around the city. It's also well worth visiting the Te Manawa Museum of Art, Science and History (entry is FREE).
You can explore Palmerston North's art with the Palmy Art Map. The art map is a good way to plan your arty tour of the city and also find out more about the artists who created them.
8. Gisborne, Gisborne
PangeaSeed's Sea Walls: Artists For Oceans project brought 20 artists to Gisborne to complete 16 murals in the city across one week in 2018. The project aims to bring art and activism together. The murals are to encourage communities to reconnect with the ocean. Artists have created stunning paintings of sea creatures and scenes.
You'll find Sea Walls murals in a couple of places across the North Island including Auckland, Napier and Gisborne. PangeaSeed have published beautiful little booklets with information, pictures and location maps of the murals for each city. Pick up a copy at the i-Site to help you explore Gisborne's street art!
9. Napier, Hawke's Bay
Similar to Gisborne, Napier participated in the Sea Walls: Artists For Oceans project in 2016. Back then, 29 large-scale murals were created throughout Napier's CBD and neighbouring Ahuriri. Then again in 2017, a further 20 artists returned to Napier to paint even more murals for the project.
You can explore Napier's Sea Walls murals with a booklet from the i-Site or using this location map online.
10. Wellington, Wellington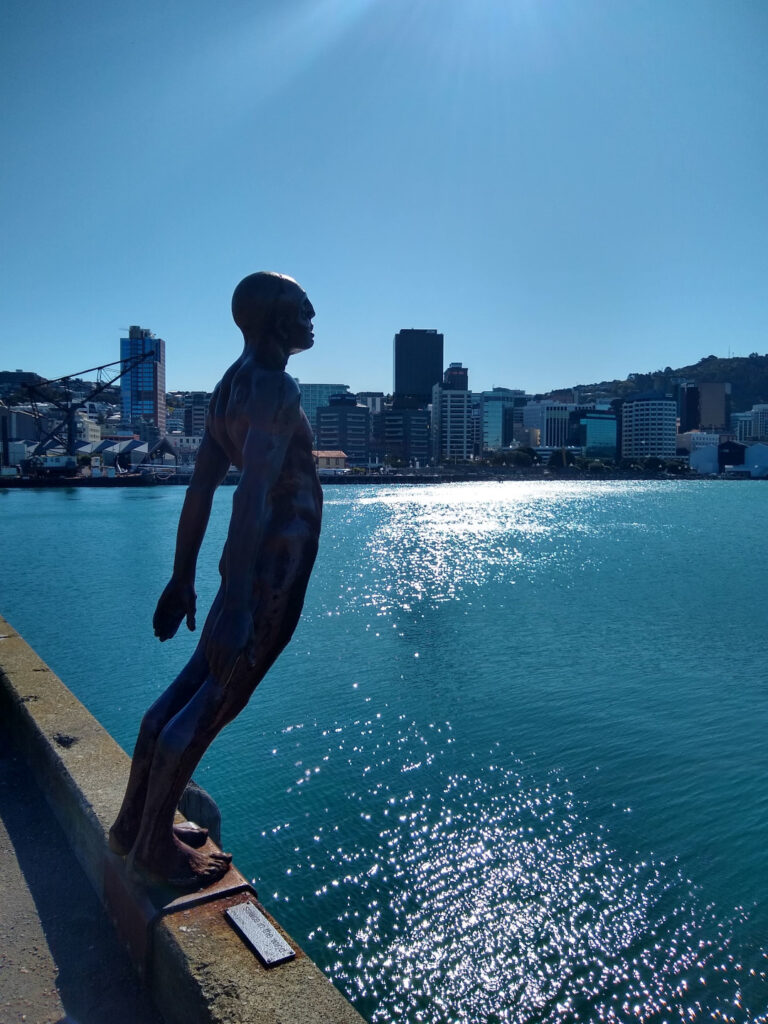 Being New Zealand's capital, Wellington is a great city to see some top street art. However, I think to see the best of Wellington's street art you need to visit specific areas of the city. It's not really the kind of city where you can wander around and see some great pieces – you'll need to seek them out directly. Luckily, there are a few great ways you can find the best street art Wellington has to offer.
Firstly, Wellington City Council has put together a great map collection to help you find all of Wellington's street art. The Wellington City Council's Art On Walls program includes murals, street art activity and creative hoardings. Wellington is a city that values the spray can! You can see a map of all the Art On Walls in Wellington here.
Next, check out this blog post from Chur New Zealand on Wellington's street art. You'll find a map, plus pictures of different murals and their locations. Nice one, bruh!
Finally, if you're just looking to hit up the most famous street art locations in Wellington, then check these out. Egmont Street is a charming laneway with colourful street art to enjoy. And Wellington's most iconic and loved street art is Xoe Hall's mural to David Bowie on Ghuznee Street – very instagram worthy!
While you're in Wellington, make sure to check out these posts:
Top Street Art Cities In The North Island Ranked
Now you know all about the best cities to visit for street art in the North Island. But which of these cities are the best of the best to visit to see murals and grafitti?
If you love street art and murals but don't have time to visit all of the North Island, this ranking list will give you an idea of the cities to include in your itinerary.
In my opinion, these are the best street art cities ranked from 1 to 9 (1 being the best and 9 being the least best – although all these cities are awesome for street art!).
Whanganui
New Plymouth
Taupo
Wellington
Palmerston North
Whangarei
Napier
Gisborne
Mount Maunganui
Hamilton
Free North Island Street Art Road Trip Map
Use this guide map to help you plan your road trip to visit all of these amazing street art cities in the North Island.
Best Street Art Cities To Visit In New Zealand's North Island
Did you find this article useful? Let me know in the comments or join me on Twitter, Facebook, Pinterest and Instagram. Buy me a coffee here!
Want more New Zealand travel inspiration? Check out these posts:
Disclosure: Please note that some of the links on this page may be affiliate links. Affiliate links are marked with an asterisk (*) where possible to help disclose these to you. If you decide to make a purchase through one of these links, I may earn a commission at no additional cost to you. I use all of the companies I recommend and I use them because they are awesome and help make my travels better. If you are ready to book and would like to support Wild Lovely World, using these links is one way to do that. Thank you for your support! If you have any questions, please contact me or read my full disclaimer here.