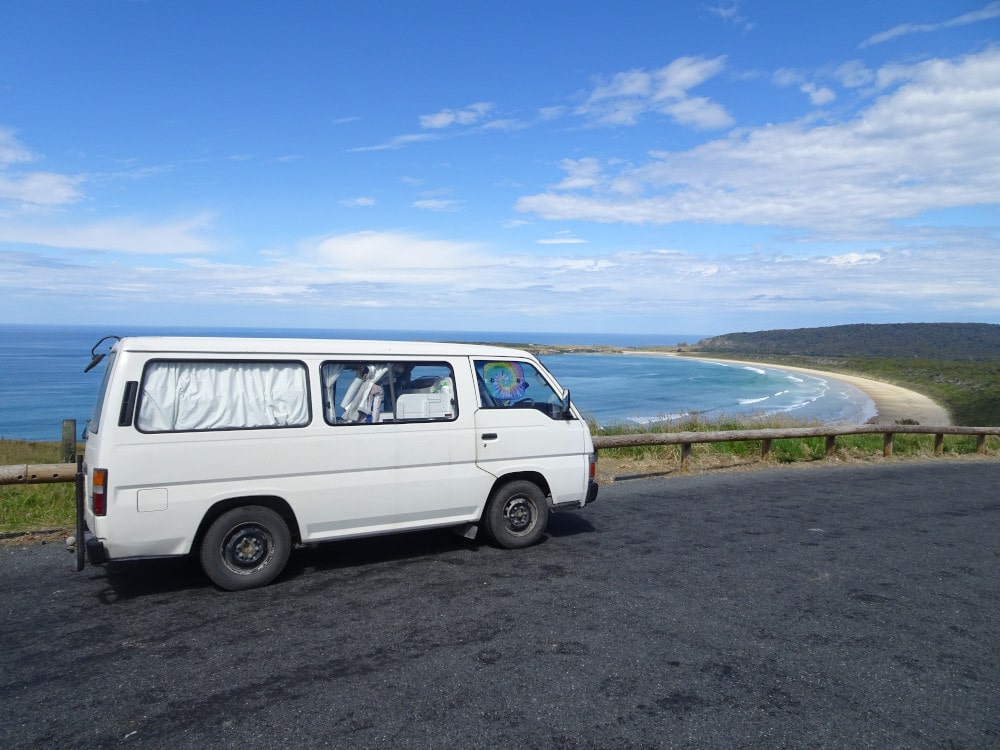 16 Must-Have Apps For Van Life In New Zealand
Disclosure: Please note that some of the links on this page may be affiliate links. If you have any questions, please read my full disclaimer here. Thank you for your support!
In this post, I share my favourite apps for camper van travel and van life in New Zealand. These 16 must-have apps will help you with New Zealand travel, camping, navigation, fuel, activities & more.
I've been travelling around New Zealand for almost 3 years now and during that time I have lived in my camper van for months at a time. These must-have apps have made my van life experience in New Zealand not only much more enjoyable but have helped me to save money on fuel, shown me where I can sleep in my campervan for the night for free and kept me updated on the latest earthquake and volcano activity to help keep me safe!
Whether you're new to van life in New Zealand or an old-timer looking for some new tips, then these apps are worth the download! From campsites to fuel to travel activities to stargazing, there's something for everyone on this list. I guarantee it will make your van life not only a little bit easier but also more fun and save you money!
Okay, let's go and check out these must-have apps for your camper van trip in New Zealand!
16 Must-Have Apps For Your Camper Van Trip In New Zealand
New Zealand Inspiration… Check out these posts:
For more information on campervans in New Zealand, read these posts:
1. Wikicamps – Best App For Camping Information In New Zealand

My number 1 must-have app for van life in New Zealand has to be Wikicamps! Wikicamps is an awesome app that will tell you everything you need to know about travelling in your van in New Zealand.
If you only download one of the van life apps in this list for your New Zealand trip then let it be this one!
The Wikicamps app makes it really easy to find camping spots and sites, including freedom camping, and facilities like toilets, potable water points, showers, dump stations and points of interest!
Why Wikicamps Is So Awesome
We have used Wikicamps to find the most amazing campsites in New Zealand! Many times we have turned up at a campsite we found on Wikicamps and there has been absolutely no one else there. Like, we had this amazing beachside camp all to ourselves! Way better than a 5-star hotel! We have also found places to have free hot showers through Wikicamps which is a lifesaver when living in a van!
Wikicamps is community-led, which means that users can add places and update locations too with the latest information, for example, if a location has closed. There is also a handy admin crew to help keep things organised, especially when camping bylaws change frequently in New Zealand. Many points of interest on the app also have photos and reviews which is so helpful! This makes Wikicamps awesome for finding up-to-date and reliable information.
I really like Wikicamps because it is so easy to use and there are heaps of filter options that make it really easy to find what you are looking for.
Wikicamps will allow you to search for only freedom camps as well as privately owned paid campsites and Department of Conservation campsites. The maps they have are great.
You can use Wikicamps offline too so if you are travelling in a no-signal zone (frequent in New Zealand!) then you don't need to worry about finding where you're parking up for the night. You can see ALL the content on Wikicamps in offline mode including maps, reviews, campsites and photos.
The app has become so essential to our van life in NZ that we could not have had the incredible experience we have had without it. In 3 years of van life, we could not have asked for a better app. Download it right now!
Pay The One-Time Fee!
Wikicamps is definitely the best app for van lifers in New Zealand, but it does come with a cost. Unfortunately, the app is not free but only costs a small charge of a few dollars. If you're not sure you can try Wikicamps for free for 14 days and then if you want to pay it is a $2.49 one-time fee. Once you have paid you can download and login to the app on multiple devices, so we have it on our phones and tablet. It is so worth the cost so I wouldn't worry about spending a few dollars.
Free Wikicamps Alternatives (Camper Van Apps In New Zealand – Campermate & Rankers)
If you don't want to pay for Wikicamps, then there are a few free alternatives. These free apps will get you by for a few weeks by giving you basic camping and facility information for your camper van trip in New Zealand. However, they are definitely not as good as Wikicamps. Compared with the other free apps, Wikicamps has MORE freedom camps and comprehensive information about camping in New Zealand. So if you are travelling in New Zealand in your campervan for more than a few weeks I would suggest getting Wikicamps rather than using one of the free versions.
2. Campermate
Campermate is the next best thing to Wikicamps. It is very similar in that it is an app for campervanners to find camping spots and facilities across New Zealand.
Campermate is one of the most popular apps for van life in New Zealand. This is because it is free to download and also because they have partnered with many councils, organisations and companies to promote Campermate to their customers. So more people will have heard of Campermate than have heard of Wikicamps.
Campermate is fine as an alternative, I just don't like it as much as Wikicamps. One annoying thing with Campermate is that they will try to encourage you to make payments through the app like booking a paid campsite. I also found when I tried to post anything on Campermate, for example, a review of a campsite, it would never be visible for anyone to see. There are also a lot of ads in the app which makes it laggy and difficult to use.
3. Rankers
Another free camping app you can use in New Zealand is Rankers. Rankers is similar to both Wikicamps and Campermate in that it will tell you about camping sites and points of interest across New Zealand.
However, I just found the Rankers interface to be SO ANNOYING that I just couldn't keep using the app. It was ugly as hell and kept crashing. Also, it just didn't have enough information to keep me wanting to use it. Much of the information is out-of-date and inaccurate.
4. Gaspy – Must-Have App For Finding Cheap Fuel In New Zealand
With the cost of living increasing, we all need to find ways to make our money go further. Travel in New Zealand is not cheap so finding out where the cheapest place to buy fuel is is one of the best ways to save money during your road trip in New Zealand. Luckily the awesome app Gaspy will help you to find where you can fuel up with the best prices in the country.
Gaspy is free to download and will tell you the cheapest fuel prices closest to you. Just put in your location and you can see how much the fuel is at different stations.  Each time we need to fill up our van we use Gaspy to find out where the cheapest fuel station is in the area.
It is user updated so if you join make sure to update and confirm fuel prices to help fellow users! We always double-check the fuel prices and update the app – it only takes a second and helps others!
5. Geonet – Essential For Alerts On Earthquakes & Volcanic Activity In New Zealand
Living and travelling in New Zealand comes with the constant risk of an earthquake or volcanic activity. It is amazing that we can forget about this most of the time and just keep enjoying our lives despite that ever-present threat!
To help keep safe and on top of all the latest seismic activity, download the app Geonet. This handy little app will alert you to earthquakes happening in New Zealand in real-time as well as the status of volcanic activity. This includes the White Island Volcano (offshore from Whakatane in the North Island) that sadly erupted and killed several tourists visiting the volcano in 2019. Other volcanoes like Ruapehu in the centre of the North Island are active and pose a risk to hikers and skiers using the mountain or enjoying the beautiful Tongariro National Park. The threat of these volcanoes is imminent. Ruapehu last erupted in 2007 and before that in 1996. 
When you think about it too much it can be scary to know that an earthquake or volcanic eruption can happen at any moment. Just try to enjoy your time in New Zealand without worrying too much. Downloading the Geonet app and getting yourself prepared in the event of an emergency will help put your mind at ease!
Reporting Earthquakes On Geonet
In case you do happen to be in an earthquake in New Zealand then you can report it through the Geonet app. It is very easy and only takes a few seconds to report. It is worthwhile doing this because you will be contributing to the Geonet database and also you can see that other people have reported it too. Sometimes an earthquake can happen but be so faint that you barely notice it and wonder if it actually happened! Reporting it on the app will validate that the earthquake did happen as you will be able to see that other people felt it too!
Get Ready
Earthquakes happen almost constantly in New Zealand but thankfully the big ones are few and far between. It helps to be prepared so make sure you read up on what to do in an earthquake and what supplies to keep close by in the case of an emergency. You can find information on what to do in an Earthquake here on the Get Ready website.
6. Skyview Free – Perfect For Stargazing In New Zealand's Dark Skies
New Zealand has some of the most incredible dark skies that I have ever seen and so it is perfect for star gazing! Apparently, 74% of the North Island and 93% of the South Island has night skies that are considered beautiful dark skies for seeing the stars. That is incredible!
Moreover, New Zealand is home to the largest International Dark Sky Reserve in the world. The 4300 km squared area includes Aoraki/Mount Cook National Park and the Mackenzie Region. I used to live in that part of the world and it is really amazing to see the beautiful milky way against the moonlit snow-capped mountains.
Recently, New Zealand announced that they want to become a 'Dark Sky Nation' – you can read about what this means and why New Zealand wants to do it here.
There are heaps of amazing places to observe the stars during your travels in New Zealand. Pretty much any campsite you will stay at across the country will have incredible night skies for you to enjoy.
To make the experience more interesting, download the app Skyview Free. This free app will help you to know what you're actually looking at when you're star gazing! The app uses GPS to figure out your location and your camera to see the stars. All you need to do is point your app at the sky and you will be able to see on the screen the locations of all the constellations, planets, satellites and stars. They are all labelled for you and the constellations are even drawn out with their symbols.
The Skyview Free app is a pretty cool way to learn more about astronomy. It is really easy to use and I have had so much fun with this app over the years.
7. Google Maps – Great For Knowing Where You're Going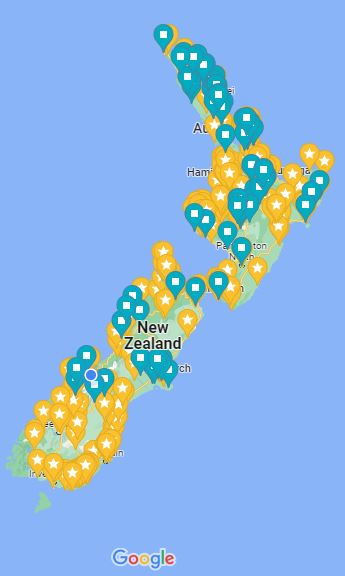 This may be a really obvious app to include in this list but I am going to do it anyway! Google Maps is essential to van life in New Zealand because how else would you know where you're going?!
Google Maps is the perfect companion for your road trip in New Zealand, to get directions and read reviews of locations you may want to visit. 
8. Google Weather – Important For Helping Plan Your Activities In New Zealand
Again, this may seem really obvious but, again, I am going to include it anyway! Having a weather app is so useful for helping you plan your itinerary during your trip in New Zealand. You will likely base your travel activities dependent on the weather. If it's raining, you may want to visit a museum rather than go on a hike! On sunny days, you need to make the most of a visit to the beach or beautiful botanical garden.
The weather varies so much in New Zealand depending on your location and the climate. For example, the West Coast of New Zealand gets so much rain whereas Hawkes Bay gets so much sunshine. In mountainous areas, such as Aoraki Mount Cook, the weather can change dramatically such as sunny one minute and hailing the next. The Mackenzie region is almost like a barren, dry desert with soaring temperatures in the summer whereas Milford Sound will be much cooler and with a wet and humid rainforest.
Unfortunately, New Zealand does experience some extreme weather and this is only becoming more common because of climate change. In recent years, New Zealand has experienced some torrential rain and that has caused flooding which has washed away bridges, roads and even homes. You may need to change your travel plans because of weather events.
Waka Kotahi Traffic Map (New Zealand Road Closures)
Road closures are so common in New Zealand, especially if you're travelling in the winter.
The mountain passes such as Crown Range Road near Queenstown, Burkes Pass near Lake Tekapo and Arthurs Pass west of Christchurch and Milford Road often close due to heavy snow and ice making it impassable and dangerous.
Flooding is common on the West Coast (due to all that rain!), but really these events can happen anywhere.
Often there is only one road between two destinations in New Zealand which makes detours impossible.
There is no app to download but I recommend this handy website to help you know about road closures in New Zealand – Waka Kotahi Traffic Map. This webpage will give you information on New Zealand's roads and whether there are any alerts, roadworks and road closures across the country.
9. TVNZ+ – Best For Binge Watching Kiwi TV
If you're keen to watch some kiwi TV during your time in New Zealand then check out TVNZ+! This is New Zealand's free TV service.
There are heaps of shows and films to watch on TVNZ+.
There are ads which is why this is free but it is worth it for the programming.
All you need to do is download the app and make an account and you can binge to your heart's content!
It is one the perfect apps to entertain you on those cosy van life nights while on the road in New Zealand.
10. Bookme – Awesome For Deals On Activities Across New Zealand
Check out Bookme for finding great value tours and activities in New Zealand. Bookme is a discount and deals website that sells time slots for travel activities across both islands at a discounted price.
We have gotten some really great bargains on Bookme for things like the Te Anau Glowworm Caves tour, a Milford Sound Cruise, and the Luge and Gondola ride in Rotorua.
Bookme has deals available all over New Zealand on the North and South Islands. There are ones from famous companies at those must-do destinations like helicopter flights in Fox Glacier and the Waitomo Glowworm Caves, to smaller-lesser known attractions in small towns like local museums and wildlife centres.
You can easily search for activities and book online.
If you're looking to do any activities or tours in New Zealand, I recommend taking a look on Bookme first to see if you can get a better price on the activity before booking!
Related Read: 10 Unmissable Experiences In The North Island, New Zealand
11. New Zealand Topo Maps – Handy For Planning Walks & Hikes In New Zealand
If you're a keen walker then NZ Topo Maps will be a useful app for you. These topographical maps of New Zealand will show you the terrain and trails across New Zealand including national parks and reserves. Huts are also marked to make navigation easy. This app will be a great companion if you're planning to do any walks or hikes in New Zealand, especially the Great Walks. 
12. GPS Altimeter – So You Know How High You Are
My partner loves the Altimeter app which tells you the altitude at your current location! This app is not essential but it can be a fun and interesting one to have if you want to know how high up above sea level you are! GPS Altimeter will tell you your altitude at your current location using GPS.
It is especially interesting to use the Altimeter app while driving in New Zealand with our campervan across New Zealand mountain passes. These roads traverse up and down some amazing landscapes and through national parks. This includes Arthur's Pass, Haast Pass, Burkes Pass and Lindis Pass just to name a few! The Crown Range road is New Zealand's highest sealed road and zig zags up the mountain to more than 1000m.
The Altimeter app is the most basic altitude map you can download.
It runs offline in case you are out of signal (common in New Zealand!).
13. Tide Times NZ – Excellent For Checking Tide Times
If you're keen on surfing/board boarding, hiking around coastlines to hidden beaches or just for a dip in the sea, you'll want to download the Tide Times NZ app. This app will be handy for knowing the high and low tide times at your location in New Zealand. Super for planning your coastal road trip and activities!
14. Booking.com – Best For Booking Accommodation
When you're on the road for long periods of time, sometimes it is nice to just sleep inside in a real bed with easy accessibility to cooking, heating and hot water for one night! It's likely that your campervan will not have these luxuries of life readily available to you as despite what you might see on the internet, van life can be hard!
To help you on your way to booking accommodation, I recommend you download the Booking.com app. The app is an easy way to search for accommodation options anywhere in New Zealand (and the world!) and there are heaps of filters to help narrow down your choices. You can easily book your chosen hotel, motel or apartment on the app and view all your past and future bookings.
I have used Booking.com for years to book accommodation and have always been happy with their prices (they have great deals) and ease of use.
15. Hostelworld – Great For Booking Hostels
This next app is another for booking accommodation during your trip. For the budget-conscious traveller, you may want to consider staying in hostels too. There are not that many hostels in New Zealand given the unfortunate closure of the YHAs, but the ones that are here are pretty awesome.
I have stayed in a few hostels during my time in New Zealand and I've always been really impressed by the facilities. The Juno Hostel I stayed at in Waitomo had an outdoor swimming pool! The Dwellington in Wellington is a really friendly and clean hostel with great facilities and vibe. I also enjoyed staying at the YHA hostels in Auckland during my first few weeks after arriving in New Zealand (sadly closed now, but there are still some great hostel options in Auckland!). Raglan Backpackers in the famous surf destination is a top hostel that offers surf hire and kayak hire (perfect for exploring Pancake Rocks!).
Many hostels in New Zealand even have the option to stay in your campervan and use the hostel facilities! Yep, that's right! You can have the best of both worlds by sleeping in your camper and having access to the hostel kitchen, bathroom and lounge spaces. The price of this is usually cheaper than staying in a hostel bed.
Hostelworld is my favourite website for booking hostels. I have been using them for over 10 years and always found they have the best prices and policies! The app makes it really easy to search for accommodation, make bookings, and see your bookings in one place.
16. Skinny – Perfect For Your New Zealand Mobile Plan (PLUS 4GB BONUS CODE!)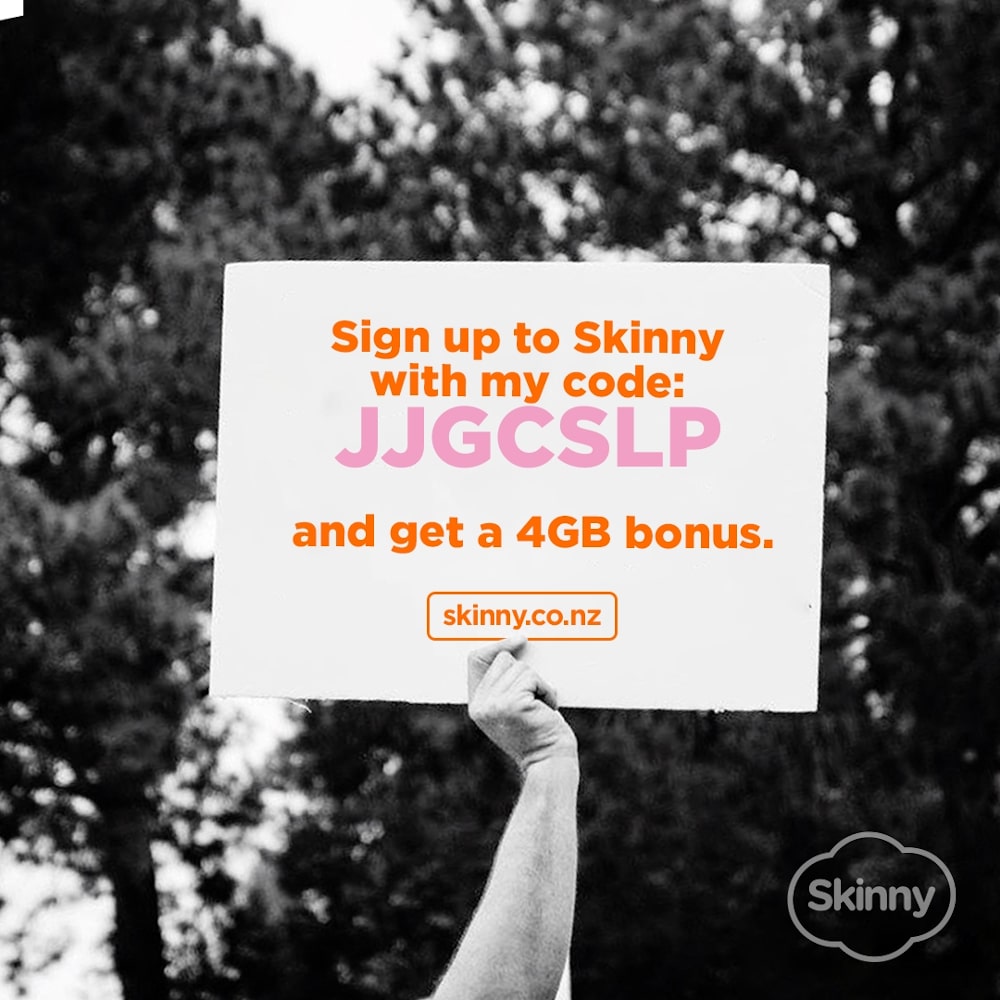 After arriving in New Zealand it is a good idea to pick up a SIM card for your phone. One of the best SIM cards for backpackers in New Zealand is Skinny. Skinny offers the cheapest prices in the New Zealand mobile and data market. I have compared all the options for SIM cards in New Zealand and found Skinny to be the best in terms of price and data allowance.
There are many pricing plans available, and all of them are prepay options. You can free to swap and change your pricing plan as often as you like. For example, you can choose a 4-weekly plan from $9 to $36, each offering from between 250 MB data to Endless Data. They also have Travel SIM options if you need to make regular international calls back home.
Use my code – JJGCSLP – when you sign up to Skinny and get a 4GB data bonus.
The best way to manage your mobile plan is to download the Skinny app. From the app, you can check how much data, minutes and texts you have remaining, as well as top up, change plans and get a data binge (unlimited data for a specified amount of time).
I've been using Skinny for 3 years and have been really happy with the service!
You can pick up a SIM card at convenience stores in New Zealand for a few dollars. Then download the app and set up your account to manage your mobile plan on the go.
Once you've signed up, put my code JJGCSLP in the Buddy Rewards section of the Skinny App and get a 4GB bonus.
16 Must-Have Apps For Van Life In New Zealand – Thanks For Reading!
In this post, we looked at the best apps to download for your camper van trip in New Zealand. From camping apps to navigation, to booking accommodation and activities, this list of must-have apps will be great companions for your journey. I hope that you have an awesome time exploring New Zealand by camper van and that these apps help you on your way! Thanks so much for reading! – Lauren x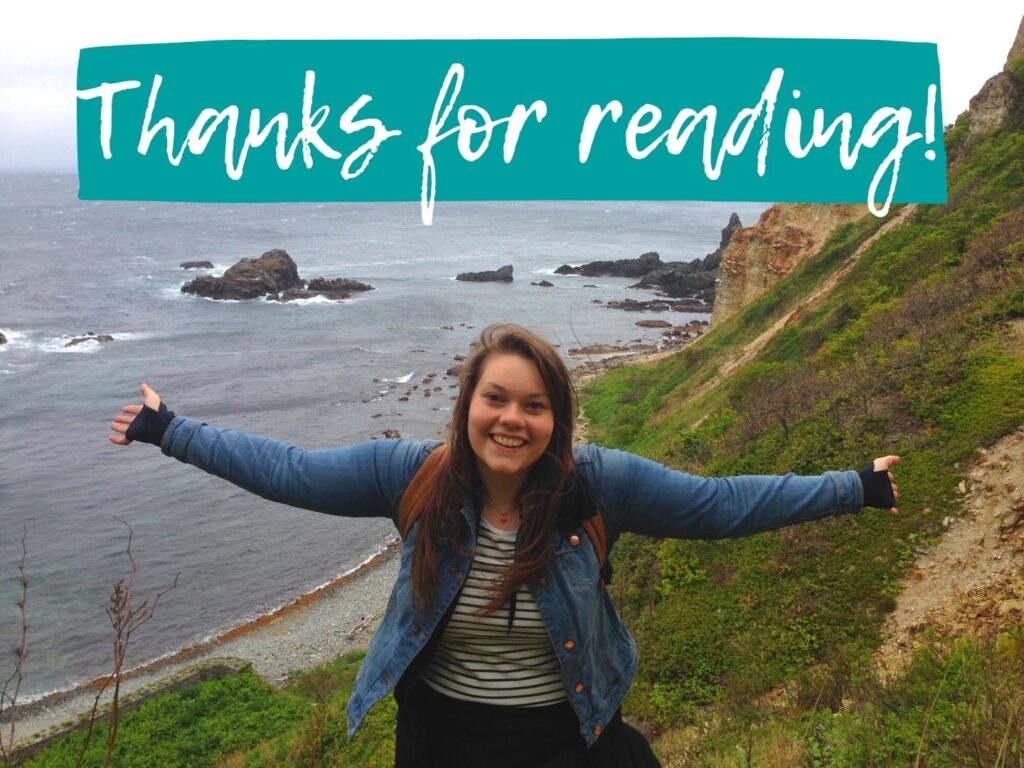 Did you find this article useful? Let me know in the comments or join me on Twitter, Facebook, Pinterest and Instagram. Buy me a coffee here!
If you enjoyed this post, share it with a friend! 💌

My Travel Resources guide will help you get the best deals when booking your next trip – check it out here!
Disclosure: Please note that some of the links on this page may be affiliate links. If you decide to make a purchase through one of these links, I may earn a commission at no additional cost to you. I use all of the companies I recommend and I use them because they are awesome and help make my travels better. If you are ready to book and would like to support Wild Lovely World, using these links is one way to do that. Thank you for your support! If you have any questions, please contact me or read my full disclaimer here.