11 Awesome Things To Do In Oneroa, Waiheke Island
Disclosure: Please note that some of the links on this page may be affiliate links. If you have any questions, please read my full disclaimer here. Thank you for your support!
Last Updated On 11th July 2023 By Lauren | Wild Lovely World
Looking for the most awesome things to see and do in Oneroa on Waiheke Island? I got you covered!
Oneroa is one of the main townships on the beautiful Waiheke Island, located approximately 40 minutes from Auckland city by ferry. Waiheke Island is a gem in New Zealand and is considered to be a paradise for good food, wine and beaches.
I thoroughly enjoyed my trip to Waiheke Island in the autumn. Even though it was autumn, the weather was fantastic and I enjoyed beautiful sunny days on the beach. The water was still warm enough for swimming (and crystal clear)!
While visiting Waiheke Island I stayed in Oneroa village. I was actually housesitting in Oneroa so I was very fortunate not to have to pay for any accommodation on the island! (That's right! I have gotten free accommodation in so many amazing places in New Zealand as a house and pet sitter! You can too with Kiwi Housesitters*!).
In this post, discover the best things to see and do in Oneroa on Waiheke Island. I have done all of these activities during my stay in Oneroa! Plus, I share suggestions of other cool tours and activities you can do on your trip.
Oneroa Is Perfect For A Day Trip From Auckland Or As A Base To Explore Waiheke Island
Oneroa is located on the western side of Waiheke Island close to the Matiatia Ferry Terminal. I found Oneroa to be the perfect base from which to explore Waiheke Island. But even if you do not venture further into Waiheke Island, there are still plenty of awesome things to do in Oneroa and close by.
Oneroa is a cute little village with plenty of character and charm. The streets are colourful and bright, and one of the best beaches on the island is just a stroll away. There are numerous shops, cafes, restaurants and wineries to visit in Oneroa and nearby.
If you are visiting Waiheke Island as a day trip from Auckland or staying a few days, then this list of things to do will be perfect for adding to your itinerary.
The Best Things To See & Do In Oneroa, Waiheke Island
More North Island inspiration! Check out these posts 🇳🇿 💖:
Save this post to your Pinterest board!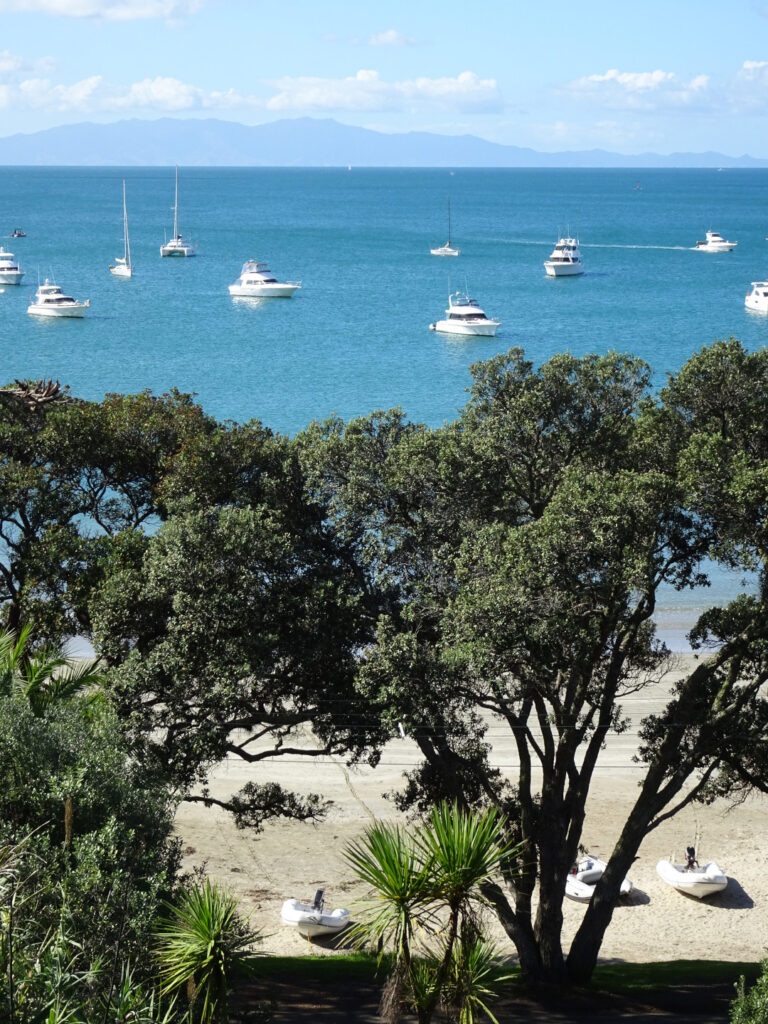 Is Oneroa In Waiheke Island Worth Visiting? Why You Should Visit Oneroa
Yes, Oneroa is absolutely worth visiting! Oneroa is such a charming and adorable little village on Waiheke Island.
Oneroa is one of the main townships on Waiheke Island and is locally known as 'the Village'. The main street is lined with shops, boutiques, cafes and restaurants.
Two of the best beaches on Waiheke Island are in Oneroa – Oneroa Beach and Little Oneroa Beach.
If you are thinking of taking a day trip to Waiheke Island from Auckland, then Oneroa is very accessible. Oneroa village is only a 20-minute walk from the Matiatia Ferry Terminal on Waiheke Island.
What Is Waiheke Island Known For?
Waiheke Island is known as the 'Island of Wine' as it is dotted with many vineyards and wineries.
There is also a large creative community on Waiheke Island with many artists, photographers, sculptures, painters and makers choosing to take up residence there. There are many galleries and boutiques to visit around the island.
Waiheke Island is also a stunning paradise, with beautiful, golden, sandy beaches. It is the perfect spot to relax, and enjoy the scenery with good food and even better wine.
How Long Should You Spend In Oneroa, Waiheke Island?
You could visit Waiheke Island in a day and enjoy all the best that Oneroa has to offer. But if you have the budget and the time to spend longer on Waiheke Island, then you could easily fill 3-4 days with activities. This post will tell you the best things to see and do in Oneroa on Waiheke Island. But there are also many other awesome things to do in Waiheke outside of this little village. I will share a few suggestions later on in this post, so keep reading to find out more!
11 Things To See & Do In Oneroa, Waiheke Island
1. Big Oneroa Beach
Head down to Big Oneroa Beach, a beautiful, wide sandy beach in a bay. It is a lovely place for a walk, a swim or simply to enjoy the views! Oneroa Beach is gorgeous and quite popular with the locals and visitors alike! The beach is easily accessed on foot from many of the beach access points along the Beach Parade.
2. Little Oneroa Beach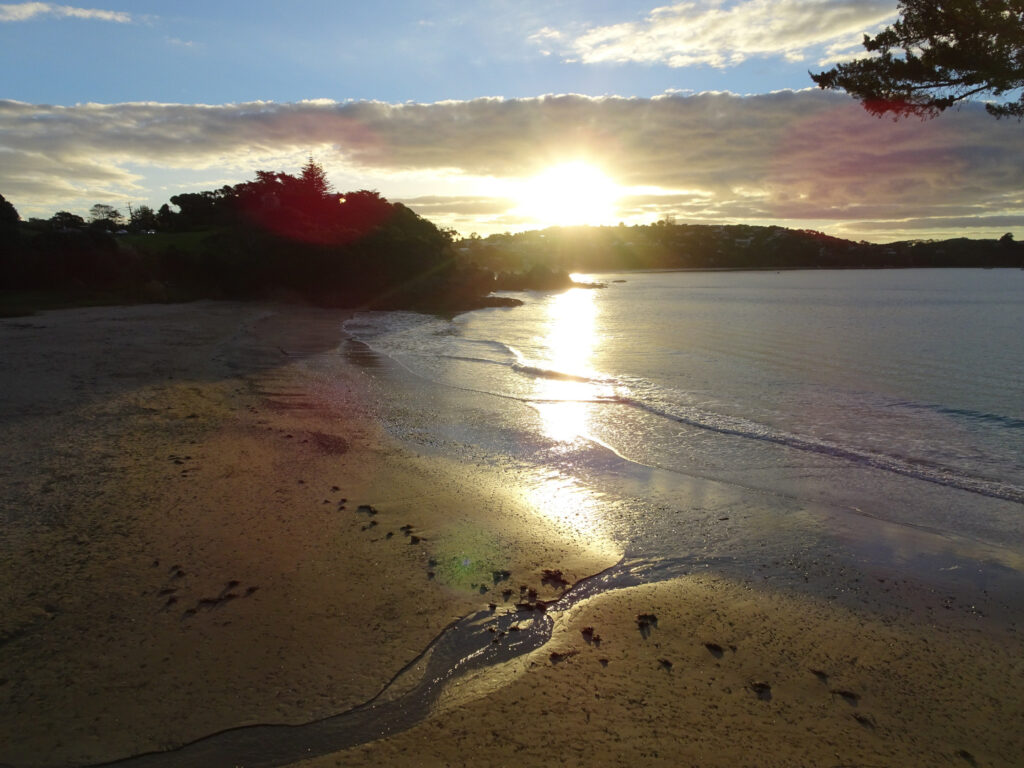 Just around a small rocky headland from Oneroa Beach is Little Oneroa Beach. This little sandy bay is simply divine! You'll think you've almost stumbled across a secret when you get there. As Little Oneroa is much less frequented than Oneroa Beach, you may find that you have the entire beach to yourself!
The water is just lovely at Little Oneroa beach, and it is a safe and sheltered place to swim. Little Oneroa was one of my favourite places on Waiheke Island, so definitely do not give it a miss!
You can access Little Oneroa easily by walking along Ocean View Road. The is a walking path that goes right down to the beach. Additionally, you can get there by car as there is a small car park near the children's playground.
3. Get A Sweet Treat From The Island Gelato Company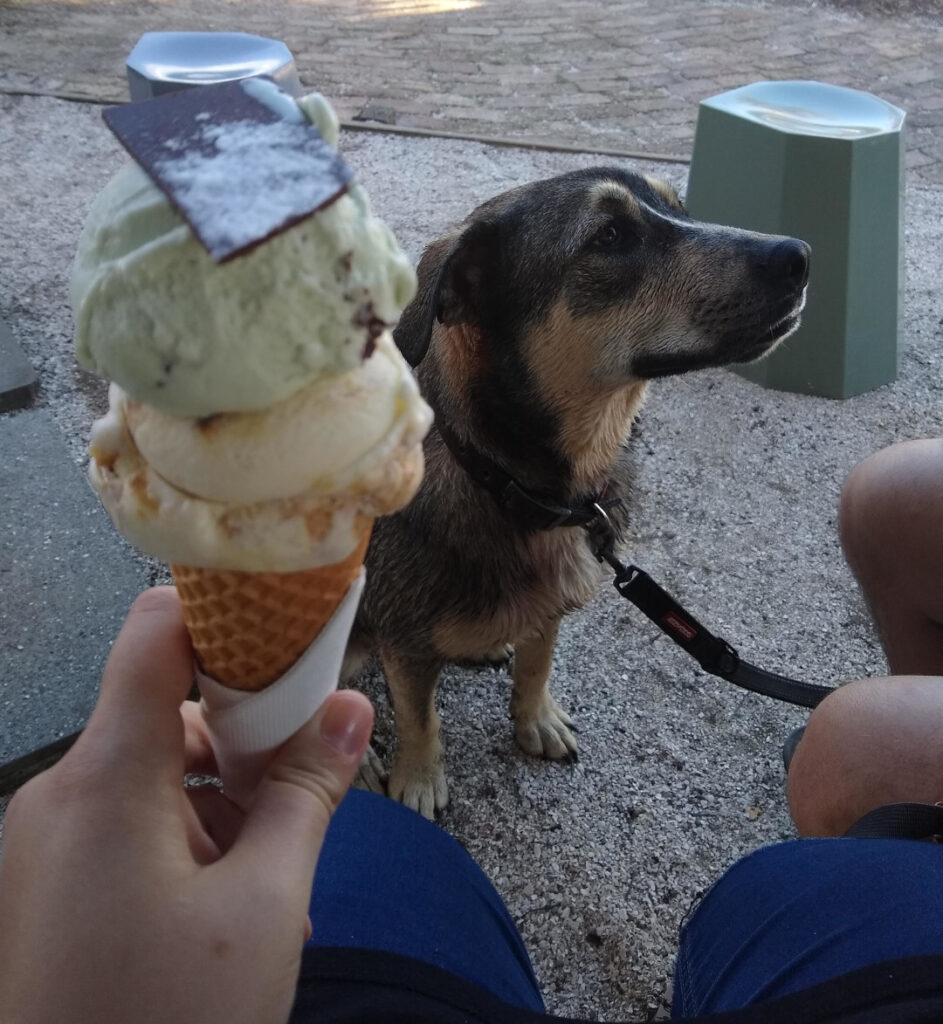 Craving gelato goodness in an island paradise? Then you must visit the Island Gelato Company. This cute, little gelato cafe is located in a renovated shipping container in Oneroa. They serve delicious gelato in many different flavours! Tasters are available so you can make sure you choose your best flavour. Get your scoop in a delicious waffle cone or a cup. They also do coffee and iced drinks!
4. Waiheke Community Art Gallery
See creative work from Waiheke locals, New Zealanders and international artists at the Waiheke Community Art Gallery. The small gallery is well-curated and has changing exhibitions to keep it interesting. Plus, there is a small shop with beautiful crafts, ceramics, prints, jewellery, books, gifts and more!
Waiheke Community Art Gallery is open 7 days from 10 am – 4 pm.
Visit Waiheke Community Art Gallery's website here to find out more.
5. Explore Oneroa's Shops & Boutiques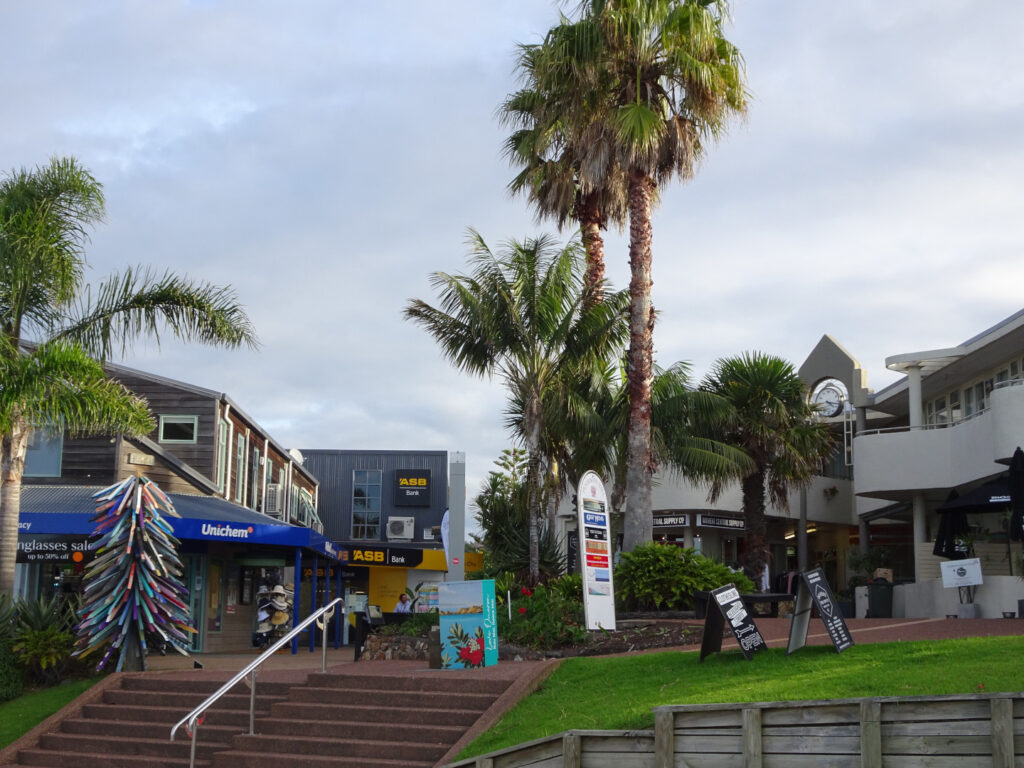 Spend a while wandering along Ocean View Road and explore all the lovely little shops and boutiques. Make sure to check out The Island Grocer which is a cute, gourmet grocery store.
6. Enjoy A Coffee At Akito
For your caffeine fix, make sure to check out the brews from Akito. This trendy little coffee shop serves up delicious flat whites. Plus, they have an awesome looking brunch menu you may want to sink your teeth into. Popular options are the Banana Hotcakes and Turkish Eggs. They also serve smoothies and a small selection of sweet and savoury cabinet food.
7. Take A Walk Along The Esplanade At Blackpool Beach
On the south side of Oneroa is Blackpool Beach. It may not be as pretty as the sandy Oneroa Beach, but it is still very scenic! As it is further from the buzz of Oneroa, it is much more quiet and peaceful.
Blackpool Beach is popular with kayakers and boaters, and it is a great place to go for a walk. You can walk east along The Esplanade towards Surfdale – another nice village on Waiheke with cafes, bars and Surfdale Beach. If you head west along The Esplanade you can check out the Piritahi Marae. From the Marae, a path continues uphill and eventually leads to the vineyards and wineries closest to Oneroa (keep reading for more about visiting these wineries!).
8. Try The Calzone At Dragonfired Pizza
Enjoy a picnic at Little Oneroa beach! Grab a delicious Calzone (other pizza options available too) from Dragonfired. This little food truck is parked up by Little Oneroa Beach and serves delicious takeaway food.
9. Walk To Fisherman's Rock
Take the coastal path from Little Oneroa beach through Newton Reserve to Fishermans Rock. Fishermans Rock is a small, rocky scenic point accessed only on foot. Steps lead right down to the water's edge from the path in the bush. It is a nice, easy walk to enjoy.
10. Visit Vineyards & Taste Waiheke's Famous Wine Near Oneroa
Waiheke Island is famous for its wine and Oneroa is no exception. Up in the hills nearby to Oneroa village, there are several vineyards and wineries with many of these opening to the public. Some of New Zealand's best wine comes from Waiheke Island so it is pretty cool to be able to visit the wineries themselves and see where those famous grapes grow!
Many people choose to hire a bike for the day and cycle around all the wineries. However, this is not required at all as many of the wineries can be accessed on foot. All the wineries nearby Oneroa can be walked to. Pick a good day when the weather is fine and enjoy the amazing scenery from the hills as you explore different wineries.
There are many to choose from near Oneroa but here are my two favourites. I did a wine tasting at both of these wineries and I really enjoyed my visit to both. Each has its own wine specialities and methods and its own ambience and style. Best of all, the wine tasting options are very affordable so it makes for a really fun, cheap and cheerful activity to do while visiting Oneroa.
There is no need to book ahead to take part in wine tasting. Just turn up at the winery and head to the cellar door. From there, staff will guide you through the tasting menus on offer. If one takes your fancy, you can pay and do the tasting on the spot!
Wine Tasting At Cable Bay Vineyards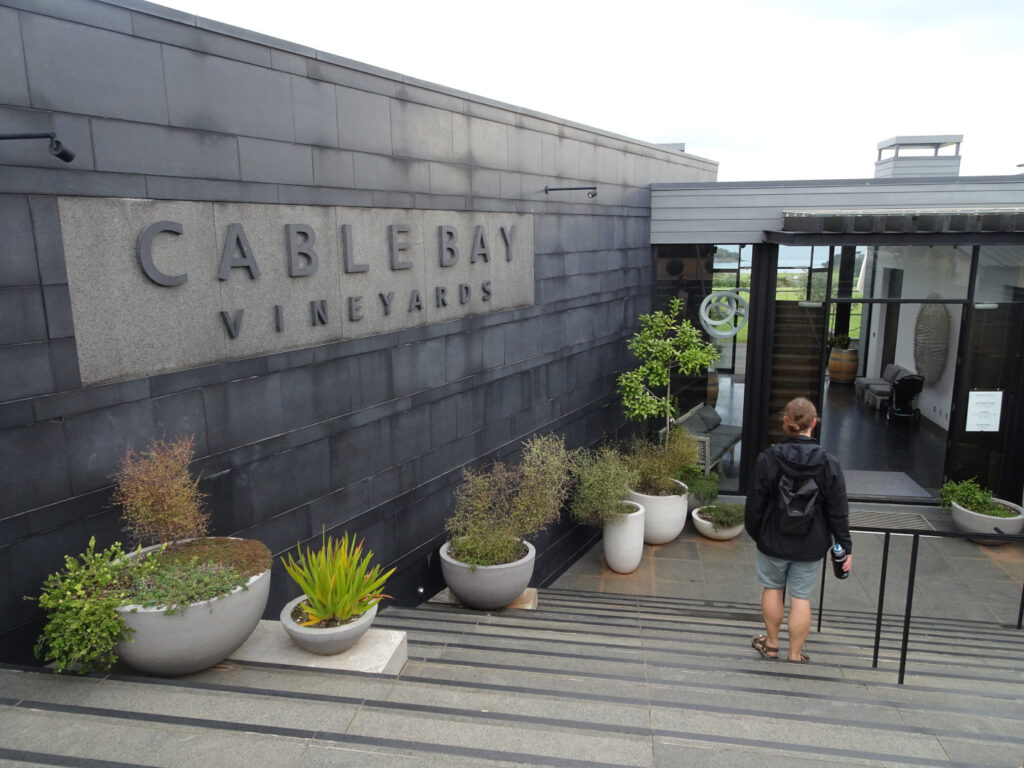 Cable Bay is a very imposing looking winery with big glass walls, concrete slabs and lots of metal greeting you at the entrance. It is modern architecture that contrasts with the beautiful softness of the surrounding scenery. It is certainly not to my taste but of course, others may think it is marvellous! However, what Cable Bay lacks in elegance from the outside it certainly makes up for with its wine selection and customer service.
When I visited, wine tastings were being conducted in the bar so the atmosphere was very relaxed. We did a wine tasting with a selection of 6 wines for only $12 per person – amazing value for money! We were guided through each of the wines by our wonderful host who explained the fermentation method and ageing process of each wine. The wines were so delicious and interesting and unique from many wines I have ever tried before. For example, the Cable Bay Pinot Gris is fermented in a concrete egg for 6 months and matured in a stainless steel tank.
Cable Bay's Cellar Door is open 7 days from 11 am – 5 pm. 
For more information about Cable Bay's Tours & Tasting options, visit their website here.
Wine Tasting At Mudbrick Vineyard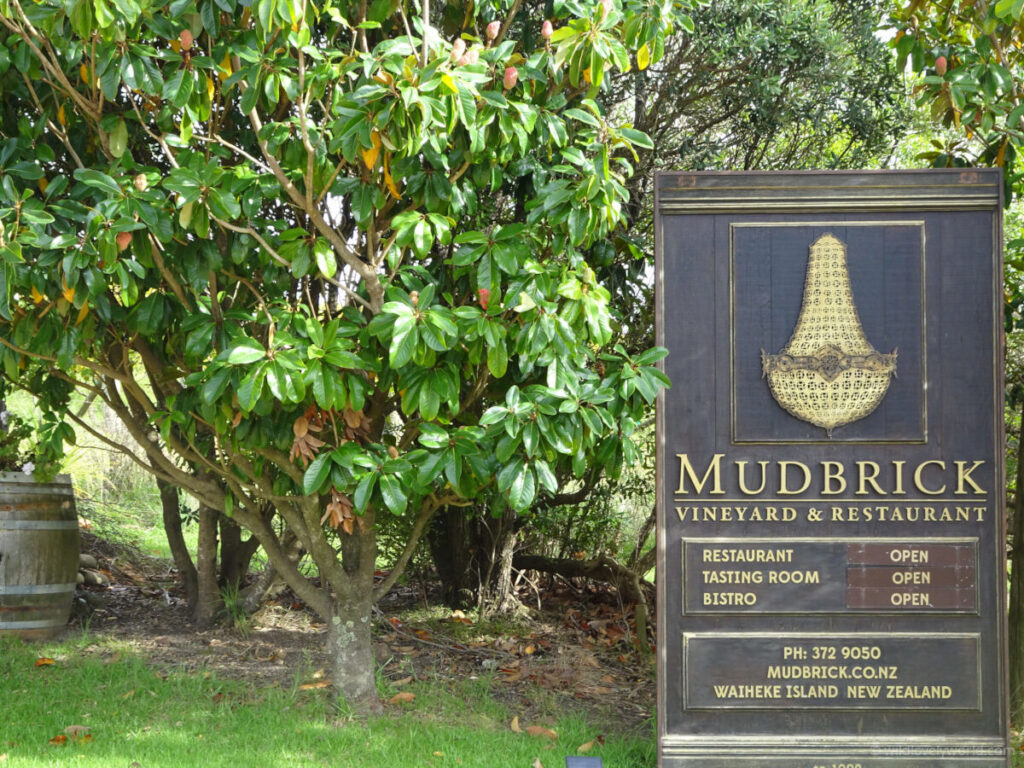 In complete contrast to Cable Bay, Mudbrick's cellar door is located in a charming and picturesque cottage-style building, albeit grandeur. Creeping with ivy and surrounded by gorgeous, flower-filled gardens, the property has beautiful views across the water toward the Auckland skyline.
Mudbrick offers several wine tasting options for different budgets. We opted for the $25 per person standard tasting which includes 6 wines. Before each tasting, we were given information on the wine, and then we were free to take the glass away to enjoy sipping it at our leisure. Follow the cobbled pathways up onto the balcony to enjoy your wine while relaxing on a recliner and smelling the delicate scent of lavender! Delish!
Mudbrick's Cellar Door is open 7 days from 10 am – 6 pm.
For more information about Mudbrick's Tours & Tasting options, visit their website here.
11. Coastal Walk From Matiatia/Matietie To Owhanake Bay
If you're keen on a long walk with stunning coastal views, then you should check out the Matiatia/Matietie Walk. The walk starts from the Matatia Ferry Terminal and finishes at Owhanake Bay. You can make this a full loop walk starting and finishing in Oneroa. This is what I did and it make for a really enjoyable afternoon! It's a great walk to do, particularly if the weather is good.
Loop Walk Starting & Finishing In Oneroa
To walk the full loop from Oneroa, begin by walking from Oneroa to the Matiatia Ferry Terminal. Just follow Ocean View Road from the village to the end of the road. From the end of the road, the coastal walking path is signposted by DOC. The walk begins by skirting around the small bay dotted with boats. This first few metres section of the walk is supposedly only accessible at low tide, but perhaps you could walk around it. (I'm not sure as when I went it was no trouble, and I didn't plan ahead of time or check the tide times).
From the bay, the path climbs gently uphill before flattening again. The path continues to wind its way up and down, hugging the coast the entire way. You will come across beautiful, hidden beaches and have amazing views. The path is easy to follow and is never too strenuous, although there are some sections with many steps.
There is a small bay called Cable Bay which is memorable because it has a wooden sculpture and a sign. From Cable Bay there the path climbs up and down many steps until it levels out again as you get closer to Owhanake Bay. The path will begin walking through a more sheltered bushy area. Keep going and you will soon emerge into an open, green meadow with Owhanake Beach on your left.
After admiring the view, head towards Korora Road and follow it all the way back to Oneroa village. The end of Korora Road turns into Ocean View Road, so you can end up exactly where you started.
How Long The Walk Takes
The full loop walk starting and ending in Oneroa will take you around 2.5-3 hours to complete. It is possible to do a shorter loop from the Matiatia Ferry Terminal to Owhanake Bay and back by returning from Owhanake Bay via Delamore Drive. In that case, the walk will take you around 1.5-2 hours.
---
More Awesome Things To Do In Oneroa & Waiheke Island
Check out these ideas for more awesome things to do in and near Oneroa on Waiheke Island:
Waiheke Island Explorer Hop-On Hop-Off Bus Tickets
Catch the ferry from Auckland and explore Waiheke on the hop-on/hop-off tour bus. Taking the bus is a flexible and cost-effective tour option on Waiheke Island. The Explorer bus goes to all the major stops on the island, including vineyards and beaches. The bus stops at 16 stops including the Matiatia Ferry Terminal, Oneroa Village, Onetangi Beach (another awesome beach on Waiheke), Mudbrick Vineyard and Cable Bay Vineyard and more! Tickets from $68 per person. For more information on the Explorer Bus click here* (Viator).
Waiheke Island: Zipline & Native Forest Adventure Trip
The Zipline & Native Forest Adventure is a different activity to do on Waiheke Island. Glide over a forest canopy in native New Zealand bush. You can go with a friend and enjoy 3 200-meter ziplines together. The zipline glides over a vineyard! You will also get panoramic views of the beautiful Hauraki Gulf. The trip includes pickup and drop off from the Matiatia Ferry Terminal. From $129 per person. For more information on the Waiheke Island Zipline Adventure click here* (Get Your Guide).
Waiheke Island Premium Food & Wine Tour With Platter Lunch
Make your own way to Waiheke Island and then discover local produce and wines from top boutique vineyards on this fully-guided food and wine tour. The Waiheke Island Premium Food & Wine Tour lasts around 5.5 hours. Your guide will meet you at the Matiata Wharf (or your Waiheke Island accommodation) and will transport you across the island. Taste fresh and award-winning local foods of the island along with great wines. Your tour also includes a platter lunch at one of the island's top vineyard restaurants. This is a really popular tour with 4.9/5 star reviews from previous visitors! From $215 per person. For more information on the Waiheke Premium Food & Wine Tour click here* (Get Your Guide).
Search For Accommodation In Oneroa & Waiheke Island
Finding a place to stay for your trip to Waiheke Island? Take a look at options on Booking.com and Tripadvisor. Or use the search box below:
11 Awesome Things To Do In Oneroa, Waiheke Island – Thanks For Reading!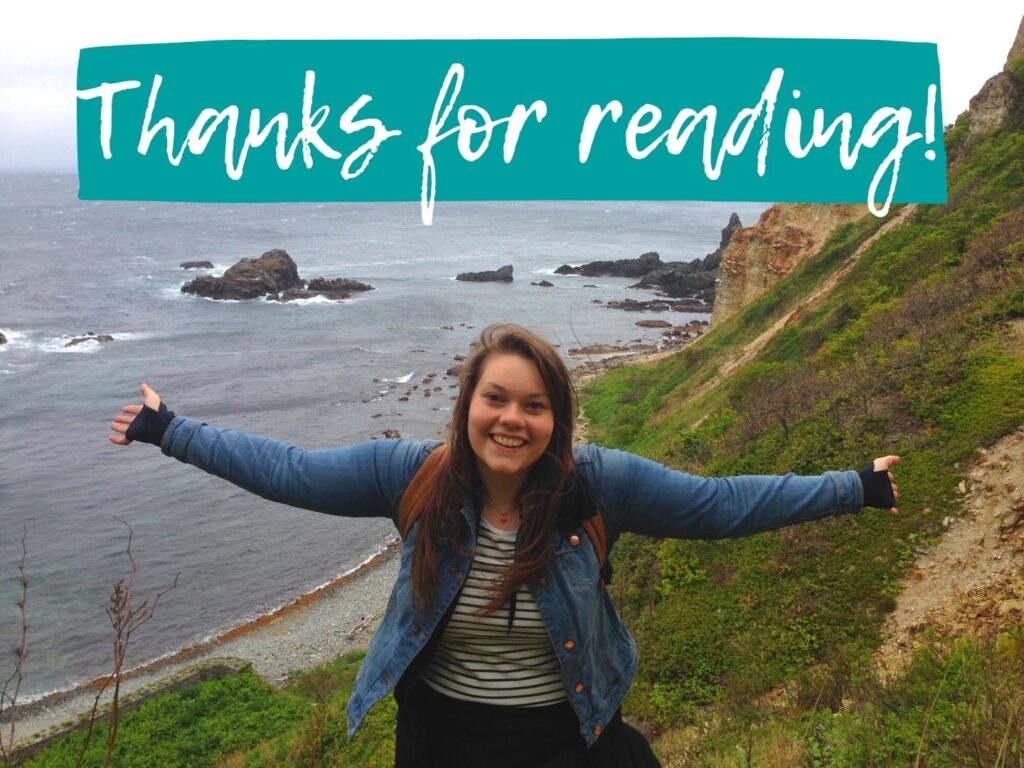 Did you find this article useful? Let me know in the comments or join me on Twitter, Facebook, Pinterest and Instagram. Buy me a coffee here!
Check out these posts for more New Zealand travel inspiration! 🇳🇿

My Travel Resources guide will help you get the best deals when booking your next trip – check it out here!
Like It? Pin It!
Disclosure: Please note that some of the links on this page may be affiliate links. If you decide to make a purchase through one of these links, I may earn a commission at no additional cost to you. I use all of the companies I recommend and I use them because they are awesome and help make my travels better. If you are ready to book and would like to support Wild Lovely World, using these links is one way to do that. Thank you for your support! If you have any questions, please contact me or read my full disclaimer here.